Chewy on the outside, moist and fudgy on the inside, brownies are one of the world's most loved desserts.
The origin of the brownie is as fascinating as the chocolatey dessert itself. Some claim that Fannie Farmer, who adapted her cookie recipe to be baked in a rectangular pan, was the first person to put a recipe for "brownies" in The 1896 Boston Cooking-School Cook Book although her recipe contained no chocolate.
Others say it was Bertha Palmer, wife of the owner of Palmer House Hotel, who asked hotel pastry chefs to create a dessert that would be easy to transport in boxed lunches at the 1893 Colombian Exposition.
Though we'll never know for sure who invented the brownie, our taste buds are mighty glad they exist!
While there are plenty of local bakeries offering an assortment of brownies, we have a soft spot for these 5 passionate home bakers (featured below in alphabetical order) who churn out some of most scrumptious versions in town that are worth every single calorie.
DM on Instagram to order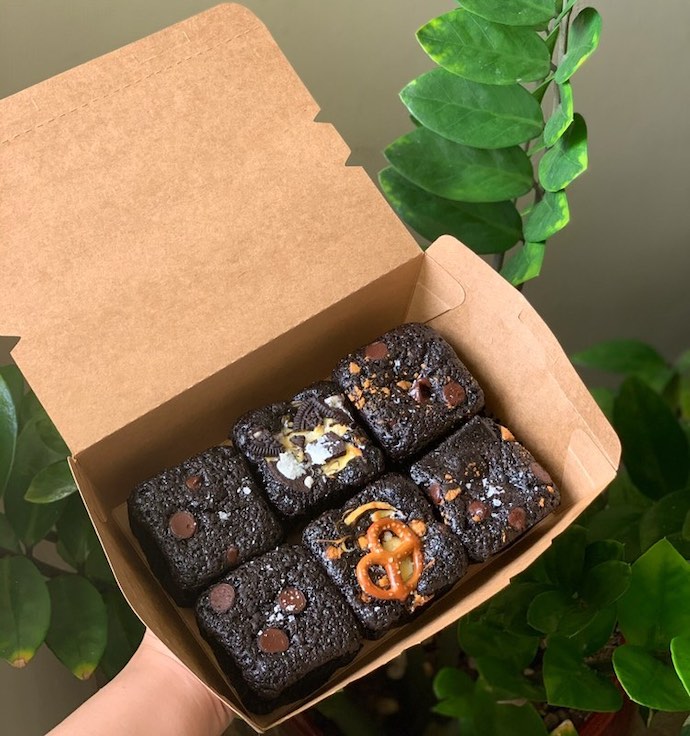 Avid baker Adeline Tan specialises in stuffed brownies which are sold in a box of six with your choice of flavours. Choose from mouth-watering versions such as Dark Chocolate Sea Salt, Salted Pretzel Cheesecake with Speculoos, Oreo Cheesecake with Nutella and Dark Choc with Ovomaltine.
Look out for flash sales on her Instagram stories where extra boxes of goodies are offered. The baked goods get snapped up very quickly, so fastest fingers first!
DM on Instagram to order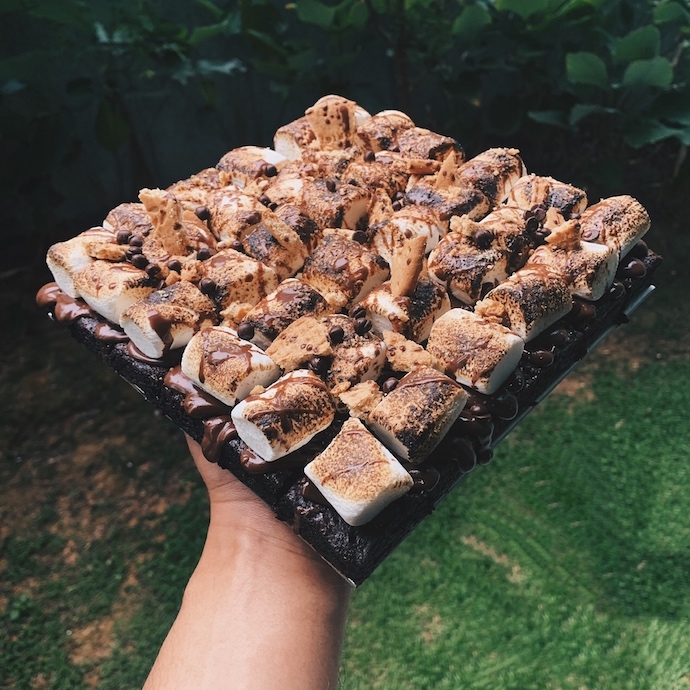 Founded by sibblings Nisa and Naim Ismail in 2017, Haus of Brownies offers 9-inch square moist, fudgy and chewy brownies that can be cut into 36 pieces. The brownies are a chocolate lover's dream as they are topped with a generous amount of luscious chocolates, cookies and spreads such as Biscoff, Ferrero Rocher, Hershey's, Kinder, Kit Kat, M&Ms, Nutella, Oreos and S'mores.
If you love a variety of toppings on your brownies, go for Mad About Brownies which is loaded with four toppings – Hersheys, M&Ms, Oreos and S'mores. Those who can't get enough of cookie dough and brownie batter must try Dough-Reo Brownies which also has Oreo cookies sandwiched between its fudgy layers. 
Order form available on Instagram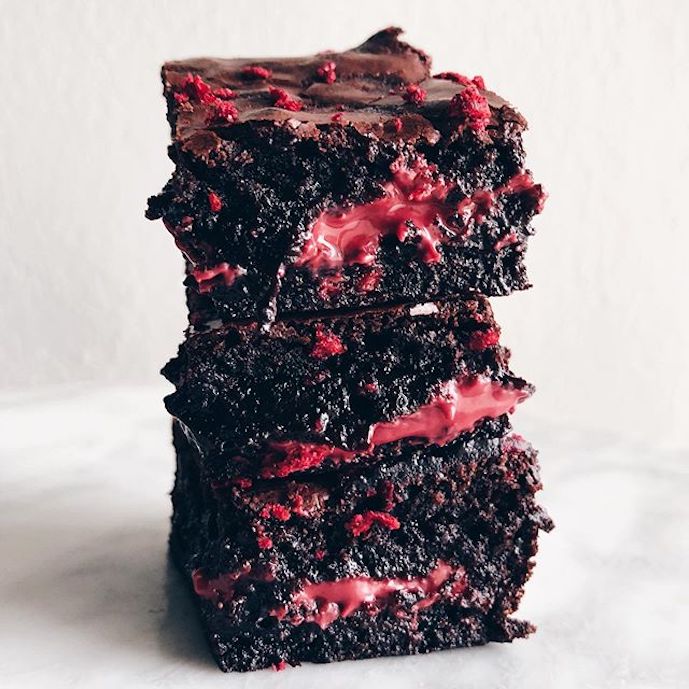 Le Petit Baker's fudgy brownies (available in 7-inch or 10-inch squares) are full of chocolatey gooey goodness. Its signature Maldon Sea Salt Brownie is made with Valrhona 55 percent Caranoa chocolate and topped with Maldon sea salt flakes, while its Framboise (raspberry) Brownie is made with tangy and bittersweet Valrhona dark raspberry chocolate.
Fans of matcha (Japanese green tea powder) must try the Matchaya Matcha Brownie, made with Matchaya's premium quality matcha powder speckled with melty chocolate chips, while the Matchaya Höjicha is made with tea that has been roasted in a pot over charcoal till the leaf colour hints transform from green to reddish brown.
Order form available on Instagram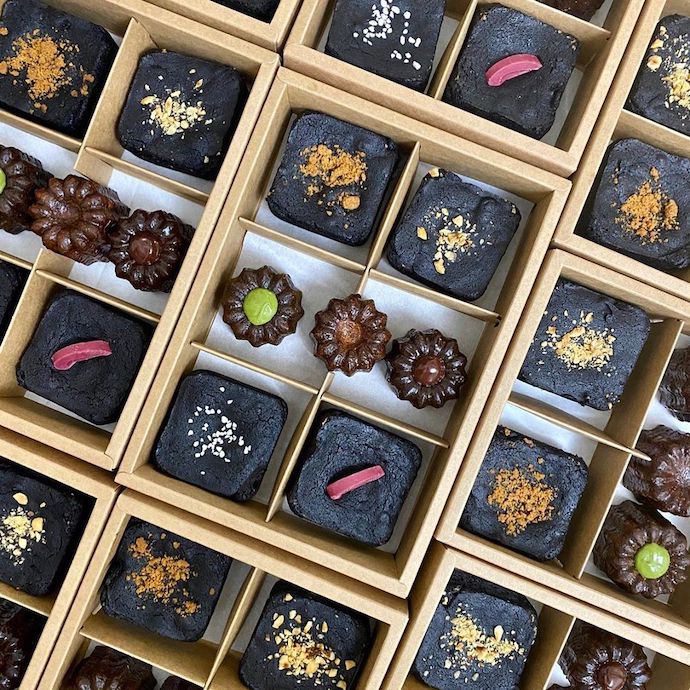 Started by Michelle Tan and Cheong Qing Da in June this year, Levelled offers tasting boxes of brownies and caneles (French pastries with custardy centres and thick caramelised crusts). Each box contains four brownies and three caneles. Orders can be made every Tuesday at 8pm via Google Form on Levelled's Instagram Bio.
Brownies are made with Valrhona 70 percent chocolate and cocoa powder, and filled with Peanut Butter and Jelly, Nutella, Ovomaltine and Cookie Butter, while caneles come in chocolate, match and vanilla flavours.
Order online or add your name to the waitlist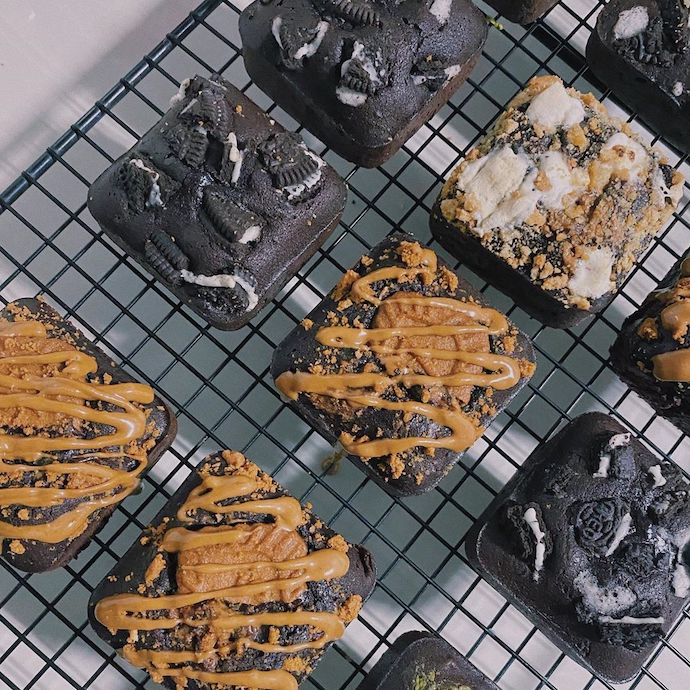 Founded by Fiona Loh, Whiskdom made headlines for having one of the longest waitlists for its bake boxes. To reduce wait time, she'll be operating from a central kitchen to churn out larger quantities by the end of October.
Each bake box contains three oozing brownies and three ooey gooey Levain-inspired cookies. Brownie flavours are rotated weekly to delight fans. Crowd favourites include Salted Chocolate, Speculoos, Smores, Teh Tarik Mochi, Milo Dino Fudgy, Rum and Raisin Fudgy, and Bourbon Butterscotch Pecan. Fiona also comes up with unique flavours such as Lychee Earl Grey and Goma to celebrate festivals like the recent Mid-Autumn Festival.