When Siem Reap is mentioned, Angkor Wat is usually the first thing that comes to mind. But the Cambodian city is more than just a gateway to the famous archaeological park, a UNESCO World Heritage Site which is said to be the world's largest religious monument.
As the unofficial tourism capital of Cambodia, Siem Reap is a treasure trove of culture, heritage, history, architectural wonders, natural landscapes and more.
A great way to explore the essence of Cambodian life and experience Siem Reap the way the locals do is by signing up for The Aviary Hotel's Connect with Community & Culture Package. The Package includes a two-night stay at Aviary Hotel, round-trip transfers between the hotel and airport, daily breakfast for two persons, a one-day Countryside Tour and tour transportation to different locations in an air-conditioned vehicle accompanied by a local English-speaking guide plus lunch and bottled water.
Here are five ways you can immerse yourself in various aspects of Cambodian culture through The Aviary Hotel's Connect with Community & Culture Package.
1. Enjoy an authentic Khmer lunch with the locals
Get a true taste of Cambodian or Khmer food, prepared from scratch by a local family. Characterised by bold and rich flavours, Khmer food has dashes of influence from Thai, Vietnamese, Chinese, Indian and French cuisines. Rice, noodles, soups, curries and stir-fried vegetables are staples of the Khmer diet.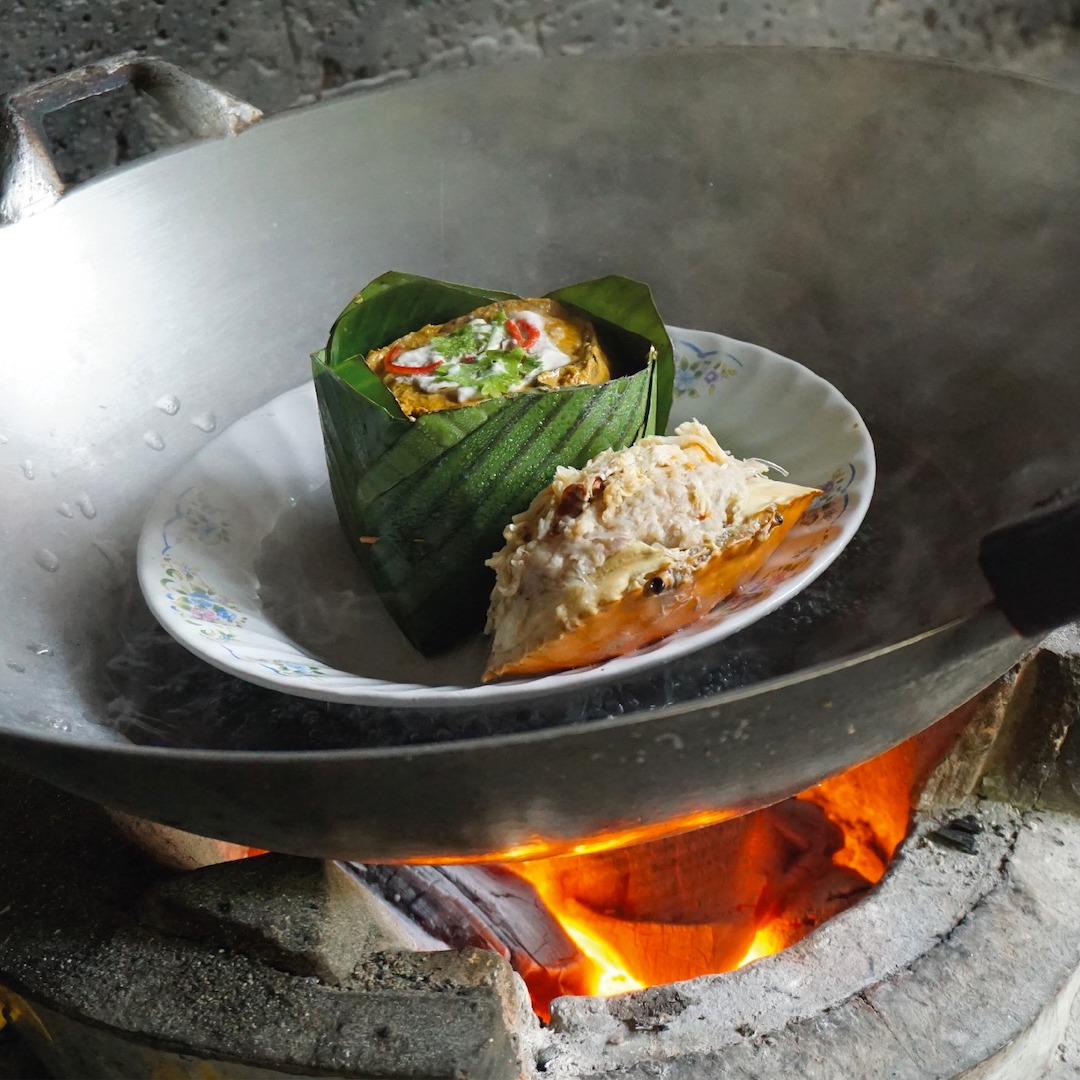 Must-try Khmer dishes include Nom Banh Chok, rice noodles covered in a gravy made of lemongrass, kaffir lime leaf, galangal, turmeric and freshwater fish; Lap Khmer (beef salad), lime-marinated beef slices tossed in a dressing of lemongrass, fish sauce, lime juice, palm sugar, coriander, mint and chilli, together with green beans, onions, cucumbers and tomatoes; and Fish Amok, fish mixed in a herb/spice paste (kroeung) topped with coconut milk and steamed in banana leaves.
During the lunch, you'll get to try a few Khmer home-cooked dishes as well as traditional desserts like bamboo sticky rice. You'll also get to see how the produce is cultivated with care and thoughtfulness through sustainable farming and horticultural practices.
2. Marvel at the pagoda's intricate designs and discover the storied past of Wat Luang Proleung
A sacred landmark located about 30km east of Siem Reap, Wat Luang Proleung is an architectural marvel. The temple is built on an ancient site dating back to 1890 and the site was said to have been restored in 1962. Its pagoda and stupas are said to date back 100 years or so.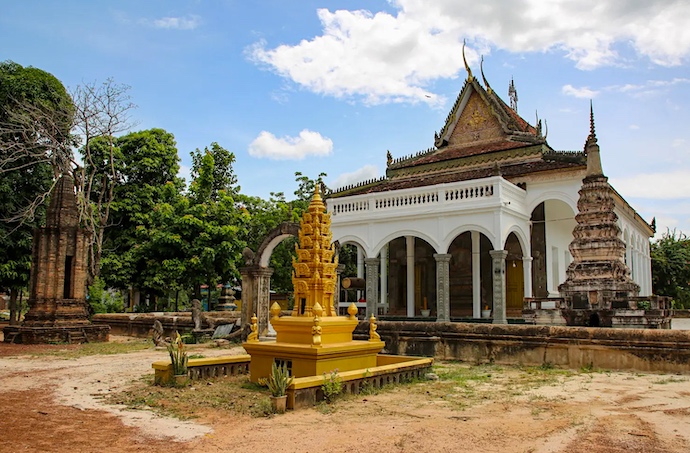 The temple is known for its unique sema (boundary) stones that demarcate the inner space of the pagoda. Find out more about the temple's rich history and the pagoda's intricate designs from the local guide.
3. Observe sacred rituals and even receive a water monk blessing for good luck
There's a chance to experience the sacred rituals practised at Wat Luang Proleung, and possibly receive a water monk blessing for good luck and prosperity. A water monk blessing, meant to bring renewal, purification and good luck, is a traditional Cambodian Buddhist practice dating back to ancient times.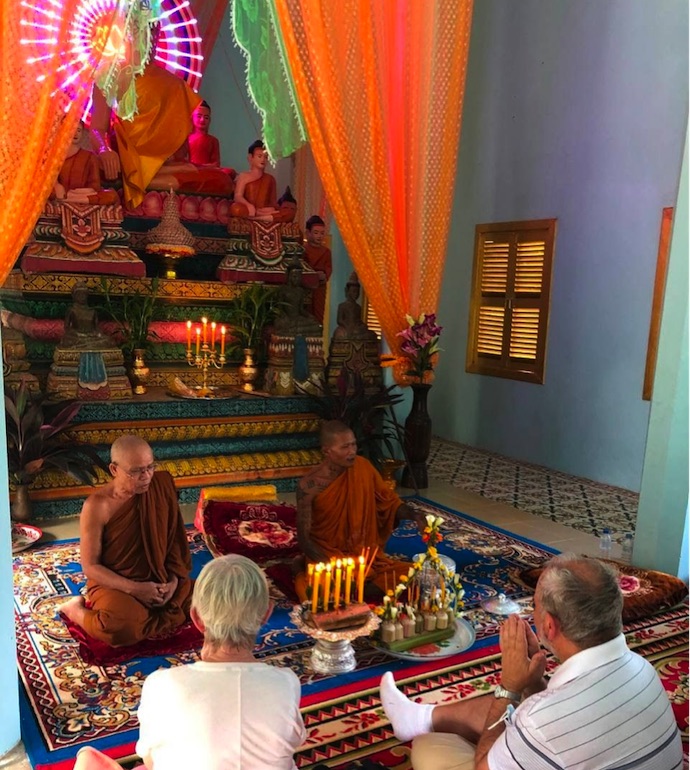 The process involves being wholly covered in water blessed by the monks, while they chant in unison. Upon completion of the ritual, you will receive a single red tie that signifies your blessing.
This is a practice popular with newlyweds as the ritual is said to bring peace and happiness.
4. Watch a local dance performance known as Chhayam
As traditional dance is a popular art form in Cambodia, no visit to the country would be complete without catching at least one Khmer dance performance.
You'll get to watch Chhayam, a traditional Khmer musical dance that is known to be colourful, lively and brimming with contagious enthusiasm. Considered a folk dance, it features a line of men playing decorated long drums, and dancers who may wear comic masks or paint their faces in humorous ways and clapping hand cymbals or wooden clackers.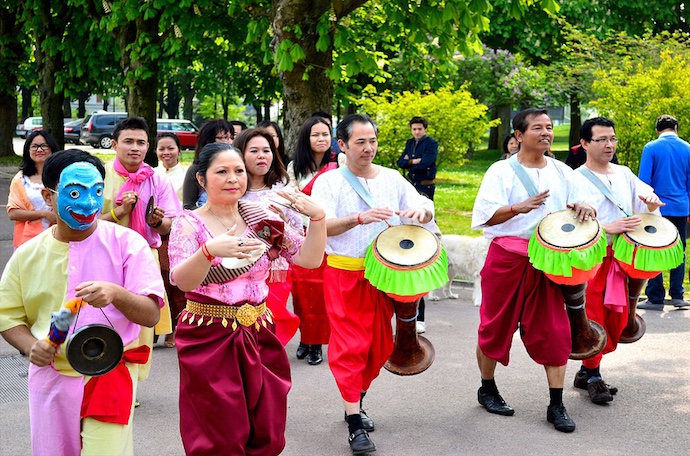 The dance is both communal and spontaneous, combining drumming, comic exhibitions and animated vernacular call-and-response vocals.
5. See how the locals live on the floating village of Kampong Khleang
Located about 50km southeast of Siem Reap, Kampong Khleang is a floating village on Tonle Sap, the largest freshwater lake in Southeast Asia. The floating village is home to over 10,000 people, many of whom are either fishermen or work in the fishing industry.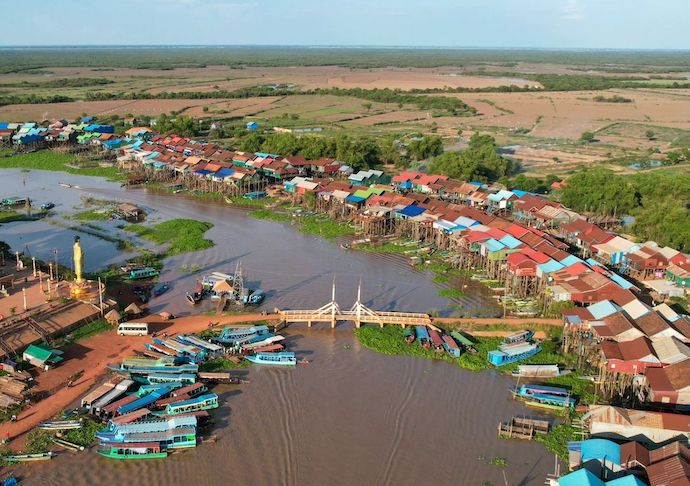 A tour of the floating village on a private boat will give you a fascinating glimpse of the villagers' unique way of life on the water and how the resourceful villagers adapt on water. Observe how they commute by boats, their fishing lifestyle and activities at the floating markets.
Article courtesy of Stephanie Frantz of Craft Communications