Dreaming of breathtaking beaches and exhilarating adventures? You'll find these and more in Palawan, a long and narrow island just off the western flank of the Philippines. Often called the Philippines' last frontier, Palawan boasts a rich and exceptional biodiversity found nowhere else in Southeast Asia.
Hailed as one of the Philippines' most beautiful islands, Palawan has been featured in Hollywood blockbuster films and top-rated series such as The Bourne Legacy, The World is Not Enough, reality-competition show Survivor and HBO hit series Westworld.
Comprising 1,769 islands and islets, Palawan teems with powdery white sand beaches, towering limestone cliffs sprouting out of turquoise waters, enchanting lagoons and exotic wildlife.
To experience the ultimate island life in Palawan, a visit to these eight places are a must!
PUERTO PRINCESA
The capital of Palawan, and a bustling sea and land port, Puerto Princesa is a mere 1.5-hour flight from Manila. Most visitors pass through Puerto Princesa en route to other Palawan destinations but those who make plans to stay in the capital city will find a vibrant food scene, charming natural attractions and gorgeous resorts.
1. Puerto Princesa Subterranean River National Park
One of Palawan's most popular tourist spots, this UNESCO World Heritage Site is an 8.2 kilometre underground river and one of the longest navigable underground rivers in the world.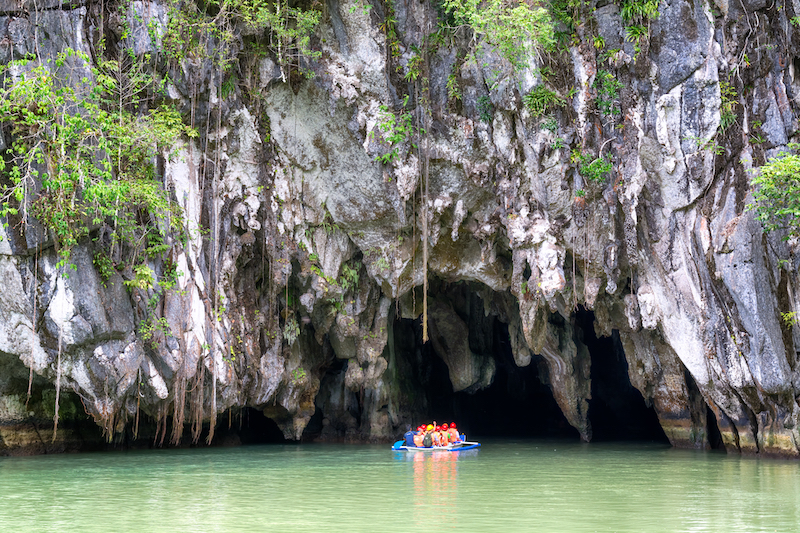 The Puerto Princesa Underground River has also been declared as one of the New 7 Wonders as it houses remarkable karst formations and intact complex mountain-to-sea ecosystems, considered to be one of the most important in Asia.
2. Tubbataha Reefs Natural Park
Another UNESCO World Heritage Site, this 97,030-hectare marine and bird sanctuary in the Sulu Sea is home to 600 species of fish and 360 species of coral, nesting hawksbill and green sea turtles, and seven species of seabird.
One of the best diving spots in the Philippines, the Natural Park includes the North and South Atolls, as well as a the Jessie Beazley Reef which contains one of the highest biodiversities of marine flora and fauna.
3. Ugong Rock
Believed to be formed at least 23 million years ago, this 75 feet karst limestone is located in the far-off barangay of Tagabinet, an hour and a half north of Puerto Princesa.
Tourism in this area is manned locally, with farmers serving as tour guides during the farming off-season. Hike, trek, spelunk and climb your way to the top of the rock to enjoy pastoral views of the surrounding rice fields, or rappel or take a zip line down from Ugong Rock.
EL NIDO
More than five hours away from Puerto Princesa lies one of Palawan's top tourist attractions. Named after the edible nests of swiftlets found in the area, El Nido boasts stunning islands, seascapes, luxe private resorts and exotic cuisine.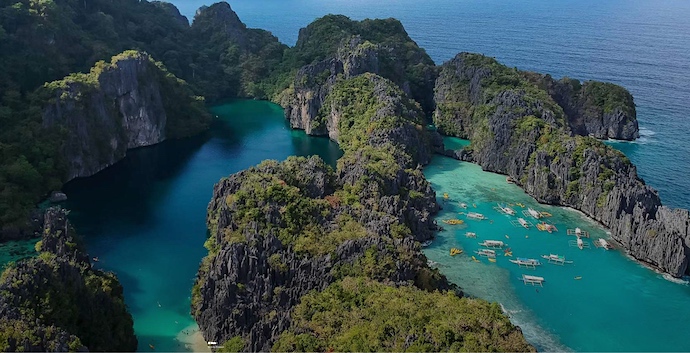 4. Bacuit Archipelago
One of the most visited places in Palawan, the Bacuit Archipelago is made up of 45 limestone islands and islets. Its sprawling beaches, alluring lagoons, karst formations shooting out of the sea and rich marine life makes it a popular island-hopping destination for many visitors.
5. El Nido Marine Reserve Park
A wildlife sanctuary, this marine park is stretched over an area of about 96,000 hectares of land and 54,000 hectares of water. Its lush forests and coral reefs support various ecosystems and are habitats to endangered and endemic wildlife.
CALAMIAN ISLANDS
With its crystal-clear waters, pristine beaches and abundant marine life, Calamian Islands are the perfect destination for scuba divers and snorkelling enthusiasts.
Occupying almost 1,800 square kilometre of crystal waters northeast of Palawan, the Calamian Archipelago includes the islands of Busuanga, Coron, Culion, Calauit, Malcapuya, Banana, Pass and Calumbuyan, and several minor islets.
6. Coron Island
Coron is famous for its stunning geological features, beaches, lagoons and dive sites filled with wildlife and sunken shipwrecks, as well as its brackish lakes.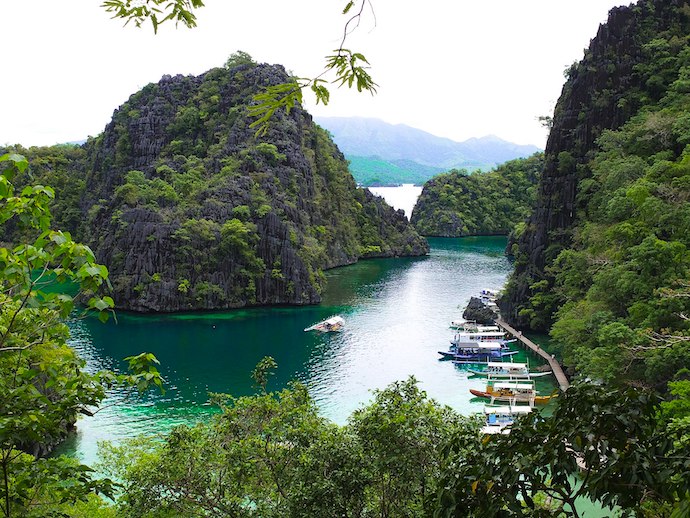 Kayangan Lake is considered to be the cleanest lake in the Philippines and can be accessed after a 10-minute climb. Another popular lake is Barracuda Lake, known for its layers of cold, warm and hot water, also known as thermocline. Cold fresh water greets you on the first 4 metres, then warm to hot saltwater as you go deeper into the lake.
7. Busuanga Island
Located on the southern coast of Busuanga Island and a 30-minute tricycle ride from Coron Town, Maquinit Hot Springs is the perfect spot to soothe your muscles and unwind after a day of island hopping and outdoor adventures. Maquinit is one of the few saltwater hot springs in the world and the only one in the Philippines.
8. Calauit Island
Get up close to wildlife at Calauit Wildlife Sanctuary, a 3,700-hectare nature reserve which houses endemic and foreign animals. Encounter South African animals such as giraffes, antelopes and zebras, along with local wildlife such as the Calamian deer, Palawan bearded pig, Philippine crocodile, Philippine porcupine, binturong (aka bearcat) and Philippine mousedeer.
Article adapted from Tourism Promotions Board Philippines