In many ways, Hat Yai is a travel destination which personifies many of the qualities of Thai cuisine. Like a bowl of zesty Tom Yum Goong, there's a strong sense of thrill that flows through many of the Thai city's street markets and bazaars that continue well into the night.
The locals you'll meet on your trip are warm and generous like the steaming plate of Pad Thai topped with plump shrimps. And like a cup of sweet Thai Iced Tea, the many tourist attractions in Hatyai will leave you with delightful memories you'd want to relive following your vacation.
An underrated gem, Hat Yai is often regarded as the business centre in the southern region of Thailand and its name means big mahat tree (mahat yai) in Thai.
The largest city in southern Thailand, Hat Yai boasts invigorating sights, sounds and experiences waiting to be uncovered.
We spotlight 10 gems of the city.
FOR SHOPAHOLICS & BARGAIN HUNTERS
1. Kim Yong Market
Supasarnrangsan Road, Hat Yai District
Open daily from 6am to 6pm
The largest day market in Hat Yai, Kim Yong Market sells lots of vegetables, meat, dried goods, cooked food and more. Besides soaking up the sights and sounds of a buzzing market, treat yourself to hearty breakfast dishes like Thai-styled wanton mee served with slices of pork char siew (barbecued pork), topped with crunchy bits of tasty fried pork lard.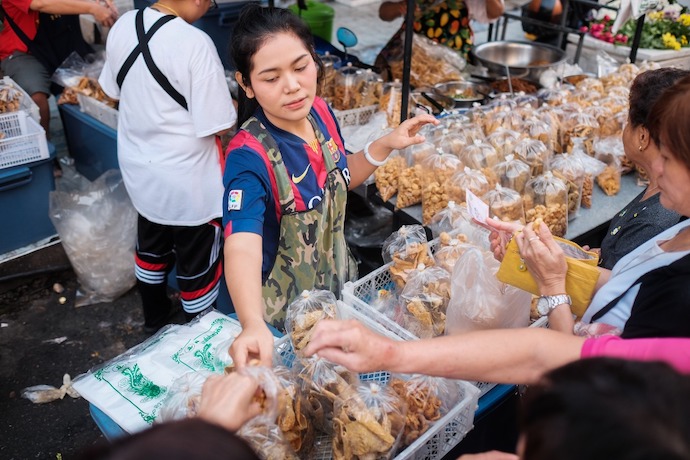 Other cooked food options include duck rice and other light bites from street vendors. Beat the heat with coconut ice cream mixed with attap seeds, jelly, sticky rice and crunchy breadcrumbs. The market is also a great spot to return to on your last day to shop for local snacks to bring home.
The market is located about 8 minutes away from the Hat Yai railway station. Just walk along Rotfai Road, turn the corner of Petchkasem Road and then turn right onto Supasarnrangsan Road. You'll see the market on your left.
2. Khlong Hae Floating Market
Khlong Hae Subdistrict, Hat Yai, accessible via Lopburi Ramesuan Frontage Road
Open from 1pm to 9pm, Friday to Sunday
No visit to Thailand would be complete without heading to a floating market. Instead of having to eat in the tight confines of a small motorised sampan (small wooden boat), you have the freedom to move about on land at the Khlong Hae Floating Market.
Fascinatingly, the shops and food stalls are located on boats which are anchored down by the riverbank. The floating market is also known widely for its use of eco-friendly cutlery such as coconut shells and bamboo tubes to replace common cooking tools like bowls and other crockery. You can also look forward to cultural dances from traditional Thai troupes and performances by local bands which add to the lively atmosphere of the market.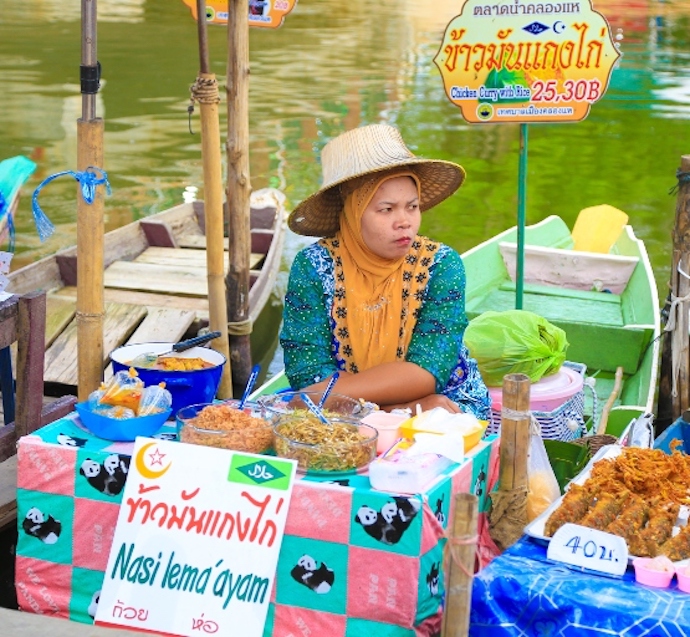 As public buses or trains are not available in this part of the city, taxis and private hire vehicles are an efficient and inexpensive way to get to the Floating Market. It should take you about 20 minutes to get from Hat Yai railway station to the floating market by car.
3. Greenway Night Market
1406/4 Kanchanawanit Road
Open from 4pm to 10pm, Tuesday to Sunday
Those who love retro, pre-loved and vintage togs must check out the Greenway Night Market where a trove of old-school apparel can be found. The bustling shopping area is broken down into four zones — plaza, market, green and food court zones.
Explore the various zones and you'll definitely find some great bargains if you keep your eyes peeled and put your best deal-making skills to the test. The Night Market is also a great place to look for unique local crafts which can double as souvenirs for loved ones at home.
Manicure services are also available if you and your travel buddies are looking to get primped. Be prepared to go cashless at this Night Market as you'll be given cash cards which you can preload with a set amount.
It should take you about 10 minutes to get to the Night Market from the Hat Yai railway station by cab.
4. ASEAN Night Bazaar
Thonon Chotevittayakul 5
Open from 5pm to 10pm, Tuesday to Sunday
Another popular night market, especially among Muslim travellers, is the ASEAN Night Bazaar, arguably one of Hat Yai's busiest night markets spread over two floors.
Shopaholics will be spoilt for choice as there's a wide selection of new affordable clothes, shoes, and watches available from stalls on the ground floor. Beauty and personal care essentials like facial masks are also sold here, complete with samples for you to try before buying.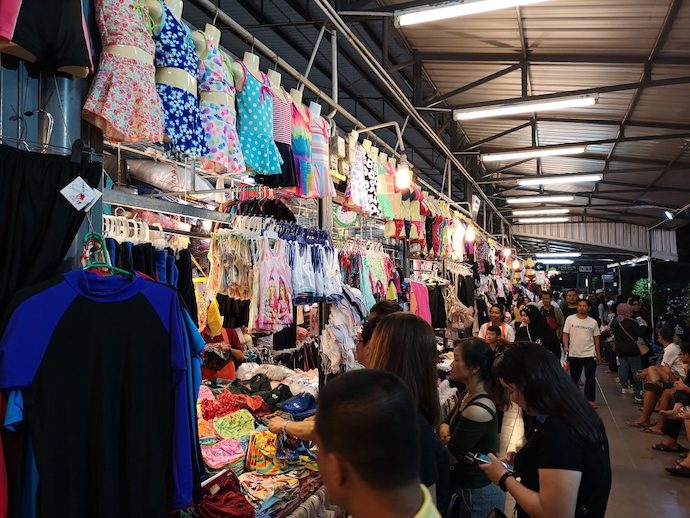 After all that shopping, proceed upstairs to refuel with delectable delights like a piping hot plate of Pad Thai, a sweet-savoury dish featuring rice noodles served with shrimps, chicken and tofu. Wash it down with chilled fruit juices or complete your meal on a sweet note with Thai iced milk tea.
It should take you about 10 minutes to get from Hat Yai railway station to the Night Bazaar by cab.
FOR INTREPID NATURE LOVERS
5. Hat Yai Municipal Park
Kho Hong Subdistrict
Open daily from 6am to 9pm
Free admission to the park and places of worship
The Hat Yai Municipal Park is a huge green oasis which features several hilly outcrops in the northeast of Hat Yai. Home to several breathtaking temples and complexes, he gardens also boast a boating lake at the foot of the hill.
Swan pedal boats are available for couples and friends who'd like to see a different side of the park from the calm waters. As you steal glances at the peaks from within the park, you'll notice the towering and gleaming silhouette of Thailand's tallest standing Golden Buddha statue. To get there, you can choose between making your way up the hill on foot or taking a cable car ride which costs about 200 baht (S$7.80) for a return ticket.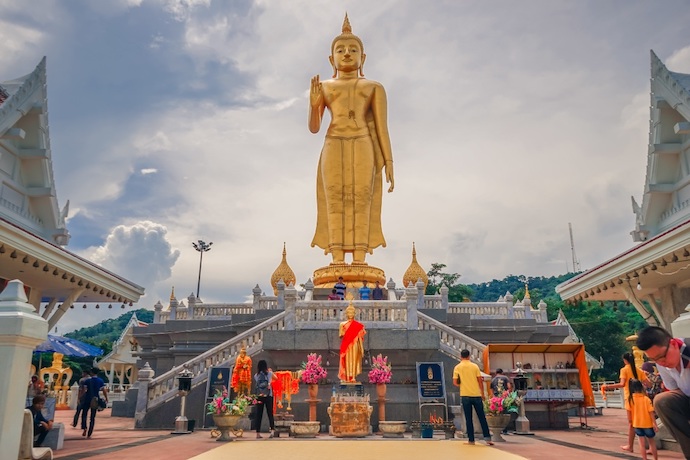 The scenic ride will allow you to look out onto the vast expanse of the park's land and the rest of Hat Yai city below you. Be sure to check out the serene and impressive jade statue of Guan Yin (the Goddess of Mercy) and the Laughing Buddha.
If you're travelling with your little ones, take them on an adventure to uncover the stars of our universe at the Hat Yai Deepsky Observation for Science and Astronomy Centre (open daily from 9am to 8pm) situated within the park. There's even an 80-seater theatre within the planetarium which screens documentaries that will impart important lessons about the wonders of space and our planet. Entry to the Astronomy Centre costs 20 baht (S$0.80).
It should take you about 20 minutes to get from Hat Yai railway station to the park by cab, along Route 407.
6. Thale Noi Waterbird Park
Waterbird Park, Thale Noi, Khuan Khanun District, Phatthalung
Open daily from 8am to 5pm
A day-trip destination worth exploring is the Thale Noi Waterbird Park, arguably one of the largest waterbird reserves in Thailand, home to more than 180 different species.
Hire a longboat ride, which costs about 450 baht per hour (S$17.60), to take you through the wetlands where wildlife like birds and water buffalos reside. Keep a lookout as herons and storks, which are native to the Thale Noi area, routinely fly overhead. The pink water lilies that seem to bloom by the thousands on the water also double as a scenic backdrop for selfies and Instaworthy shots.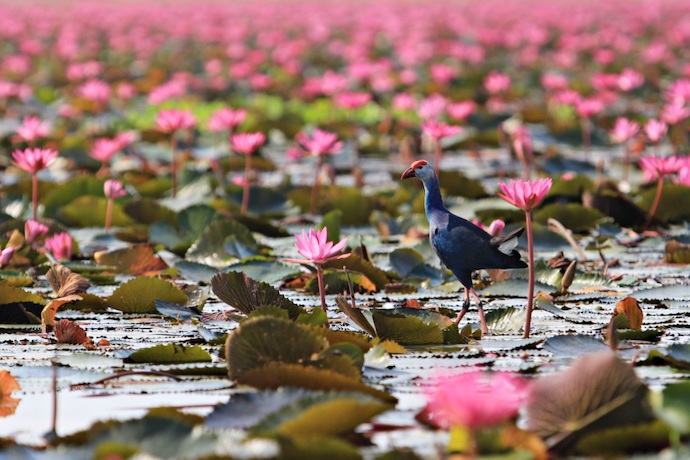 As you travel out on the waters, you'll also easily spot stilted fishing platforms which are used by local fishermen with traditional tools like wooden logs in hand, dipping them into the water to fish.
It should take you about two hours to get from Hat Yai railway station to the park by cab via route 4.
7. Ton Nga Chang Waterfall
1527 Rural Road Songkhla 1013, Thung Tam Sao
Open daily from 8am to 5pm
If you consider yourself to be an adventurous thrillseeker, the Ton Nga Chang Waterfall, a seven-tier waterfall nestled within the verdant Ton Nga Chang Wildlife Sanctuary, should be on your to-do list.
Take a hike up the waterfall and you'll be rewarded with stunning views of nature all around you, chancing upon tiny creeks and pockets of water teeming with fishes and mudskippers. Be sure to pack an extra set of clothes if you'd like to take a dip in the lakes to refresh yourself after the hike. Do bring along insect repellent to avoid falling prey to pesky mosquitoes and insects.
The taxi ride from Hat Yai railway station to the entrance of the Wildlife Sanctuary via route 4287 should take about 40 minutes. Entry to the sanctuary costs 200 baht (S$7.80).
8. Samila Beach
At the roundabout at Ratchadamnoen Alley, Tambon Bo Yang
Those who love dipping their toes in the sand and tasting salty sea breezes will want to visit Samila Beach or Laem Samila. The length of the eastern shoreline of the beach is lined with many shady pine trees and benches for you to sit and watch the crashing waves.
You can also opt for another interesting way to explore the waterfront – on horseback! For just 150 baht (S$5.90), you can hop on a horse and be led by guides along the waterfront. Don't forget to check out the Golden Mermaid Statue, the prime spot to snap a photograph as a memento.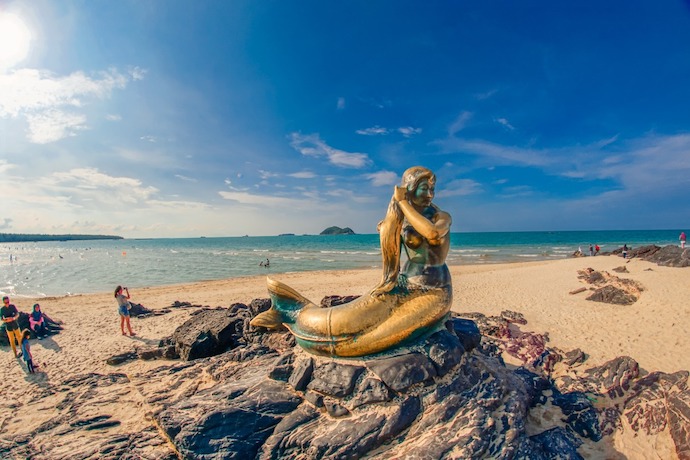 It should take you about 45 minutes to get from Hat Yai railway station to the Beach by cab via route 414.
FOR CULTURE VULTURES & HISTORY BUFFS
9. Southern Folklore Museum
93 Soi 5 Rom Yen, Ko Yo
Open from 8.30am to 5pm, Monday, Wednesday to Friday
A 30-minute drive away from Samila Beach is Ko Yo, a small rustic island inhabited by several fishing communities. It is accessible by taxi via two bridges to the north and south of the island. The Southern Folklore Museum on the northern tip of the island remains one of the key attractions on the island.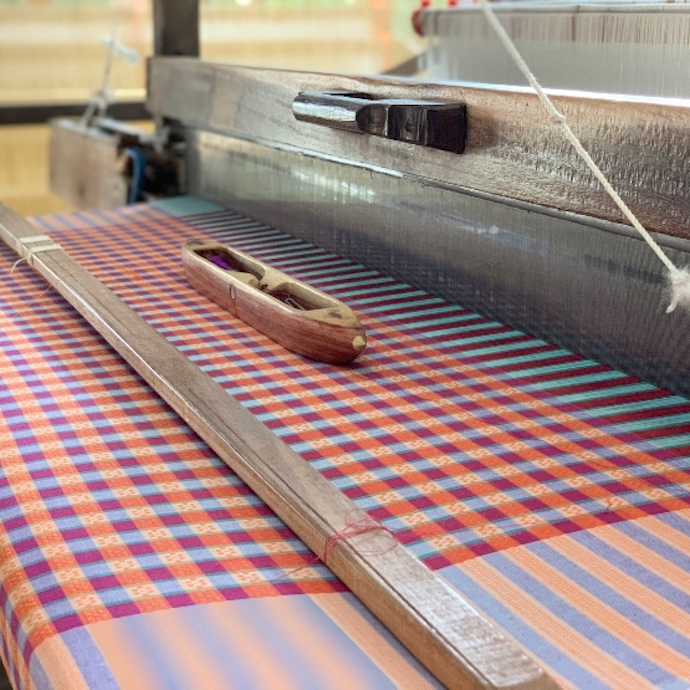 The Museum is built to preserve the unique culture of the south with exhibits that house fabrics, pottery and other traditional arts. Stay on till evening to catch the sunset while dining at any one of the coastal seafood restaurants which serve a sour and spicy Tom Yum Goong, teeming with shellfish and prawns caught just off the coast.
It should take you about 40 minutes to get from Hat Yai railway station to Museum by cab via route 414. Entry to the museum costs 100 baht (S$3.90).
10. Wat Hai Yai Nai
At the intersection of Ban Bang Na Road and Phetkasem Soi 22 Road, Tambon Khuan Lang
Open daily from 8am to 5pm (Closed on public holidays)
Thailand is filled with various magnificent Buddhist temples dating back centuries, which can offer a sense of peace to visitors. Many of these temples include impressive statues that double as awe-inspiring attractions.
In Hat Yai, the temple to visit is Wat Hai Yai Nai. Just walking into the temple grounds, you're confronted by a massive pavilion featuring a 35m-long reclining Buddha which was first crafted in the 1970s.
Don't be surprised if you bump into an entourage of school children dressed in uniforms paying their respects in the afternoon when school ends. The temple is frequented by locals who regard it as one of the most revered places of worship in the country.
It should take you about 10 minutes to get from Hat Yai railway station to the temple by cab via route 414.
Travel Tips
To avoid falling prey to scams, only choose to ride when the taxi driver uses the metre or after double-checking the price of the ride on Uber or Grab apps which double as a good price gauge.
Hat Yai's night markets are known to get quite busy and crowded so make sure you secure your personal belongings and keep them close to steer clear of becoming a target of pickpockets.
While travelling around Hat Yai, it's always a good idea to pack along a packet of wet tissues, tissue paper or even a roll of toilet paper in case there's none supplied at public restrooms.
Photos courtesy of Changi Airport Group
This article has been edited and adapted from Now Boarding by Changi Airport's "11 Hidden gems in Hat Yai ­– Why the Thai town is the new Bangkok"