Penang is world famous for its mouth-watering street food, colourful temples, old-town vibes and thriving art scene. But did you know that the Pearl of the Orient is filled with many green spaces and natural habitats where nature lovers and adventure seekers can have plenty of fun in the sun?

From hiking the popular Penang Hill to exploring the lush countryside of Balik Pulau on a bicycle, here are the best nature spots to visit in Penang.
1. Penang Hill
Bukit Bendera
Opening hours: Penang Hill's ticketing counters are open daily from 6.15am to 8pm, while the funicular service runs from 6.30am to 10pm daily (last trip from the Upper Station to the Lower Station)
Get more info on funicular service prices here.

Known locally as Bukit Bendera (Flagstaff Hill), Penang Hill is definitely a must-visit for nature lovers. Rising 833 metres above sea level, it offers amazing views of Georgetown and the surrounding 130-million-year-old rainforest.

The hill has several hiking trails that vary in difficulty and length, offering options for both seasoned and novice trekkers.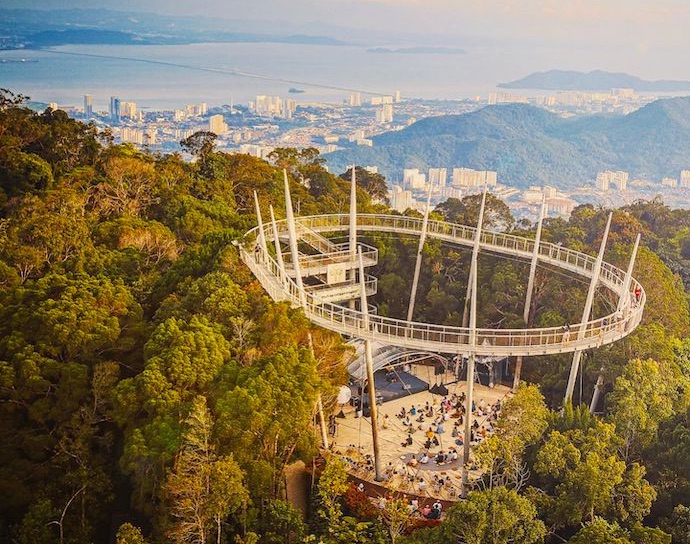 A key attraction here is The Habitat Penang Hill (standard admission is RM60), a rainforest discovery centre set atop Penang Hill. At the heart of this ecological haven lies the Curtis Crest Treetop Walk where you can wander along an elevated walkway amidst the lush tropical rainforest canopy, and soak up marvellous views from the highest accessible viewing platform on Penang Island. Then, conquer the Langur Way Canopy Walk, a 230-metre-long suspension bridge 40 metres above ground, for a thrilling adventure.
2. Entopia by Penang Butterfly Farm
830 Jalan Teluk Bahang
Open daily (except Wednesdays) from 9am to 6pm (last admission at 5pm)
Standard admission: RM75 adult, RM55 child/senior citizen

One of Malaysia's largest butterfly gardens, Entopia by Penang Butterfly Farm is a sanctuary for over 15,000 free-flying butterflies. Besides butterflies, the farm is also home to 200 species of plants, along with waterfalls, ponds, caves and other artistic garden features.

Through its thoughtfully designed habitats, you can witness the life cycles of various butterfly species, explore lush gardens teeming with exotic plants, and get up close to a multitude of fascinating insects. Keep your eyes peeled as you're walking through the nature park because you may actually get to see the "birth" of a butterfly!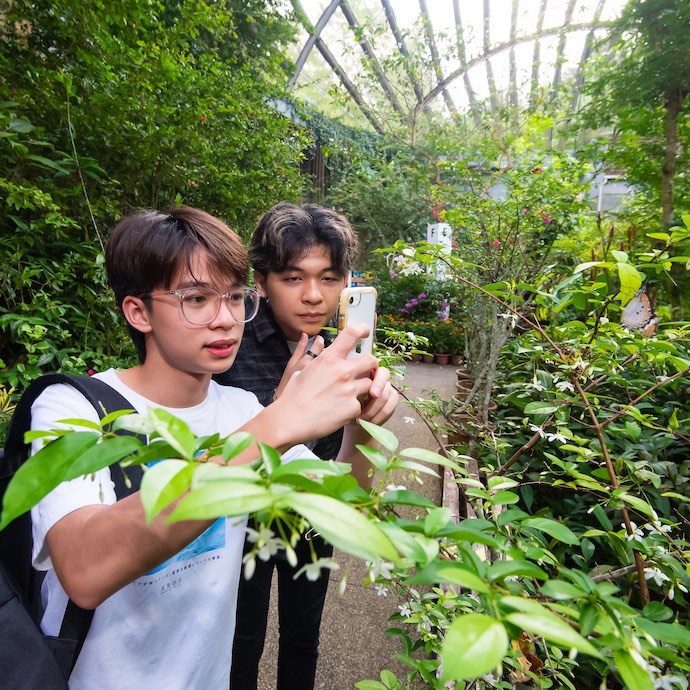 A family-friendly attraction, the farm conducts educational talks, hands-on learning experiences and fun learning programmes for kids and adults. Go on a guided tour, see newly-emerged butterflies being released or come up close with bugs. 

After all the fun, fuel up at Tapestree restaurant. There are outdoor tables and chairs for those who want to enjoy a meal surrounded by greenery and butterflies. The restaurant offers a selection of sandwiches, pastas, Western dishes, Asian main courses as well as kids' meals.
3. Tropical Spice Garden
Lot 595 Mukim, 2, Jalan Teluk Bahang
Opening hours: Monday to Thursday – 9am to 4.30pm; Friday to Sunday – 9am to 6pm (last admission is 1 hour before closing)
Admission: RM28 adult, RM20 senior, RM15 child (Guided tours are also available)

This 5-acre landscaped living museum of spices and tropical plants houses over 500 varieties of flora from around the world, including an array of aromatic herbs and spices commonly used in Southeast Asian cooking.

You can join a live tour led by experienced nature guides or go on an audio tour to explore the area on your own.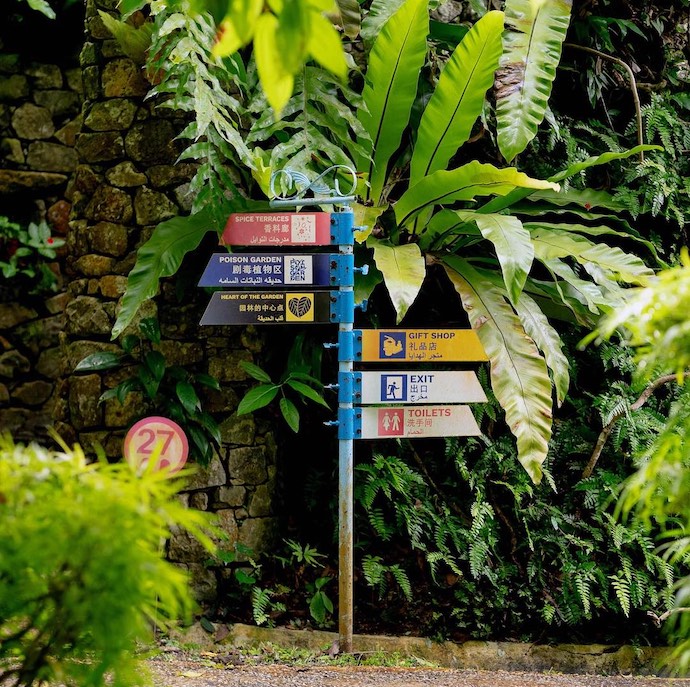 Take time to stop and smell the spices, and pick up skills on identifying medicinal plants and learn how to use them in your daily life.

When you need a break, relax at the breezy outdoor café overlooking the Straits of Malacca and the beautiful shoreline of Teluk Bahang. Head to the gift shop to bring home locally made gifts and premium spice therapy spa products.

The gardens turns 20 and is celebrating from 24 to 26 November with fun activities for every member of the family. These include craft workshops, sharing sessions, treasure hunt, garden camping, culinary adventres, nature education and Chinese herbal healing.
4. Pulau Aman
Off the coast of Batu Kawan, Seberang Perai
Take the ferry from Batu Musang Jetty to Pulau Aman
Ferry tickets: RM8 adult, RM 4 child

A small island off the coast of Seberang Perai, Pulau Aman (Island of Peace) is perfect for a day trip. The sleepy fishing village on the island has less than 300 inhabitants.

Outdoor lovers can go for a hike, head to the beach, cycle around the island or kayak in the calm waters between Pulau Aman and Pulau Gedung.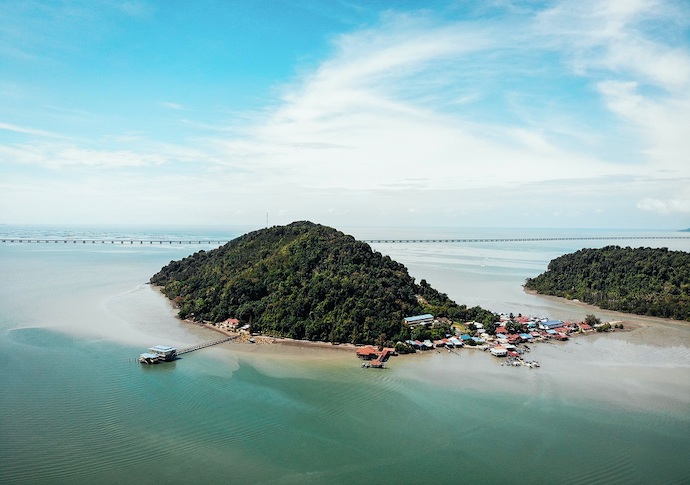 There are also heritage sites to explore including Telaga Emas (Golden Well), which was dug in 1789 and takes its name from the golden jar that the villager who dug the well had discovered.

The island is also famous for its fresh seafood and a must-try dish is Mee Udang (prawn noodle). The prawns are cooked in a thick, flavourful broth, served with noodles. There's also a dry, stir-fried version called Mee Goreng Udang. 
5. Penang National Park
Jalan Hassan Abbas, Teluk Bahang
Open daily from 8am to 5pm
Admission to the park is free but you'll need to register at the entrance

Located on the northwestern corner of Penang Island, a 50-minute drive from Georgetown, this scenic haven, at 25 square kilometres, is Malaysia's smallest national park.

It may be small but it is home to an amazingly large variety of tropical plants, animals and geographical features. Look out for animals like slow loris, flying lemur, civet cats, sea otters, pangolins, dolphins, monkeys and turtles. Bird enthusiasts, keep your eyes peeled for white-bellied sea-eagle, stork-billed kingfishers, egrets and more.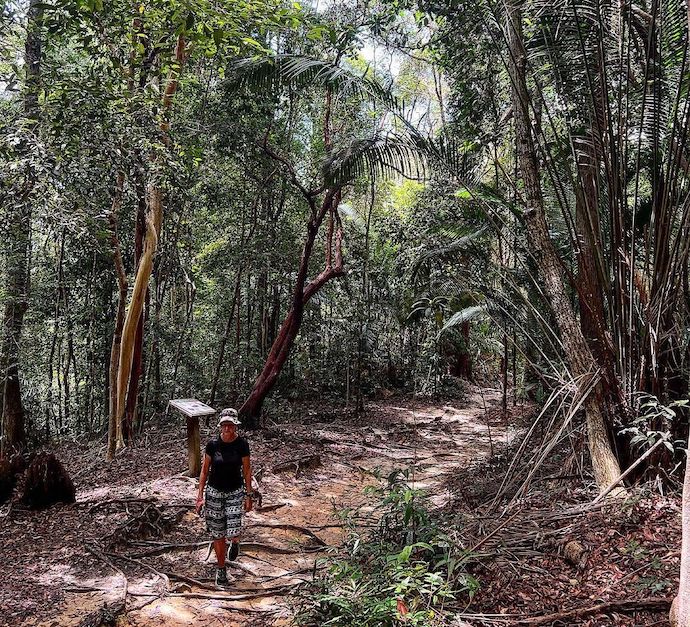 As you explore the park, be sure to look up and admire majestic trees like Chengal, Meranti, Seraya, Jelutong and Gaharu.

It also has six different types of habitat – a meromictic lake, wetlands, mangroves, mudflats, coral reefs and turtle nesting beaches.

The park's two main trails are very popular with hikers. One trail takes you along the coast to Teluk Duyung (Monkey Beach) and the other brings you over the hills through the jungle to Pantai Kerachut (Turtlet Beach).
6. Balik Pulau
Southwest part of Penang Island

Rural, laid-back and home to durian plantations, fishing villages and paddy fields, Balik Pulau or "back of the island" is the perfect getaway from city life.

One of the best ways to explore Balik Pulau is on a bicycle. The town is surrounded by picturesque countryside and rolling hills. Take a leisurely bike ride through the scenic landscapes, enjoying the fresh air and captivating views. Look out for a three-storey-high container art installation on the rice fields of Kampung Terang.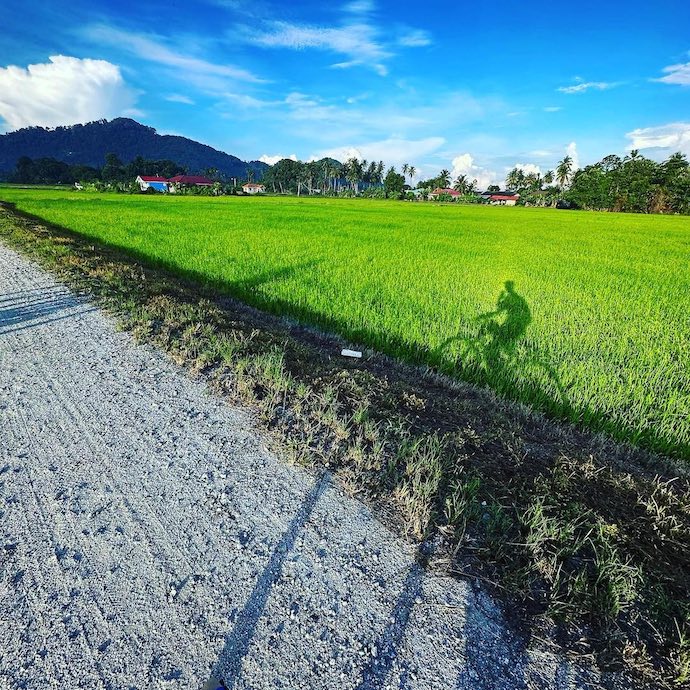 With its lush fruit orchards, a visit to Balik Pulau isn't complete without indulging in seasonal tropical fruits like durian, rambutan and mangosteen. You can join guided tours of the orchards to learn more about the cultivation of these delicious fruits.

Kids will love Audi Dream Farm, an eco-friendly farm that combines sustainable agriculture, interactive animal encounters and outdoor activities. A highlight is the petting zoo where you'll get to meet adorable animals like rabbits, guinea pigs and parakeets. You can even ride on a camel at the farm!

For more animal encounters, head to Countryside Stables Penang which offers horse feeding and joy rides, riding lessons and photoshoot with horses. You'll get to see miniature horses, Pure Bred Arabian Horses, Polo Pony, Thai, Myanmar and Malaysian ponies, donkeys and deers at the stables.

Over at Saanen Dairy Goat Farm, you'll get to feed and interact with playful goats and learn about goat farming.

Pantai Malindo in Sungei Burung is said to be one of the best spots in Balik Pulau to soak up stunning sunset sights, so time your visit to catch the golden hour.


This article has been edited and adapted from Now Boarding by Changi Airport's "Top places to visit in Penang: Natural retreats for the adventure seeker"