If you're keen on doing your part for the environment but also want to enjoy a pampering hotel experience, a stay at PARKROYAL Collection Marina Bay will satisfy both your desires.
Billing itself as Singapore's first "garden-in-a-hotel", the lifestyle luxury hotel underwent a S$45 million transformation in 2020, following a rebranding from Marina Mandarin Singapore, to incorporate a biophilic design which celebrates nature as well as eco-friendly and sustainable features.
The hotel's structure and iconic 21-storey atrium, designed by renowned American neo-futuristic architect John Portman, were preserved during the transformation. By not tearing down and reconstructing the building, the hotel prevented over 51,300 metric tonnes of carbon dioxide from being produced – equivalent to cutting down 8.7 million trees or wiping out an area that is larger than all of Singapore's nature reserves combined.
Aiming to resonate with eco-conscious guests, the hotel goes the distance with renewable solar energy, filtered water systems to reduce plastic bottle use, energy-saving measures and an urban farm, among other sustainability practices.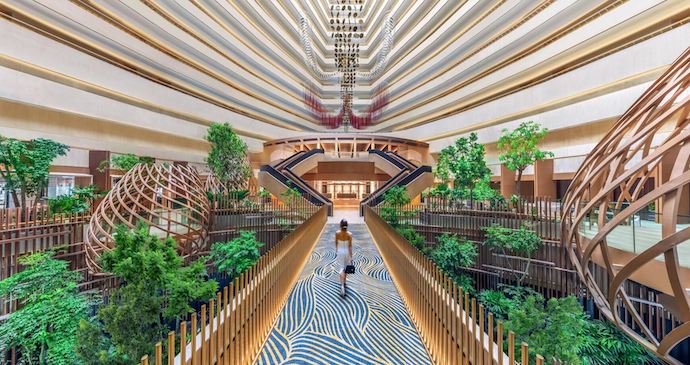 Complementing its green practices, the hotel's interior is a lush garden sanctuary, with an awe-inspiring four-storey vertical green wall and nature-inspired architecture, designed to be a peaceful, rejuvenating respite for guests.
We highlight unique experiences that you can look forward to during your stay at the 583-room hotel.
A lush garden within the hotel
The first thing that catches your eye as you enter the hotel's entrance lobby is its spectacular 13m-high green wall, an artistic representation of a traditional Chinese landscape painting. The soft moss and foliage are planted in cloud-like shapes and interspersed with monolithic "mountains" throughout.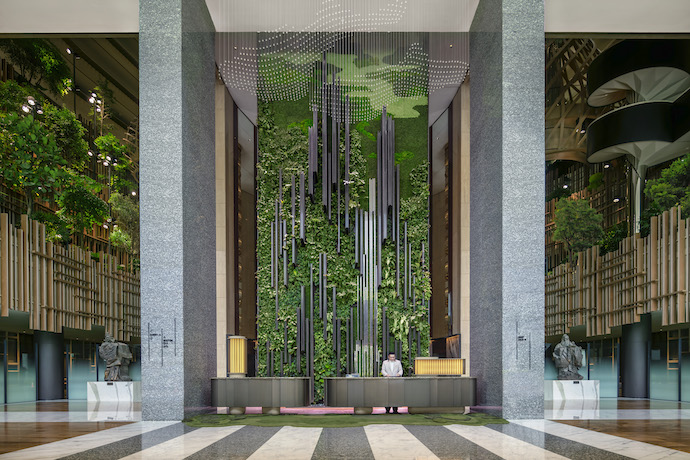 Step into the atrium lobby on level 4 and enter a cool, tranquil forest, surrounded by plants, trees and shrubs, four striking bird's nest-inspired sculptural pavilions, and the melodic chirping of six live songbirds. The songbirds only "work" from 8.30am to 3.30pm, achieving better work-life balance than most humans!
For an immersive treetop experience like no other, stroll along the atrium sky bridge for a bird's-eye view of the hotel's lush forest canopy, made up of some 2,400 plants, trees, shrubs and groundcovers from over 60 flora varieties. Handpicked for their resilience to indoor growth and light requirements, the plants act as natural air purifiers and sinks for carbon dioxide, improving indoor air quality by reducing carbon dioxide concentration.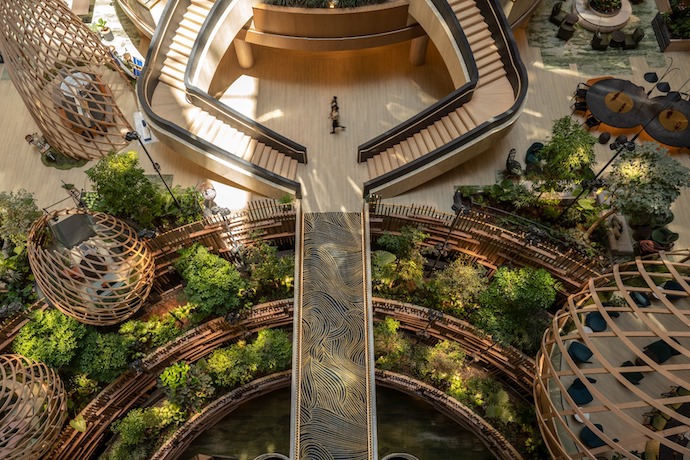 To soak up breathtaking views of the atrium, head to the higher floors and look down. From that vantage point, you'll also get a different perspective of the suspended art installation by famous American wire sculptor Richard Lippold, named "Orchidea". The sculpture's design is said to resemble a windfall of coins falling into outstretched hands, signifying the hotel's prosperity.
To see "Orchidea" and the atrium transform into a new lightscape, catch the one-and-a-half minute "In Light of Orchidea" light show at the atrium, happening every night at 7pm, 8pm and 9pm.
Nature-inspired rooms
Spread across levels 7 to 21, rooms and suites are dressed in soothing earth tones of cream, brown, grey, black and white with cool aquamarine accents, and sport timber flooring and stylish custom-designed furniture with rounded edges – the handiwork of FDAT Architects, the design-focused architectural and interior design practice behind the refurbishment of the hotel's interiors.
Thanks to the hotel's location in the heart of Marina Bay, every room and suite balcony offer captivating views of the city, Marina Bay or Singapore's landmarks and attractions.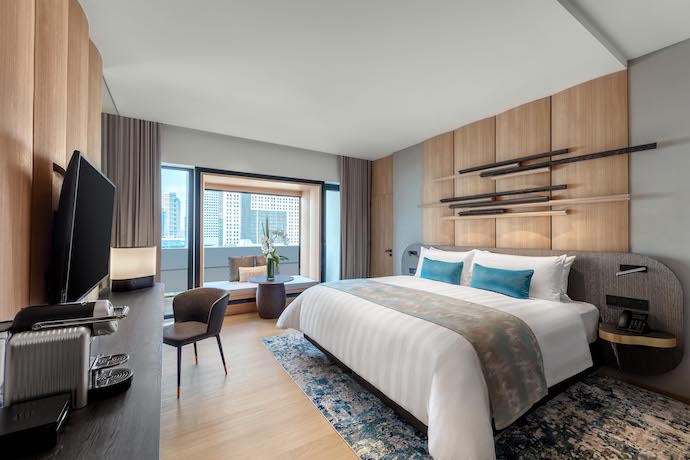 Lifestyle Premier rooms have cosy daybeds by the window for chilling out or indulging in a healthy dose of daydreaming, while PARKROYAL COLLECTION Suites boast dining rooms, fully equipped kitchens, large living areas, walk-in wardrobes and TechnoGym treadmills.
All rooms and suites are equipped with Nespresso machines plus capsules and a selection of TWG teas, while bathrooms are stocked with bath products from Australian brand Appelles.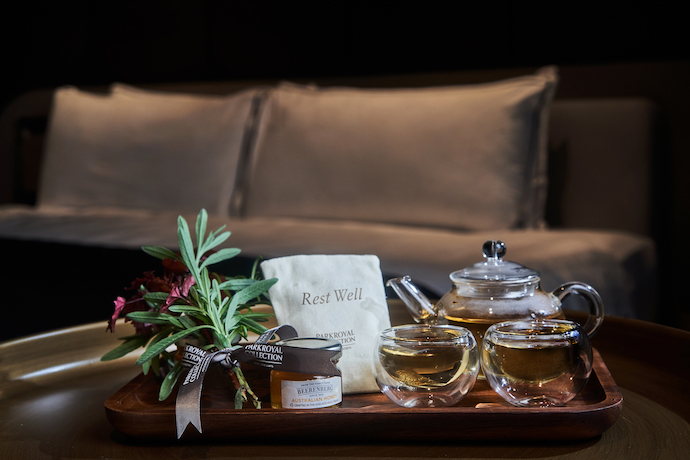 As part of the hotel's eco-wellness programme, guests who are staying in Collection Club Rooms and higher categories will get to experience the Sleep Ritual turndown service. It features a tea set and a bundle of sleep-friendly herbs like thyme, bergamot lime, rosemary and mint freshly harvested from the Urban Farm. Also included is a scented pillow pouch, created by homegrown aromatherapy brand FLO, that's infused with natural essential oils to help calm the body and mind for a good night's rest.
In line with the hotel's commitment to sustainability, all rooms have water filtration systems as well as motion sensors that power down lights and air-conditioning when no one is in the room.
Wholesome farm-to-table dining
An all-you-can-eat, farm-to-table experience featuring fresh greens from the hotel's urban farm and locally sourced, sustainable produce await at Peppermint on level 4.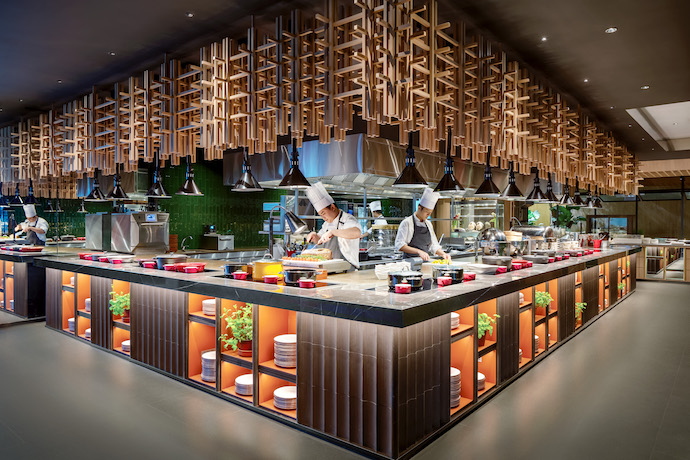 The halal-certified, all-day dining restaurant serves a wide range of Asian and international favourites, prepared from an open display kitchen. Think fresh seafood at the seafood island, nourishing choices at the salad bar, sushi and sashimi at the Japanese station, local favourites, signature roasts and plant-based options – you'll definitely be spoilt for choice.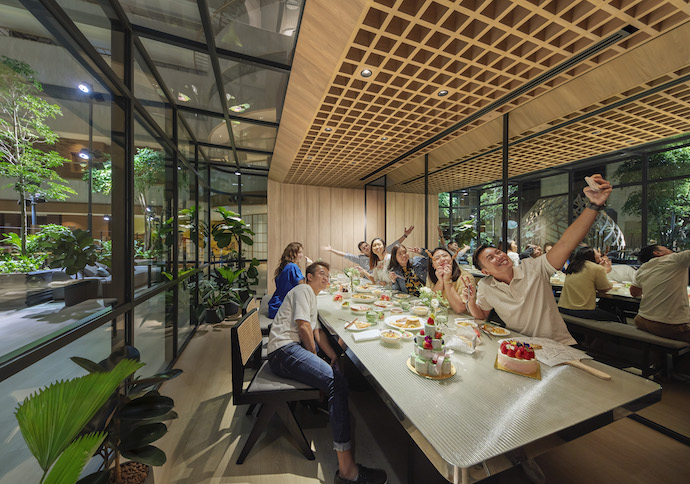 Dishes are cooked in small portions to minimise food wastage and replenished with fresh batches regularly so diners can always expect to tuck into freshly prepared food.
Dine next to nature in one of the bird's nest pavilion amid the chatter of songbirds at the atrium or in a glass greenhouse inside the restaurant.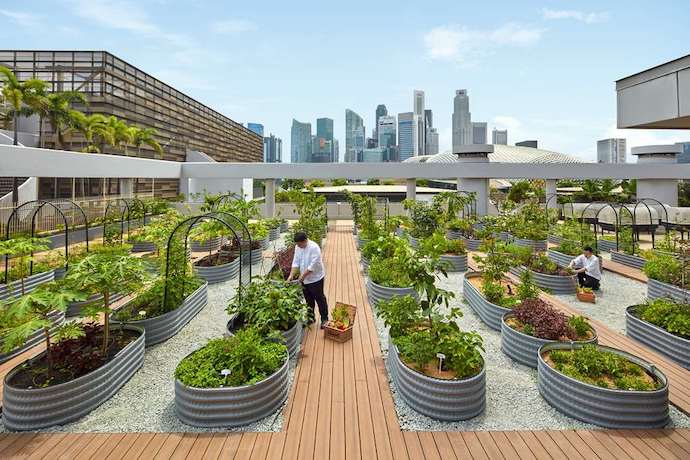 After your meal, step out onto the terrace just next to Peppermint to check out the hotel's urban farm where over 60 varieties of fruits, vegetables, herbs and edible flowers including cape gooseberry, guava, spinach, sweet potato, lemon mint, basil, marigold, roselle and butterfly pea are grown and used in the restaurant's dishes and drinks.
Swim among a galaxy of stars & recharge your body
Swimming pools are de rigueur at five-star hotels but the hotel's outdoor pool on level 5 is one of a kind. When night falls, the 25-metre swimming pool is illuminated by 1,380 energy efficient fibre-optic lights, and a refreshing dip in the pool gives you the feeling like you're floating in a star-studded galaxy.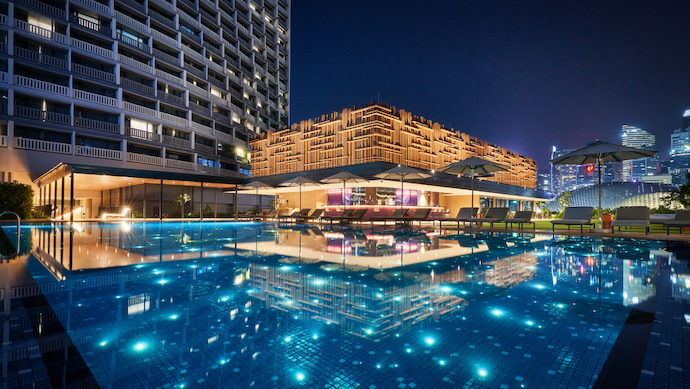 To maintain your fitness routine, head to the 24-hour fitness centre which is also located on level 5, the hotel's dedicated wellness floor. The gym is equipped with TechnoGym cardio and strength-training equipment to cater to different fitness goals.
To work up a sweat and get your heart racing, book a virtual-based spinning session at the Spin Bike Studio which houses 10 spin bikes.
HOTEL PACKAGES