The flavours of Cambodian or Khmer food are bold and rich, with dashes of influence from French, Chinese, Indian, Thai and Vietnamese cuisines. Be sure to try these hearty Khmer dishes, and savour the punchy and fragrant flavours.
Ang dtray meuk
This grilled squid dish is popular in seaside towns like Kep and Sihanoukville. The squid is brushed with lime juice or fish sauce, then grilled on skewers, and served with a sauce made with garlic, chillies, fish sauce, lime juice and sugar.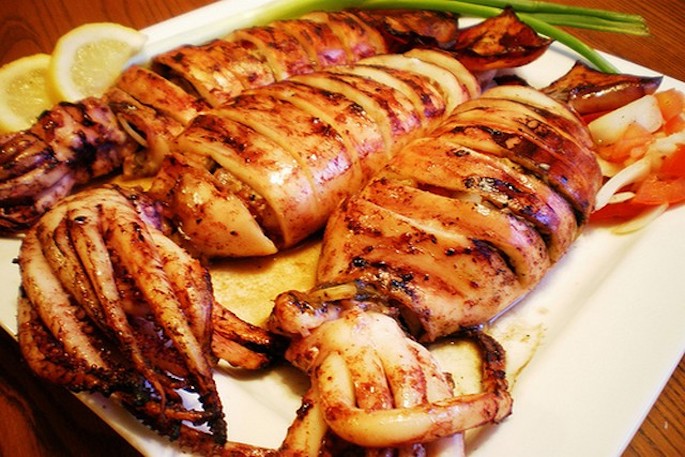 Bai sach chrouk
One of Cambodia's most popular breakfast dishes, it features grilled pork that has been marinated in coconut milk, garlic, palm sugar, soy sauce, fish sauce and lime before being grilled, served with rice and pickled vegetables such as radish, carrot and cucumber.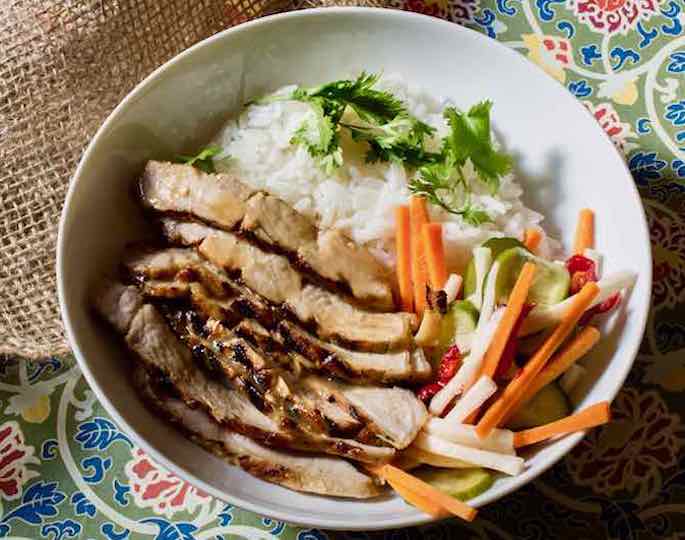 Banh chao
This traditional Khmer savoury crepes are made with rice flour, turmeric powder and water, and filled with minced pork, bean sprouts and onions.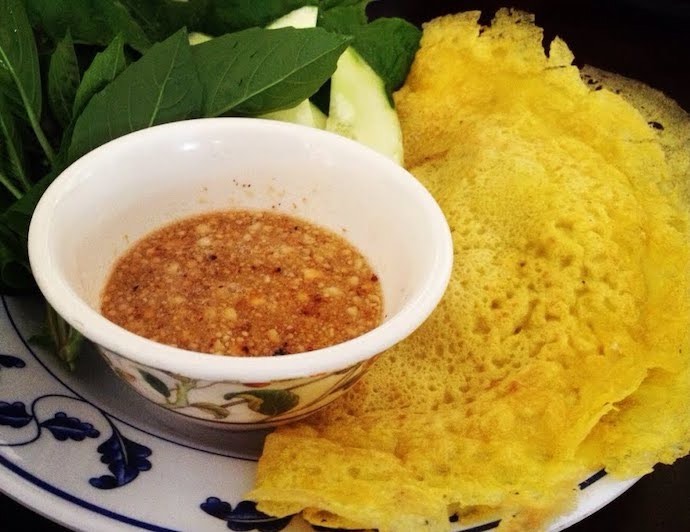 Beef Saraman
The richest of Cambodian curries, this braised beef curry is cooked with Indian spices such as coriander seeds, clove, cumin and cardamom, as well as chillies, lemongrass, shallots, garlic, shrimp paste, turmeric, galangal, kaffir lime leaves, peanut and dry-roasted grated coconut.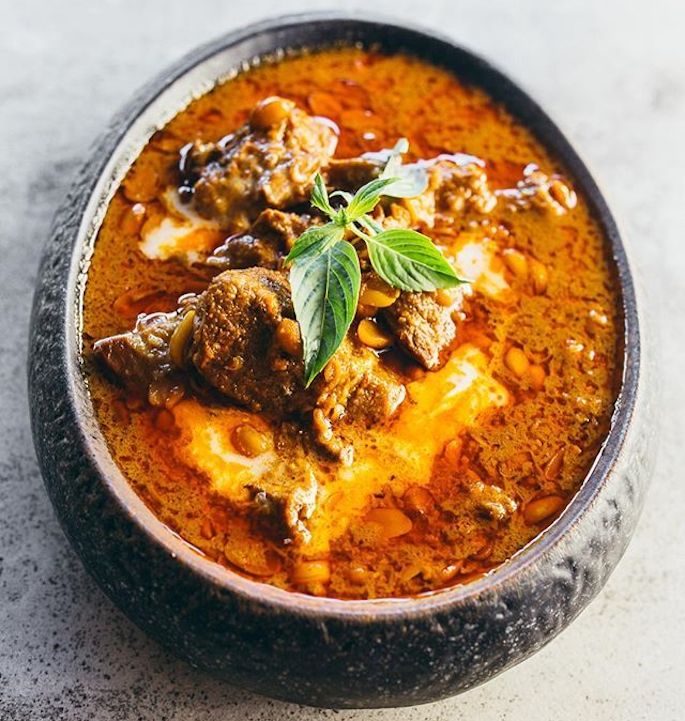 Cha houy teuk
This dessert comprises colourful jelly that is made from agar agar (gelatin derived from seaweed), combined with sago, red beans, jackfruit, sticky rice, taro and coconut cream, and often served with shaved ice.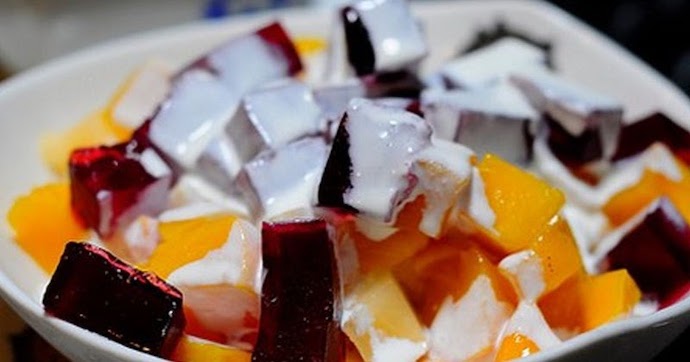 Deep-fried insects
Seen as a cheap and rich source of protein, the insects – hoppers, moth pupae, beetles, grasshoppers, tarantulas, crickets, giant water bugs, ants and scorpions – are usually deep-fried and served with a dipping sauce.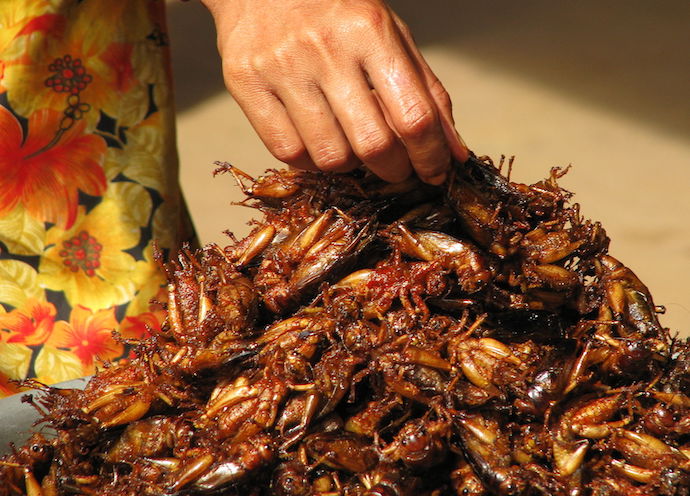 Fish amok
This lightly sweet and creamy fish curry is Cambodia's most famous dish. It is made with fish (typically a river fish) mixed in a herb/spice paste (kroeung) comprising garlic, shallots, lemongrass, turmeric, galangal and kaffir lime leaves, along with palm sugar, fish sauce and chillies, topped with coconut milk and steamed in banana leaves shaped like small bowls.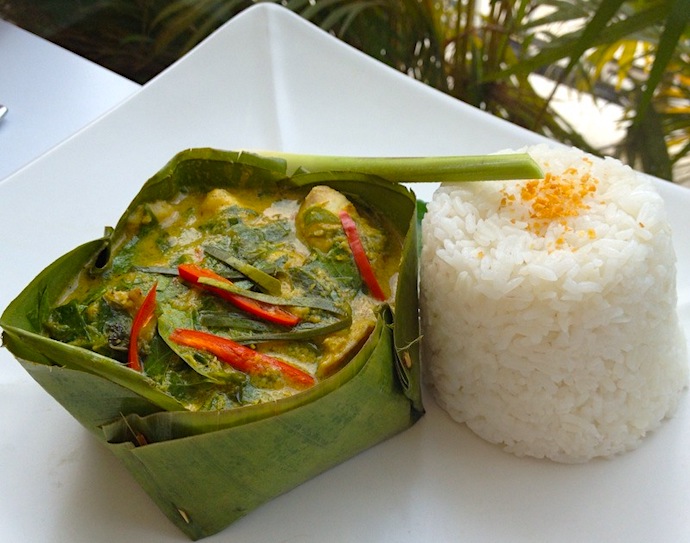 Kampot pepper crab
Whole crabs are stir-fried with Kampot's famous black peppercorns, green peppercorns, garlic, soy sauce, oyster sauce, palm sugar and scallions.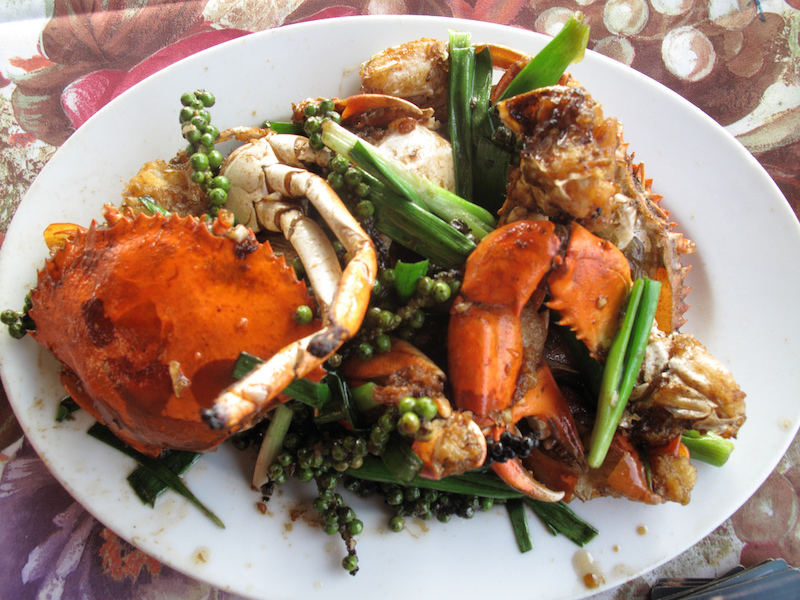 Kaw Sach Chrouk  
This sweet and savoury dish is made with pork belly or pork shoulder braised in a dark broth intensified with caramelised sugar, soy sauce, fish sauce, star anise, garlic, pepper, hard-boiled eggs, firm tofu and bamboo shoots.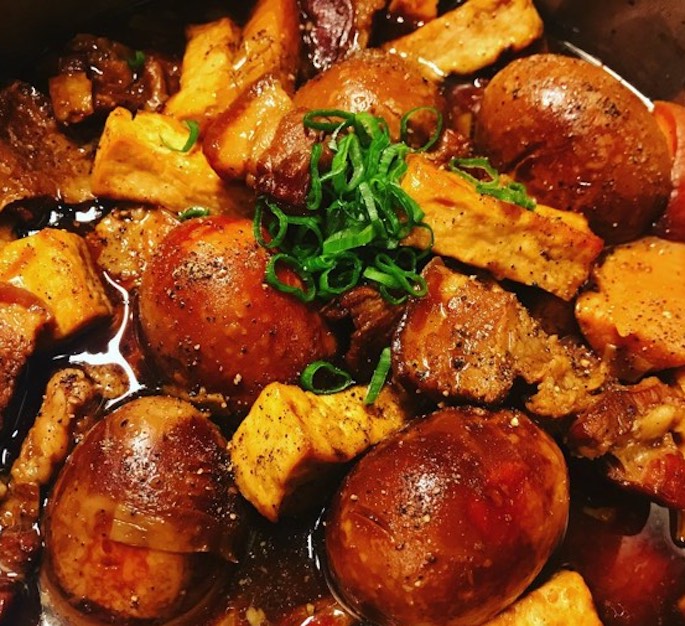 Khmer red curry
An all-time favourite, this curry is made with kreung (a paste comprising lemongrass, chilli, galangal, garlic and kaffir lime leaf), chicken, beef, pork or fish, eggplant, green beans, potatoes and coconut milk, and served with baguette or rice.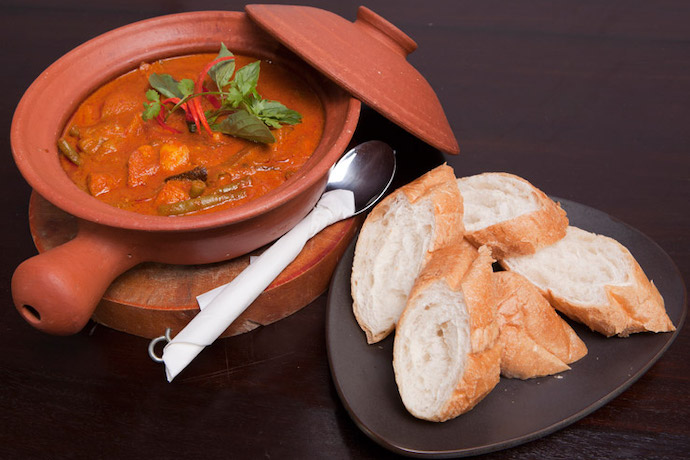 Lap Khmer
This signature Khmer salad is made up of lime-marinated seared beef slices that are tossed in a dressing comprising lemongrass, fish sauce, lime juice, palm sugar, coriander, mint and chilli, together with green beans, onions, cucumbers and tomatoes.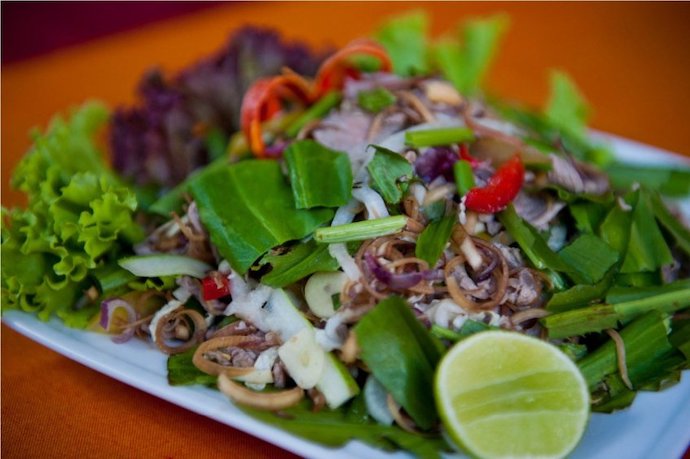 Lok lak
This dish with French and Chinese influences is made with either beef or pork that has been marinated in oyster sauce, soy sauce, tomato sauce, fish sauce, sugar, pepper and garlic, before being stir-fried with onions. It is served on a bed of lettuce leaves and tomatoes, with rice and a dipping sauce made with lime, pepper, salt and water.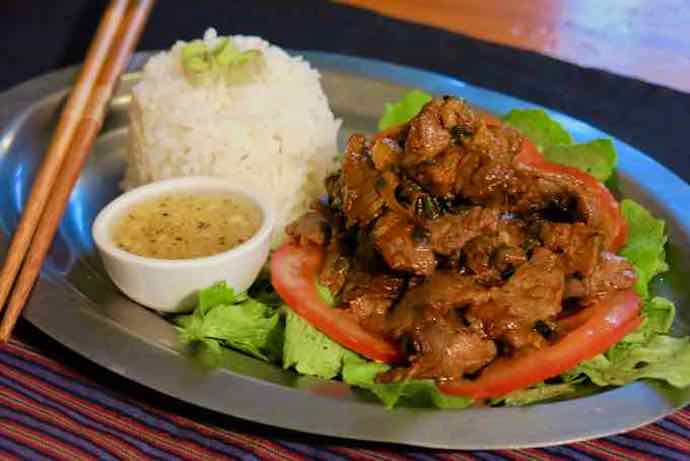 Nom banh chok
This well-loved Cambodian dish, also known as Khmer noodles, is a popular breakfast dish. It consists of rice noodles covered with a fish-based green curry gravy made from lemongrass, turmeric, fingerroot ginger and garlic, and topped with cucumbers, banana blossoms, long beans, mint leaves and bean sprouts.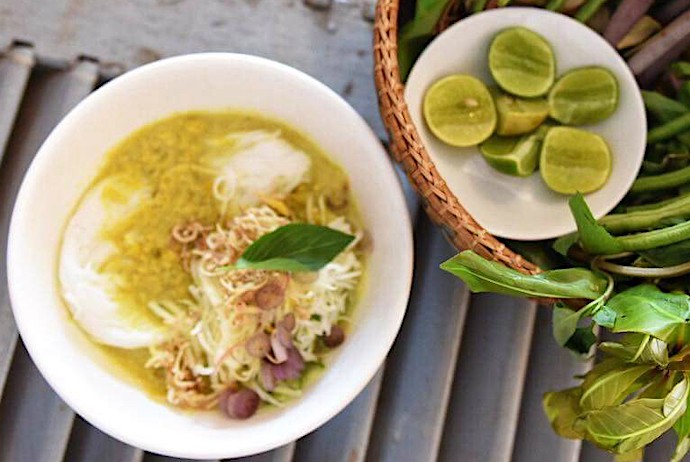 Num pang
Cambodia's version of the Vietnamese banh mi features crispy baguettes filled with pork, pâté, pickled carrots or radish, cucumbers, cilantro and chilli.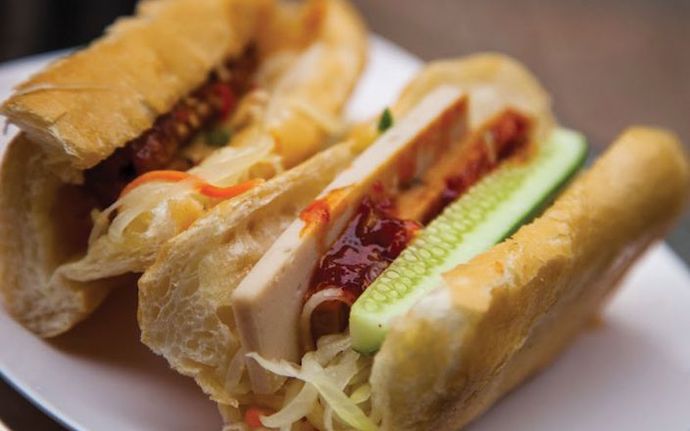 Prahok ktiss
This dip is made with prahok (crushed, salted and fermented fish paste used as seasoning), an important ingredient in Cambodian cuisine. Ground pork is cooked with prahok, kreung (a paste comprising lemongrass, chilli, galangal, garlic and kaffir lime leaf), coconut milk, tamarind juice, peas and chillies, and served with mixed raw vegetables.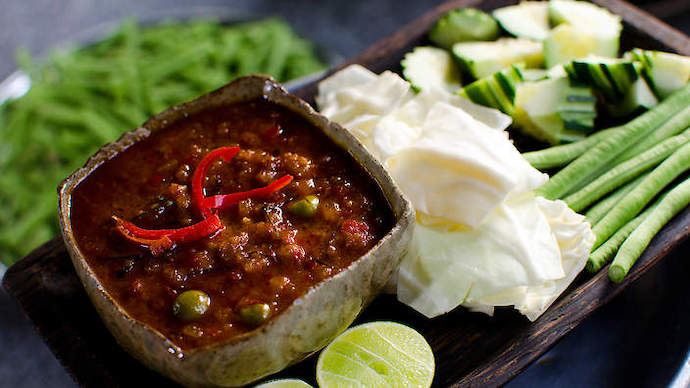 Red tree ants with beef and holy basil
This aromatic and sour dish comprises red ants of various sizes that are stir-fried with basil, ginger, lemongrass, garlic, shallots, chillies and thinly sliced beef, and served with rice.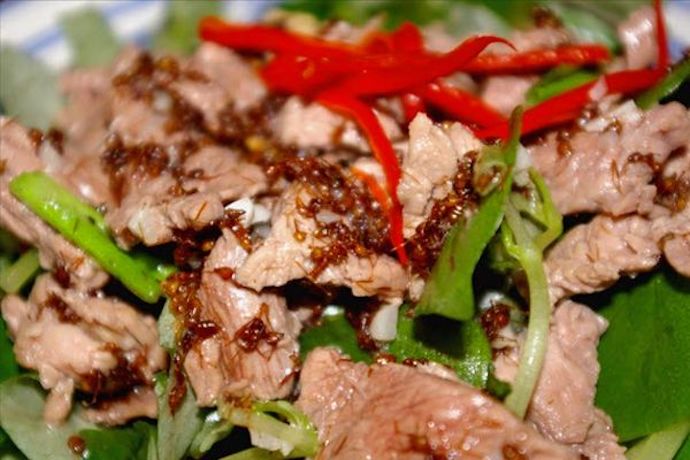 Samlor machu trey
This sweet and sour soup is made with fish, garlic, lemongrass, celery, tamarind juice, bean sprouts and pineapple, seasoned with fish sauce, salt and sugar, and topped with chilli and fresh herbs such as basil and cilantro.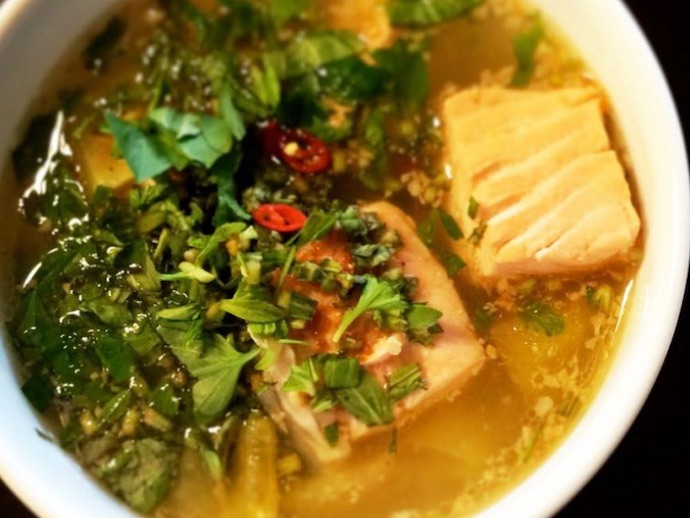 Sankhya lapov
This traditional Cambodian dessert is similar to Thailand's sang kaya fug tong where a pumpkin is deseeded and filled with a creamy custard containing coconut milk, palm sugar paste, eggs and salt before being steamed.