Need a break but don't want to get on a plane? Hop on a ferry instead for a short getaway at some of the best beaches and islands close to Singapore.
Besides offering plenty of opportunities to soak up the sun, sand and sea breeze, there are also fun outdoor activities to keep every member of the family occupied. From adventurous waterfall hikes and exhilarating activities to a quiet retreat on a private island, there's something for everyone at these five places which are just a boat ride away from Singapore.
1. Desaru Coast, Malaysia
One of Malaysia's premium integrated destination on the eastern coast of Johor, Desaru Coast is a great getaway for the whole family, thanks to its family-friendly attractions and accommodation options such as Hard Rock Hotel Desaru Coast and The Westin Desaru Coast Resort.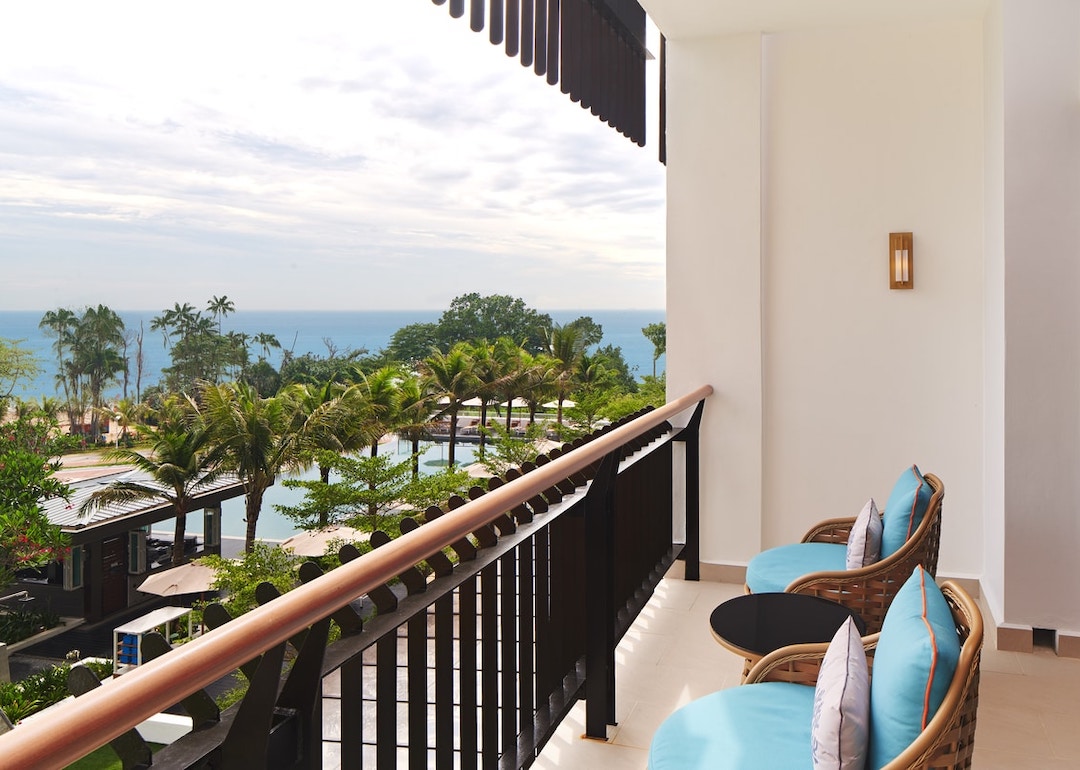 Both hotels provide direct access to Adventure Waterpark, home to one of the world's largest wave pools. At the Tidal Wave Beach, you can float lazily in the water or get carried away further into the tidal waves. Thrillseekers will love Kraken's Revenge, a roller coaster flume ride that sends you through a 360-degree loop before plunging down 30 metres into a splashing finish. More thrills await at the Swinging Ship, a Viking ship replica that swings beside three 13-metre high Penawar Falls, to an incline of 180 degrees.
Nature lovers will want to visit the Desaru Fruit Farm which has been in operation for over 10 years. It has been recognised for its efforts relating to agro-cultural practices and conservation. The sprawling 180 acres of land contains more than 100 species of fruit trees and plants, along with a small petting zoo, a paintball activity space and a go-kart track. You'll also get to learn about bee keeping and sample some raw unprocessed honey. The mini petting zoo features a range of animals from goats to rabbits which you can feed with fresh vegetables.
Getting There
Catch a ferry from Tanah Merah Ferry Terminal to Desaru Coast Ferry Terminal at $70 one way and $118 for a return trip. You can also book a private car or self-drive to Desaru.
2. Batam, Indonesia
Located just an hour away from Singapore by ferry, Batam is easily accessible and offers a variety of activities – from a game of golf to catching your own seafood from the sea.
A great option for families with children is Montigo Resorts, Nongsa. Each villa accommodates up to four persons and has a private pool plus rooftop terrace overlooking the South China Sea. On a clear day, you can catch a glimpse of the Singapore skyline on the horizon.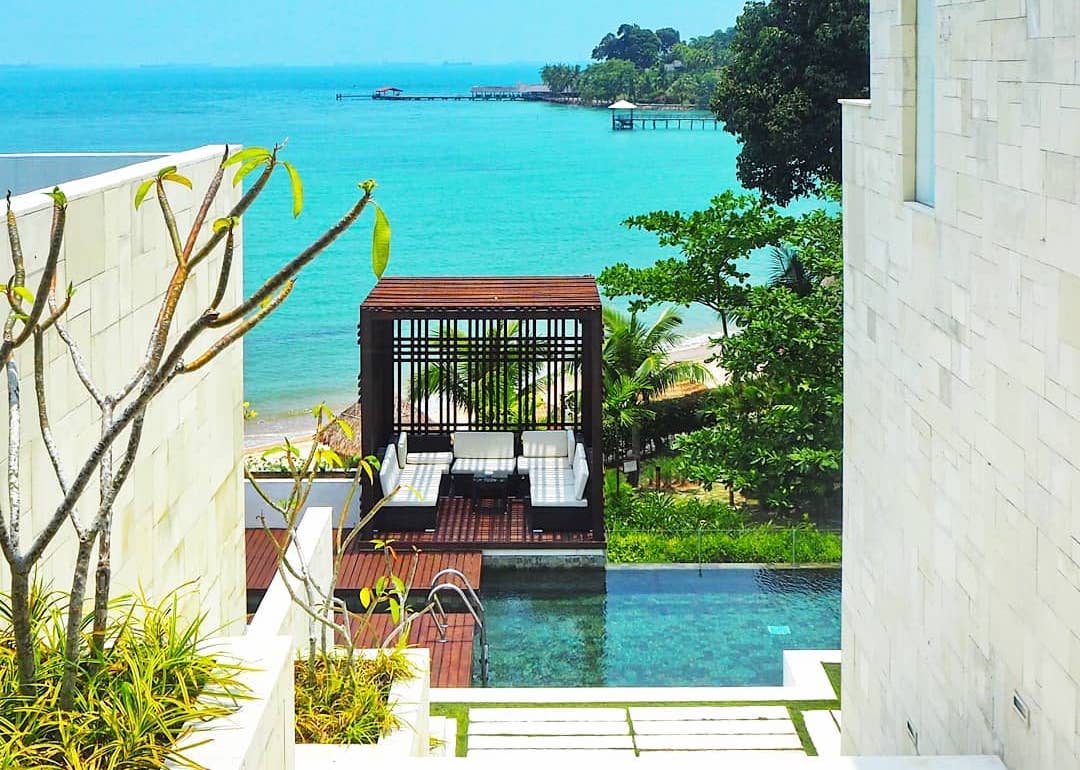 Kids aged 3 and above will love Tilo Kids Club where they can engage in fun and educational activities, with a range of board games or game consoles. Teens can experience the thrill of shooting an airsoft gun around the resort or test their aim with a game of darts.
To immerse in the local culture, sign up for a batik painting class to try your hand at dyeing fabric the traditional Indonesian way, dating back 1,600 years.
For a more back-to-basics rustic experience, try staying at MoonBay Kelong, a wooden villa built on stilts above the water that provides a peaceful and tranquil stay in the middle of the sea. What's more, you'll get to experience life on a kelong, dig into delicious fresh catch every day and can even try your hand at catching your own meals from the sea!
Home to several golf courses, each with its own unique character, Batam is a golfer's paradise. Top golf courses include Batam Hills Golf Resort, Palm Springs Golf & Country Club and Padang Golf Sukajadi.
Getting There
Catch a ferry from HarbourFront Passenger Terminal or Tanah Merah Ferry Terminal in Singapore to Batam Centre, Harbour Bay, Sekupang or Nongasapura Ferry Terminal in Batam. Tickets at $43 for one-way trip from Singapore; $73 for round trip.
3. Bintan, Indonesia
To enjoy an extensive range of recreational and water sporting activities, head to Treasure Bay Bintan which is home to Crystal Lagoon, Southeast Asia's first man-made sea water lagoon. Surrounding the lagoon is a host of dining, entertainment, nightlife, spa and retail options.
Water activities abound at the lagoon – from mangrove kayaking and Paddle Boat to a giant Slip & Slide and Rodeo Bull. Water sports junkies can head over to Treasure Bay's Chill Cove Wake Park to try out cable skiing while landlubbers can tackle off-road trails on an ATV.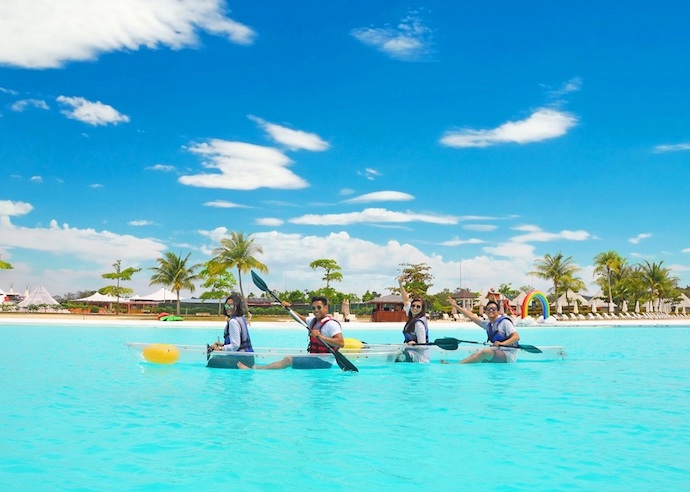 A unique accommodation available around the lagoon is luxury desert themed Anmon Glamping Resort. It features Insta-worthy teepee-style glamp tents with private bathrooms and enclosed patios, ideal for lounging indoors or outdoors.
If you prefer to stay by the coast, consider one of the eight exclusive pool villas at Nirwana Gardens instead. As the Indra Maya Pool Villa faces the South China Sea, you'll get sweeping views of the coast line from the courtyard.
An interesting activity at Nirwana Gardens is its turtle hatchery programme where its staff work together with the local community to conserve and protect native Green and Hawksbill turtles. Guests are welcomed to be a part of this unique and free experience to watch as the 3-day-old hatchlings are released from their sheltered hatchery onto the beachfront.
Getting There
Catch a ferry (from $57 for one-way ticket, from $94.50 for return trip) from Tanah Merah Ferry Terminal to Bandar Bentan Telani Ferry Terminal in Bintan. Hail a cab to complete the final leg of the transfer to Treasure Bay or Nirwana Gardens.
4. Pulau Pangkil (private island)
For an extraordinary island getaway, book the entire Pulau Pangkil for some private time with your loved one, family or friends. Located off the southeastern corner of Bintan Island, this exclusive tropical island resort can be accessed from the private Pama Jetty.
Stay in driftwood villas constructed using logs salvaged at sea and the surrounding islands. These open villas stand by the edge of the beach, and are elevated from the ground to take advantage of the tropical sea breeze, overlooking the crystal clear waters beneath. They are naturally ventilated with roof-mounted fans and have no air-conditioning, but are decked out in rich fabric, intricate hand-carved furniture and fittings that exude simple luxury.
The island is also void of man-made elements, with minimal concrete or light pollution – making it the perfect destination to recharge your soul with your other half on a hammock, with the sunset glowing behind tiki torches and a blanket of stars.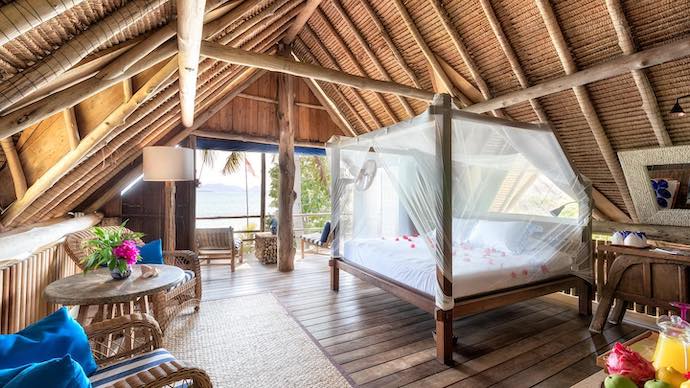 As you explore this idyllic island, you'll be surprised by how incredibly rich the ecosystem is. There are over 40 species of plants, and the surrounding seas are strictly no-fishing zones. Try spotting herons, mudskippers, monitor lizards and butterflies within the area.
All three meals are provided during your stay according to your own schedule. Enjoy a mix of Indonesian and Western dishes – from grilled seafood and barbecued meats to pastas, vegetables and fresh fruits. Book a massage (minimum six sessions) during your stay to complete the rustic paradise experience.
Book the entire island from $5,117.50 per night per group of 12 adults. Prices include three meals a day, full use of facilities, and land and boat transfers between Bintan and Pulau Pangkil. Individual bookings are available for a minimum of a two-night stay from Mondays to Thursdays only for at least four adults at $370++ per adult and $120++ per child (aged 4 to 12) per night.
Getting There
Catch a ferry (from $57 for one-way ticket, from $94.50 for return trip) from Tanah Merah Ferry Terminal to Bandar Bentan Telani Ferry Terminal in Bintan. Catch a cab to the private Pama Jetty (1 hour 30 minutes) and the resort will whisk you to Pulau Pangkil in its private boat in 15 to 30 minutes.
5. Telunas Private Island & Beach Resort
This private island, just 50km south of Singapore, is accessible via speed boat from Batam, and offers over-the-water villas that are built entirely out of wooden planks. There's no air-conditioning, but there's a net on the roof to prevent birds from flying into your room. This sprawling property above the water also has a high deck where you can jump off during the high tide!
If you prefer something more exclusive, book the private island villa which comes with a living room and a loft bedroom, as well as another huge bedroom facing the sea, with a balcony and sunbed for a perfect escape from urban life. What's more, there is no WiFi to distract you from relaxing, so you can really disconnect and go offline.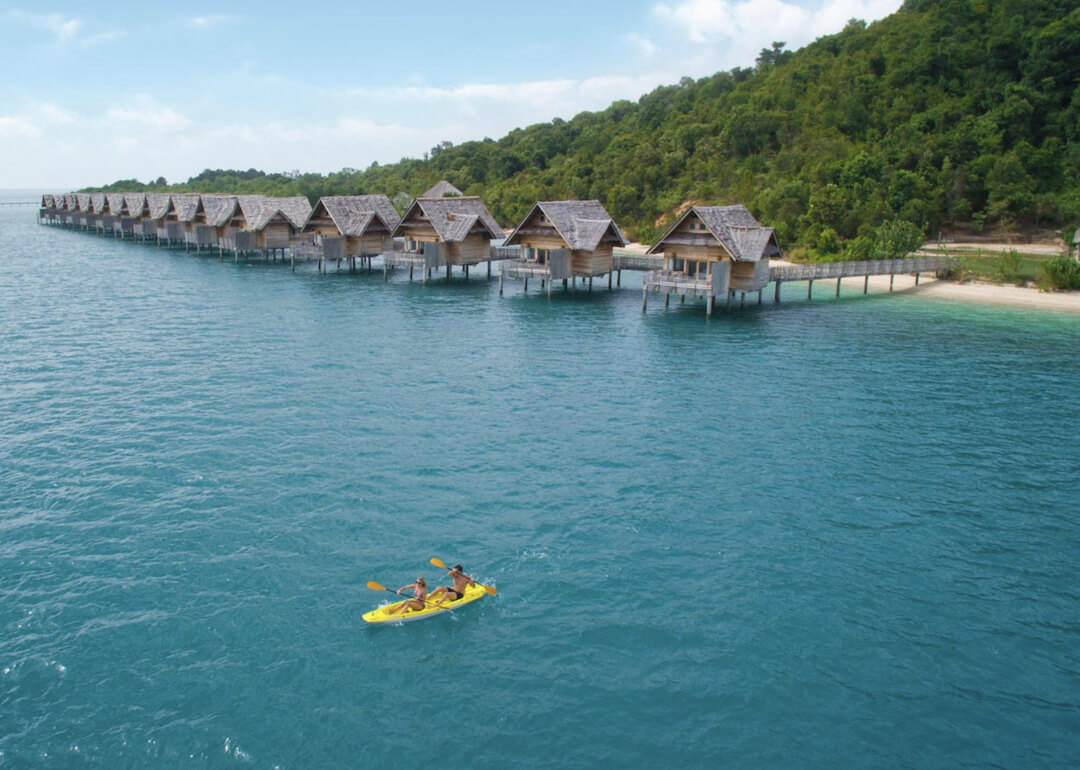 Focus instead on sea activities like kayaking or paddleboarding through the clear waters, or taking in the sights and sounds of the island's surroundings. Another way to fully immerse yourself on the island is through a guided island tour. During the tour, you can learn more about the island's culture while visiting the local village and speaking to the natives. Be sure to book the tour at least one day in advance, before 2pm.
Getting There
Catch a ferry from HarbourFront Passenger Terminal to Sekupang Ferry Terminal in Batam. Tickets are from $32 for a one-way ride and from $61 for a return trip. Upon arrival at Sekupang, a Telunas Resorts team member will accompany you on either a chartered boat or a local ferry to Telunas.
*This article has been edited and adapted from Now Boarding by Changi Airport's "Where to go for an island weekend getaway from Singapore"