Teeming with activities and adventures, the fun never ends on Sentosa Island. The island resort is home to thrilling attractions, tropical beaches, luxurious hotels, a myriad of eateries, beach bars, fun playgrounds, historic landmarks, nature trails and more.
Whether it's an adrenaline rush or a relaxing experience that you and your family are looking for, you'll definitely find it on the island. These seven attractions offer unlimited thrills and spills plus unforgettable family fun.
1. Skyline Luge Singapore
• Operating hours: Monday to Thursday – 11am to 7.30pm; Friday – 11am to 9pm; Saturday – 10am to 9pm; Sunday – 10am to 7.30pm
• Buy tickets
Experience the thrill of riding down various hairpin corners, tunnels and slopes on a self-control, three-wheeled cart that's fuelled by gravity. Each Luge cart comes with a pair of handlebars that can be pushed back and forth to adjust the speed.
Of all the four tracks, the 628m Jungle Trail is the oldest and probably the most well-known. It takes you through a forest tunnel before an adrenaline-pumping twist and turn descends.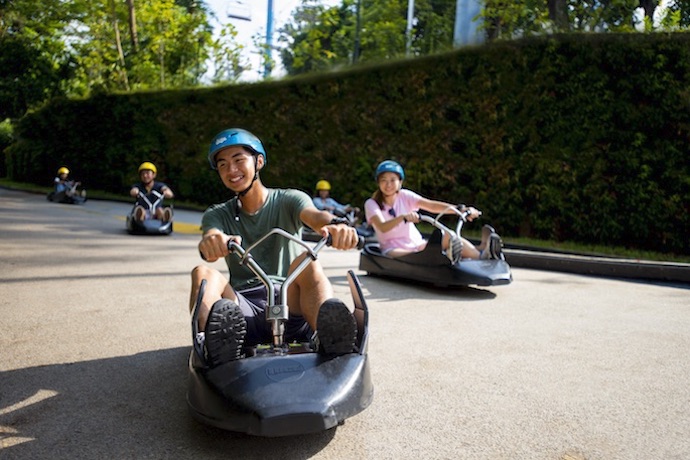 The 638m Kupu Kupu Trail, on the other hand, mesmerises riders in the mystic world of flora and fauna, just like its name suggests (kupu kupu is the Malay word for "butterfly"). All four tracks end at Siloso Beach, where you are greeted by the Skyride which brings you to the top of the hill.
The 315m-high, four-seater Skyride works like a ski lift, transporting you to the top of the Luge tracks. Even if you don't plan to ride on the Luge, hop on the Skyride to enjoy a breathtaking bird's-eye view of the skyline and the sea.
Children need to be at least 6 years old or 1.1m tall to ride on the Luge alone. To ride on the Skyride independently, children must be at least 1.35m tall.
2. Adventure Cove Waterpark
• Opens daily from 10am to 5pm
• Buy tickets
Plunge, swirl or spin down water slides of various sizes and shapes at Southeast Asia's only integrated aquatic and marine life park.
They can also dive deep into water and be friends with a company of dolphins, rays, and even sharks.
There are 13 rides and attractions in the waterpark, offering something for everyone. Get set for adrenaline-pumping action at the Pipeline Plunge, a high-speed slide with surprising turns, radical twists and exhilarating dips, and also at the Spiral Washout which will funnel you down into an exhilarating tube ride and send you through a twisting, turning water flume before ejecting you into a splash pool.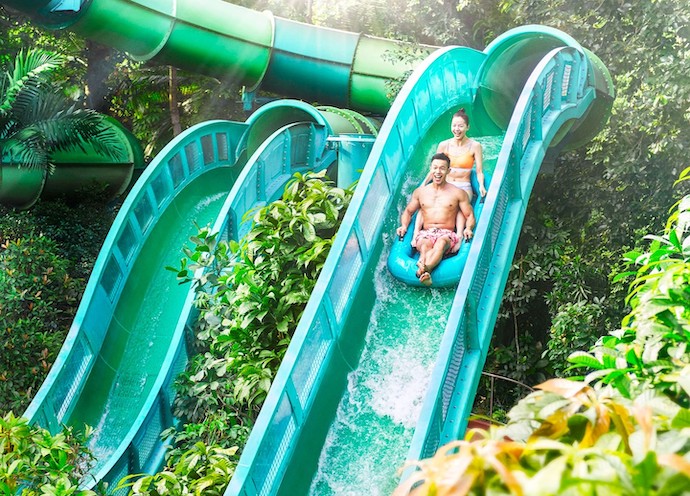 At the Adventure River, you can leisurely drift along a river and bypass sceneries like a grotto and an underwater tunnel with a 180-degree view of the vibrant marine life.
If you love the idea of swimming together with fishes, go snorkelling at the Rainbow Reef. The lagoon houses more than 20,000 fishes.
The Dolphin Island is a great add-on to the waterpark experience as family members can spend an afternoon being really close to the smart and gentle-tempered Indo-Pacific Bottlenose Dolphins.
Kids will love the Seahorse Hideaways where there is a shallow pool and fountains for plenty of water fun.
3. Mega Adventure
Opens daily from 11am to 6pm
Home to three zipline adventures, Mega Adventure offers you the chance to be a modern-day Tarzan or Jane as you brave 450m downhill over the Imbiah Hill jungle, Siloso Beach and the sea at the speed of 60km per hour!
It's best to take this thrilling flying fox ride with family and friends as the three main ziplines go side by side. There is no age limit for MegaZip, but those weighing 30kg and below will have to be accompanied by another person.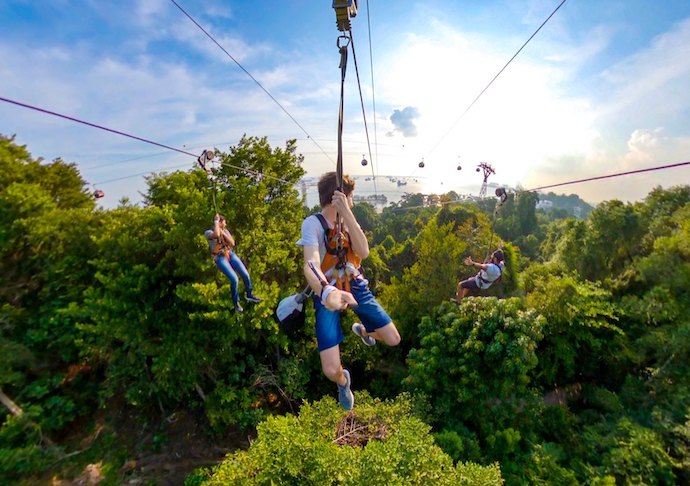 After the "flight", top up the fun and excitement by going for MegaClimb, which consists of a three-level tree-top obstacle with an optional 15m jump. The obstacles are mainly manoeuvring through a series of wooden planks and ropes suspended in mid-air.
You can only participate in two of the three levels. Each level gradually increases in difficulty as well as its height by 5m to 15m. Those with limited rope course experience may wish to start from level one as a warm up as it requires the least strength and can be easily completed within 15 minutes.
Family members who can't stand still and are full of energy may wish to go for MegaBounce. Its trampoline with a system of elastic band support allows you to safely jump up to 8m high.
There is also no age limit for both MegaClimb and MegaBounce, but you need to be at least 1.2m tall and 30kg to join.
4. Scentopia
• Opens daily from 11am to 7pm
• Free entry
• Sign up for Perfume Making Workshop

Explore the wonderful world of aromas at Scentopia which celebrates the floral heritage of Singapore. It houses a collection of 200 scent oils for crafting countless perfume combinations at its innovative perfume-making bar.
Take a personality test to uncover your lifestyle preferences and perfume personality, and from there, mix and match your very own bottle of perfume.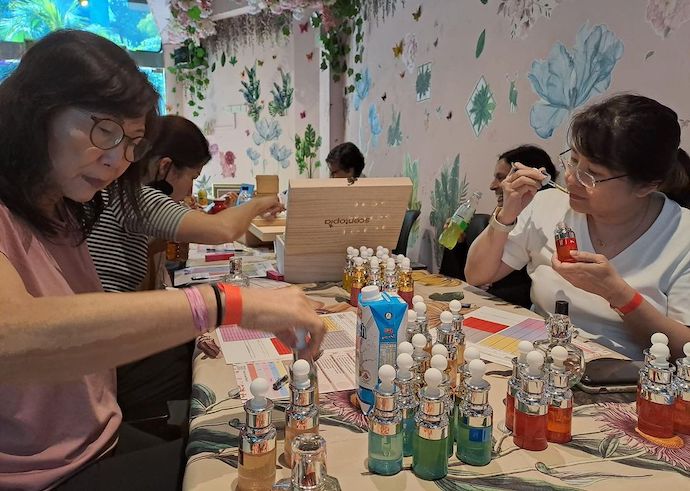 Scentopia is also the perfect place to learn more about the therapeutic benefits of orchids – the national flower of Singapore – and Asian floral heritage. On top of customising fragrances, Scentopia also offers free guided tours, educational and team-building programmes, as well as augmented reality experiences where you can immerse in a unique olfactory experience.
There are also DIY home scent kits for families to bring home as souvenirs or just re-live the happy moments of making perfumes together.
Besides perfumes, you can also shop for home products like bath bombs and soaps.
5. Fort Siloso Skywalk
• Fort Siloso and Surrender Chambers open daily from 9am to 6pm (Exhibits open at 10am)
• Fort Siloso Skywalk lift operates from 9am to 10pm
• Free entry
The only preserved coastal fort in Singapore and a hidden gem on the island, Fort Siloso has played a pivotal role in Singapore's military history.
One of three seafront forts constructed in 1878 by the British army to protect the straits of Singapore and the nearby New Harbour (or the Keppel Harbour that we know today), Fort Siloso has been gazetted as the 74th national monument of Singapore.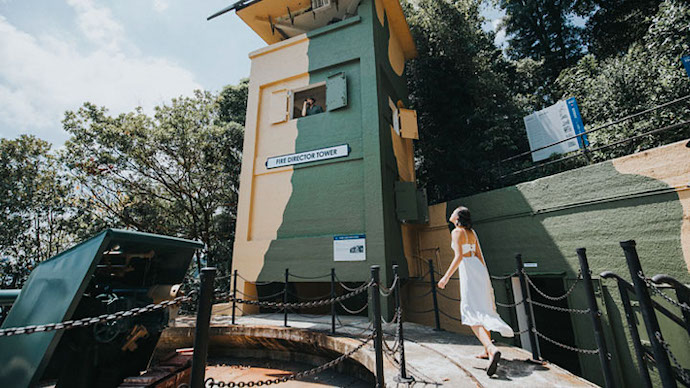 Not "another museum", it is a massive, outdoor compound with real coastal artillery guns, tunnel complexes, life-like wax figures, and interactive displays that you can explore and take in the many significant historic moments.
Start your exploration from the Skywalk, an 11-storey-high treetop trail that offers a scenic view of the surroundings and brings you directly to the entrance of Fort Siloso.
There are free guided tours on the second and third Saturdays of every month. Advance registration is required and registration opens every first Friday of the month at noon.
6. Sentosa 4D AdventureLand
• Opens daily from noon to 7pm
• Buy tickets
Thrills and excitement are guaranteed at Singapore's and Southeast Asia's first four-dimensional (4D) theatre which is equipped with immersive audio, motion simulation and special effects.
Imagine watching a 3D movie with added realistic elements like clouds of mist, smell of the rainforest, water splashes and vibrations to simulate the actual environment.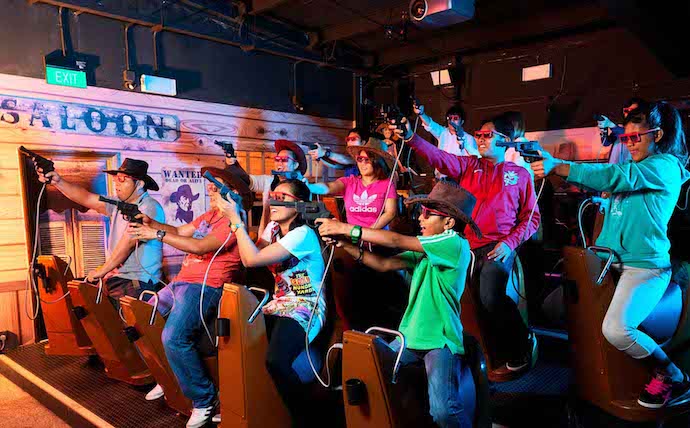 There are four different themed experiences available: "Desperados", an interactive shoot-out game; "Haunted Mine", an experience ride; "Extreme Log Ride", a virtual roller coaster, and "Journey 2: The Mysterious Island", an immersive movie starring wrestler-turned-Hollywood star Dwayne Johnson.
This high-tech interactive entertainment attraction is perfect for a family of movie lovers and families who love playing video games together. The themed rides, each lasting between 15 to 20 minutes, are best enjoyed by those aged 4 and above. For safety reasons, the rides are not recommended for those who are prone to motion sickness or have heart conditions.
7. Skypark Sentosa by AJ Hackett
• Operating hours: Monday to Friday – 12.30pm to 7pm; Saturday, Sunday & public holidays – 11.30am to 7pm
• Buy Skybridge tickets
For families who are looking to kick things up a few notches, Skypark offers the ultimate thrill through its bungy jump which is Singapore's one and only!
You decide whether you want to jump head first or throw a flip off the edge, 47m above ground. To experience the adrenaline rush with two other family members, go on the Giant Swing. You'll be strapped facing down and be hurtled 40m above the ground before being dropped down at speeds of up to 120km/h.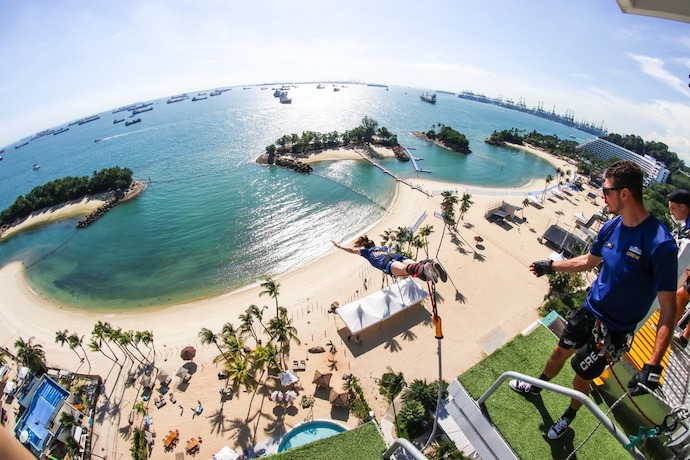 But if you prefer something a little lower on the thrill scale, head for the Skybridge. Besides being a great spot to catch epic views of Siloso Beach and beyond, the Skybridge has sections of see-through glass flooring that you can look down and test your appetite for heights! There is also a Glass Cube or an irregular protrusion on the side of the bridge where you can lean on to challenge yourself.
*This article has been edited and adapted from Now Boarding by Changi Airport's "7 family friendly activities to do in Sentosa"