Brunei's specialty foods feature an array of tantalising flavours. Don't leave the country without getting a tase of these local delicacies, many of which are made with recipes that have been handed down through the generations.
Ambuyat
Brunei's national dish is a transparent, sticky glue-like paste made from sago starch extracted from the interior trunk of the sago palm tree. It is typically eaten with a two-pronged bamboo stick or fork called chandas. Serving as a substitute for rice, it is usually eaten with a fermented sour and spicy sauce called cacah, a variety of vegetables and meat.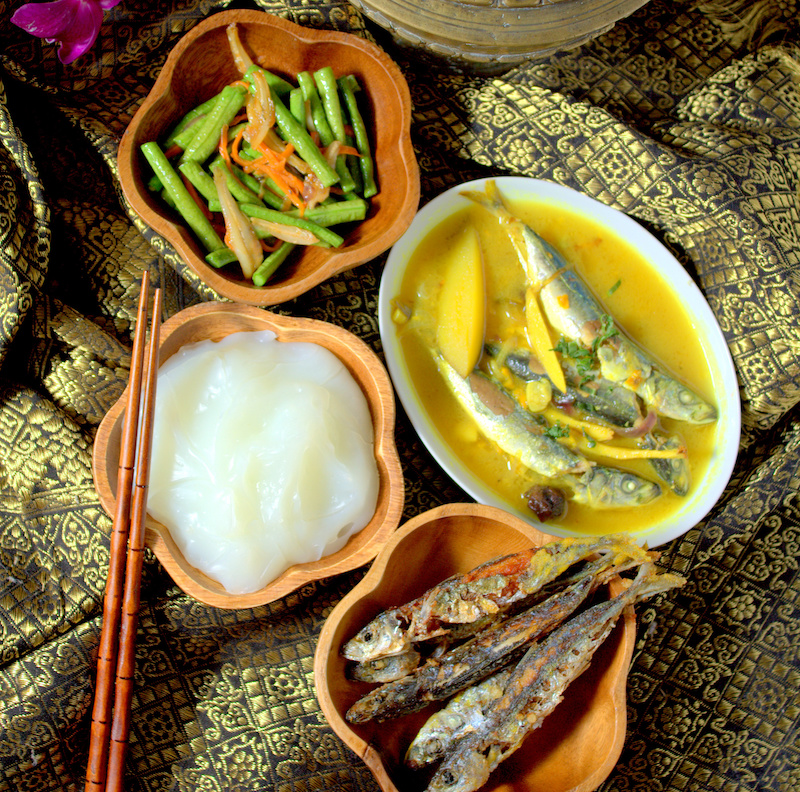 Bamboo chicken
A dish unique to Borneo and a secret recipe of the Iban longhouse communities. Marinated chicken, together with onions and spices are stuffed into a hollowed-out bamboo pole before being slowly cooked over an open fire.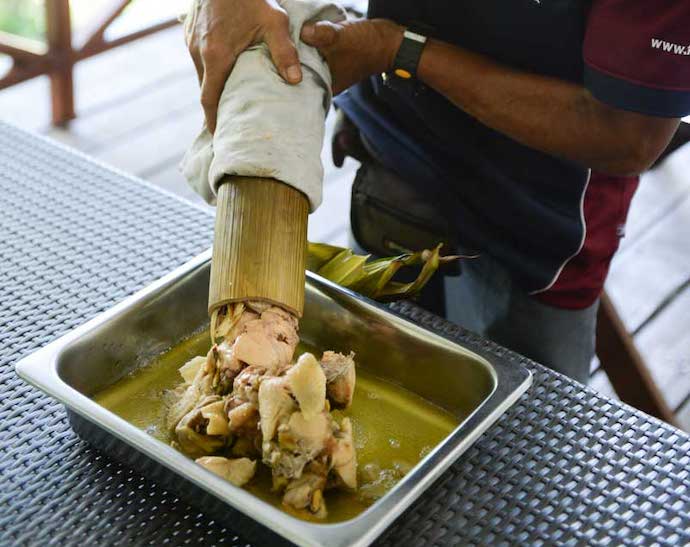 Beef rendang
Similar to versions served in Malaysia, Indonesia and Singapore, this is a dish where beef is slow cooked until tender in a spice paste that includes lemongrass and galangal, herbs and coconut milk, and thickened with toasted grated coconut called kerisik.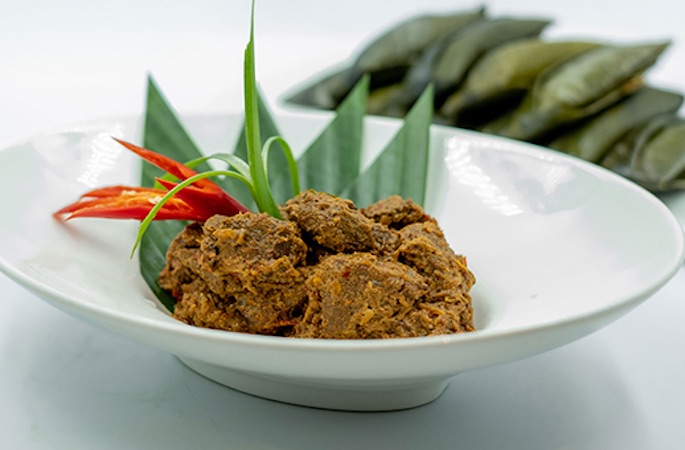 Cakoi
Crispy on the outside and fluffy on the inside, this deep-fried, Asian-style breadstick is similar the Chinese cruller and fried churro, and can be eaten on its own or with coconut jam (kaya) mixed with butter. These days, cakoi can also be eaten with sweet and savoury toppings such as chocolate, peanut butter, Nutella, cheese, Oreo, yam, durian, strawberry, corned beef and sardine.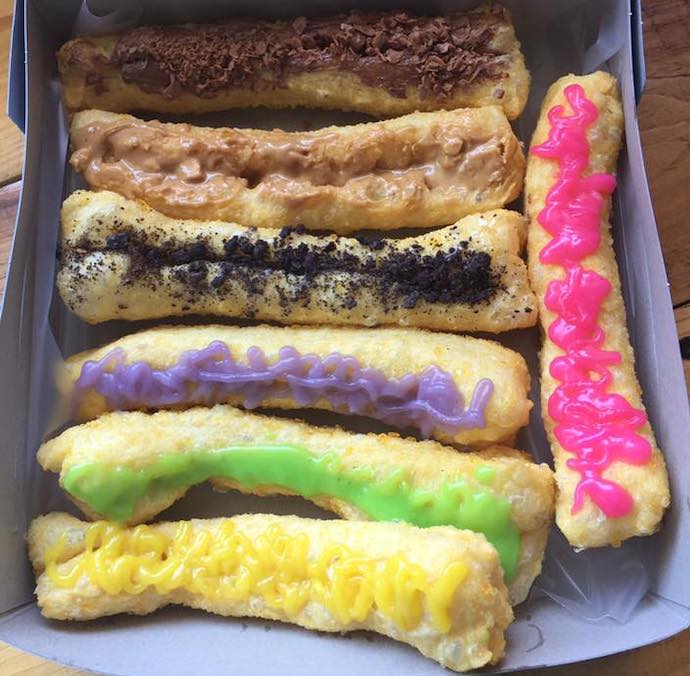 Kelupis
An all-time favourite snack, kelupis is made from glutinuous rice cooked in coconut milk that is flavoured with pandan (screwpine) leaves, then wrapped in nyirik leaves before being steamed. They can be eaten on their own or with peanuts, dried shrimp, anchovies, curry or rendang.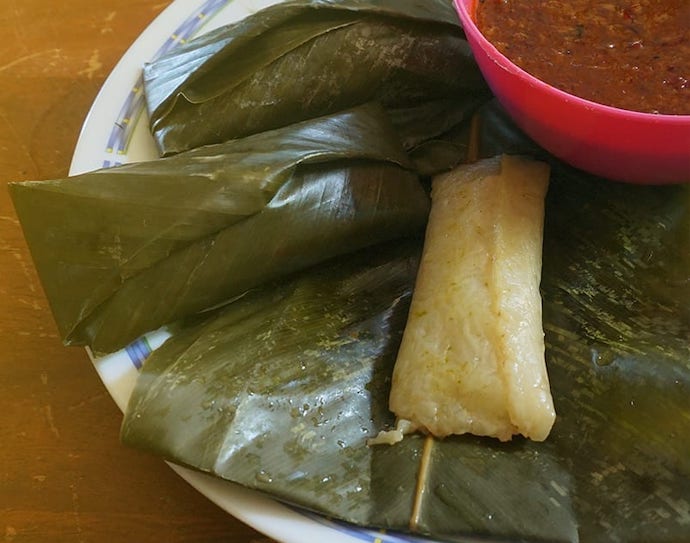 Kuih calak beef
A local-style mini frittata, this savoury snack is made with flour, curry powder, minced beef, eggs, coconut milk, onions, spring onions and chilli, and baked in small moulds.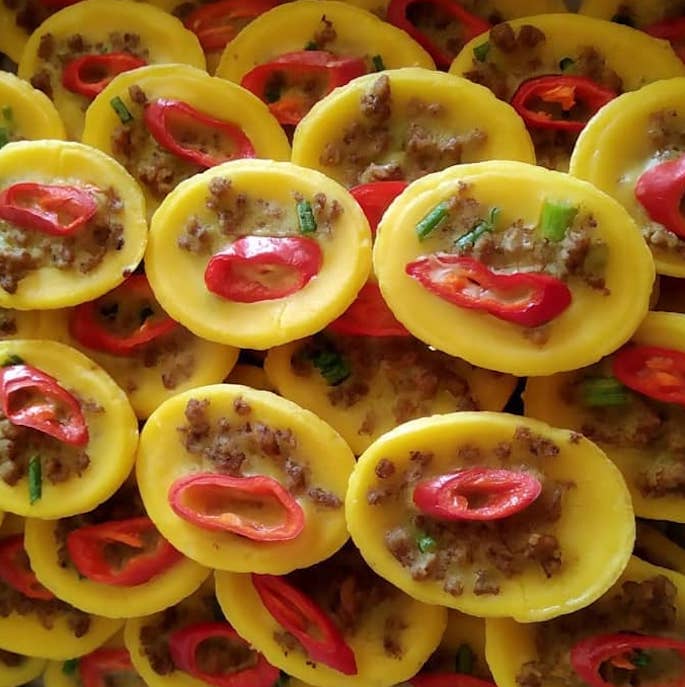 Kuih cincin
This popular snack, which translates as ring cake, is made from wheat flour, brown sugar and red palm sugar. The dough is shaped into floral forms with ring-shaped holes and coated in rice flour before being fried.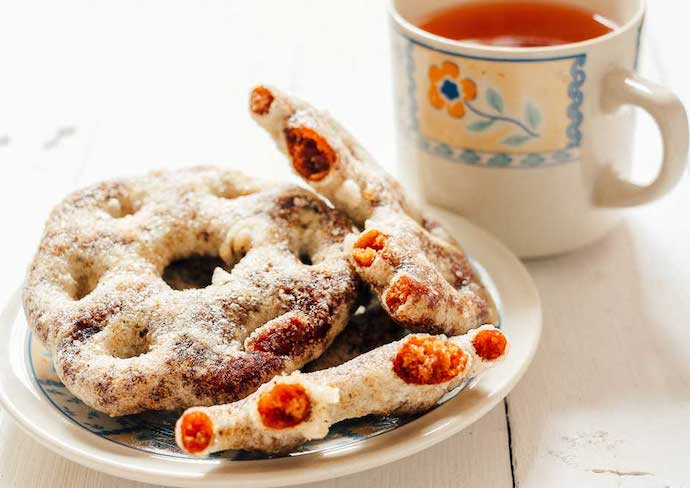 Nasi katok
One of Brunei's most popular and also most affordable dishes, it consists of rice, fried chicken and sambal (chilli sauce or paste).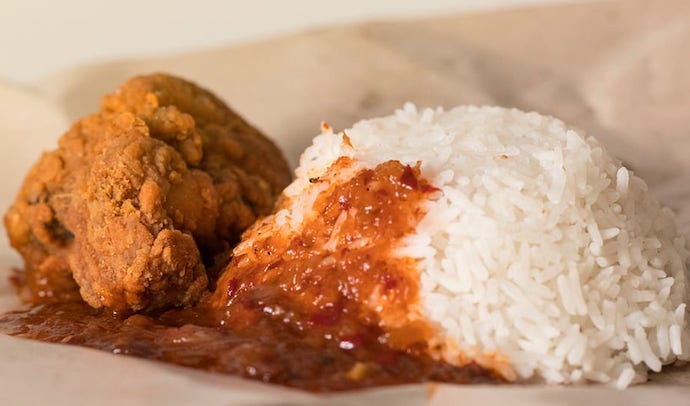 Penyaram
Also known as "kuih UFO" because of its flying saucer shape, this fried local cake is made of rice, wheat or corn flour, palm sugar and water.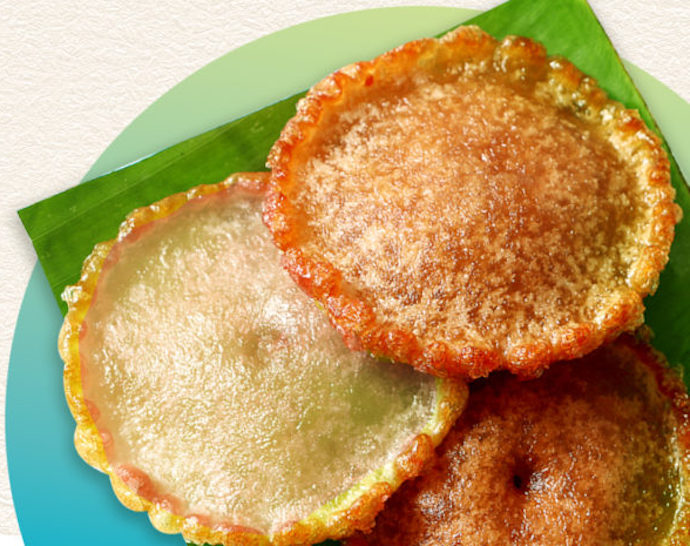 Pulut panggang
This popular snack, wrapped in banana leaves and grilled, are made with glutinous rice filled with dried shrimp or beef and grated coconut.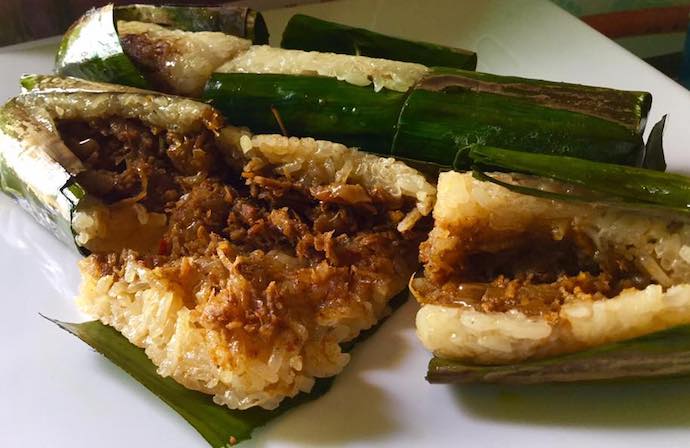 Selurut
This well-loved cone-shaped dessert is made by mixing rice flour, sago, coconut milk, sugar and salt, then pouring the mixture into young coconut leaves that have been rolled into slim cones before being steamed.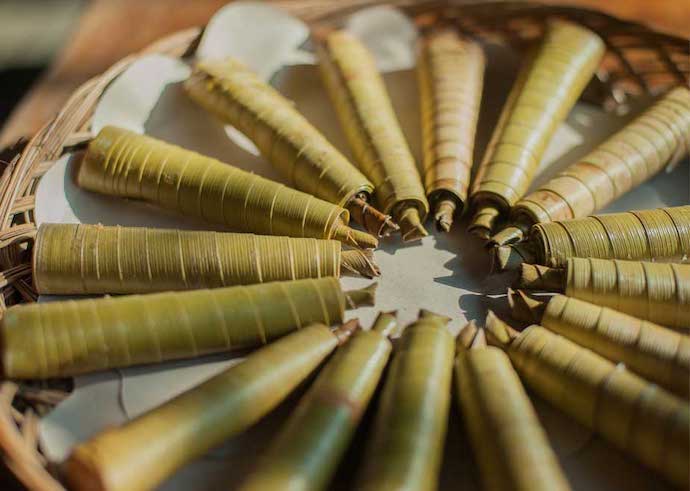 Tapai
This sweet and sour rice snack is made from a mixture comprising rice, sugar and a yeast starter called ragi to activate the fermentation process. The mixture is then wrapped in young nipah leaves and stored in a cool place for the fermentation process to take place.