Shopping has become a key part of the travel experience. So when it's safe to travel again and you get to visit Singapore at a later stage, consider capturing the essence of your time in the Lion City by bringing home locally inspired items.    
A great place to shop for all things local is Jewel Changi Airport which houses a number of Singaporean brands. The retail and lifestyle complex is conveniently linked to Terminals 1 and 3 of Changi Airport.  

We get you acquainted with 5 Singaporean brands and stores at Jewel Changi Airport which offer items that celebrate the country's design, style, heritage and culture. Some of the brands offer international shipping so you may want to consider shopping online in the meantime.
Charles & Keith
#B1-237/238
10am – 10pm daily
www.charleskeith.com

Founded by Singaporean brothers Charles and Keith Wong, the shoes and accessories label started as a single store selling only women's footwear in 1996. Today, it has over 650 outlets worldwide retailing women's shoes, children's shoes, bags, bag straps, belts, sunglasses, costume jewellery, technology accessories and keychains.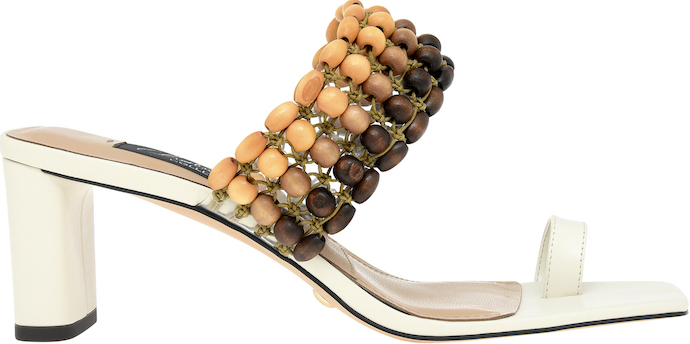 In 2011, L Capital Asia (now known as L Catterton Asia), the private equity arm of French luxury group Louis Vuitton Moet Hennessy (LVMH), acquired 20 percent stake of the brand.

The brand has won fans with its affordable and on-trend collections.
Gift by Changi Airport
#04-233
10am – 10pm daily
www.ishopchangi.com/brand/Gift-by-Changi-Airport#1
You won't find tacky merchandise in this lifestyle store. Instead, you'll find specially curated travel lifestyle products that showcase original designs inspired by unique elements of Changi Airport, Jewel Changi Airport and Singaporean culture.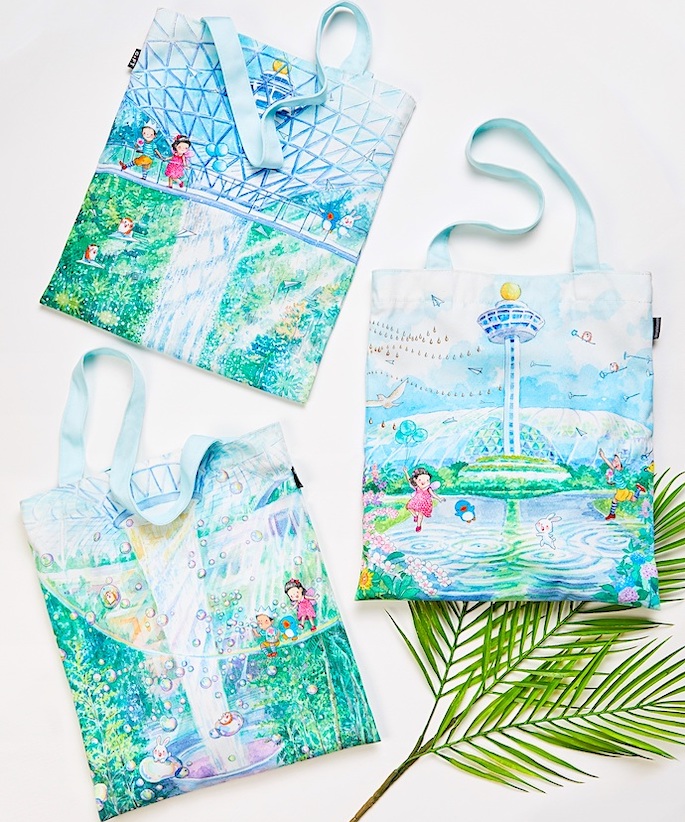 Shop for Changi Scent Candle, Reed Diffuser or Perfume Oil that Changi Airport's signature orchid scent that's diffused around the airport; Hello Changi pouches and tote bags featuring night, sunrise and boarding elements designed by a local artist; Secrets of Singapore book for young readers that reveal intriguing secrets of Changi Airport; and Ah Guo Jewel Tote Bag, designed by local artist Lee Kow Fong (aka Ah Guo), that feature Changi Airport's control tower and interesting features at Jewel Changi Airport.


In Good Company
#01-214/215/216
10am – 10pm daily
www.ingoodcompany.asia

Founded in 2012, the fashion label offers well-made wardrobe essentials and reinvented classics that feature clean lines, precise tailoring and soft drape work in timeless silhouettes with clever detailing.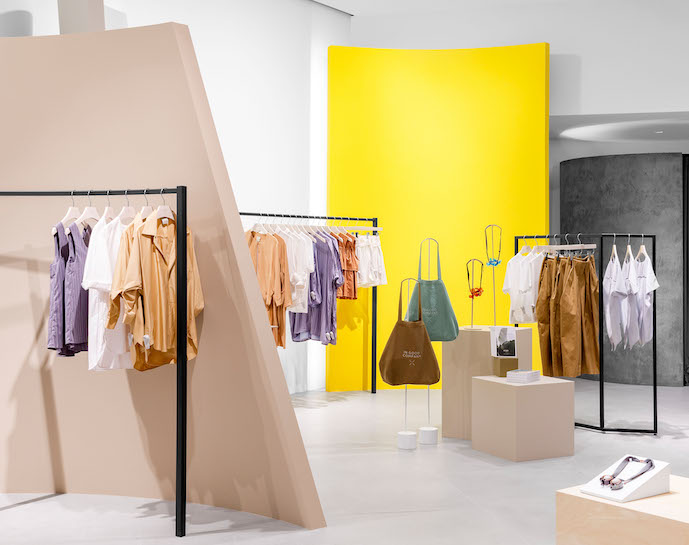 Founders Sven Tan, a tailoring whiz, and master draper Kane Tan have developed their own fabrics such as double-bonded cotton jersey that mimic wool-felt with the heat and weight; heat-bonded finishes for a refined crisp edge line; and hidden hand-finishing techniques in their accessories.

Besides apparel and accessories, the store also offers an assortment of chocolates including the white malt flavour (inspired by Ovaltine with a biscuity crunch) made exclusively for the label by homegrown bean-to-bar chocolate company Fossa Chocolate; and Singapore, Tokyo and Bali editions of Lost Guides travel guides.
Naiise Iconic
#02-205/206
10am – 10pm daily
www.naiise.com

Discover a wide range of products proudly made or designed by Singapore artists, designers and artisans at homegrown design and lifestyle store Naiise Iconic. The brand was founded in 2013 as an online store by Singaporean couple Dennis Tay and Amanda Eng.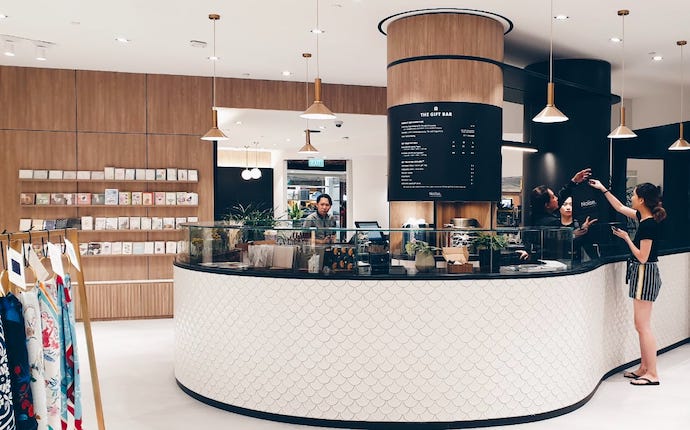 Shop for handcrafted wooden pins, earrings, necklaces and brooches from Paperdaise; teas from The 1872 Clipper Tea Co.; plush toys inspired by local delicacies from Nom Nom Plush; Singapore ceramics bowl or egg cup from The World Traveler; scarves from Binary Style; colourful maps of Singapore from Big Red Chilli; Singlish-inspired T-shirts from Statement; and marmalades from Straits Preserves.
Gifts can be customised and gift-wrapped on the spot at The Gift Bar.

Supermama
#02-207
10am – 10pm daily #01-205/206
www.supermamastore.com

Founded by Singaporean husband-and-wife design duo Edwin and Mei Ling Low, Supermama is known for its Supermama Porcelain collection of blue-and-white plates and tableware that depict popular Singapore icons such as the Merlion, HDB (Housing Development Board) flats, Singapore River, Marina Bay Sands and the Supertrees at Gardens by the Bay and cultural motifs like the kebaya. The porcelain plates are made by craftsmen from Japanese ceramic company Kihara in Arita, Japan.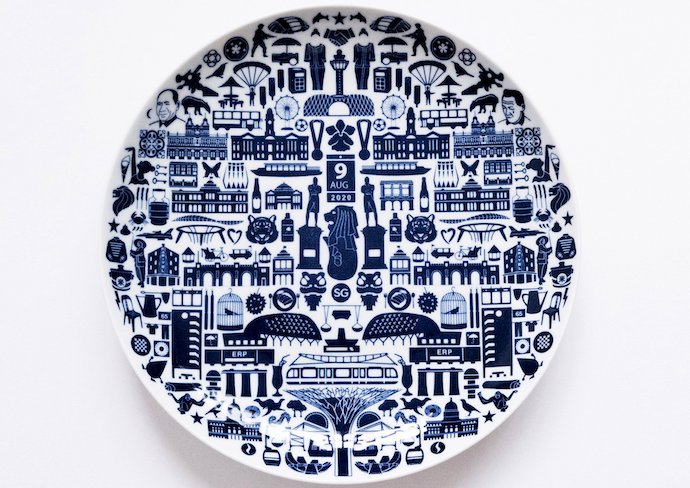 Encapsulating the spirit of Singapore and its people, the Souvenirs From Singapore collection showcases familiar but often overlooked items in a new light. The collection consists of melamine plates, notebooks, cushions, tea towels, embroidery patterns, pins and a Singapore map scroll that feature popular landmarks, everyday objects and personalities.
Its Design Social giftware collection is a result of its collaboration with 12 special needs artists. Featuring abstract brushstrokes and silhouettes inspired by Singapore's lush gardens, the blue-and-white porcelain rice bowls, mugs and trays are made by Kihara's craftsmen.