Malaysia's melting pot of cultures, with predominantly Malay, Chinese and Indian influences in its cuisine, have produced dishes with an array of tantalising flavours. Don't leave Malaysia without trying these dishes.
Ais Kacang
Also known as "ABC" (acronym for Air Batu Campur which translates as "mixed ice"), this popular cold dessert is typically made of red beans, grass jelly, chendol (green rice flour jelly), creamed corn and attap chee (palm seed) covered by shaved ice that's drizzled with evaporated milk, coloured syrup and gula Melaka syrup and topped with toasted peanuts.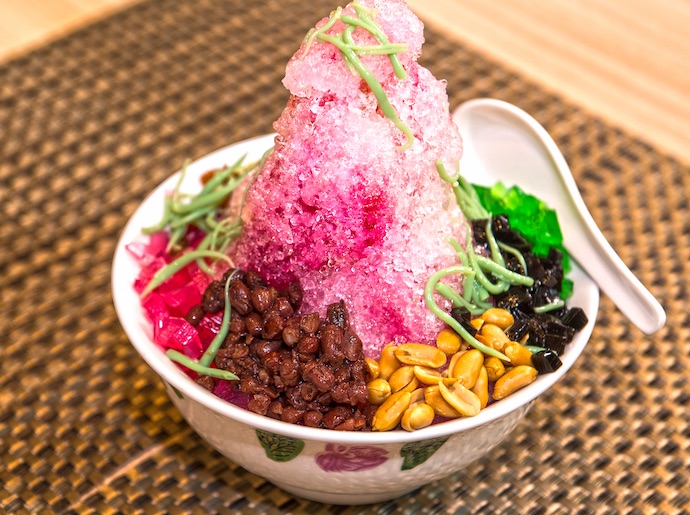 Banana Leaf Rice
As the name implies, rice is served on a banana leaf along with an assortment of vegetables, pickles, rasam (sour and spicy soup), papadum (thin, crispy round flatbread), curry and tairu (fresh yoghurt). This South Indian speciality can be enjoyed with add-ons such as fried chicken, fish or squid, mutton curry, boiled eggs and tofu. When you have finished your meal, fold the banana leaf towards you to show appreciation to the cook and server. If the banana leaf is folded outwards, it shows that you're not satisfied with the meal.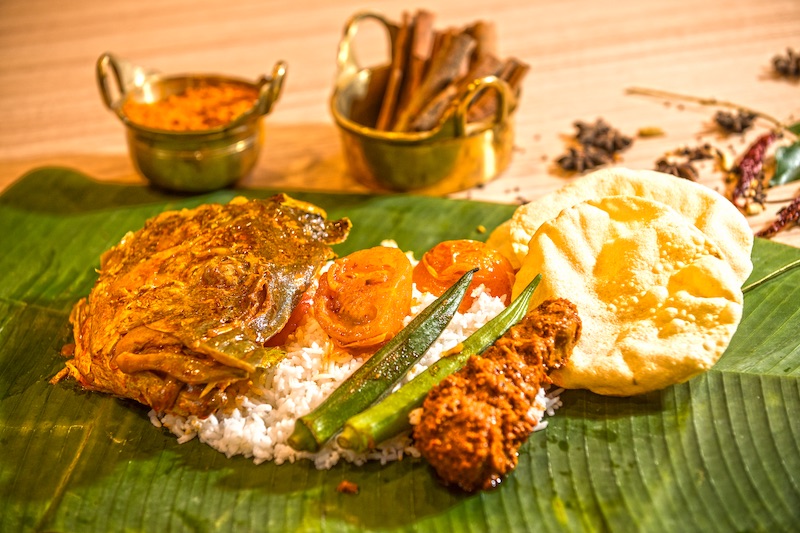 Char Kway Teow
Directly translated as "stir-fried flat rice noodles" in the Hokkien dialect, char kway teow is one of Malaysia's most popular dishes. Flat rice noodles are wok-fried over intense heat with dark and light soy sauce, bean sprouts, chopped spring onions, eggs, lap cheong (Chinese sausages), fish cake, prawns, chilli paste and cockles (optional).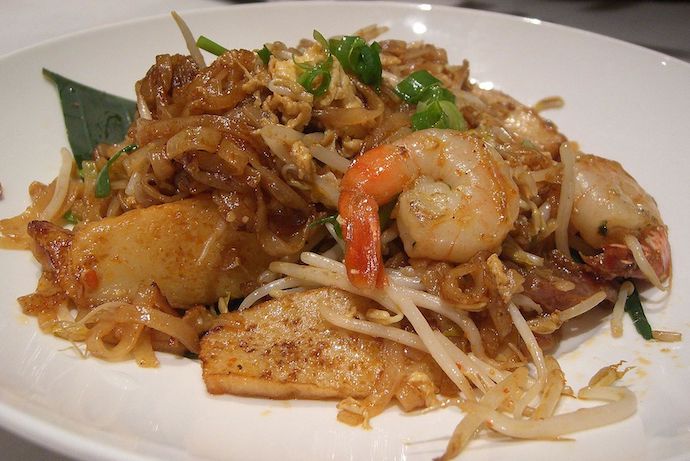 Laksa
Almost every state in Malaysia has its own version of this dish of noodles in a spiced broth. Some like Penang asam laksa have a sour asam (from tamarind and asam gelugor – garcinia atroviridis fruit) base while others like Kelantan laksa and Melaka's nyonya curry laksa have a creamy coconut milk base. Most versions feature thick rice noodles and/or egg noodles while Johor laksa uses spaghetti. All broths are flavoured with herbs and spices, and the noodles are usually accompanied by fish, prawns, fish cake, chicken, egg or fried beancurd puff, and vegetables such as bean sprouts, sliced cucumbers, onions, mint and coriander.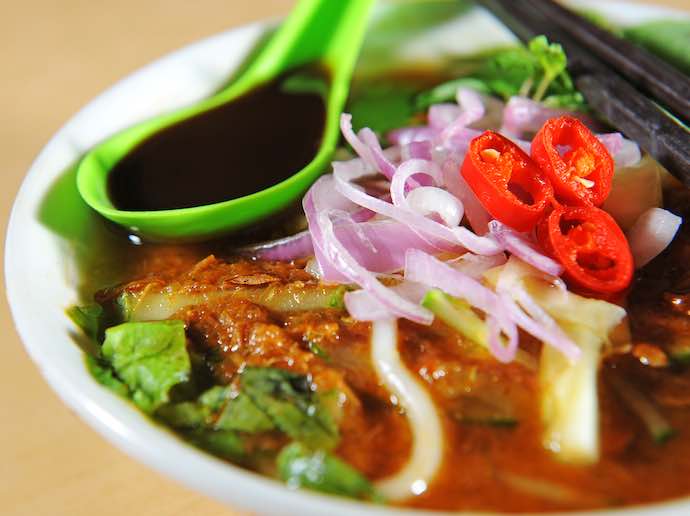 Mee Goreng
This popular noodle dish is made with yellow wheat noodles stir-fried with dark sweet soy sauce, soy sauce, chilli, garlic, shallots, prawn, chicken, beef, tofu, Chinese cabbage, tomatoes and egg.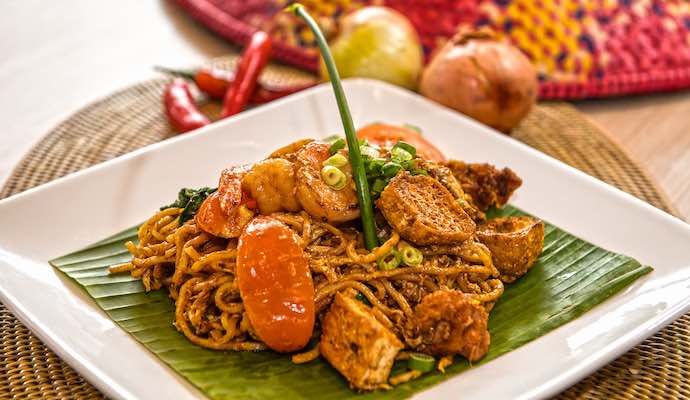 Mee Rebus
This Malay noodle dish is made up of yellow noodles ("mee") that is blanched ("rebus") and covered with a gravy made with dried shrimp, ginger, garlic, shallots, galangal, chilli, curry powder, peanuts and fermented soybean paste, and thickened with sweet potatoes. The noodles are served with hard-boiled eggs, bean sprouts, fried tofu, green chillies, parsley, fried shallots and lime wedges.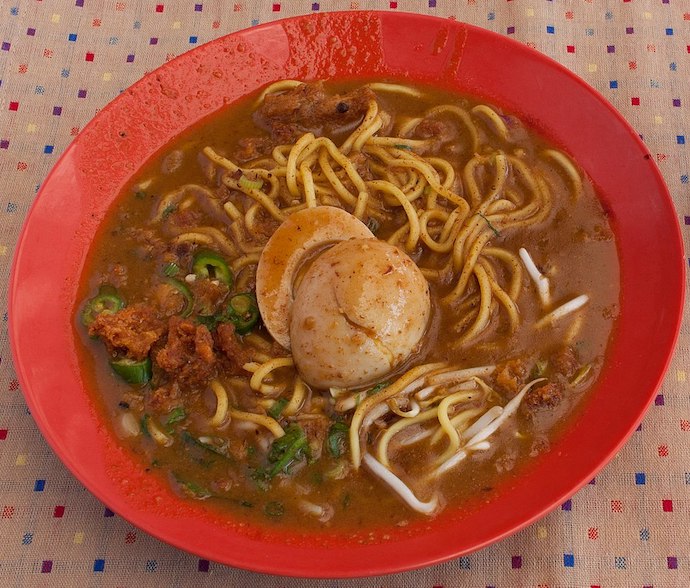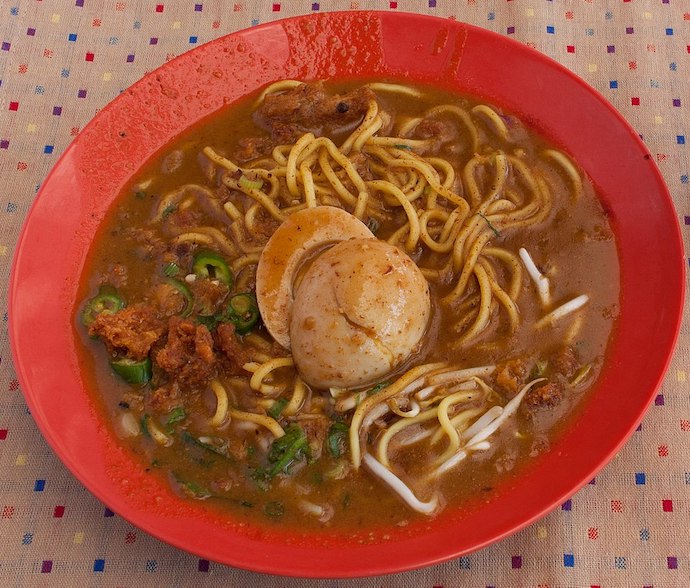 Murtabak
Originally sold in Indian Muslim restaurants and stalls, murtabak is a pan-fried stuffed pancake filled with minced beef, chicken or mutton, along with onions and eggs. Its name in Arabic – mutabbaq – means "folded". It is typically eaten with curry, sliced cucumbers and pickled onions. The dough used to make murtabak is the same one used for roti canai.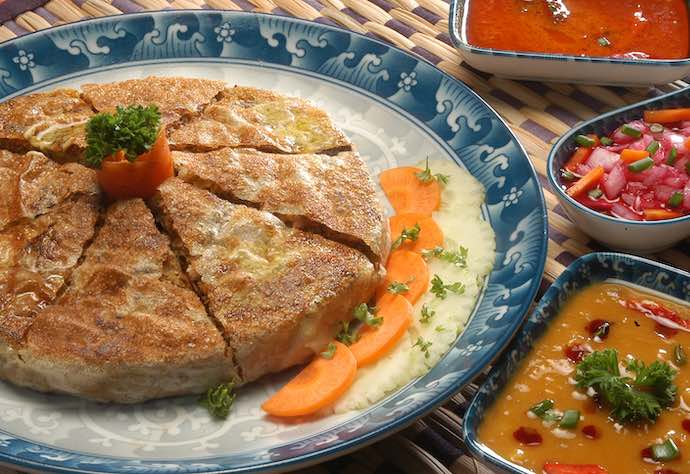 Nasi Kandar
A dish introduced by the Indian Muslim community with roots in Penang, nasi kandar is coined from the Malay word for "rice" and the Urdu word which means "shoulder". In the past, rice vendors would transport steam rice, curry and vegetable dishes in pots and baskets that hung on both ends of a bamboo pole carried on their shoulders. Today, nasi kandar restaurants can be found across Malaysia and some restaurants offer 40 to 50 different dishes to enjoy with rice. Popular dishes include black sauce chicken, fried chicken, fried prawns, fried squid, fried fish, chicken curry, mutton curry, beef curry, lamb korma, fried eggs with onions, stir-fried eggplant and stir-fried okra.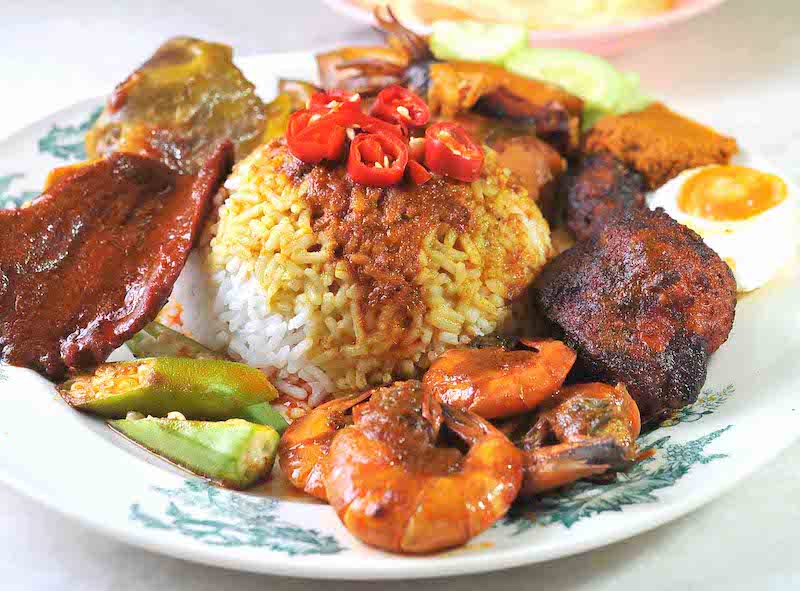 Nasi Lemak
Widely regarded as Malaysia's national dish and traditionally eaten for breakfast, nasi lemak which translates as "rich rice" consists of rice cooked in coconut milk and pandan (screwpine) leaves, served with spicy sambal (chilli paste), hard-boiled egg, cucumber slices, fried anchovies and peanuts. Sometimes it is served with add-ons such as beef rendang, fried chicken and vegetables such as kangkung (water spinach).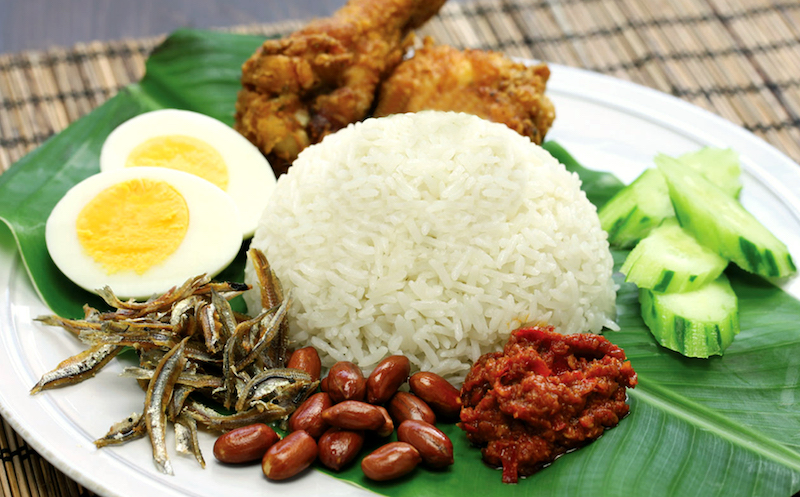 Pasembur
Also known as "rojak mamak", this Indian-Muslim salad is made up of cucumber, turnip, potatoes, fried beancurd, bean sprouts, prawn fritters, fried dough fritters and boiled egg, doused in a thick, sweet and spicy sauce made with sweet potato, chilli, shallots, peanuts, tamarind juice, sesame seeds and sugar. Some versions also have boiled cuttlefish or poached jellyfish.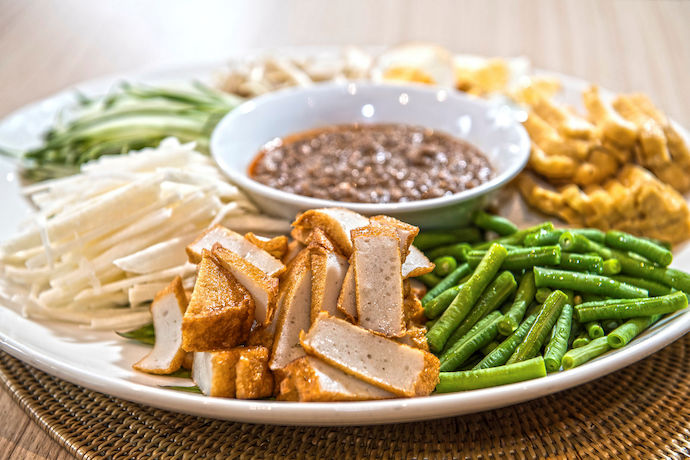 Pisang Goreng
A favourite Malaysian teatime snack typically sold by street vendors, pisang goreng, which translates as "fried banana", is best eaten hot. The ripe bananas are coated in a batter made with plain flour, rice flour, egg, salt, baking soda and baking powder, then deep-fried in spitting hot oil till crispy and golden.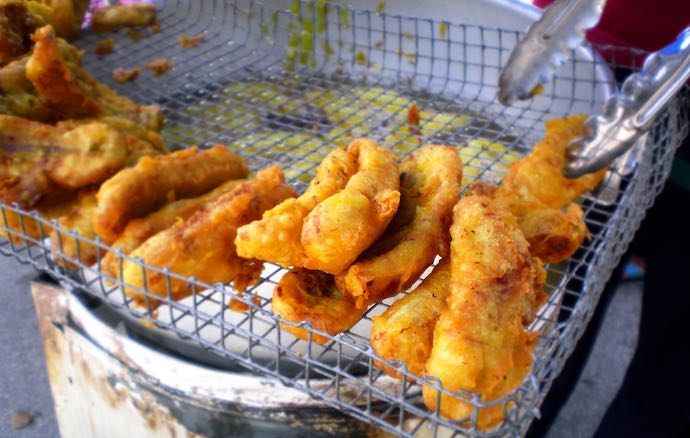 Popiah
These fresh spring rolls with soft and thin skins are filled with lettuce leaves, turnips, bean sprouts, cucumber, beancurd, egg, crunchy bits and a generous spread of chilli paste and hoisin sauce. In Melaka, the Peranakan popiah uses a homemade egg skin.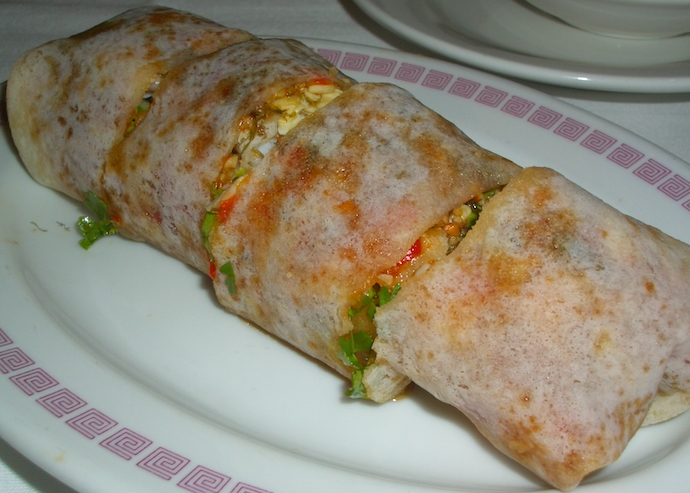 Rendang 
Commonly served at ceremonial and festive occasions, rendang is traditionally made with beef. The beef is slow cooked in rempah (spice paste) consisting of lemongrass, galangal, ginger, garlic, onions and dried chillies, along with other herbs and spices such as cinnamon, star anise, clove, cardamom, kaffir lime leaves and tamarind, and coconut milk, and tossed with kerisik (toasted grated coconut). There are also variations of chicken, mutton and lamb rendang, all of which are best eaten with steamed rice, coconut milk rice or ketupat (compressed rice cake).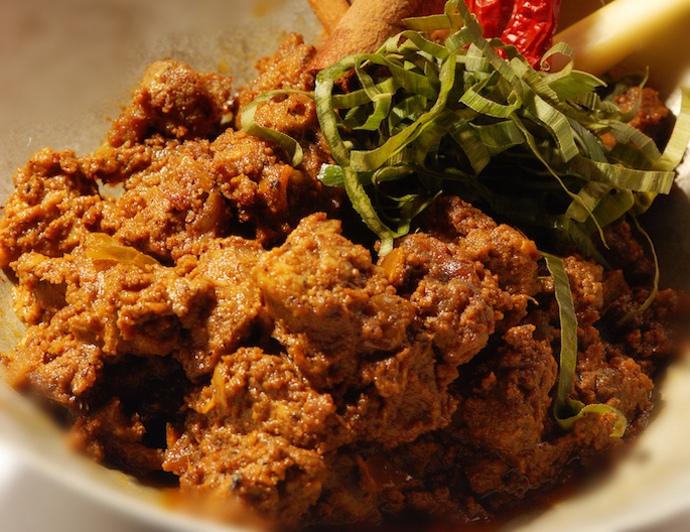 Rojak
Rojak, which means "mixed" in Malay, is a vegetable and fruit salad made up of sweet, spicy, crispy and crunchy ingredients such as bean sprouts, cucumber, turnip, pineapple, young mangoes, jambu (rose apple), fried dough fritters and toasted bean curd puffs, tossed in thick and sticky hae ko (dark prawn paste), sugar, lime juice and chilli paste, and topped with crushed toasted peanuts and toasted sesame seeds.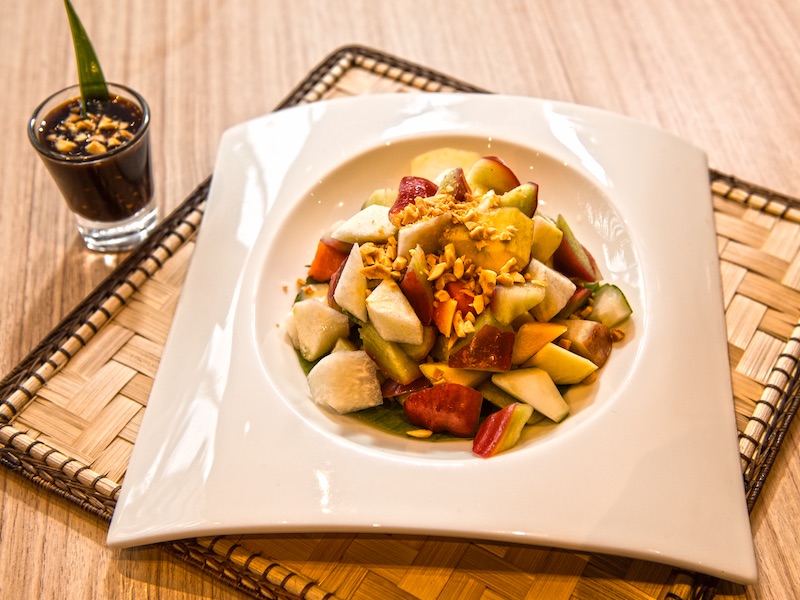 Roti Canai
This well-loved fluffy flatbread, which originated from south India, is a popular breakfast food and late-night snack. Plain roti canai are typically eaten with dhal (lentil) curry, fish curry or chicken curry. There are also sweet and savoury versions with fillings such as bananas, condensed milk, chocolate cream, cheese, egg, onion, sardine and sausage.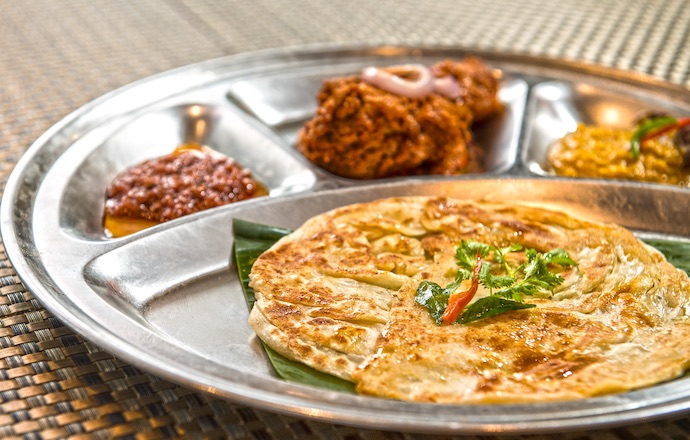 Roti John
Roti John takes its name from the common name given to all Caucasians (John) in the region, while roti is the Malay word for "bread". According to a local legend, an Englishman asked a hawker for a burger but it wasn't available. So the hawker improvised by spreading minced mutton and onions between two slices of French bread and frying the "burger" in beaten eggs. When the burger was served, the hawker was overheard saying to the Englishman, "Silakan makan roti, John" ("Please eat this bread, John"), but can also be understood as "Please eat this dish, John's bread". These days, the sandwich is made with minced beef and also with chicken or sardines, served in bite-sized slices with green chillies, tomato sauce and sweet chilli sauce on the side.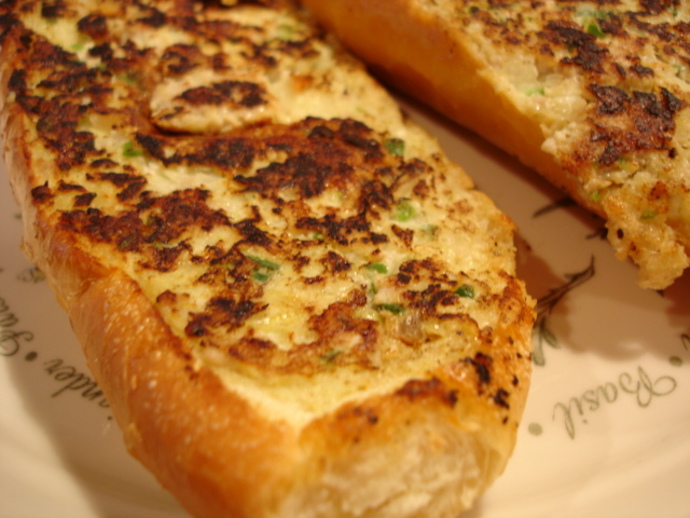 Satay
An all-time favourite, Malaysian satay is typically made with chicken or beef. The meat is marinated in a fine paste made up of lemongrass, turmeric, galangal, garlic, ginger, onions, coriander powder, chilli powder, fennel seeds, cumin powder, pepper, salt and sugar, before being char-grilled on skewers. The skewered meat is served with a spicy peanut sauce, ketupat (rice cakes), and cuts of cucumber and onion.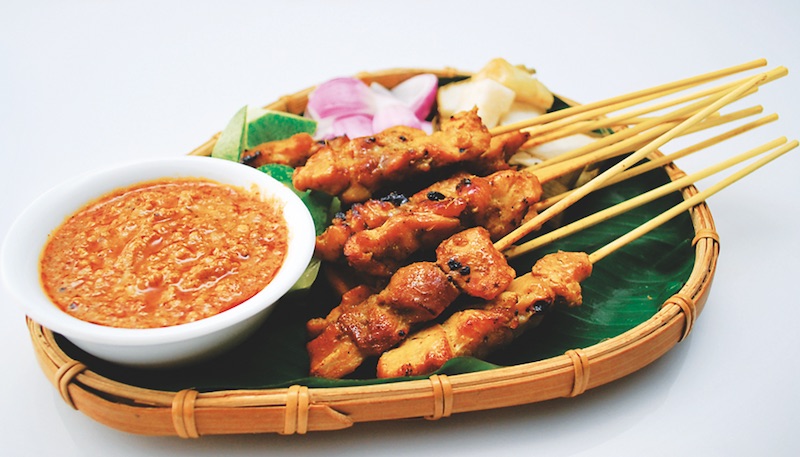 Sup Kambing
An Indian-Muslim speciality, sup kambing or mutton soup is made with bone-in goat meat simmered in water with garlic, ginger, onions, tomatoes, carrots, potatoes, and spices such as coriander, cumin, cinnamon, cloves, black pepper, fennel, turmeric, cardamom and curry powder. The yellow-green colour soup is topped with coriander leaves and fried shallots, and usually eaten with white bread, traditional Indian bread or rice.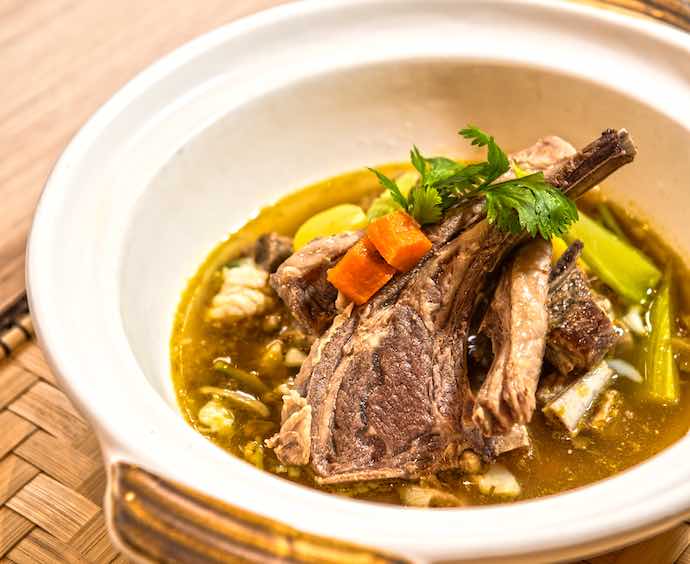 Wantan Mee
This Cantonese dish is typically served dry, with thin egg noddles tossed in dark soy sauce, light soy sauce, sesame oil and shallot oil, topped with char siew (barbecued pork) and boiled leafy greens, served with pork or shrimp wantons (dumpling) in a soup and pickled green chillies. Some stalls also offer deep-fried wantons.