One of Singapore's most colourful ethnic enclaves is Little India. Known as Serangoon before the 1980s, Little India is a vibrant mix of the old and new, with century-old temples, and traditional flower garland and spice vendors flourishing next to multi-storey department stores and contemporary restaurants.
The early 20th century was a defining period that made Little India what it is today as migrants from India, China and Britain settled in the area then and established a diversity of trades and institutions.
To discover more about the enclave's rich history and culture, go on a walking tour of the area to explore its historical landmarks, places of worship, back alleys and cool street art. We recommend starting your walk at Indian Heritage Centre and ending at Tekka Centre.
5 Campbell Lane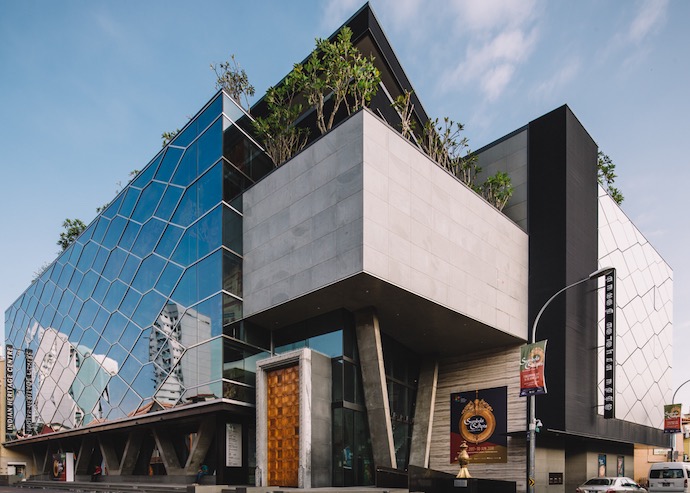 Get an overview of the history of Singapore's Indian community at the Indian Heritage Centre. Pick up a free copy of the Little India Heritage Trail booklet from the Centre's Visitor Services Counter to read about Little India's history as well as information about the area's key heritage, social and cultural places.
Former House of Tan Teng Niah
37 Kerbau Road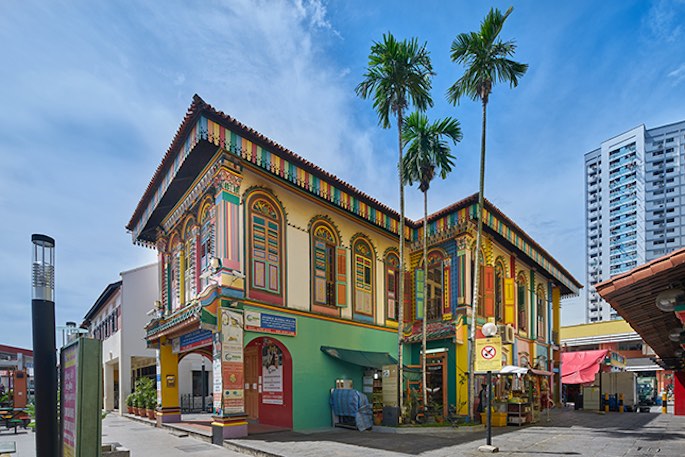 Built in 1900, the former house of Tan Teng Niah is believed to be the last remaining Chinese villa in Little India. The colourful two-storey house is a legacy of the time when Chinese cottage industries operated alongside the Indian-dominated cattle trade in the area. Tan Teng Niah was a Chinese businessman who owned several confectionery factories along Serangoon Road and a rubber smoke-house at Kerbau Road.
Traditional Trades of Little India Mural
8 Belilios Lane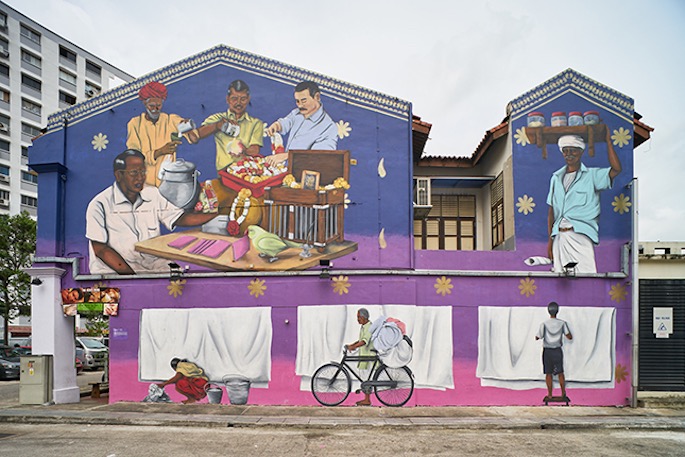 This large mural by local artist Psyfool depicts some of the traditional trades that were commonly practiced by Indians in the Serangoon area. These include garland making, parrot astrology and dhobi (washerman).
141 Serangoon Road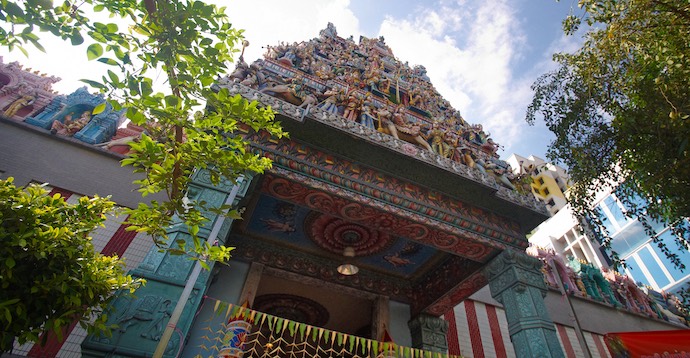 The Temple was originally known in Tamil as the Soonambu Kambam Kovil or the "temple at the village of lime" because of lime kilns found in the area. Tamil workers who worked the lime pits erected a shrine dedicated to the Veeramakaliamman or the goddess Kali, a fierce incarnation of Shiva's wife and "Destroyer of Evil" on this site as early as 1855. A temple was then built by Bengali labourers in 1881.
Mahatma Gandhi Memorial
3 Race Course Lane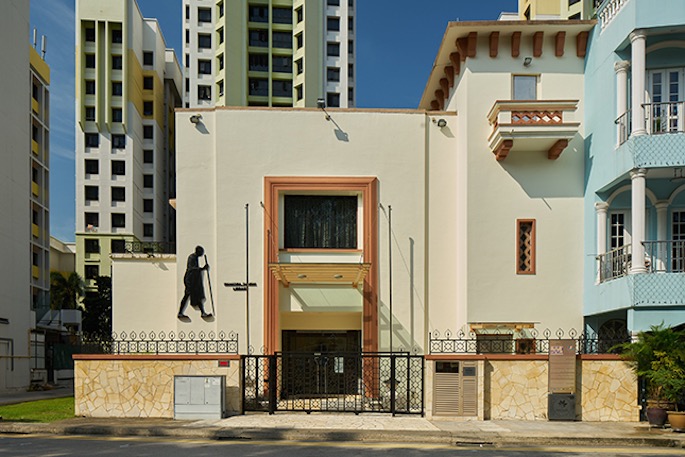 The Memorial was built in 1950 after a visit by India's first prime minister Jawaharlal Nehru, who laid the foundation stone on 18 June 1950. It was erected to commemorate Gandhi, a powerful symbol of peace and national cultural pride.
50 Race Course Road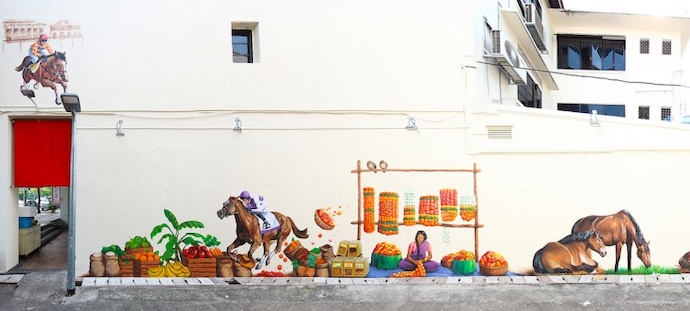 The long mural was created by artist Jaxton Su with the help of teachers and students from Raffles Institution as well as migrant workers staying and working in the area. Completed in 2016, the mural depicts the activities around the former racecourse which include horse racing as well as traditional trades such as garland making.
90 Race Course Road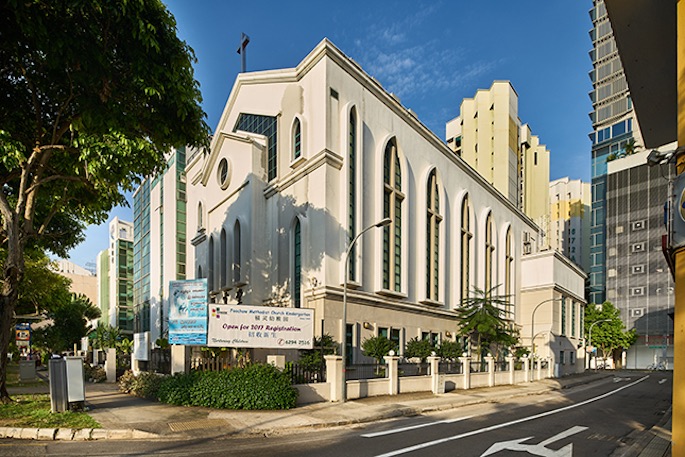 The beginnings of this Church can be traced to the work of German Methodist missionary Dr HLE Luering who started a mission in 1897 for rickshaw pullers, coolies and barbers from Foochow residing near Middle Road. In 1936, a residential property at 90 Race Course Road was purchased and converted to give the Church her first physical home.
5 Chander Road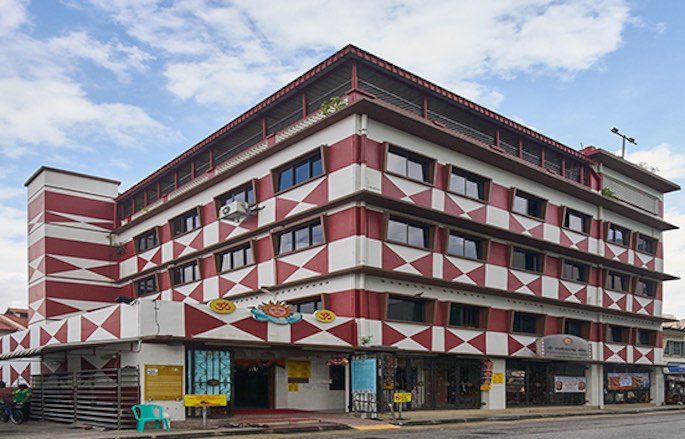 Singapore's first dedicated place of worship for North Indian Hindus, the Temple's name is derived from a combination of the names of its main deities –Lakshmi and Narayan (Vishnu). The foundation stone for the Temple was laid in 1960 and the construction was completed around the mid-1960s with the support of and donation from almost 10,000 North Indian Hindus from all classes. 

Tekka Centre
665 Buffalo Road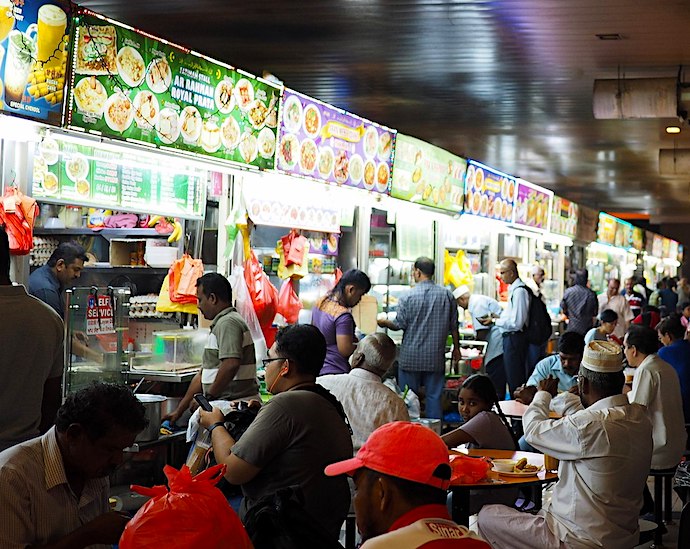 One of Little India's most prominent landmarks is Tekka Centre. Home to a food centre, wet market and shops, its name comes from teh kia kha (shortened to teh kah), Hokkien for "foot of the bamboos", a reference to the many bamboo plants growing on both sides of the Rochor Canal. Tekka is also the Mandarin word for "bamboo clumps".
SOUTHEAST-ASIA.COM RECOMMENDS
Want to explore more of Little India's hidden gems? Download Locomole's Little India Arts & Cultural Trail to get a comprehensive guide of key attractions, fun activities and foods that you cannot miss in Little India.
What's more, enjoy complimentary $200 worth of discount coupons with the purchase of this trail and use them all during your stay in Singapore! (Vouchers can be found in the Locomole app upon your purchase of this trail)