The capital of Cambodia, Phnom Penh was once known as the "Pearl of Asia" as it was one of the most beautiful cities built by the French in Southeast Asia.

The city may have had a dark past, but it's reinventing itself and emerging as a dynamic modern city with a great mix of history, French-influenced architecture, culture, food and nightlife.

Here are our top picks for things to do in and around Phnom Penh.
Visit the Royal Palace
Samdach Sothearos Boulevard (3)
Open daily from 8am to 10.30am, 2pm to 5pm (till 4.30pm on Fridays)

Arguably, the city's most popular attraction, the Royal Palace is the official residence of the King. The palace's traditional Cambodian-style architecture is downright gorgeous and its Throne Hall is elaborately ornate.

Look out for the Silver Pagoda which takes its name from the five tonnes of gleaming silver covering its floor. Inside the pagoda are a number of Buddha statues made of precious metals including a solid gold Buddha adorned with 2,086 diamonds, an 80kg bronze Buddha and a silver Buddha.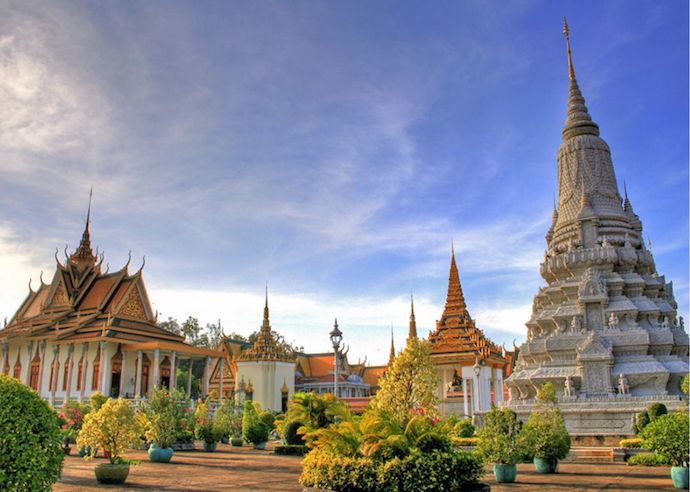 The view outside is just as stunning, with the well-manicured gardens framing the iconic Chan Chaya Pavilion. Join the locals and have a picnic at the Royal Palace Park while watching motorboats and paddle boats cruise by on the Tonle Sap River.

The entry fee for foreigners is USD10 (guide fee is optional). There's also a strict dress code to follow – women must have their knees covered, so no shorts or skirts, while men are required to wear sleeved tops.
Explore the Central Market
Kamet Street (53)
Open daily from 7am to 6pm  

A landmark of the city, the ochre-coloured, art deco Central Market (Psar Thmei) is where you can buy pretty much anything – food, flowers, spices, clothes, jewellery, souvenirs, household items, electronics and more.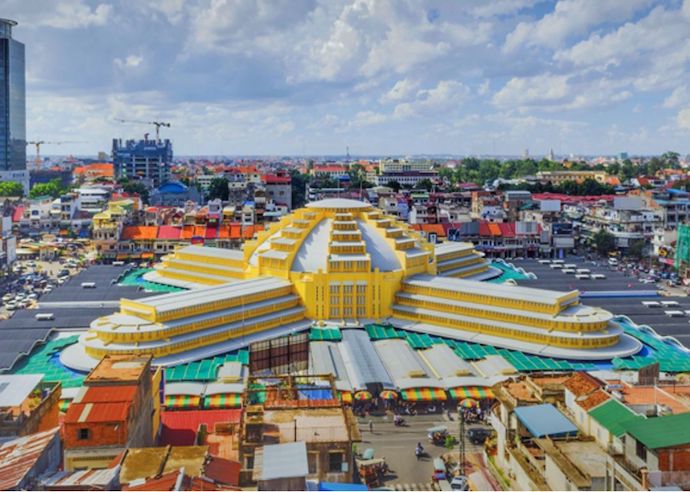 There are hundreds of vendors lined up along the entire market purveying their array of wares. Be prepared to bargain for your purchases, as the prices are quite high as the market is a popular tourist spot.

After all that shopping, fuel up at the Khmer food stands offering local street food like Num Korng (traditional Cambodian doughnuts), whole fried fishes and fried tarantula, a regional delicacy, if you dare!
Check out Sisowath Quay
Along banks of Mekong and Tonle Sap rivers

A 3km-long stretch along the banks of the Mekong and Tonle Sap rivers, Sisowath Quay teems with life whether it's day or night. In the morning, you'll find locals taking walks, the elderly practicing tai chi and joggers getting a workout before work. 

Sisowath Quay continues to bustle with activities throughout the day, as locals and tourists alike head to one of the many shops, cafes and restaurants located along the boulevard. There are also plenty of street vendors selling snacks like peanuts, popcorn, beer and coconuts.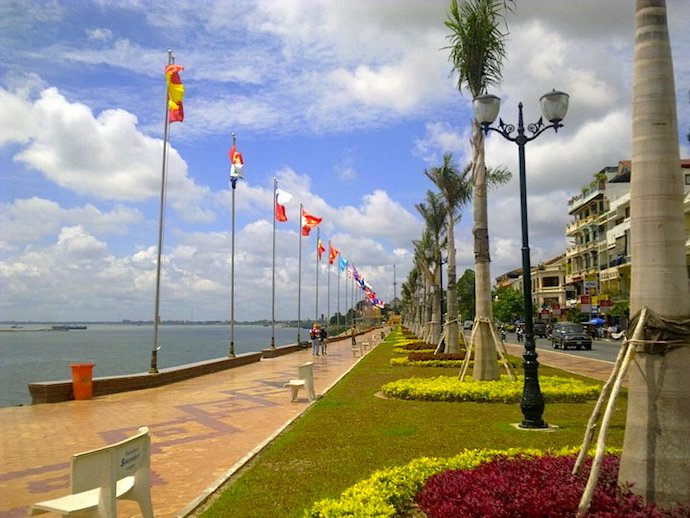 In the late afternoon, head over to Kanika Cruise Boats for a sunset cruise down the river. Tickets cost USD8 per person or USD17 with free-flow of beer. There's also a dinner cruise at 7pm which includes a four-course meal for USD22.
Travel back in time to pre-Angkorian Cambodia at Sambor Prei Kuk
V2CV+C8G, Prasat Sambour​ District
Open daily from 7am to 5pm

Explore the incredible ruins of the 7th century Sambor Prei Kuk, a UNESCO World Heritage Site which has been identified as the remains of Isanapura, the pre-Angkorian capital city of the Chenla Kingdom.

It is made up of 293 octagonal-shaped temples and is split into three main clusters, each with a brick wall around it. The entire site in the Kampong Thom province might be smaller than Angkor Wat, but thanks to its (comparatively) low tourist volume, it kind of feels like you're on the set of a real adventure movie.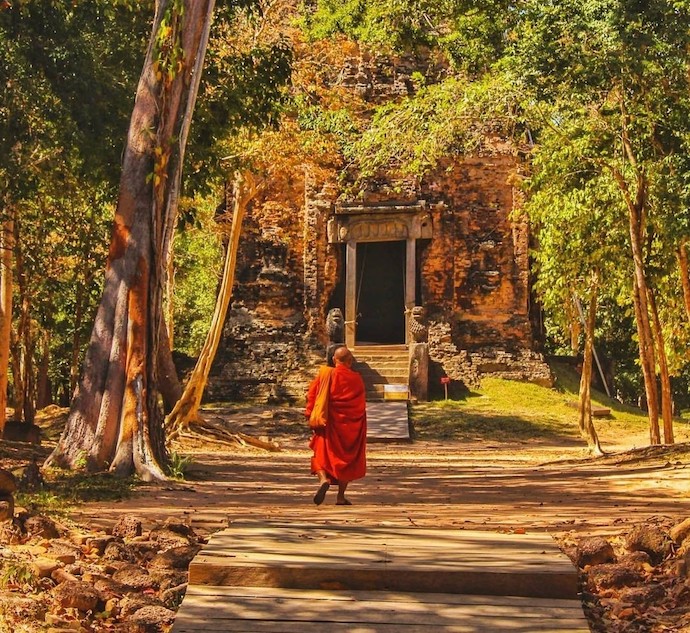 There's definitely lots to explore in the temple complex – from the Hindu temples meant to worship Shiva and stone carvings of Prasat Sambor to the remains of the main temple Prasat Tao.

Hiring a local guide is highly recommended. Alternatively, join a tour group to go through the entire place.
Learn more about silk weaving on Silk Island
Koh Dach

Located north of Phnom Penh, Silk Island (known locally as Koh Dach) gets its name from the traditional silk-weaving communities that dot the island.

You'll get to see women under their traditional teak wood houses spinning silk to make accessories like scarves. In fact, most of the silk products sold in the markets around Cambodia come from here!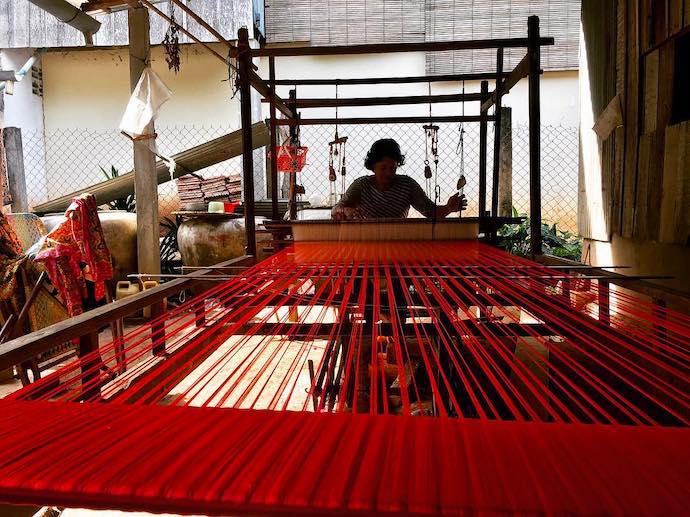 If you're not squeamish about worms, caterpillars and other similarly shaped creepy crawlies, join a silk factory tour. The tour will unveil where the magic starts (with the silkworm farm), the harvesting stage and how the silk is made from the cocoons. Of course, there'll be a chance to buy some silk and at wholesale prices too! 
Meet bears rescued from illegal wildlife trade at Bear Care Tour
National Road No. 2, Takeo Province
Open daily from 8.30am to 4.30pm

Meet endangered bears like sun bears and moon bears that have been rescued from the illegal wildlife trade during the Bear Care Tour at the Cambodia Bear Sanctuary, located inside the Phnom Tamao Wildlife Rescue Centre.

While you may not have direct contact with the bears, you'll get to hear moving stories of the rescued bears, see the bears and help the Bear Care Team prepare food and enrichment treats. You'll enjoy watching the bears search and gobble down the treats you've hidden in their enclosures.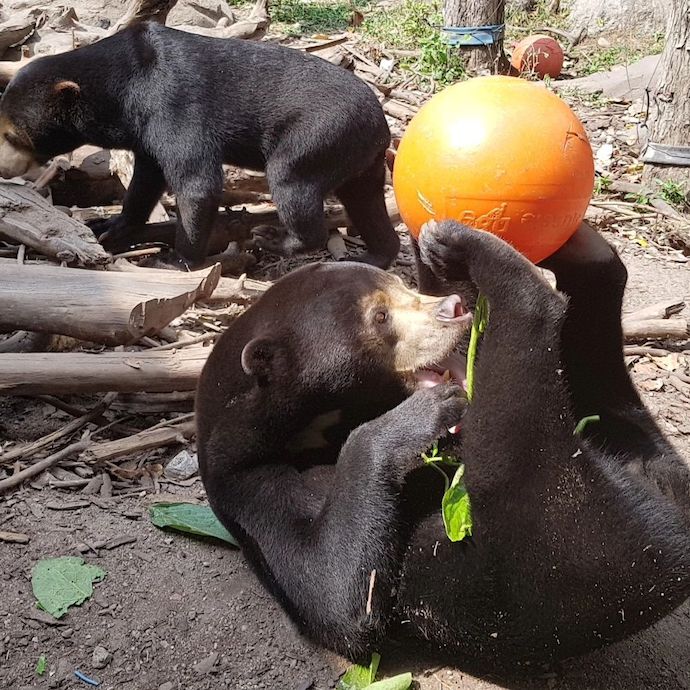 The minimum donation for the tour is USD90 per adult (kids below 3 years old can join for free; 50 percent of donated amount for each kid aged 4 to 15). Donation includes transportation, park entrance fee, lunch, guided tour, a reusable water bottle and a T-shirt. All donations go directly to the care of rescued bears in Cambodia.

If you and your kids really love animals, you could even sign up for a week-long volunteering programme.


*This article has been edited and adapted from Now Boarding by Changi Airport's "Traveller's guide to Phnom Penh: Cambodia's capital city"