Did you know that as many as 64 offshore islands surround the main island of Singapore? The most famous and nearest offshore island would be the resort island of Sentosa, but for a uniquely Singapore tropical adventure, go island-hopping.
We spotlight five nearby islands where you can enjoy outdoor activities such as nature walks, snorkelling, cycling and eco-tours. Best of all, you don't need your passport or a flight ticket! Just bring along your sunscreen, snacks and drinks!
1. Coney Island
Open daily from 7am to 7pm
Getting there: From Punggol Point Park, stroll down Punggol Promenade Nature Walk to the West Entrance of Coney Island
The park is situated between Punggol Promenade and Serangoon Reservoir, and is accessible through Coney Island's West and East entrances. To get to the park, you can take public transport such as the MRT and bus, and alight at Punggol Point Park or Punggol Settlement. From there, it is a short walk to the park entrances.
Probably the most accessible island on our list is Coney Island which is just a walk from Punggol Promenade Nature Walk.
Although it was intended to be modelled after New York's bustling amusement park, Singapore's Coney Island bears no similarity to the one in the Big Apple. Originally known as Pulau Serangoon, the 133ha island is located off the coast of Punggol in northeastern Singapore. The island is accessible from two bridges – from Punggol Promenade and Lorong Halus.
You can easily trek and cycle around Coney Island, thanks to a paved path where you can marvel at towering casuarina trees. The island is also home to over 80 species of birds including the Baya Weavers, Oriental Magpie-robins and Long-tailed Parakeets.
Even if you're not interested in birds, you can easily spend hours trekking through the various beach areas, coastal trails and mangrove forest, or having a picnic at the promenade.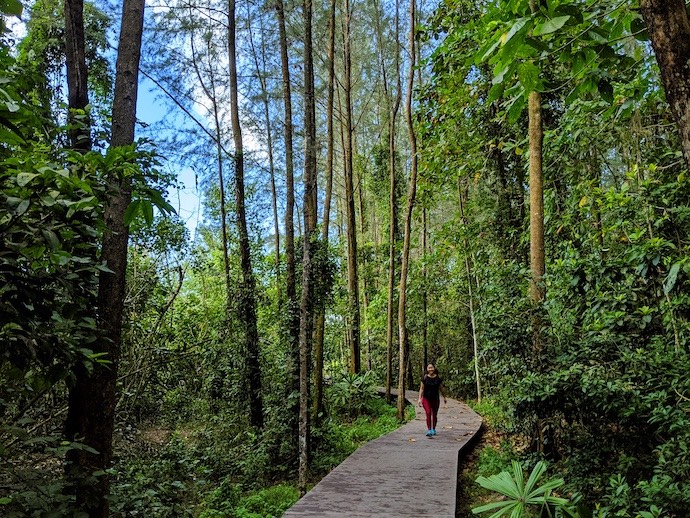 The rustic charm of the island makes an attractive backdrop for wedding shots so don't be surprised if you see couples dressed in wedding outfits posing among the trees!
To remain as environmentally sustainable as possible, Coney Island is entirely off the grid, meaning it's not connected to Singapore's mainland power or water system. There won't be any lamp posts around to guide you after dark so it's a good idea to leave before the park's closing time!
2. St. John's Island
Getting there: From Marina South Pier, take a ferry (approximately 40 minutes) to St John's Island; $15 per adult, $12 per child/senior. Check ferry schedules before heading down
Make your way to Marina South Pier and hop on a ferry to St John's Island. What was once a penal settlement and quarantine island is now a lush tropical destination for day-trippers as well as a place for marine research and conservation in Singapore. It was formerly known as Pulau Sakijang Bendera and renamed St John's Island in 1975.
The rich biodiversity of Singapore's waters is put on full display at St John's Island National Marine Laboratory where you can get an overview of the island's conservation efforts.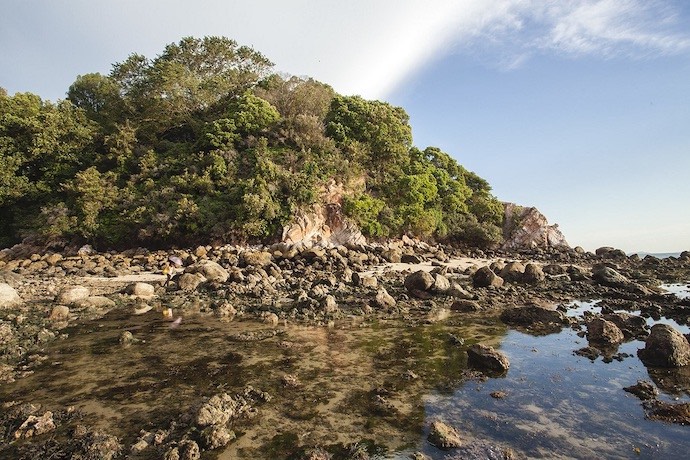 When the tide is out, you can stroll over an area that would normally be underwater and get to see marine life like the Horn-eyed Ghost Crab, Fluted Giant Clam and over 250 species of hard corals.
To explore the island at your own pace, download the DIY trail e-guide or grab a copy of the guide at the Sisters' Islands Marine Park Public Gallery.
There's a free 90-minute guided tour held on the first Sunday of every month led by NParks volunteers who will introduce the key features along the St John's Island Trail. Sign up for the next guided tour here.
3. Lazarus Island
Getting there: From Marina South Pier, take a ferry (approximately 40 minutes) to St John's Island and walk (approximately 15 minutes) to Lazarus Island; $15 per adult, $12 per child/senior (price varies for private yacht charters) Check ferry schedules before heading down
If you're already on St John's Island, take a walk to Lazarus Island, a short 15-minute walk away across a causeway.
Boasting one of Singapore's best beaches with pristine white sand and crystal-clear waters, swimming on the island is a must.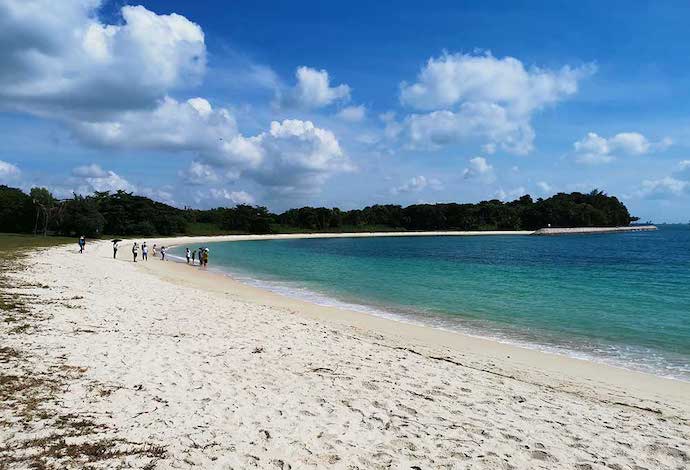 Over on the southern side of the island is a rocky shoreline, home to various critically endangered trees including the Penaga Laut, Pelir Musang and Bonduc Nut. Be careful while trekking through the greenery, lest you come across the mildly venomous gold-ringed cat snake. If you do, remain calm and keep a safe distance. The snake will soon slither away.
The island is one of the few spots in Singapore with a thriving reef habitat, making it a popular fishing spot. To learn practical aspects of fishing, sign up for Fishing Frenzy Academy's Beginner Angler's Course ($108 per adult; $98 per child, inclusive of round-trip ferry rides between Lazarus Island and Marina South Pier).
You can also stay overnight in one of five eco-friendly "Tiny Houses", which are built with sustainable composite building materials, powered by solar energy, have high-tech food waste recycling systems and come with biodegradable toiletries. Each tiny house has a unique theme: Tiny House 1900 boasts a colonial-era aesthetic; 1960 showcases an industrial theme; 1980 exudes a retro vibe; 2000 features a modern design; and 2017 was inspired by the year of Big Tiny's establishment. Prices start from $284 per night.
4. Kusu Island
Getting there: From Marina South Pier, take a ferry to Kusu Island (approximately 1 hour, with a stop at S. John's Island in between); $15 per adult, $12 per child/senior. Check ferry schedules before heading down

For an experience rich in culture and heritage, head to Kusu Island, located 5.6km off the southern coast of Singapore. Embodiments of spirituality can be found across the island as it's home to a Chinese temple and three Malay shrines.
The island is steeped in mystery and folklore. Legend has it that two shipwrecked fishermen –one Malay and the other Chinese – were saved by a mystical tortoise that turned itself into an island ("kusu" is the Hokkien word for "tortoise" or "turtle").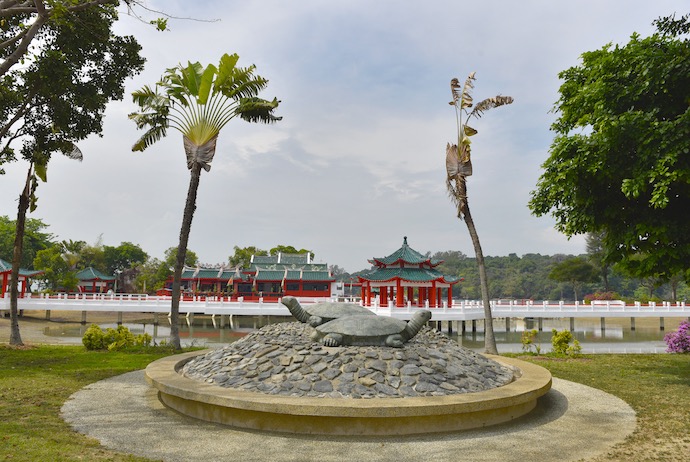 Here you'll find Da Bo Gong Temple, a sacred site built in 1923 that still draws dozens of worshippers during the ninth lunar month for the annual Kusu Pilgrimage to pray for good health, wealth and children. Within the grounds of the temple stands a tortoise sanctuary, both as a tribute to the legend of the island and a Chinese symbol of longevity. Aside from the many resident tortoises, a pair of stone tortoises stand guard in front of the Turtle Lagoon.
Make your way to the northeastern end of the island to find The Kusu Kramats, three shrines commemorating three pious Malay figures – Syed Abdul Rahman, his mother Nenek Ghalib and his sister Puteri Fatimah – who lived in the 19th century. Devotees from as far as Vietnam and Thailand would trek up the 152 steps to the shrines and pray for good health, fortune and fertility. Not much is known about the people of the shrines, but their graves were venerated following their deaths.
Like St John's Island, Kusu Island is replete with a sprawling variety of corals, which can be seen along intertidal zones. As for marine wildlife, clown fishes, anemone shrimps and giant clams have made their home in the island's waters.
The island is open for day trips only.
5. Pulau Ubin
Getting there: From Changi Point Ferry Terminal, take a bumboat (approximately 15 minutes) to Pulau Ubin; $3 for a single trip, additional $2 to bring a bicycle on board. Check ferry schedules before heading down. Chartered bumboats cost $35 to $40 for a round trip.
Pulau Ubin is the place to be if you want to connect with nature or take a walk on the wild side. The island is best explored on a bicycle or on foot if you're up for a long trek.
It's an easy bike ride to the island's Chek Jawa Wetlands, an intertidal zone with rich biodiversity that can be appreciated across a wooden boardwalk circling the coastline. Thereafter, walk through the Mangrove Loop for a closer look at wildlife like Oriental Pied Hornbills, smooth-coated otters, wild boars, mud crabs and monitor lizards. Be sure to climb up the seven-storey Jejawi Tower for a bird's-eye view of Pulau Ubin's coastline and tree canopy, which includes the Malayan Banyan, Common Pulai and rubber trees.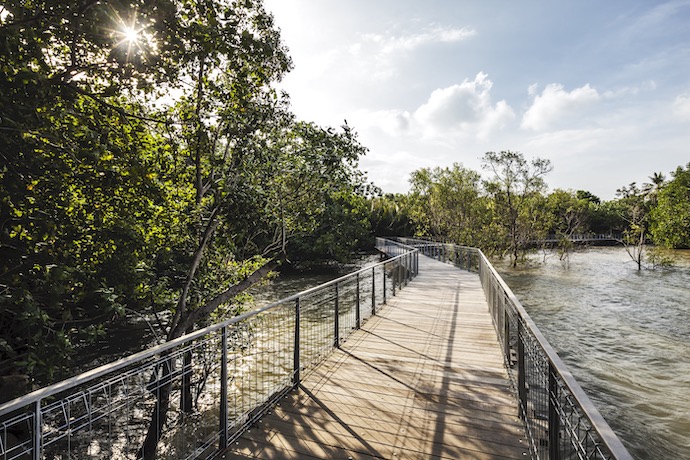 Another viewpoint not to be missed is Puaka Hill on the western end of the island, overlooking Ubin Quarry. Fun fact: Pulau Ubin has six quarries! Granite was mined from the island for use in the construction of early public housing and roads in mainland Singapore back in the '70s.
Thrillseekers can go off-road biking at Ketam Mountain Bike Park which has over 10km of hard trails for adventure cyclists.
Connect with the old ways on the Sensory Trail, which will take you through the backyards of the island's village homes to see fruits, vegetables, spices and herbs being grown. These crops were important to Pulau Ubin in the early days.
End your rustic expedition with some refreshing coconut juice from Ah Ma Drink Stall, managed and run by island resident Ong Ang Kui. She sells drinks and fruits freshly plucked from the many trees surrounding her stall.
*This article has been edited and adapted from Now Boarding by Changi Airport's "Top 5 offshore islands to visit from Singapore (Pulau Ubin and more!)"