No matter how ultra modern Singapore may be, Chinatown remains a cultural beacon for many people. On a normal day, you'll find plenty of tourists and locals roaming its streets where modern tastes meet a rich and colourful history.
The area was first fully developed in the late 1800s and many significant changes have been made to its offerings and facades over the years. Businesses have come and gone, but there are many reliable names that have planted their operations there for decades.
Given its enduring popularity, Chinatown holds plenty of surprises, even to this day. We highlight eight hidden gems and hot spots in and around Chinatown, based on their popularity with Singaporeans.
1. Bring home souvenirs and have a taste of local food at Chinatown Street Market
If you only have time to visit one cultural attraction in Singapore, make it the Chinatown Street Market, which cover whole streets including Pagoda Street, Trengganu Street, Sago Lane, Smith Street and Temple Street.
While it is characterised as a bustling night market full of value-item buys, it also offers a flavour of Singapore's culture, allowing visitors to sample local delights and bring home souvenirs.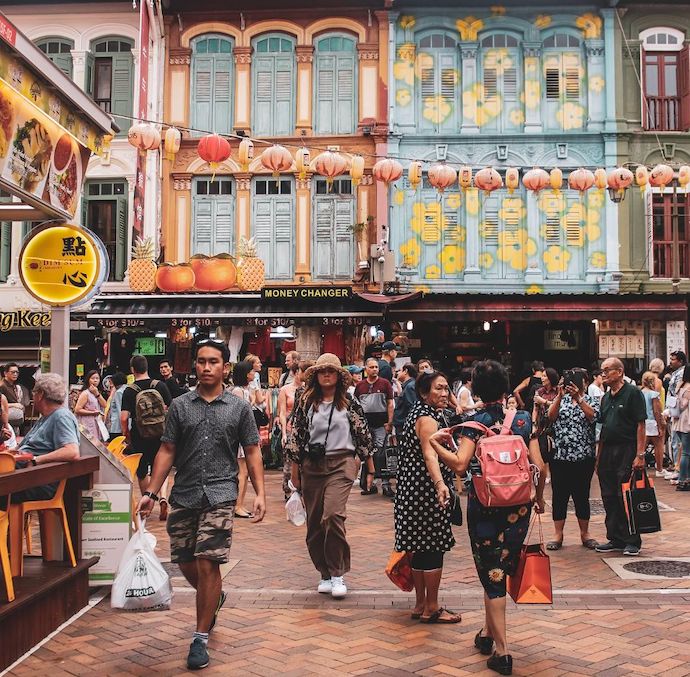 Market vendors usually begin operations around 10am, and of course, there's plenty of food and drinks to choose from including bak kwa (barbecued pork), fresh dim sum, crispy duck, seafood dishes, bubble tea, beer and more.
Shops and stalls in the area sell cultural antiques, cute souvenirs, clothing, silk scarfs, lanterns, herbal medicine, vintage stamps, pots and vases. To shop for more items, pop over to Chinatown Complex where there are several outlets on the first floor offering a range of collectibles.
2. Indulge in shopping and bespoke services on Ann Siang Road
Just a 5-minute walk from Chinatown Street Market is Ann Siang Road. Here, expect service and selections that teeter closer to high-end, luxury experiences.
While Ann Siang Road is best known for its generous offerings of boozy bars, there are plenty of thriving local brands and boutiques excelling in artisanal items.
For starters, there is Yumumu, a local womenswear label offering breathable, stylish jumpsuits, dresses, pants, skirts and hand-woven jewellery.
If you're into bespoke jewellery, you can create one-of-a-kind pieces at Madly Bespoke Jeweller which specialises in coloured gems. With the help of Madly's in-house designers, you can customise your very own piece with dazzling gemstones that have been cut for maximum brilliance by lapidary masters.
Guys looking for a sharp cut and sleek shave should make a beeline for the world's oldest barbershop Truefitt & Hill. Besides haircuts and its famous Traditional Hot Towel Wet Shave, the British barbershop brand also offers hair colouring, massages, facial hair grooming, manicures and pedicures that will make you feel like a million bucks.
3. Pick out your favourite scent, vinyl records and books along Duxton Hill
Just a short walk away from Ann Siang Road is Duxton Hill, another hideout full of luxurious brands.
Alongside a selection of restaurants and bars that come alive at night, you'll find perfume maker Maison 21G where you can craft your own scent and activewear giant Lululemon.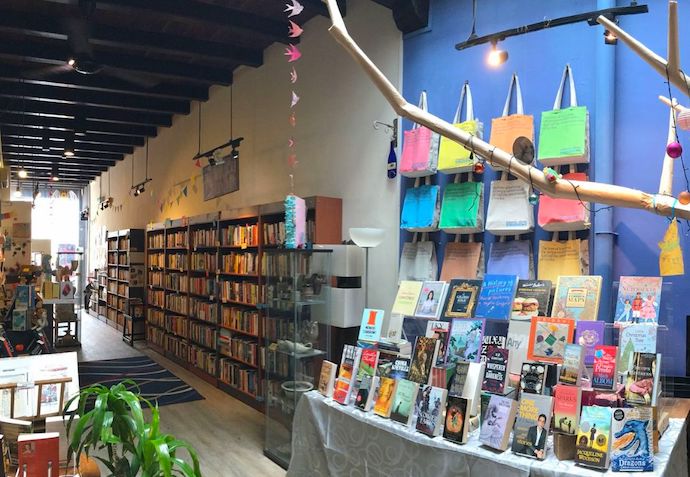 Also check out Retrophonic Records, a record store with plenty of music on vinyl, as well as Littered with Books, which offers a curated selection of literature.
4. Visit the iconic Buddha Tooth Relic Temple and Museum
In Chinatown, religion and culture are intertwined so much of its street sights are rooted in tradition. However, despite its name denoting a large presence of Chinese culture, it is also home to the legendary Sri Mariamman Temple which attracts curious tourists with its holy ceremonies.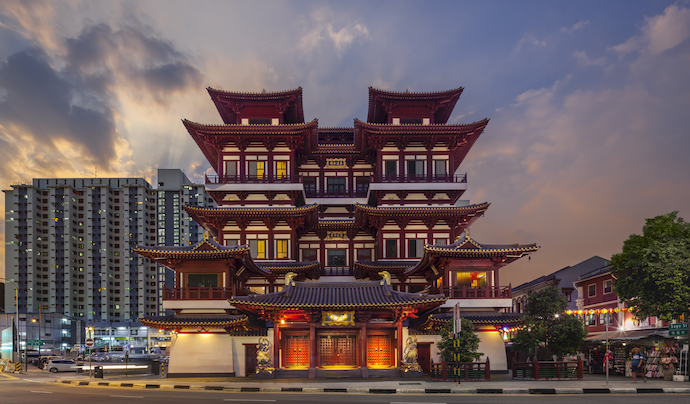 The famed Buddha Tooth Relic Temple and Museum is hard to miss. Replete with golden opulence and a towering presence, it's an attraction that offers four levels of history and a rooftop area comprising four sacred pavilions.
The temple also has a basement food court which is accessible from a non-descript door at the side of the building. The food court only offers vegetarian fare, with meals costing less than $5 each.
5. Modern art and traditional history at Everton Park
Get ready to be inundated with arts and crafts at the Everton Park neighbourhood. Here, you'll find plenty of eye-catching murals by local artists, cool artisanal cafes and shophouses steeped in Peranakan tradition.
Look out for three murals by local artist Yip Yew Chong in the area – "Amah" (housemaid washing and drying clothes), "Barber", and "Provision Shop" (depicting life in a kampung [village] in the old days of Singapore).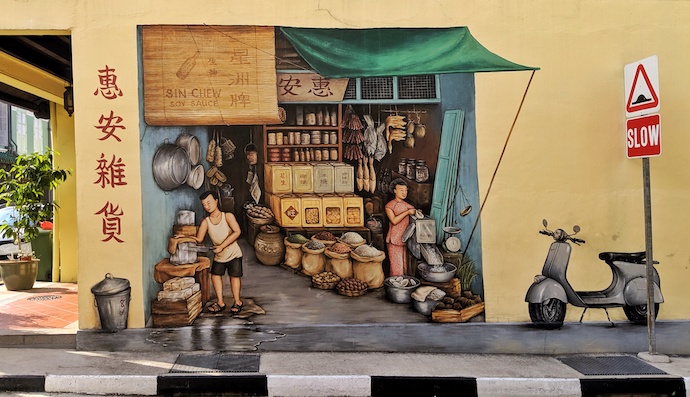 The NUS Baba House, which serves as a heritage destination of sorts and is not your regular museum, has been fastidiously restored over the years. It's the best place to learn more about the history of the Peranakan or Straits Chinese people who have made Singapore what it is today.
6. Captivating cityscape views at Duxton
For a bird's-eye view of the area and beyond, head up to the 50th-storey skybridge at The Pinnacle@Duxton which is open to the public.
Creating possibly the longest continuous sky gardens in the world, the skybridge offers captivating panoramic views of the Chinatown area, the Central Business District and Tanjong Pagar.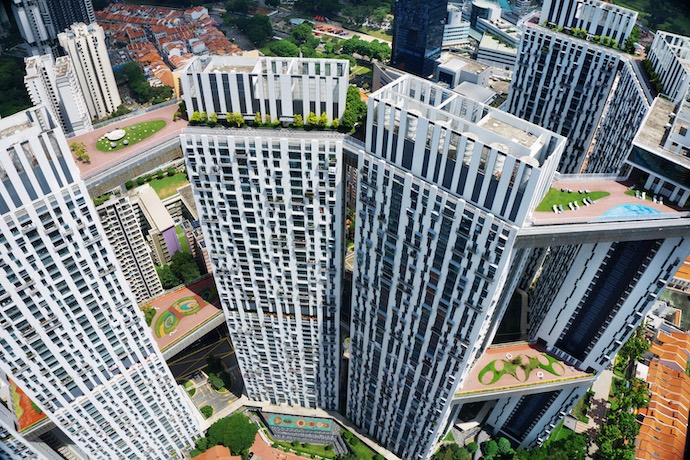 The skybridge is open from 9am to 9pm daily and admission is $6 per person. Click here for details on how to enter and exit the skybridge.
Note that only 150 people (non-residents) can access the skybridge per day, and at any one time, only 50 people will be allowed on the skybridge, so be sure to plan your visit earlier in the day.
7. Enjoy a variety of local hawker favourites at Maxwell Food Centre & Chinatown Complex
Affordable local hawker fare can be found at Maxwell Food Centre and Chinatown Complex. As these two hawker centres are popular with both locals and visitors, crowds are expected especially during lunchtime.
The hawker stall at Maxwell Food Centre that draws the biggest queue is Tian Tian Hainanese Chicken Rice, which has been endorsed by luminaries like the late Anthony Bourdain. Other must-trys include the famous Mr Appam which offers sweet Indian delights at a cheap price, Maxwell Fu Zhou Oyster Cake, Tong Xin Ju Special Shanghai Tim Sum and Jin Hua Fish Head Bee Hoon.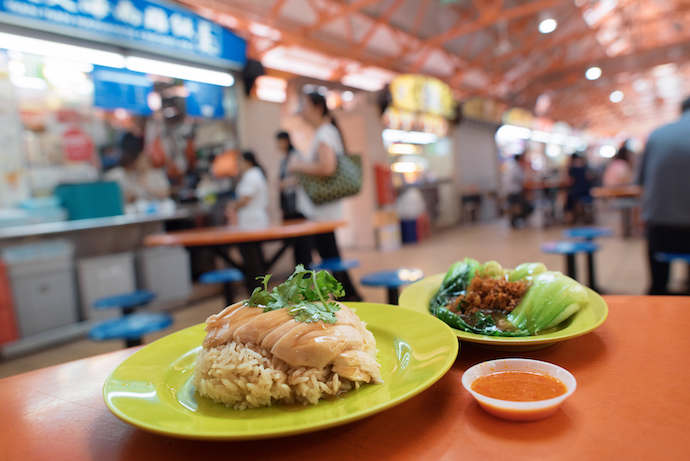 Over at Chinatown Complex, the most popular stalls include Ann Chin Popiah, Chef Leung's Authentic Hand-milled Rice Noodle Rolls, Hill Street Fried Kway Teow, Xiu Ji Ikan Bilis Yong Tau Foo, Fatty Ox HK Kitchen, Old Amoy Chendol and Zhong Guo La Mian Xiao Long Bao.
8. Enjoy coffee, pastries, tipples and more around South Bridge Road
Along South Bridge Road are mid-day hideouts like Maxi Coffee Bar and Nanyang Old Coffee where you can chill out over coffee.
Pick up some pastries at La Grigne Patisserie, located just behind Maxwell Food Centre, known for its signature Salmon Mentaiko Croissants.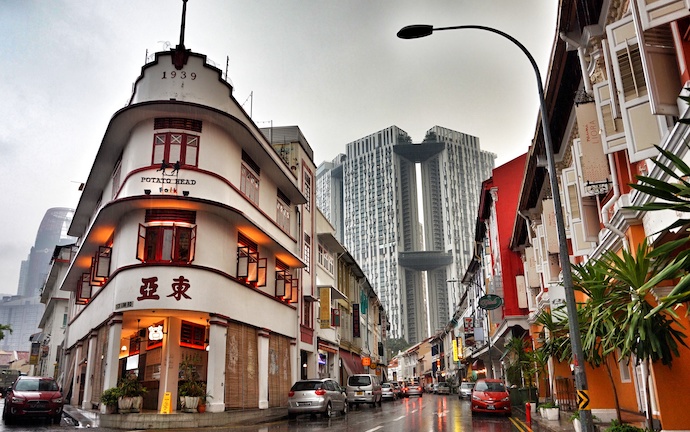 When the sun sets, the area buzzes with a different beat. Kick back with your favourite cocktails or mocktails at establishments like Potato Head Singapore, Esquina, CU Bar and Papa Doble.
*This article has been edited and adapted from Now Boarding by Changi Airport's "9 best things to see and do in Chinatown, as endorsed by locals"