Need a change from Jakarta or Bali? Check out Surabaya, Indonesia's second-largest city and the capital of East Java.

The bustling city is one of the country's most underrated tourist destinations. It is often used as a gateway into East Java but if you take time to discover the bustling city, you'll uncover its unique blend of history, culture and natural beauty.
Surabaya is also known as "Kota Pahlawan" (City of Heroes) because of the significance of the Battle of Surabaya which brought local and international support for Indonesian independence during the Indonesian National Revolution.

We highlight six of the coolest things to do in the city.
1. Soak in the hot springs of Bukit Jaddih
WQ95+3RM, Jakan, Parseh, Kec. Socah, Kabupaten Bangkalan
Opening hours: 7am to 4pm
Chalk mines may not seem all that interesting until you see those at Bukit Jaddih. It's like Pamukkale in Turkey, with a natural hot spring in the middle of the chalk hills, only better because it's a lot less crowded.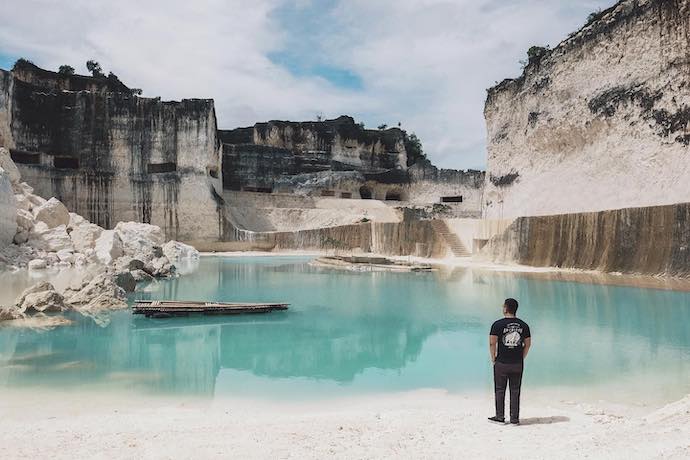 Locals call the natural spring "Aeng Goweh Pote" (White Cave Water), which is a pretty apt description for Bukit Jaddih. The sharp angles of its sculpted chalk hills are highly Instagrammable. When set against the clear blue skies and the glistening turquoise of the springs, the chalk hills are best seen in person.

The photo-ops you can get around the area and inside the chalk caves make the trip itself worthwhile. If you happen to bring along your swimwear, take a dip or paddle around on one of the wooden rafts.
2. Climb a Dutch-era Lighthouse
Jalan Sembilangan, Socah, Pernajuh, Kec. Bangkalan, Kabupaten Bangkalan
Just off the coast of Surabaya is Madura Island, where the little town of Sembilangan Village goes about its quiet daily life. You can't miss the highlight of the village – a 65m-tall lighthouse which looks like it was plucked right out of a Dutch tulip field.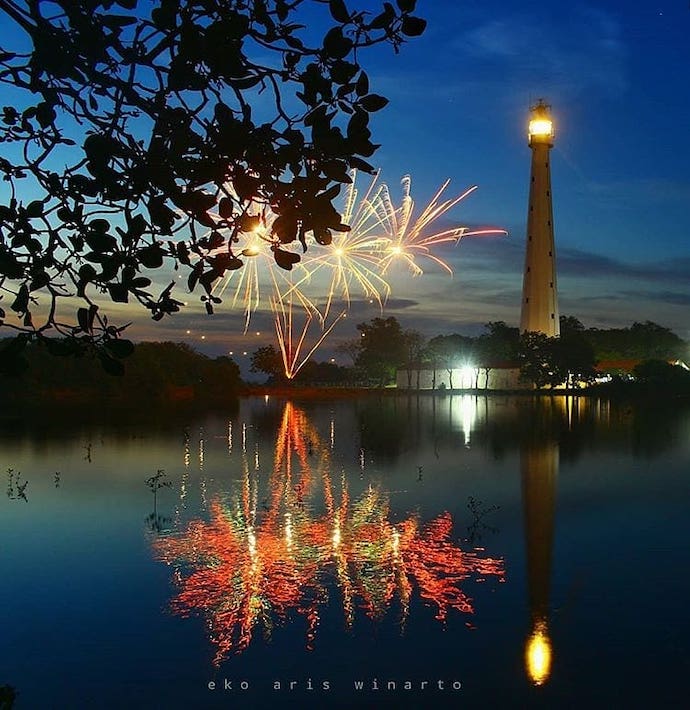 Climbing up all 17 storeys is no easy task, of course, but rest assured the view at the top will make the effort well worth it. The top of the lighthouse overlooks pretty much the entire village as well as the gorgeous ocean beyond. You can even see Tanjung Perak port from there. 
It's highly recommended to catch the sunset from the top of the lighthouse. The peace and serenity vibes there are unlike any other.
3. Visit the Mediterranean at Wisata Bukit Mas
Komplek Perumahan Wisata Bukit Mas, Jalan Raya Menganti Lidah Wetan, Wiyung, Lidah Wetan, Lakarsantri, Kota SBY
Opening hours: Wednesday to Sunday – 6am to 5pm
Wisata Bukit Mas might just be a housing complex area, but hear us out. It's a housing complex that's got replicas of famous European landmarks for buildings. In a way, it's like being in Europe without being in Europe itself!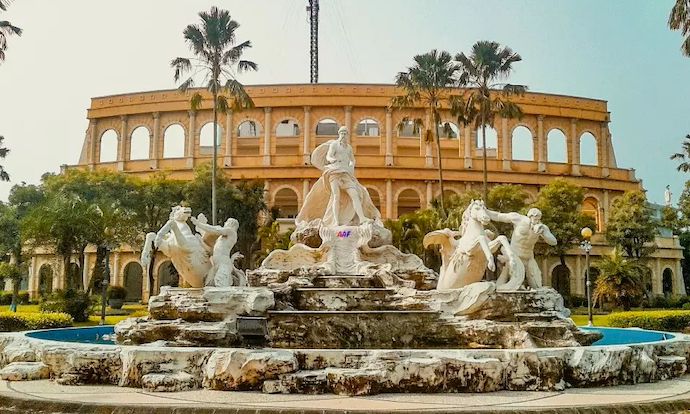 Just by walking around, you'll be transported to Madrid, Versailles and even ancient Rome with a Colosseum amphitheatre (it's a clubhouse, actually). Enjoy all sorts of sports there – table tennis, futsal, karate, you name it. 

There's also a theme park within the complex and it's modelled after Notre Dame. There, you'll find a picturesque lake and plenty of lakeside activities to fill your day with, as well as an adventure-style swimming pool. 
4. Check out a train graveyard
Jl. Sidotopo Lor No.2, Simokerto, Kec. Simokerto
With the Y2K resurgence and a whole new love for all things retro, a train graveyard filled with old-school locomotives sounds like the perfect place to visit while in Surabaya.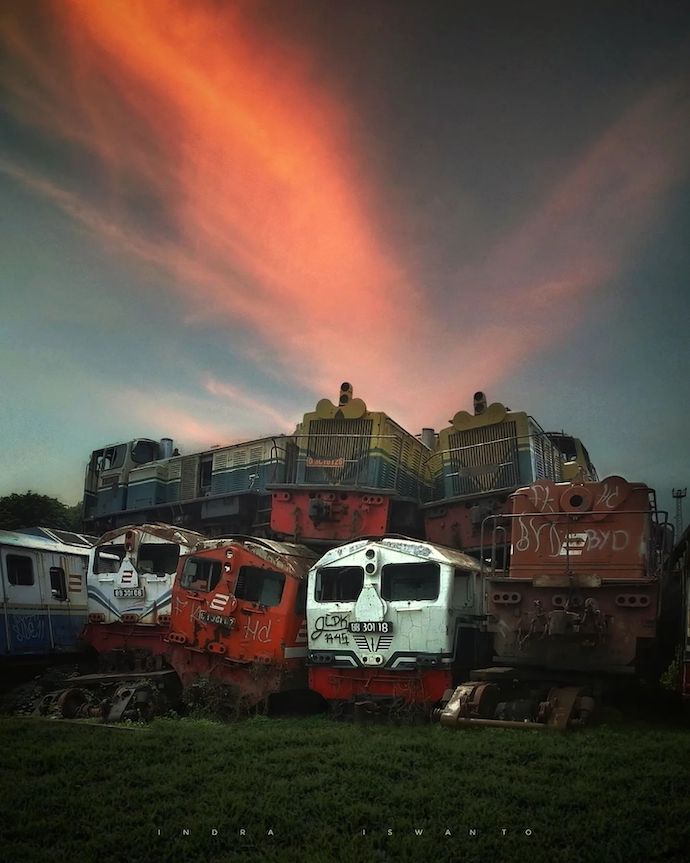 Dipo Lokomotif Sidotopo was once a train depot used for loading and unloading heavy items onto trains and also served as a train depot for trains to get their regular maintenance. Now, it's most popular as a photoshoot location. There are plenty of passenger trains and trains that used to ferry goods around such as the CC201 and CC206s.
Apart from getting to see rare and unusual retro trains stacked upon one another, legend has it that the train graveyard has a couple of ghosts floating around the place. Now, that's a chilling story to tell when you're back home.
5. Tour a volcano at midnight
The only thing that's cooler than climbing an active volcano is climbing an active volcano under the twinkling stars. Mount Bromo, or Gunung Bromo as the locals call it, is the most famous volcano in Indonesia. It's located within a sand plain known as the Sea of Sand, and it offers you the opportunity to catch the sunrise from both a mountain peak and the desert for breathtaking views.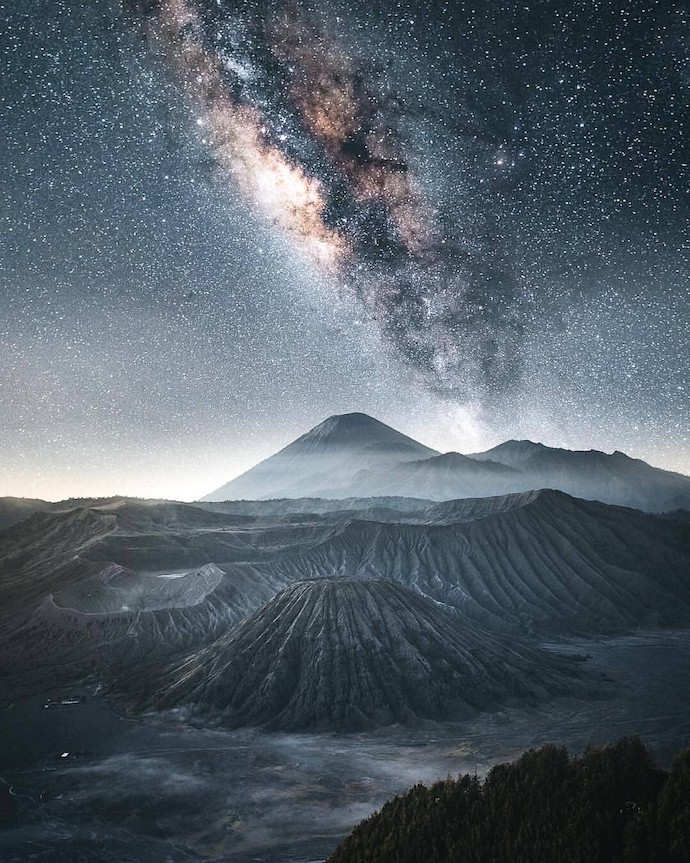 You can choose to hike up the volcano, take a jeep up or even ride on a horse to the bottom of the Mount Bromo stairs. Tours are also readily available if you prefer to leave the planning to the experts.
Considering how Mount Bromo is still an active volcano, always keep up to date with the latest local advisories to ensure conditions are safe before visiting.
6. Swim and snorkel in solitude
Desa Pamona, Kecamatan Sangkapura, Sidogedungbatu, Sangkapura, Gresik

Beach lovers and water babies will be happy to know that Surabaya offers amazing water adventures, courtesy of Pulau Noko.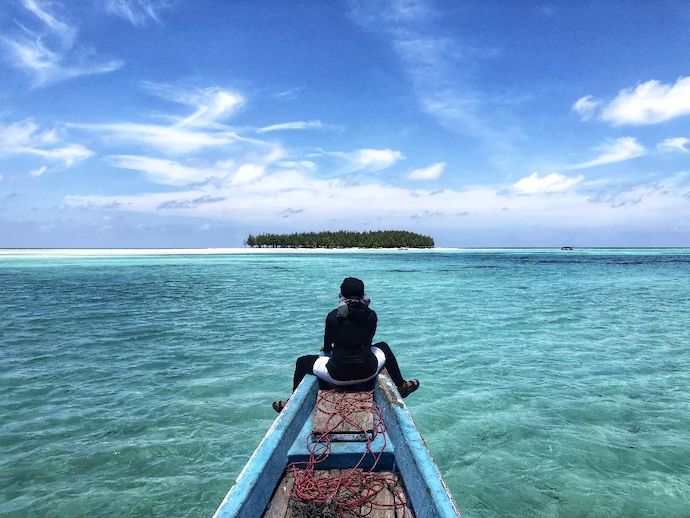 Located off the coast of Surabaya, Pulau Noko is an uninhabited island that's basically a really long uninterrupted stretch of beach lawn that circles the entire island. The clear waters are a snorkeller's paradise, especially with the abundance of colourful corals teeming with marine life. 
This article has been edited and adapted from Now Boarding by Changi Airport's "Simply Surabaya: 6 coolest things to add to your bucket list"