Singapore's craft beer scene has been growing robustly and so has the number of microwbreweries and taprooms in the country.
Hop-loving folks are spoilt for choice as fresh pints are now available not just at watering holes but at bespoke shops and craft beer purveyors located at hawker centres and quieter streets around town.
We've rounded up five interesting craft beer bars and shops that serve up brews with a crisp finish.
1. Druggists
119 Tyrwhitt Road
Opening hours: Monday – 5pm to midnight; Tuesday to Thursday – 4pm to midnight; Friday & Saturday – 3pm to midnight; Sunday – 3pm to 10pm
Sharing the same building with the Singapore Chinese Druggists Association, this watering hole is famous for its 23 rotating craft beers on tap. Do not be fooled by its old building exterior. Enter the space and you'll be greeted with tasteful warm lighting and a striking blue paint job contrasted against its original floor tiles.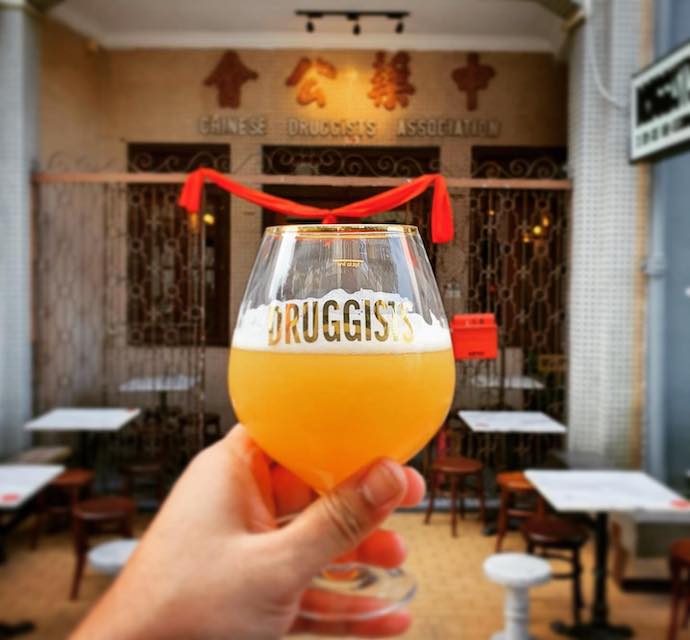 Enjoy its speciality range of beers with nibbles, burgers and tacos that have been given a unique spin (and monikers!). Try Curry Fish Skin, Chick To Thai For, Don't Cry For Me, Jalapenos, You Make Miso Happy, Chicken Rendang Tacos and Tofu-rrific Tacos with a glass of draft.
During Happy Hour from Monday to Thursday, from opening to 7pm, selected craft beers and cocktails go for $11 each, while red wine is at $10 per glass.
2. Smith Street Taps
Chinatown Complex Food Centre, #02-062
Opening hours: Tuesday to Friday – 5.30pm to 9.30pm; Saturday – 2pm to 9.30pm (closed on Sunday & Monday)
Enjoy your favourite hawker dish with a smooth pint of craft beer from this beer stall in Chinatown Complex Food Centre.
Founded in 2014 by two of Singapore's earliest craft beer pioneers, the stall offers a rotating beer selection, promising its fans varying types of beers with different flavours every season.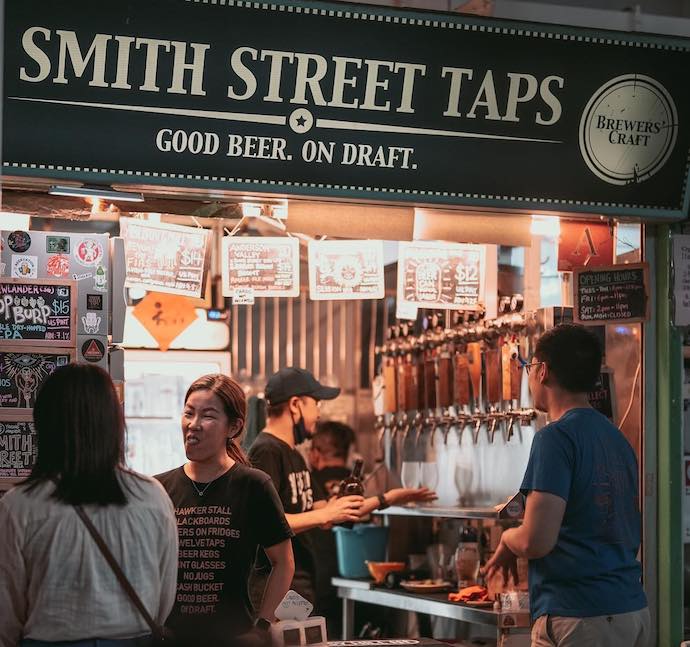 Ranging from well-known beer brands like Sapporo to experimental brand pours like BrewDog, the stall caters to regulars and newcomers who enjoy a casual pint of beer in a lively hawker centre setting. Beers lovers will be pleased to know that its prices are easy on the wallet – from $6 onwards for a pint.
3. Abundance
Redhill Branch
63A Lengkok Bahru, #01-378
Open daily from 11am to 10pm
Jalan Besar Branch
399 Jalan Besar
Opening hours:Tuesday to Sunday – 11am to 10pm
Taiwanese café Abundance offers craft beers, cocktails and Taiwanese eats in two cosy neighbourhood settings.
It offers eight craft beers on tap, with selections rotated bi-weekly, plus a menu featuring buns, fried rice, dumplings, noodles, toasts and sides.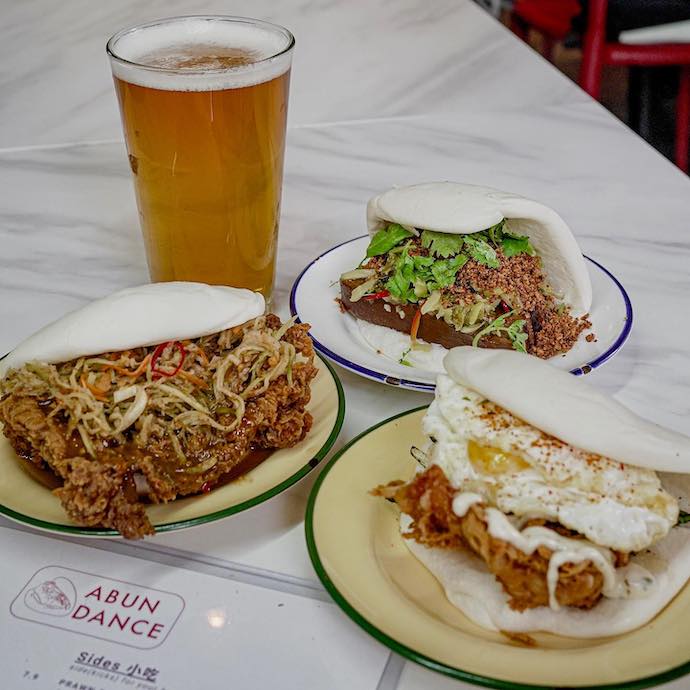 Enjoy your beers with house favourites like Gua Bao, classic braised pork belly with pickles and hand-roasted peanuts in a warm bun; CCB (Crispy Chicken Bun), fried chicken thigh with tangy mango slaw and Thai-style peanut sauce; Red Hot Chilli Dumplings in Sichuan spicy sauce; Niu Yolk Fried Rice where rice is fried with beef fat and topped with slow-cooked and torched beef short ribs and an onsen egg; Taiwanese Beef Niu-dles; and Peanut Ice Cream Roll.
4. Almost Famous Craft Beer Bar
CHIJMES, #01-06
Opening hours: Monday to Friday – 5pm to 10.30pm; Saturday & Sunday – Noon to 10.30pm
This bar is sure to catch your eye with its distinct steel and exposed concrete interior. Its philosophy of simplicity and minimalism has allowed it to stand out from surrounding bars not just in aesthetics, but also through the craft beer experience that it offers its customers.
The bar boasts a selection of 16 beers on tap that rotate weekly, and if you're overwhelmed by the choices, just order a tasting platter – problem solved!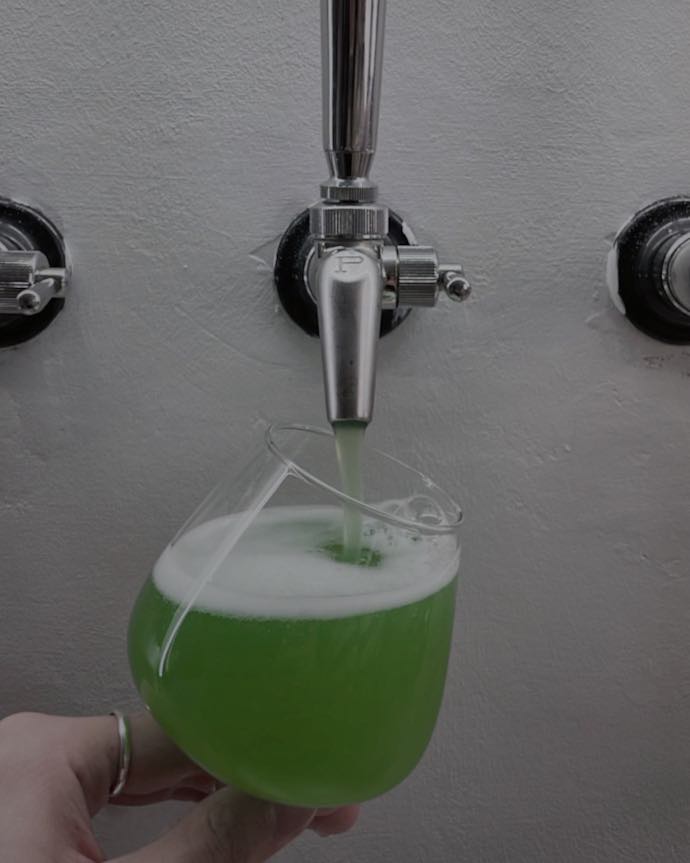 To complement its unique beers are bar bites that are just as special. Ever heard of Fried Salad? This light and crispy assortment of deep-fried lotus root, kailan and beancurd skin is delightful and moreish. More munchies include Nacho Fries, battered fries with jalapeno, pico de gallo and Baja sauce, topped with nacho cheese and Tom Yum gyoza for a tangy, spicy kick!
5. SG Taps
13 Duxton Hill, #01-01
Open daily from noon to 11.30pm, till midnight on Friday
If you're looking for local craft beers, SG Taps is your go-to place. Among the 20 taps are beers from Singapore brewers like Archipelago Brewery, Brewlander, Lion Brewery Co, Niang Brewery Co, Pink Blossoms Brewing, Rye & Pint Brewery and Sunbird Brewing Company.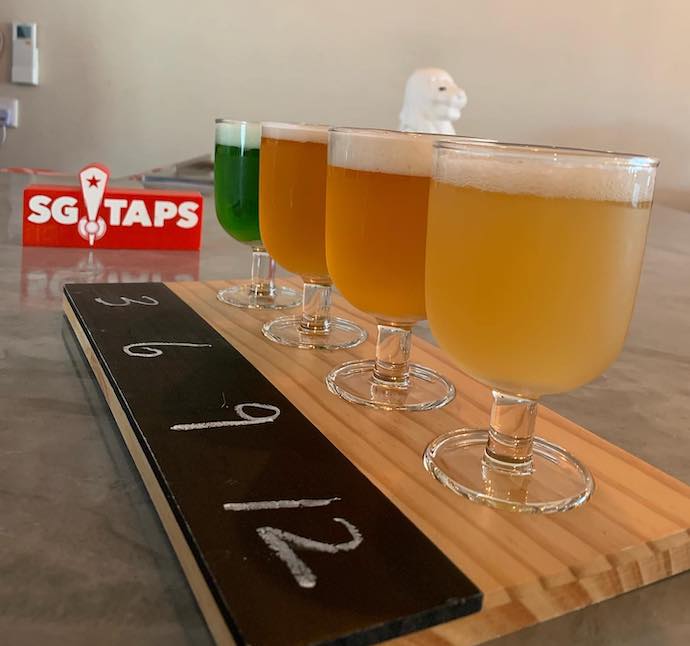 Pair your brews with snacks like Steamed Japanese Oyster, Potato Korokke, Pakuchi Ebi Gyoza Pork Katsu Stick, Truffle Fries and Wani Tsukune (grilled crocodile meat balls!); and chef specials like Immortal Burger with fries, Trippa with focaccia, Beef Sirloin Steak and Grilled Salmon Garden Style.
There are also pizzas including a unique Laksa Pizza, as well as Japanese-style rice and noodle dishes such as Tori Ramen, Katsu Curry, Mee Sua Sudachi Somen and Mentaiko Spaghetti.
*This article has been edited and adapted from Now Boarding by Changi Airport's "5 best craft beer spots in Singapore to check out"