One of the greenest cities in the world, Singapore is known for being a "city in a garden", with about a third of the island covered by greenery. Standing out as a shining example of Singapore's green reputation is the visually spectacular PARKROYAL COLLECTION Pickering which opened in 2013.
Envisioned as a "hotel in a garden" with sustainable elements and practices integrated into its DNA by world-renowned architecture firm WOHA, the five-star luxury hotel boasts paddy field-inspired landscaped terraces, a two-storey waterfall, and eco-friendly features such as Singapore's first zero-energy system using solar power, rain sensors, light saving, water conservation, edible gardens and plastic-free policy.
Beyond its picturesque appeal, the hotel's 15,000 sqm of lush greenery – featuring 50 different plant varieties including shade trees, tall palms, flowering plants, leafy shrubs and overhanging creepers – also help to absorb heat, create shade and improve air quality.
The hotel's garden concept continues to the corridors of guestrooms, which are rejuvenated by thriving leafage and waterscapes, sunlit pathways and fresh air.
The 16-storey, 367-room award-winning hotel recently launched an Eco-wellness Escape stay package (available until 9 July) as well as a range of Eco-wellness experiences to inspire guests to live well without compromising the environment.
We spotlight four ways to enjoy a pampering yet eco-friendly stay at one of Asia's leading green hotels.
Restful Sleep
To encourage restful sleep for guests, the hotel offers a Sleep Ritual turndown service which features a scented pillow pouch created by homegrown aromatherapy brand FLO. The pouch is infused with natural essential oils to help calm the body and mind for a good night's rest.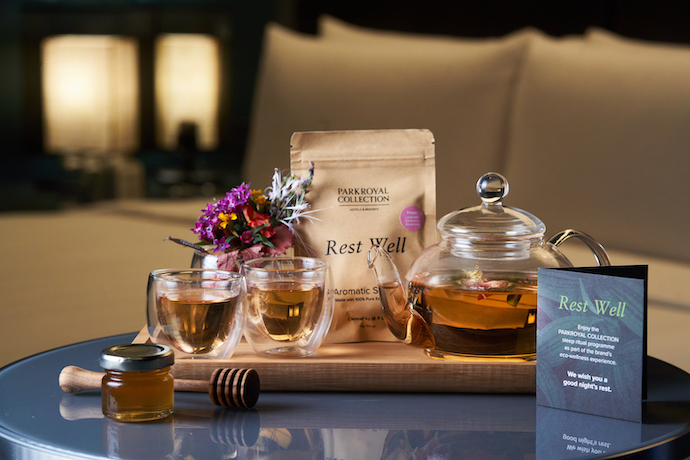 Also included are a tea set and a bundle of sleep-friendly herbs like thyme, bergamot lime, mint and rosemary mixed with some pretty edible flowers that have been freshly harvested from the hotel's Urban Farm. Gently rub the leaves of the herbs to release their therapeutic aromas before steeping them in hot water for a cup of herbal tea.
Conscious Dining, Mindful Drinking
Eating and drinking can be deliciously guilt-free at the hotel. At all-day dining restaurant Lime Restaurant & Bar, which offers buffet spreads and a la carte dishes, savour a selection of healthy options prepared with locally sourced fresh produce and farm-to-table harvests. Wholesome "Conscious Dining" choices from the a la carte menu include Pan-fried Sustainable Barramundi with garlic and lime, cauliflower fried rice and Urban Farm greens; Fish & Chips made with crispy fried sustainable halibut; and Kimchi Brown Rice Bowl.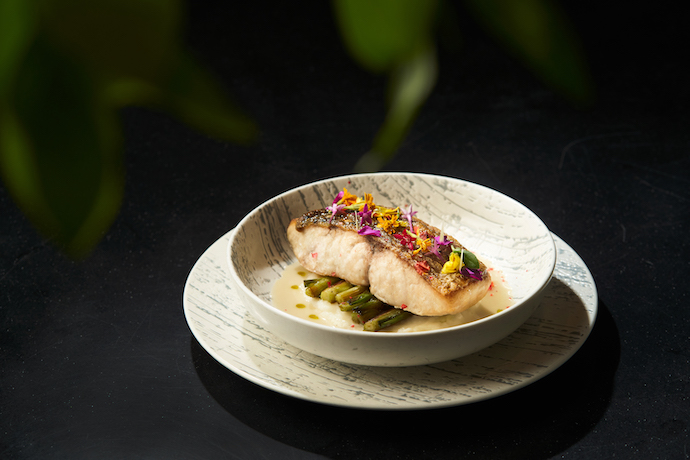 Until 9 July, the hotel offers an Urban Farm Tour with Wellness Set Lunch which lets diners check out the Urban Farm on level 16 before enjoying a specially curated menu of wholesome eats.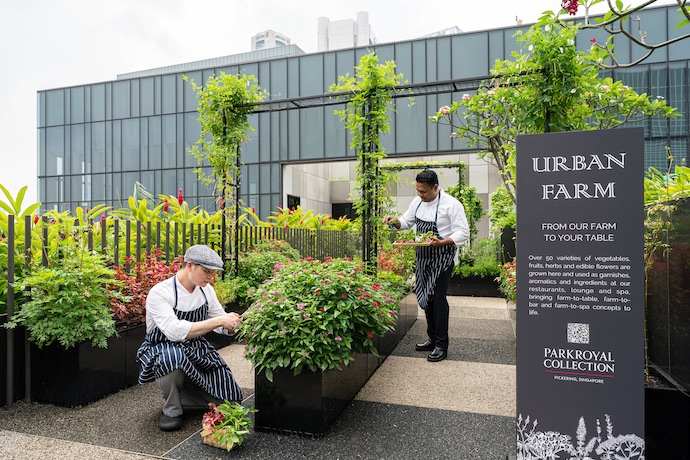 The Urban Farm is home to over 50 varieties of fruits, herbs and edible flowers which are used as garnishes, aromatics and ingredients at Lime, COLLECTION Club Lounge and St. Gregory Spa. The edible greens include Lemon Balm, Brazilian Spinach, Spearmint, Stevia, Society Garlic, Wild Pepper, Passionfruit Marigold, Calamansi Lime and Wild Passionfruit
Wellness Activities
Dedicated to wellness, the fifth floor of the hotel is where you can do laps (or dips) in the outdoor infinity pool, work out in the gym, take a relaxing stroll along the 300m Garden Walk that features a hidden waterfall, or just chill out at one of the Insta-worthy birdcage-inspired cabanas along the perimeter of the pool.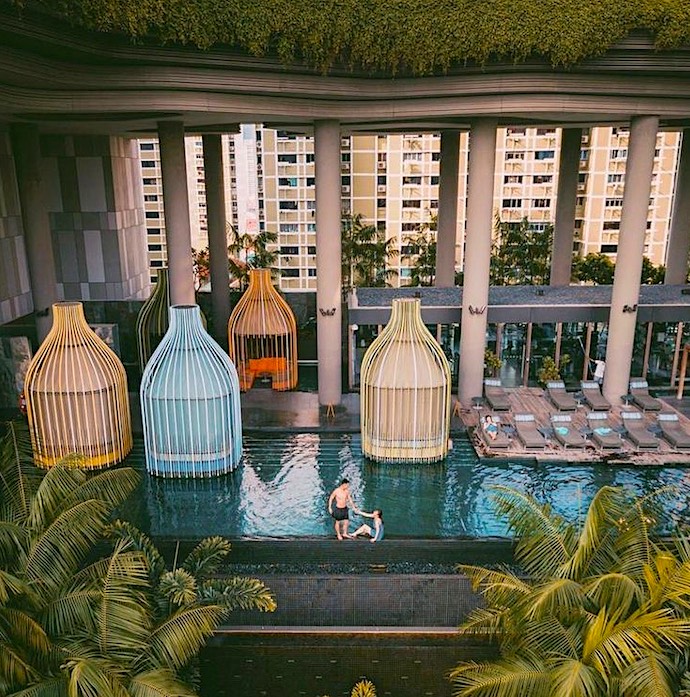 On the first Saturday of each month, join a morning wellness session like yoga, Pilates, Breathwork and Meditation, Improvisation and Creative Movement, or Movement Flow at the Outdoor Terrace to reconnect with your mind, body and soul.
Pampering Treatment
A wellness stay would not be complete without indulging in some pampering at the spa.
Located on the hotel's wellness floor on level 5, St. Gregory Spa offers a range of massages like its signature Elemis Well-being as well as traditional healing treatments like Traditional Chinese Tui Na Massage and Indonesian Balinese Massage, and facials like Oxy Life Nova Gleaming Facial and Thalion Oxygen & Radiance.
For couples looking to spend some quality relaxation time together, there's the Perfect for Two Spa Ritual which includes a choice of Indonesian Balinese or Relaxing Aromatic Body Bliss massage and an Elemis Skin Nourishing Milk Bath.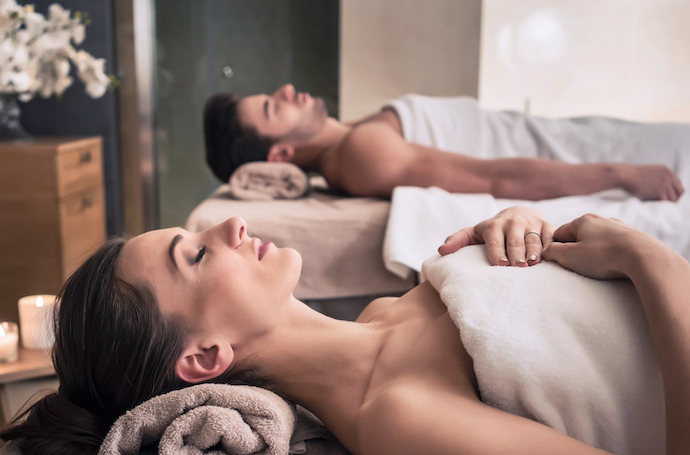 Sporting lots of natural wood and a palate of calming hues, the spa has four treatment rooms named after flowers such as lily, lotus, jasmine and orchid. Its three single rooms are equipped with shower rooms, while its luxurious couple's suite boasts a double Jacuzzi bath, a spacious steam shower room, his and hers sinks, red lounge chairs and a wardrobe.