As personal well-being becomes a top priority, more and more hotels have started offering health, wellness and fitness programmes aimed at rejuvenating the body, mind and soul of their guests.
But for Westin Hotels & Resorts, wellness has been a large part of its guest offerings for over a decade through its six pillars of well-being: Sleep Well, Eat Well, Move Well, Feel Well, Work Well and Play Well.
Westin's wellness-focused programmes are aimed at empowering guests to stay active and maintain good physical and mental health so that they check out feeling better than when they checked in.
Over at The Westin Singapore, the first hotel in Singapore to be located within an office building, guests can look forward to holistic activities that focus on individual wellness. In conjunction with Wellness Festival Singapore which runs till 9 July, the hotel is offering wellness activities ranging from invigorating poolside yoga to scenic guided runs.
Besides these activities, guests can also maintain and enhance their wellness routines through the hotel's active and regenerative signature offerings and amenities.
Whether you're a business or leisure traveller or a staycationer, The Westin Singapore has all the tools in place to help you achieve your wellness and fitness goals.
We spotlight four ways for you to stay rested, fit, nourished and rejuvenated at the hotel.
Unwind in homey rooms with captivating views
As the hotel occupies levels 32 to 46 of Asia Square Tower 2 in Singapore's bustling financial district of Marina Bay, all its 305 rooms and suites have floor-to-ceiling windows that unveil engaging views of the financial district's towering buildings, the Singapore Strait, Tanjong Pagar Port, Marina Bay Cruise Centre, Marina Coastal Expressway, the eastern part of Sentosa Island and beyond.
Dressed in soothing earthy tones of brown and beige, rooms sport custom-made timber furnishings and a watercolour artwork of a local feature framed above the headboard.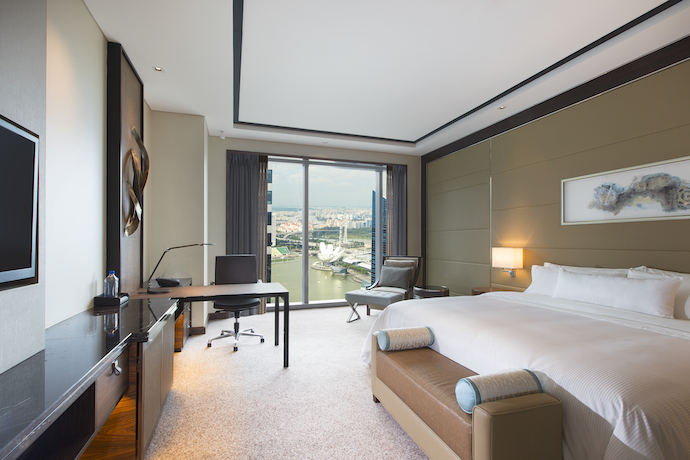 To encourage deep, restorative sleep for guests, Westin has specially designed its iconic Heavenly Bed, featuring lush sheets, down cushioning and a patented pillow-top mattress which cradles and contours the body for complete comfort.
Wind down and improve the quality of your sleep with a warm Heavenly Bath in a deep freestanding bathtub or a relaxing shower with Westin's signature White Tea bath amenities.
Another prelude to your restful sleep is Westin's signature Sleep Well Lavender Balm, placed on the bedside table to help ease tension and soothe your senses before bedtime.
Maintain your fitness routine at your own time
The hotel has made it super easy for guests to keep fit and stay active during their stay. Go for a swim in the outdoor infinity pool on level 35 or run on the treadmill while soaking up spectacular views at the WestinWORKOUT Fitness Studio, also on level 35.
If you prefer to run outdoors, join the runWESTIN Concierge for a scenic run around Marina Bay every Tuesday and Thursday at 6.30am and every Sunday at 7am. For yoga fans, there's a 60-minute yoga class at the pool area on Wednesdays at 7.15am and Sundays at 8.45am.
If you're travelling light and didn't pack your fitness gear, Westin's Gear Lending programme has got you covered. Featuring the latest in high-tech recovery and body strength training tools from Hyperice and Bala, the Gear Lending programme encompasses a library of kits that you can borrow at anytime.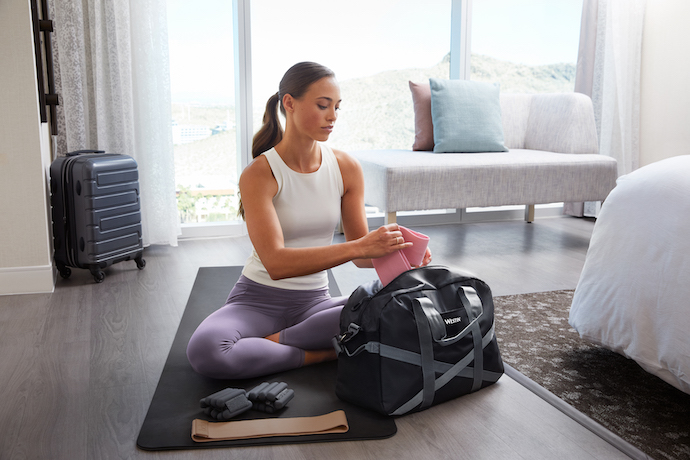 Hyperice's Recover & Recharge Kit, which includes the brand's most sought-after Hypervolt Go 2 and Hypersphere Go, is ideal for post-workout recovery as well soothing stiffness and tension from long hours of travelling.
Bala's Sculpt & Flow Kit includes full body workout essentials such as bangle weights, resistance bands, balance blocks and a Westin-branded yoga mat.
To exercise at any hour of the day for as long as you like in the privacy and comfort of your room, book a WestinWORKOUT Room powered by Technogym. The room is equipped with state-of-the-art fitness equipment including a Technogym cardio bike fitted with access to classes and personal entertainment, and a bench with five pairs of hexagon dumbbells, three resistance bands and weighted knuckles.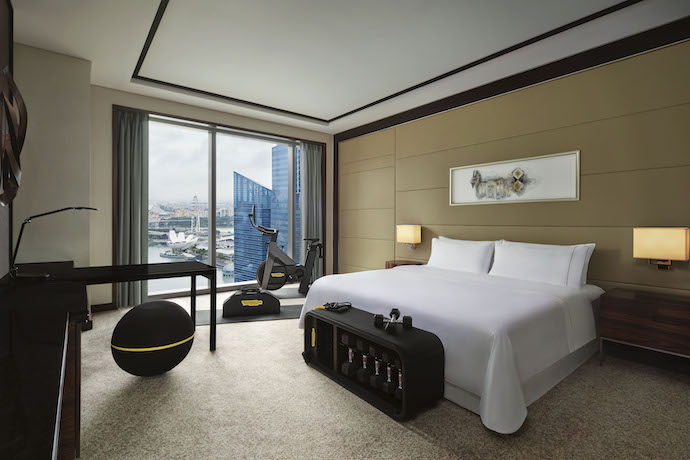 To help improve your posture as your back performs micro-movements to stabilise your spine and strengthen your abdominal muscles, the office chair has been replaced with Technogym's Wellness Ball Active Sitting. There are also six different types of resistance bands, a foam roller, a mini massage ball and an exercise mat for you to work up a sweat.
Refuel with nutritious eats
At Westin, eating healthy never has to be boring. The hotel offers nutritious options that will satisfy both your taste buds and wellness goals.
At Seasonal Tastes, the hotel's all-day dining restaurant on level 32, you'll find wholesome choices in all its buffets which feature a wide selection of international dishes and local favourites – from fresh seafood and sashimi to pasta and noodles cooked a la minute at the live stations.
For lunch and dinner, there's also an Eat Well a la carte menu with wholesome choices like Smashed Avocado on Sourdough, Buffalo Mozzarella & Tomato Salad and Plant-based Bolognese.
For breakfast, nutritious offerings include Steel Cut Oatmeal Porridge cooked with coconut milk, seasonal berries, walnuts, sunflower seeds and dried cranberries; Yoghurt Parfait with housemade toasted granola and house berry compote; Tropical Fruit Platter; Buffalo Mozzarella & Crushed Peas on gluten-free Sourdough; and an Eat Well Omelette, made with egg white, baby spinach and mushroom, served with grilled tomato, hash brown, coconut yoghurt, blueberries and honey.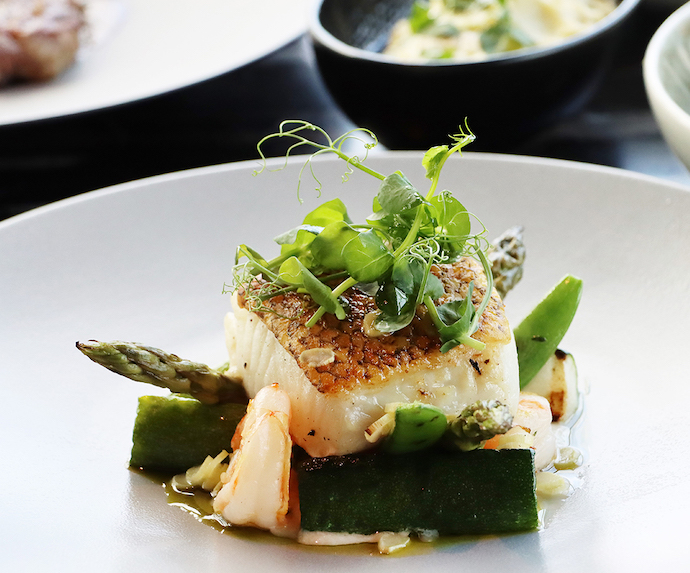 Gastropub Cook & Brew on level 33 serves up a selection of hearty and healthy comfort foods along with crafts beers, wines and cocktails. Ask for a table by the window to take in the magnificent views of Marina Bay. Must-have signatures that are nutritious as they are delicious include Roasted Arctic Cod with Gulf prawns, snow peas, zucchini and grilled asparagus; Tartare of Norwegian Salmon with avocado, sesame, soy and crisps; Roasted Broccoli with sweet pickled chilli, sesame, smoked cheddar and honey dijon and Sriracha dressing; Whipped Buffalo Milk Ricotta Cheese with truffle honey and grilled bread; and Burrata with watermelon, Parma ham, heirloom tomatoes and extra virgin olive oil.
For an afternoon pick-me-up, head to the Lobby Lounge on level 32. The bar is on the same level as the hotel lobby which happens to be the highest hotel lobby in Singapore! No matter where you sit, you'll be treated to spectacular views.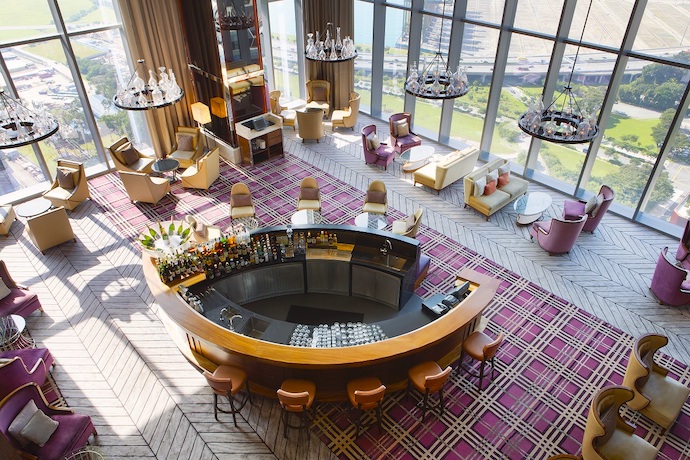 Kick back and relax with some coffee, tea or your tipple of choice. If you're feeling indulgent, get the Seafood Afternoon Tea which comes with a $50 Heavenly Spa by Westin spa voucher (promo ends on 31 July). Tuck into savouries like Lobster Thermidor, Slipper Lobster with Mayonnaise, Salmon with Ikura and Fine Herbs on Pumpernickel and English Cucumber Sandwiches. Sweet offerings include healthy options such as Oat sugar-free Chocolate Chip Cookies, Chia Seed Pudding with acacia honey and avocado mousse, and Soy and Pandan with palm sugar, sago and mango cubes; Truffle Scones; Grapeseed Oil Red Velvet Cupcake with cream cheese; and Maqui Berry Cheesecake with mint syrup.
Get some head-to-toe pampering
It's no secret that a massage or facial will put your body and mind in rest and relax mode, and total relaxation is what you can expect at Heavenly Spa by Westin on level 35.
Get to the spa early to enjoy its facilities in the respective women's or men's changing rooms. Linger in the Experience Shower and choose either the tension-easing warm tropical rain or the invigorating, cool glacier mist. Breathe easy in the Aromatherapy Steam Bath and let the powerful jets in the Whirlpool stimulate your nervous system through reflex points while soaking up captivating views of the Central Business District.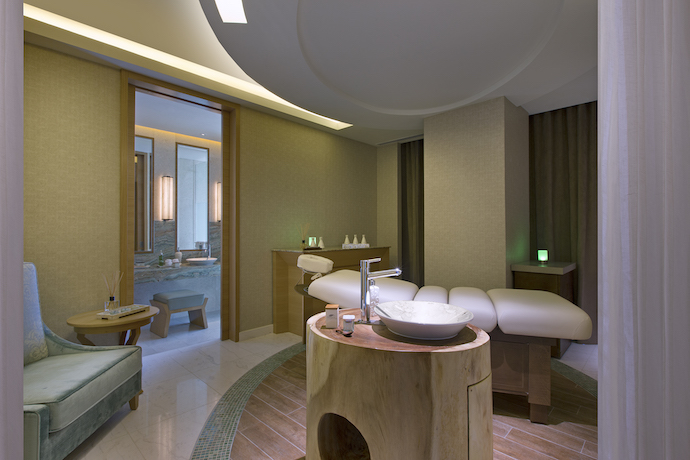 If it's a relaxing massage you're after, try the Energising Massage which combines techniques from the Chinese, Indian and Malay cultures to relieve fatigue and ease tension in the body.
The treatment begins with a foot bath ritual where your feet are scrubbed with a sugar and cinnamon blend. You'll then be asked to choose one of three pebbles bearing the words "love", "gratitude" and "hope". Your stone of choice will be placed under the bed so that you can reflect on the word during your treatment. The stone you choose also determines the oil that will be used for your massage: lavender for love, geranium for gratitude and white tea for hope.
Following ancient Chinese traditions, the therapist starts off by releasing tension in the shoulders and back by stimulating the meridian points. A four-legged spider wood apparatus is then rolled down the side of the spine to relax the spine muscles. To improve lymphatic circulation and digestion, the abdomen area is massaged using slow, flowing techniques inspired by the Malay urut philosophy.
The massage ends with an Indian-inspired therapeutic foot stimulation using an Ayurvedic Kansu bowl. Made from a blend of copper, zinc, bronze and two other metals, the bowl is rolled around your soles to dispel body heat and toxins, and boost your energy level.
After your treatment, unwind at the relaxation lounge with some hot tea and nibble on dried apricots and walnuts while soaking up awesome views.