In 1967, Singapore's then-Prime Minister, the late Mr Lee Kuan Yew, introduced his "garden city" vision – a long-term plan to transform Singapore into a country rife with natural and awe-inspiring greenery. Singapore was envisioned as a place where people would feel at home with nature alongside the country's fast-developing urbanisation.
Since then, Singapore has made a name for itself as a lush urban city with plenty of green spaces spread across the island. Want to check out these green spaces but don't know where to start? Here are six beautiful gardens to escape from the hustle and bustle of city life, relax your mind, body and soul, and connect with nature.
1. Jurong Eco-Garden
• 97L Lorong Tawas
• Open 24 hours a day
• Getting there: Take bus 199 from Boon Lay Interchange, conveniently linked to Boon Lay MRT. After six stops, alight at Nanyang Avenue bus stop before Lorong Danau. The garden is located just a stone's throw away from the Nanyang Technological University campus.
Opened in 2014, Jurong Eco-Garden is located between Nanyang Technological University and CleanTech Park. The lush green park is home to hundreds of species of plants and animals, as well as a stunning butterfly garden.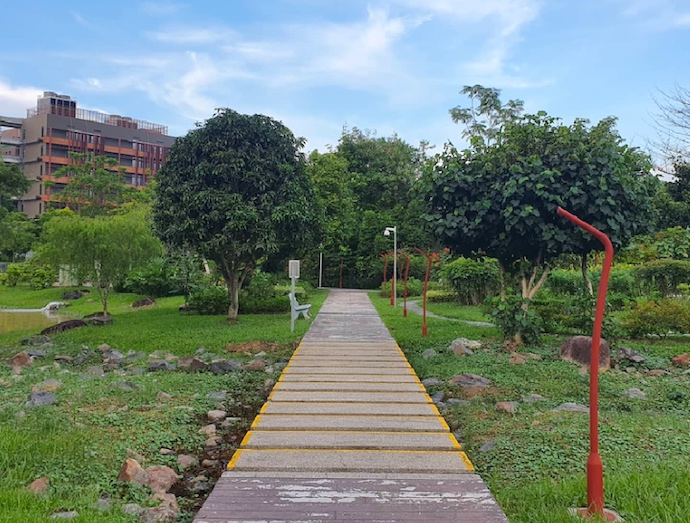 For an unobstructed view of the garden, head to the Summit Lookout and the Ficus Lookout, located right next to a gigantic ficus tree. You can spend hours there spotting wildlife and chilling out.
Pair your visit with a stop at the Thow Kwang Pottery Jungle, which houses a dragon kiln – a traditional wood-fired pottery kiln that was established in 1940.
2. Jewel Changi Airport's Canopy Park and Shiseido Forest Valley
• 78 Airport Boulevard
• Opening hours: Monday to Thursday, 10am-10pm; Friday to Sun, eve & public holidays: 10am-11pm
• Getting there: From Terminal 1, head to the Arrival Hall at Level 1 and you'll find the entrance to Jewel. From Terminals 2 or 3, find the link bridge that leading to Jewel
Canopy Park, located at the topmost level (Level 5) of Jewel, features an array of play attractions for all ages.
Admire a collection of seasonal flowers from around the world at the Petal Garden. There are seating spaces scattered throughout the garden grounds so you can take a breather here.
Fenced by towering gardens of green, you'll come across some beautiful flowers on the hedges. Not surprisingly, because of the lush nature scenes, the bridge is usually bustling with awe-struck visitors, so plan ahead to arrive there early!
Kids can have fun immersing themselves in the dreamy, weightless atmosphere of the Foggy Bowls.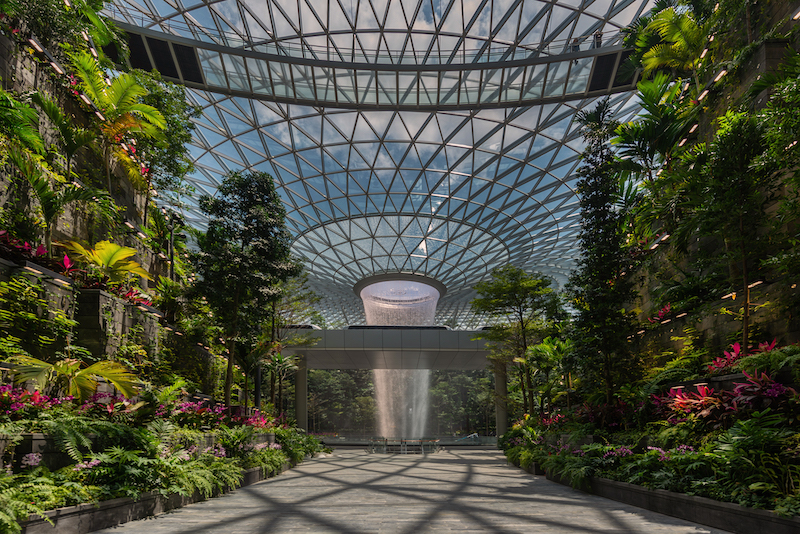 Step into the lush green sanctuary of the Shiseido Forest Valley and experience eternal
spring indoors surrounded by more than 2,000 trees and palms and over 100,000 shrubs.
The $5 Canopy Park ticket gives you entry to the Discovery Slides, Foggy Bowls, Petal Garden and Topiary Walk. The Walking Net ticket ($18.90 for adults, $13.90 for children) include the Walking Net and complimentary access to Canopy Park. The Jewel Changi Value Bundle ($56 for adults, $40 for children) is the greatest value of all as it gives you access to Canopy Park, Mastercard Canopy Bridge, Mirror Maze, Hedge Maze, Walking Net, and Changi Experience Studio.
3. Gardens by the Bay
• 18 Marina Gardens Drive
• Open daily from 9am to 9pm
• Getting there: Alight at Bayfront MRT Station (CE1/DT16). Head to Exit B and walk along the underground linkway. You'll then emerge from the linkway to the start of the Dragonfly Bridge, which will lead you into the Gardens.
No visit to Singapore is complete without a visit to the iconic Gardens by the Bay. Its majestic Supertree Grove is a unique vertical garden that resembles towering trees, except that it also features large canopies and luminous lights at night.
Unknown to most visitors is that these Supertrees are also green-friendly – they expel non-toxic fumes from a biomass boiler (a sustainable alternative to gas or oil boilers). This is where plant waste from the Gardens, along with other areas of Singapore, is burnt and converted into fuel.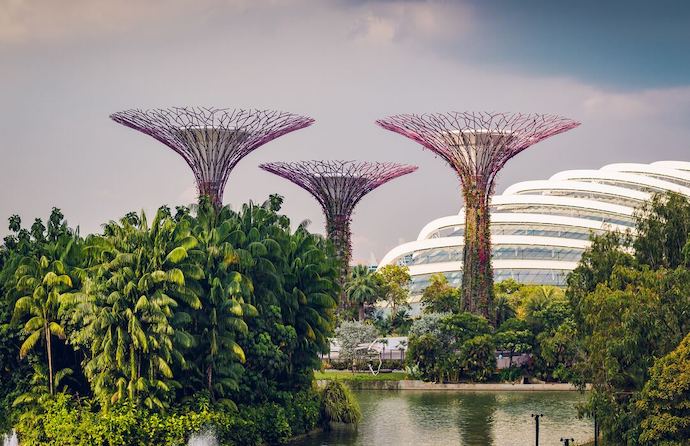 Arguably, the main highlight of the Gardens would be its two cooled conservatories. Check out gorgeous blooms from around world at Flower Dome, and marvel at one of the world's tallest indoor waterfalls and a lush mountain clad with plants at Cloud Forest.
4. Singapore Botanic Gardens
• 1 Cluny Road
• Open daily from 5am to midnight
• Getting there: While each entrance has its own unique routes, you can start your journey via the Bukit Timah Entrance by alighting at Botanic Gardens MRT station. If you're heading to the Tanglin Entrance, take the Thomson-East Coast Line and alight at Napier MRT station.
The Singapore Botanic Gardens boasts the rare achievement of being the first and only tropical botanic garden on UNESCO's World Heritage List.
From the Tanglin Entrance, you'll find the tranquil Bonsai Garden that brings a little bit of Japan to Singapore. There's also Swan Lake, which is home to a diversity of fishes and aquatic plants. Its statues and atmosphere add a dose of whimsy to the stately park, but nothing beats the occasional sight of its titular residents – two swans that will wow you with their natural beauty.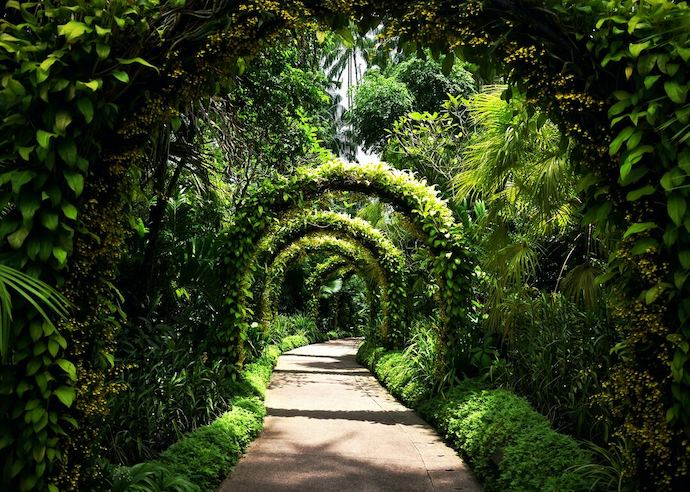 The Tyersall Entrance brings you to the Ginger Garden where several hundred species of ginger await you, while the Nassim Entrance will overwhelm your senses with the Fragrant Garden, which houses the park's most aromatic attraction.
The Bukit Timah Entrance is in a world of its own with the Jacob Ballas Children's Garden, which is the perfect place for your kids to explore on their own. If you need a bit of shelter and respite, head to the Botanical Art Gallery. Accessibly via the Gallop Entrance, the gallery charts the history of scientific research of plants in Singapore.
5. Sang Nila Utama Garden at Fort Canning
• 1 Canning Rise
• Open 24 hours a day
• Getting there: A breezy 5-minute walk away from Fort Canning MRT station. It is also close to City Hall and Clarke Quay MRT stations.
Named after Palembang prince Sang Nila Utama who is believed to be Singapore's first ancient king, this garden at Fort Canning Park is where you'll find precious relics that offer a glimpse into Singapore's history when ancient Malay kings ruled the land.
Constructed with the past in mind, the garden is a re-creation of Southeast Asian gardens of the 14th century. It is one of nine themed gardens at Fort Canning Park.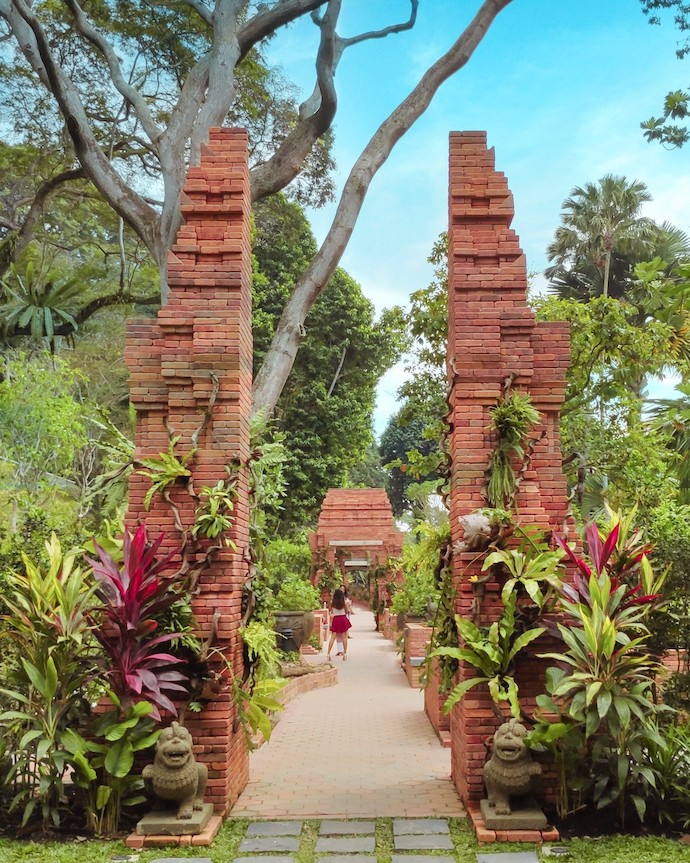 Experience Bali vibes as you walk through the Javanese split gates which are reminiscent of the Gates of Heaven in Bali's Lempuyang Temple. Look out also for statues of frogs, fish and ducks, and reflective pools covered with lily pads that used to be a meditative refuge for royalty.
Get respite from the heat through sheltered escalators and walkways that connect different sections of Fort Canning Park. The area is also wheelchair-friendly and pet-friendly.
6. Tampines Eco Green
• Between Tampines Avenue 9 and Tampines Avenue 12
• Open daily from 7.30am to 7.30pm
• Getting there: Alight at Tampines MRT station and walk 20 minutes to the park via Sun Plaza Park
An eco-friendly park in Singapore's east side, this park is a biodiversity haven with its open grasslands, freshwater wetlands and secondary rainforest that attract birds, butterflies, dragonflies and other fauna.
Enjoy bird watching and spot birds like the Baya Weaver gliding in the skies and retreating into the trees. The Hanguana rubinea, a native plant species that is endemic to Singapore, can also be found in this park.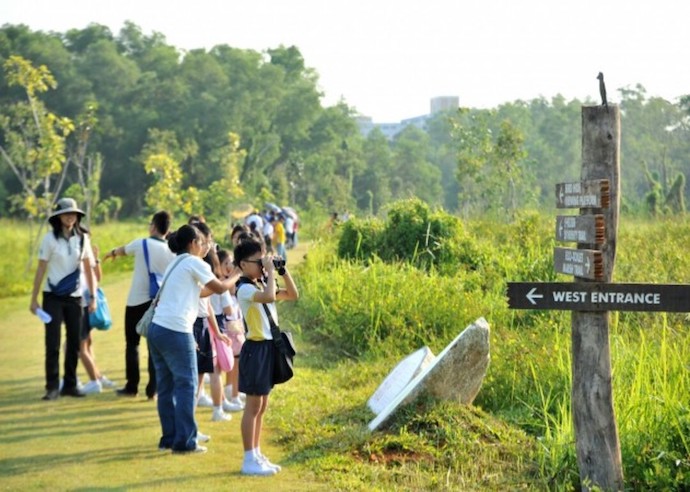 There are three hiking trails – Diversity Trail, Forest Trail and Marsh Trail – within the park that will let you soak up the lush greenery, and discover the flora and fauna at your own pace.
*This article has been edited and adapted from Now Boarding by Changi Airport's "7 beautiful gardens in Singapore to restore your mind & soul"