Singapore's museums may be temporarily closed, but thanks to technology, you can zoom in on their exhibits virtually, watch online screenings and participate in engaging online activities from the comfort of your home.
What's more, there are no crowds, queues or ticket prices to contend with. So grab your favourite beverage or snack, enter full-screen mode and explore these five museums at the click of a link:
The Museum's ArtScience at Home online programme offers educational activities such as guided exhibition tours and workshops, and programmes such as ArtScience Late, Conversations and ArtScience on Screen.

Take a virtual tour of Ocean Life for a closer look at some of the sea creatures from pre-historic times to the possible future here.
Learn how to sort and separate your trash, and how you can create a recycling corner at home at the Make Your Own: Recycling Corner at Home workshop here.
Check out experimental works by local musicians and performing artists every third Thursday of the month in ArtScience Late. Watch the performance of poet Cyril Wong's Love Poems and Wind Chimes here.
Catch specially curated film programmes by online renowned local and international artists, and a series of micro-commissions with local filmmakers at ArtScience on Screen. Watch $alary Day, a film by R. Madhavan, which depicts a day in the life of a migrant worker in Singapore, here.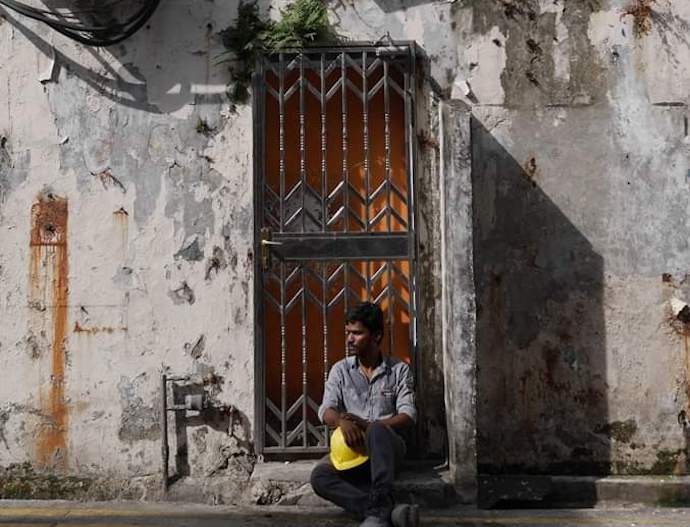 Catch Online Talks and Conferences and short conversation series with guests known as Take 5 every alternate Tuesday. Watch online conference, Feeling the Future: Episode 3 here and Take 5 with Daryl Yam, a Singaporean writer, here.
The Museum's #UnderstandEverything online platform lets you discover its vast collection of Southeast Asian objects.
Check out its collections through videos on its Facebook page.
There are also short videos about the Museum's collection, with insights from the Museum's director, curators and conservators, as well as behind-the-scenes information on the Museum's special exhibitions and permanent galleries here.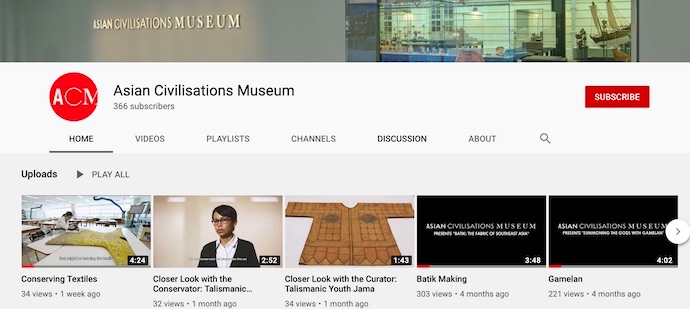 Learn more about traditional artforms such as batik making, gamelan performance and wayang kulit performance here.
The "Family Fun" section offers fun educational activities and craft projects for kids aged 5 to 12 as well as teenagers to do at home.

The Gallery's #GalleryAnywhere online platform offers a selection of digital and virtual experiences via five sections: Browse, Watch, Listen, Play, Explore.
Browse the Gallery's digital artworks and archival materials here.
Watch My Masterpiece videos where 12 well-known Singaporeans share their thoughts about the artwork that they felt a connection with here.
Listen to podcast Roar! With Sheera The Tiger by downloading the Gallery Explorer App from the App Store or Google Play.
Play, learn and create art with your kids through the first online festival for children – #SmallBigDreamersAtHome – here.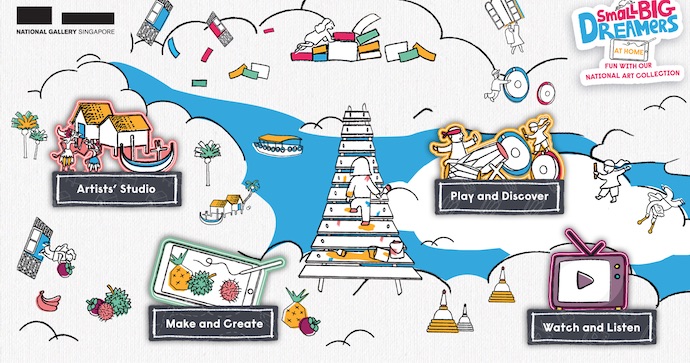 Explore and find out what the Gallery's Youth Volunteers would do, if its artworks came alive here.
The Museum's #MuseumFromHome: Get Curious! online activities section offers a series of craft activities, resources and programmes recommended for families with kids aged 1 to 10. New resources are released online every Friday at 10am.
Download the "Get Curious: My Family's Stories" kit here and look forward to discovering intriguing stories about your family members.
Enjoy a fun craft session with your kids by making a cube puzzle, and toy car and matchbox using templates which can be downloaded here and here.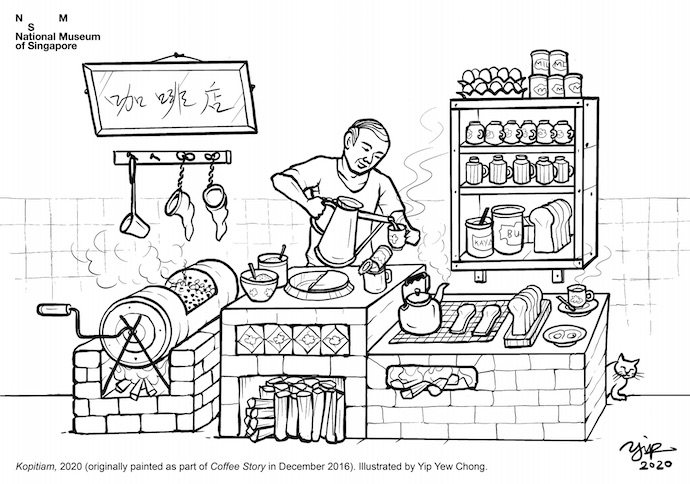 Colouring fans will want to download the Museum's Moving Memories Colouring Templates, made up of seven mural scenes created by local artist Yip Yew Chong from the Moving Memories installation which you can view here. Download the kampung template here and kopitiam template here.
There are also kids' colouring templates available for download such as Five Stones & Pick-up Sticks, Hungry Hippos, Gasing and Wind-up Toys.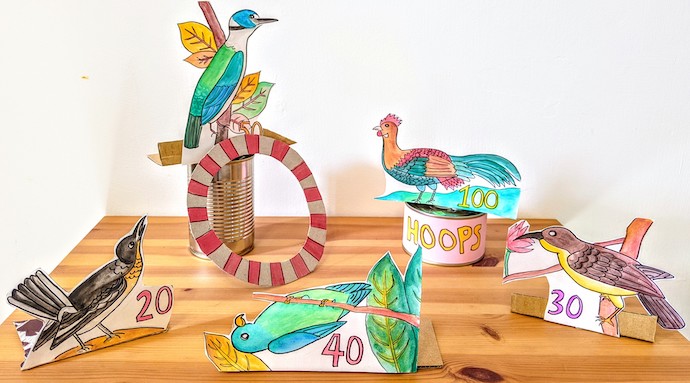 Check out video tutorials where you and your kids can get creative and learn how to use everyday materials to make a parachute soldier toy, hoop throwing game and rocking horse.
Through the Museum's #MuseumFromHome online platform, you can appreciate its art collection, relive its art events, discover its art on the go, join its virtual tours, art and wellness sessions, and more.
Experience its virtual galleries, and visit its exhibitions and spaces on Google Arts and Culture here.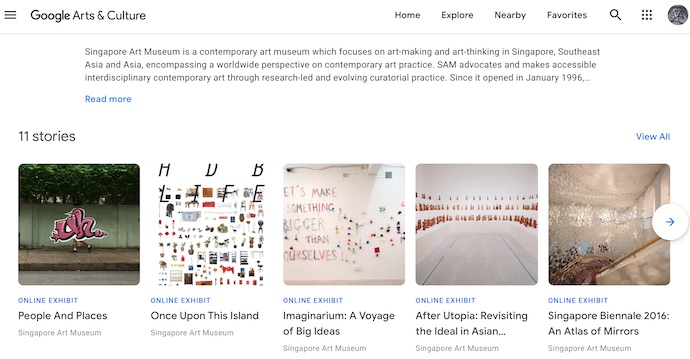 Discover a selection of contemporary artworks from Singapore, Southeast Asia and Asia from the Museum's permanent collection here.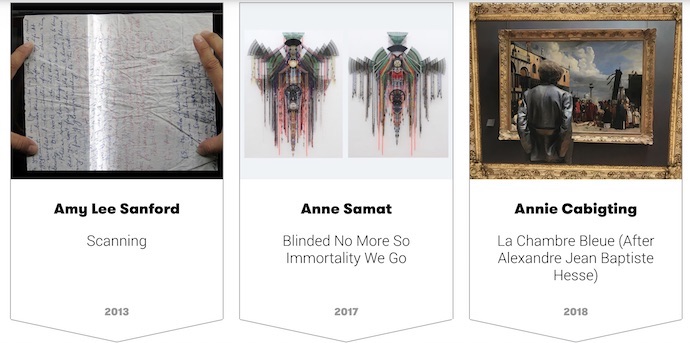 Watch the Museum's Virtual Curator Tours here and videos of previous events through its playlist here.
Do join the Museum's art and wellness online sessions, designed to encourage mindfulness and art appreciation, here. Learn how to create your own upcycled soft brooch here.