If having more or better sleep is one of your resolutions this year, Shangri-La Singapore wants to help you achieve your goal.
The luxury five-star hotel recently launched its Better Sleep Package (available till 30 June), a two-night restorative stay designed to improve sleep cycles, promote blissful, quality sleep, and help sleep-starved guests recharge their mind, body and soul.
Besides a two-night stay in your choice of room or suite in either the Tower or Valley Wing, the package also comes with a 60-minute tension-relieving massage for two, a three-course wellness dinner for two, sleep-inducing amenities by sleep solutions brand This Works, a pillow menu, a curated music playlist and complimentary parking with unlimited entries.
Here's how you can recharge your mind, body and soul, and discover better sleep during your rejuvenating stay at the iconic hotel.
Relax & recharge in rooms that soothe the senses
Lounging around in a bathrobe all day, catching up on some reading, bingeing on Netflix and soaking in the bathtub with soothing tunes in the background. These are just some of the things staycations are made for, and the hotel's rooms and suites are the perfect spaces to unwind and disengage from the world.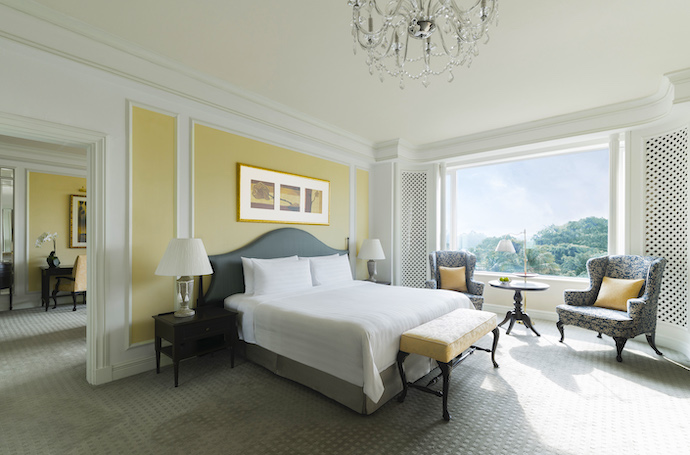 Rooms and suites in the Valley Wing, which has hosted the likes of David Beckham, Donald Trump and George Bush, are decked out in elegant furnishings, complete with resplendent chandeliers and gold-framed paintings, while Tower Wing rooms and suites have soothing, earth colour palettes and modern furnishings. Some suites in both Wings also have kitchenettes.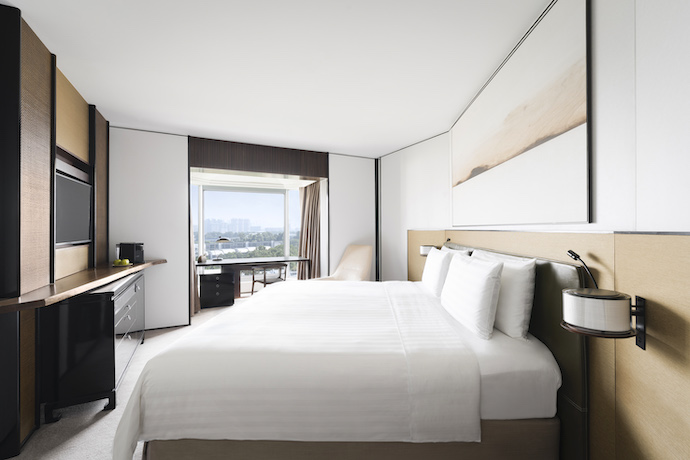 To help bring you one step closer to a blissful slumber, the hotel offers a pillow menu, with six types of pillows to choose from. Back sleepers can fall asleep on the Contour Pillow which has a raised roll under the neck to ensure air passage in the throat to minimise snoring. For side sleepers, there's a specially designed Foam Pillow that facilitates easy breathing, and provides firm therapeutic support and comfort for the natural contours of their head, neck and shoulders. There's also a Lavender Pillow, infused with lavender essence, to calm the senses and help alleviate anxiety, stress and headaches.
A Deep Sleep amenities set from This Works, comprising a Bath Soak, a Shower Gel and a calming Pillow Spray, is also provided to help put you in a relaxed mood and prepare for a restful night's sleep. To further create a relaxing ambience is a soothing sleep-inducing playlist.
Enjoy a nutritious, sleep-friendly wellness dinner
As good nutrition is crucial for quality sleep, the hotel has prepared a three-course menu featuring immune-boosting, nutritious dishes specially crafted by its wellness chef.
The protein and vegan-friendly dishes, prepared with less salt and sugar, can be enjoyed in the comfort of your room or suite at dinner time.
For starters, tuck into the Walnut & Quinoa Salad, a nutrient-packed salad containing two superfoods – walnuts, rich in antioxidants and omega-3 fatty acids, and quinoa, known for its anti-inflammatory properties and for being a good source of fibre.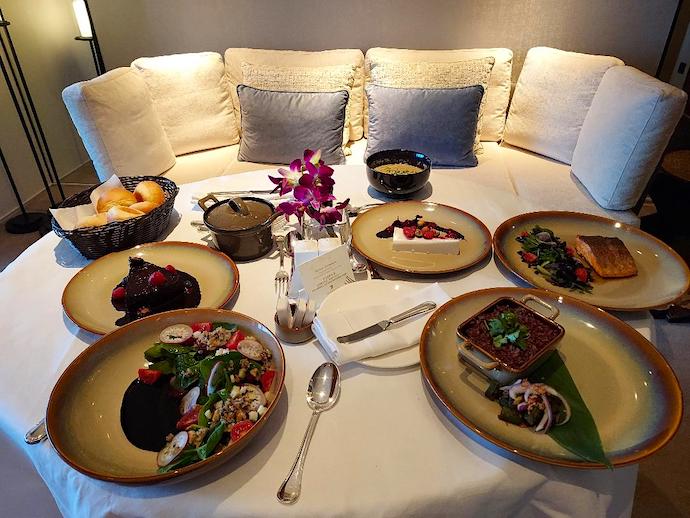 Mushroom lovers can enjoy the creamy Forest Mushroom Veloute, finished with aromatic truffle oil, with some fresh buttered dinner rolls.
For mains, seafood fans can savour the Rainbow Trout with Wild Seaweed Salad, a dish of pan-seared trout served with mesclun greens, tomatoes, radish and iodine-rich seaweed tossed in a refreshing ponzu dressing.
Vegetarians will appreciate the rich flavours of the Coconut Spinach Dhal with Spiced Okra, a dish of red lentil dhal, sauteed okra and tomato, mango tamarind chutney and cucumber raita, served with organic brown rice.
A sweet and healthy finish is guaranteed with the gluten-free Dark Chocolate Olive Oil Cake, made with almond flour, laced in chocolate ganache, and topped with seasonal berries and raspberry compote. Alternatively, end on a delightful note with the Panna Cotta, made with cardamom, coconut and peanut butter cream, topped with fresh berries, and paired with caramelised hazelnuts and chocolate ganache.
Luxuriate in a tension-relieving massage
No wellness staycation is complete without a healing spa treatment to help you unwind and reduce sleep anxiety. Let the therapist at Chi, The Spa knead all the tension away from your neck, shoulders, upper and lower back during the 60-minute massage.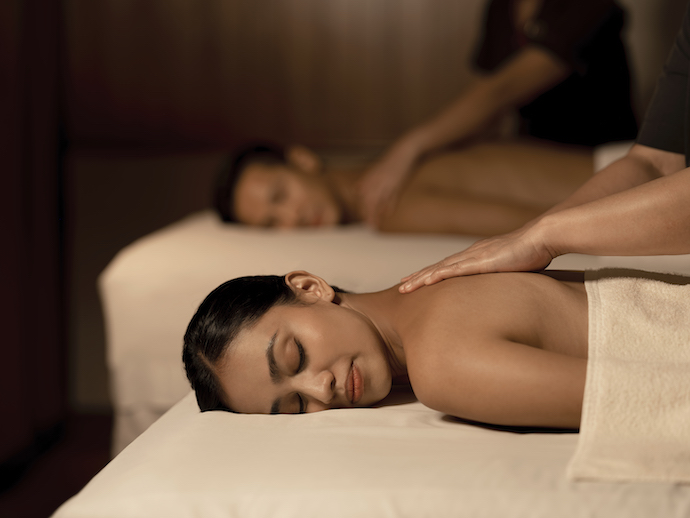 Drawing on the art of Asian massage traditions, the therapist employs her forearm, elbow, palm, knuckles and fingers to deliver firm strokes to relieve muscle soreness, stimulate deep tissues and improve circulation in your neck, shoulders and back.
As for massage oils, there are four organic blends from botanically-based luxury skincare brand Kerstin Florian to choose from – ginger, grapefruit and black pepper, neroli blossom and lavender – to enhance your therapeutic massage experience.
The Better Sleep Package is available till 30 June and starts from $480++ a night.
Photos courtesy of Shangri-La Singapore