With its burgeoning urban sprawl, Singapore may not strike many as a haven for nature enthusiasts and cyclists at first glance. Yet, tucked away from its bustling cityscapes are verdant parks and nature trails that are great for adventures on two wheels.
From serene waterside trails to picturesque green spaces, the city-state is home to several nature parks that are perfect for cycling.
Here are five scenic routes to explore on two wheels.
1. From Civic District to Labrador Nature Reserve
Cycling distance: 15 kilometres
Route duration: About 1 hour
Terrain: Sidewalks and park connectors, mostly flat with occasional humps
Suitability: Beginner to intermediate
Begin your cycling adventure from the Esplanade end of Jubilee Bridge at the mouth of the iconic Singapore River in the Civic District. Your wheels will spin over the ground that holds stories of Singapore's colonial past, bringing you to five iconic heritage bridges – Alkaff, Anderson, Elgin, Coleman and Ord. You'll also be passing by Clarke Quay, a lively riverside lifestyle and entertainment spot with a rich heritage.
After about 10 minutes on the route, the journey takes a tranquil turn. As you pedal beyond Jiak Kim Bridge, the lush greenery of the Alexandra Park Connector will greet you. This pathway will be your bridge between urban hustle and serene nature, guiding you through peaceful residential zones, modern housing estates and inviting gardens. Ride on for another 30 minutes and you'll reach Labrador Nature Reserve via the Berlayer Creek Boardwalk.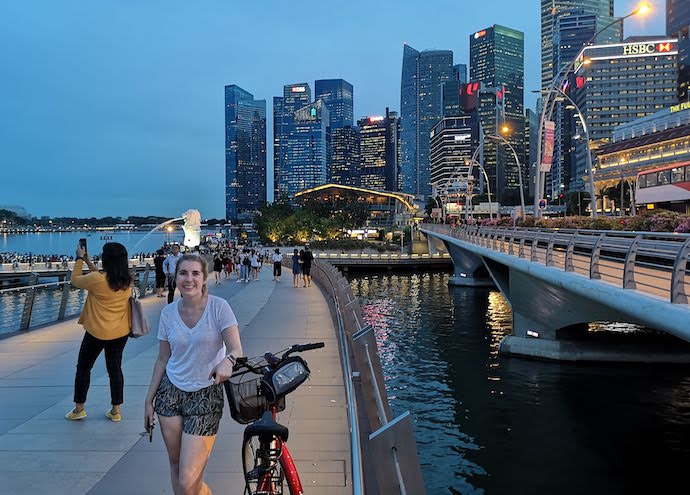 At Labrador Nature Reserve, you can see remnants of Singapore's rich mangrove ecosystem, a silent testament to its preserved biodiversity. The park whispers tales of sailors gone by, with its iconic rock formations that hold significance to Malay (Batu Berlayer or Sailing Rock), Chinese (Long Ya Men or Dragon's Teeth Gate) and British mariners (Lot's Wife) alike.
Take some time to delve deeper into the park's military history, with remnants of old forts and canons standing as guardians of a bygone era. Mysterious undersea tunnels will also add a touch of intrigue to your journey.
Complete the route by cycling through the picturesque Bukit Chermin Boardwalk, just 5 minutes from the Berlayer Creek Boardwalk. For the next 10 minutes, soak up expansive sea views as you make your way past the Keppel Bay Bridge towards HarbourFront MRT and VivoCity mall.
FAQs
• Can we cycle at Labrador Nature Reserve at night?
No. The nature park is open daily from 7am to 7pm. The closure allows the flora and fauna to flourish without human interruption. Daytime is the best time to experience the beauty of the park in its full glory.
• Where can we rent bikes in the Civic District?
There are multiple bike-sharing options available in the Civic District for convenient renting. Companies like SG Bike and Anywheel have stations nearby. These platforms offer hassle-free rentals where you can pick up a bike, use it for your trail, and then drop it off at another station within or near the park. The bikes come equipped with gears suitable for both flat terrains and slopes. It's advisable to check the availability of bikes in advance, especially during weekends, as this is a popular cycling route in Singapore for both tourists and locals.
• What can we explore after completing the cycling route at Keppel Bay?
Take time to explore Keppel Bay, a modern marina that is a harmonious blend of urban architectural marvel and serene waterfront promenade. Soak in panoramic views of the marina, luxurious residences and the sea. With several dining options available, it's also an ideal spot to refuel after a day of exploration. Stick around to catch the sunset over the waters.
2. From Sungei Buloh Wetland Reserve to Lim Chu Kang Road
Cycling distance: 19.6 kilometres
Route duration: About 1.5 hours
Terrain: Flat & slightly gravelled roads
Suitability: Intermediate
Though cycling within Sungei Buloh Wetland Reserve is not permitted, the wetland reserve, known for its rich biodiversity, offers a great starting or endpoint for a journey on roads engulfed in green. Consider a leisurely walk within the reserve, getting up close to its thriving mangrove habitat and a myriad of bird species. Then, venture out, and you'll discover a route that unveils Singapore's pristine outskirts, replete with rural charm and tranquillity.
Navigating through Singapore's less trodden paths, the journey from Sungei Buloh Wetland Reserve reveals a different facet of the city-state.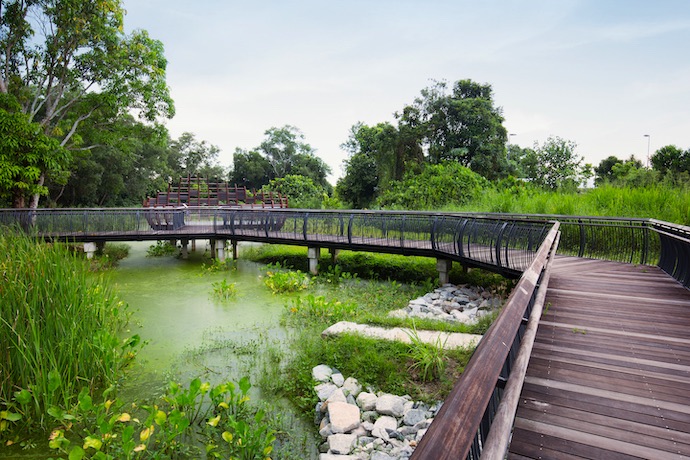 First, you'll cycle along Neo Tiew Road, a scenic stretch that evokes nostalgia. As the urban hustle fades, you're embraced by verdant landscapes, transporting you to days when Singapore was less urbanised. The road is fairly flat and suitable for all levels of cyclists. However, be wary of occasional vehicles, so it's best to stick to the edge and ride in a single file.
As you approach Kranji Countryside, you might get a whiff of fresh produce. This agro-tourism haven offers insights into local farming practices. It's a delightful pitstop where you can sample organically grown fruits or even attend a farming workshop. Here, the terrain is more gravelly, so reduce your speed and enjoy the rural ambience.
Your journey then takes a coastal turn at Lim Chu Kang Jetty. Although it might be closed for operations, its presence serves as a nostalgic checkpoint and a good spot to enjoy captivating sea views.
Proceeding on to Lim Chu Kang Road, you'll cycle along roads that are lined with greenery on both sides. As this route is also known for its busier traffic conditions, be vigilant especially when crossing intersections.
You may encounter some surprises as you approach the former Neo Tiew Estate. The abandoned houses whisper tales of Singapore's kampung past juxtaposed against its modern ethos. The terrain here is relatively smooth but do keep a watch on the traffic behind you.
After completing the whole stretch of Lim Chu Kang Road, those who crave a looped adventure, completing the journey back to the reserve is an option.
FAQs
• Can I cycle at Sungei Buloh Wetland Reserve?
Cycling is prohibited to protect the habitat. However, you can start with a leisurely walk within the reserve before embarking on your cycling journey from its outskirts.
• Where can I park my bike at Sungei Buloh Wetland Reserve?
Bicycle racks are conveniently located at both entrances.
• What are some attractions I can cycle to from Sungei Buloh Wetland Reserve?
Attractions close to the wetland reserve include Kranji Countryside, Kranji War Memorial, Jurong Frog Farm and Bollywood Veggies.
3. Coney Island
Cycling distance: 5 kilometres
Route duration: About 30 minutes
Terrain: Slightly gravelled cycling paths
Suitability: Beginner to intermediate
Cycling on Coney Island is the best way to explore its unique landscape. The island's dedicated cycling routes are specially designed to accommodate both beginner and seasoned cyclists.
Starting your adventure from the west entrance of Coney Island gives you access to the main cycling route and gives you the opportunity to check out the array of restaurants and shops at Punggol Settlement.
As you pedal your way into Coney Island, you'll be greeted by a continuous stretch of gravel road – the heart of the island's cycling experience. A 2.5-kilometre ride on this distinctive path will bring you towards the east end, but the adventure doesn't stop there.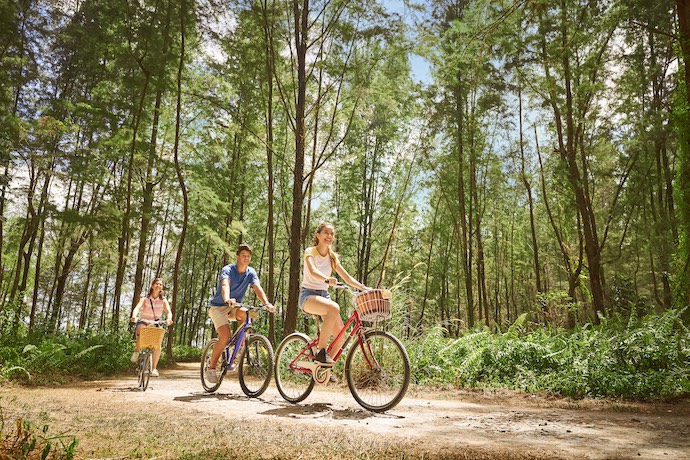 For those keen on exploring further, turning left before the east exit brings you to a path to the island's northern coast. As you navigate through the multiple junctions, try to lean closer to the northern shoreline to ride under the canopy of over 100 towering Casuarina trees, while enjoying the gentle sea breeze. Some sections can get a bit bumpy so dismount and walk your bike as needed.
For beach lovers, the allure of the secluded Coney Island Beach along the northern coast is irresistible. While this is a prominent beach spot, whispers of hidden beach areas abound. Take a break and let the gentle waves wash over your feet while you soak up vistas of turquoise waters.
Midway through your ride, you may come across a freshwater stream, which is believed to be an overflow from the Serangoon Reservoir.
As you navigate back, the coastal path won't directly lead you to the west entrance. Instead, the path diverges, offering a ride on a raised wooden boardwalk that cuts through a mangrove. This thoughtful design not only provides a smoother ride but is also a conscious effort to preserve the delicate mangrove ecosystem.
On your way out, consider making a brief detour to Beach Area A, a quaint spot compared to the vast expanse of Coney Island Beach.
FAQs
• Where can I rent a bike at Coney Island?
At the GoCycling stop at Punggol Jetty or another one near the west entrance of Coney Island. There's also the Bike Stop at SAFRA Punggol.
• What are some attractions around Coney Island?
Consider riding to Punggol Waterway Park or marvel at the architectural beauty of Jewel Bridge at Sunset Strip. Those who wish to venture further can head to Pasir Ris Park via the Lorong Halus Park connector.
4. From East Coast Park to Singapore Changi Airport
Cycling distance: 13 kilometres
Route duration: About 45 minutes
Terrain: Sidewalks and park connectors; mostly flat with occasional humps
Suitability: Beginner
Kick-start your cycling journey on this popoular route at GoCycling located at East Coast Carpark C4. Pedal your way towards Carpark G and do make a stop at the twin jetty to check out the views.
You'll pass by the lush East Coast Park Area H, and as you pedal on, the cityscape begins to change. Merge with Tanah Merah Coast Road and continue riding on the side path until you reach the bustling Changi Airport Connector.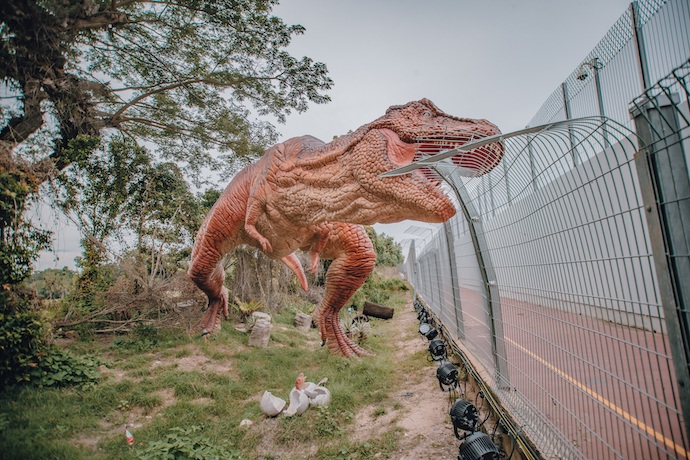 Ride through the dino-themed Changi Jurassic Mile, Singapore's largest permanent outdoor display of life-sized dinosaurs. The 1-kilometre stretch is home to over 20 different prehistoric creatures from nine species – from herbivorous and carnivorous to defensive and flying dinosaurs. Look out for the tallest dinosaur which stands at almost 5 metres high!
After that, make your way down to Hub & Spoke, a great spot for a breather or a bite. If you're considering starting your ride from here on another day, note that there's a GoCycling outlet here. Before cycling back to return your bike, take some time to explore the marvels of Jewel Changi Airport.
FAQs
• How long is Changi Airport Connector?
Changi Airport Connector is spans approximately 3.5 kilometres in length. A popular bike route in the east, it conveniently links East Coast Park to Changi Airport. The route is especially favoured by cyclists and joggers looking for an extended stretch to exercise while taking in some scenic views.
• How do I get to Changi Airport Connector?
There are several buses that will get you there – these include bus number 24, 27, 34, 36, 53, 110 and 858. Alight at Changi Airport Terminal 2 and from there, look out for the clear on-ground signage which will guide you directly to the start of the pathway at Hub & Spoke.
• How much does it cost to rent a bike in East Coast Park?
Rental rates fluctuate between $8 to $20 per hour, depending on the type of bicycle and the rental service provider. It's always best to check with specific rental shops or look out for promotions to get the best deal before planning your route.
5. Rail Corridor
Cycling distance: 24 kilometres
Route duration: About 3 to 4 hours
Terrain: Gravel and dirt pathways
Suitability: Intermediate to advanced
The Rail Corridor offers a unique blend of heritage, nature and modernity across 24 kilometres. Begin your ride from Melati Blk 2 Bus Stop and make your way towards Singapore General Hospital. From there, an inconspicuous concrete cycling path marked with a modest sign heralds the beginning of this memorable ride, while the sight of an old, overgrown signal building silently echoes tales of the past.
You'll pass through the Tiong Bahru neighbourhood on the left, followed by the charming Masjid Hang Jebat, where a water station offers a convenient pitstop. Further down, an underpass invites daring photographers to capture its unique, dark ambience. Emerging on the other side, the Wessex Estate and its colonial architectural relics appear, juxtaposed by the ornate Sri Muneeswaran Temple.
At the 7-kilometre mark, you'll find yourself in the Buona Vista area. Refreshments can be found near the Buona Vista MRT station.
Venturing deeper, the Rail Corridor flaunts nature's beauty through Clementi Forest and the man-made waterfall at the Bukit Timah Diversion Canal. The restored Bukit Timah Railway Station stands as a testament to Singapore's railway history. After two years of restoration works, the former railway station now houses a heritage gallery and a café.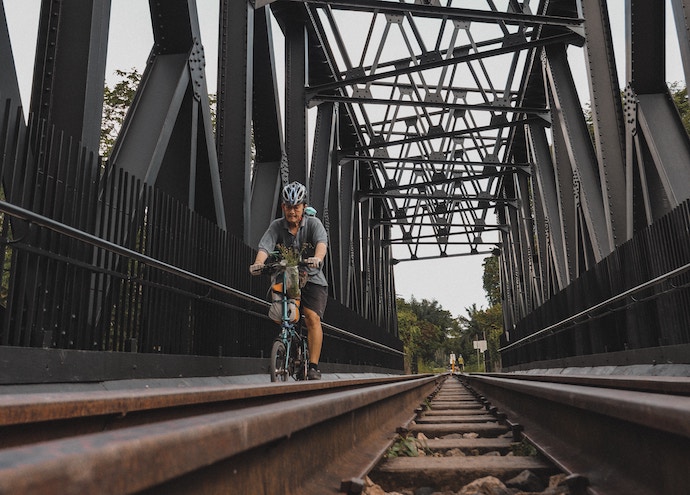 The path ahead brings you past picturesque bridges and tranquil jungle sights, culminating at the Rail Mall for a delightful gastronomic break.
Riding northwards, the last 2.2 kilometre brings you to an almost deserted trail. Head-high tall reeds line the narrow path on dirt.
The cycling route concludes near Kranji MRT station, but not before surprising cyclists with a concealed section showcasing towering trees. However, first-time explorers should be careful not to go into the closed-off segment near Kranji MRT station, though it's easily bypassed for a swift return to urban life.
FAQs
• Where can I grab a bite or a drink along the Rail Corridor?
There are dining options along the way. For a relaxed evening, visit Stickies Bar @ Sungei Kadut. Seafood lovers can head to 566 Seafood Restaurant at Mandai Estate, while those craving Indian flavours can make a beeline for Karu's Indian Banana Leaf Restaurant. The Rail Mall is also a gastronomic hub with choices such as crispy prata at Springleaf Prata Place, vegetarian mala pot at Green On Earth, pasta and pizza at Acqua e Farina, and coffee and pastries with some feline company at The Cat Cafe.
• Is there a speed limit along the Rail Corridor?
Yes. Cyclists should adhere to the 10km/h speed limit. Give way to pedestrians, ring your bell when overtaking, and dismount and push your bike when crossing bridges.
• Is the Rail Corridor open at night?
Yes, the Rail Corridor is open at night but it is not lit to facilitate nocturnal wildlife movement. Lighting is only provided at certain access points, essential walking paths, benches leading to public restrooms and the Bukit Timah Railway Station area. It's best to leave the corridor by nightfall.

*This article has been edited and adapted from Now Boarding by Changi Airport's "5 cycling routes across Singapore's tranquil nature parks"