Whether it's omelette, fries, nuggets, spring rolls, noodles, chicken rice or nasi lemak, chilli lovers will agree that they always taste better when eaten with a dollop of chilli sauce or sambal.
We prefer homemade versions because they are usually free from additives and preservatives, made fresh in small batches and, more often than not, concocted by chilli-loving folks who know what a chilli sauce with oomph should taste like. These 5 homemade chilli sauces (listed in alphabetical order) are guaranteed to pack a punch and add a spicy kick to your favourite foods.
Order via online form
Quick, order this before theatre actress Pamela Oei gets too busy with performances and the wait time for her labour-intensive chilli sauce gets longer.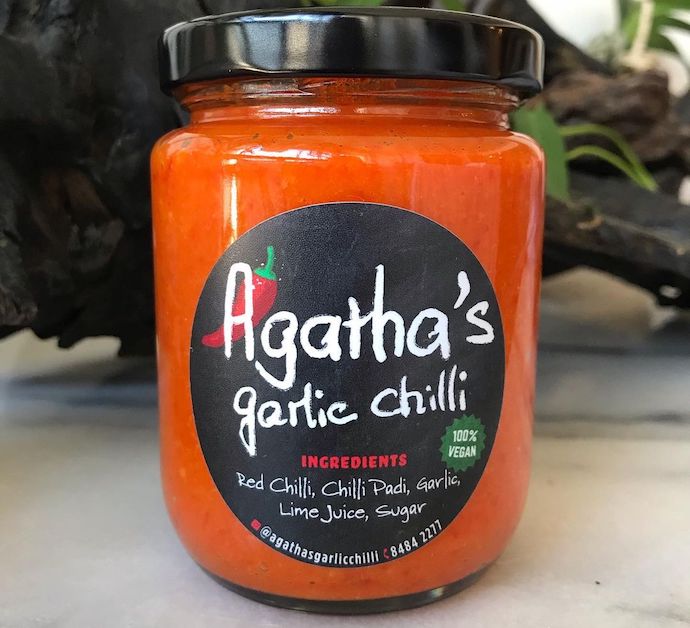 The vegan chilli sauce is named after her late mum who taught her how to make it following a recipe from Oei's paternal grandmother. Fans of the sauce eat it with almost anything – from duck porridge and fish soup to vadai and even kale! Free of artificial food colouring and preservatives, the sauce can last for about four months in the fridge.
DM on Instagram or WhatsApp 93277474
Fans of sambal belacan will want to try Madam Audrey's Peranakan-style concoction which follows a family recipe that has been honed and perfected over three generations. Made with fresh red and bird's eye chillies, kaffir lime leaves and the unmistakable belacan (shrimp paste condiment made from ground shrimp or krill that has been salted, dried and fermented), the Chilli Belacan is not for the faint-hearted as it has a spice level of 9/10!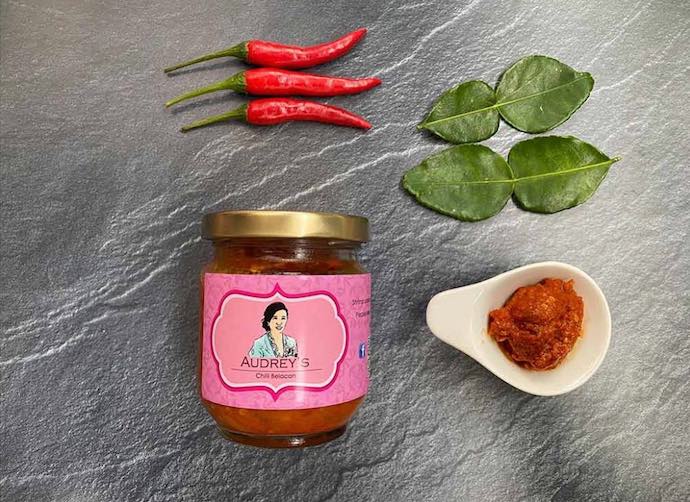 There is also Sambal Ikan Bilis, made with shallots, garlic, dried chilli, belacan and of course, ikan bilis (dried anchovies), which is the perfect accompaniment to nasi lemak.
DM on Instagram or WhatsApp 93857307

What do you do when you can't seem to find a homemade chilli sauce that you like? The chilli-loving Singaporean founders of Chilli Bella decided to come up with their own concoction. And after months of R&D, they produced a chilli sauce with the right balance of flavours that would not overpower the original taste of foods. Each batch of chilli takes almost two hours to cook (excluding prep time) using a combination of fresh red chillies and bird's eye chillies.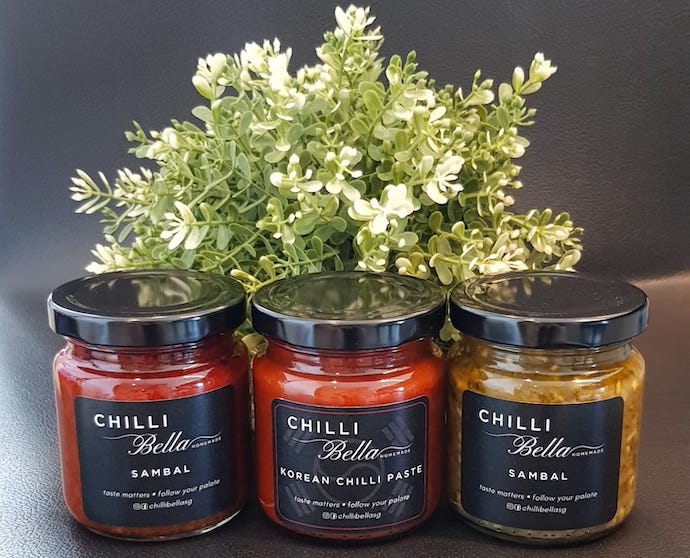 They started selling their MSG- and preservative-free sauces in May, offering three types of chilli – Sambal (red) with two levels of spiciness, Korean Chilli Paste and Sambal Hijau (green). 
Order via online form

Started by former fashion editor Esther Quek in late March, Simply Chilli offers chilli sauces in three levels of spiciness – Mild, Spicy and Extra Spicy. The sauces are keto-friendly as they are made with monk fruit sweetener instead of sugar, Himalayan pink salt, kaffir lime leaves and lime juice, and are free from gluten, dairy, MSG, lard and alcohol. There's also a choice of sauces made with hi-oleic peanut oil or extra virgin olive oil.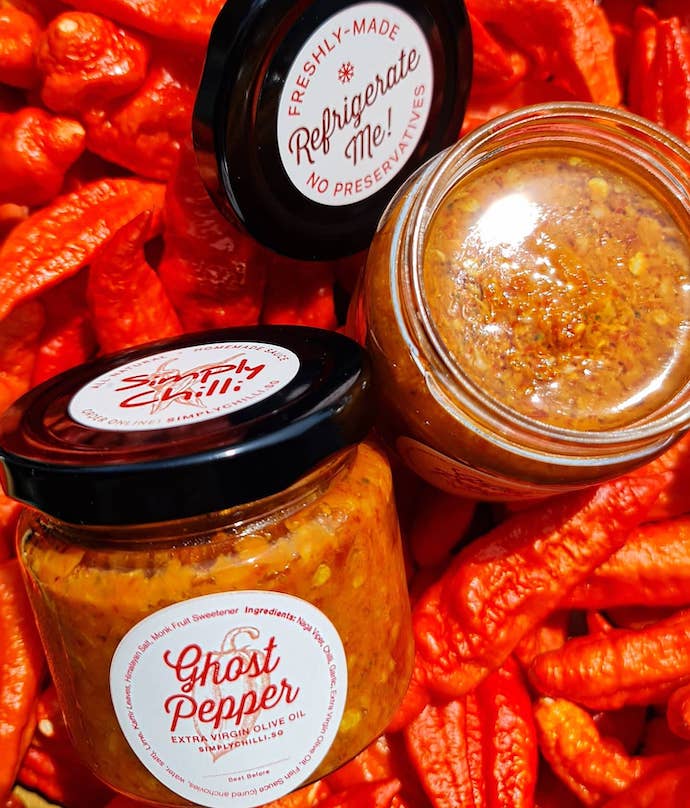 Chilli fiends must try the Habanero in Extra Virgin Olive Oil, made with the potent red habanero chilli peppers, and the super extra spicy Ghost Pepper in Extra Virgin Olive Oil, made with ghost pepper chilli.
WhatsApp 92417528

Chef Will Chng started Umami Boy to offer convenient restaurant-quality condiments and sauces to home cooks and chilli lovers to enjoy with their favourite foods. The recipes for his three sauces are inspired by his year-long stint in Hualien, Taiwan, in 2019.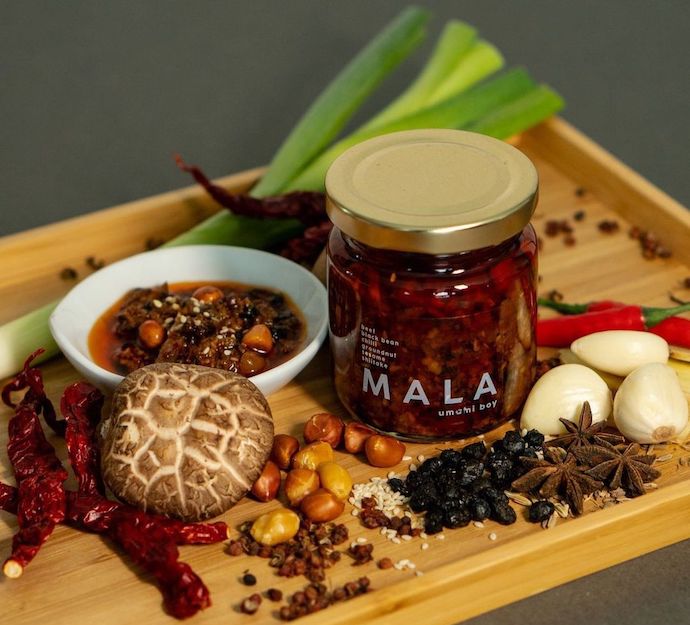 His Umami XO Sauce, a flavour bomb of dried scallops, dried shrimps, Japanese whitebait, garlic shallots, chilli and cured bacon, is the mildest of the three with a spice level of 1/5. The beef-based Mala Beef Sauce has a spice factor of 2/5, while the plant-based Mala Mushroom Sauce, made with shiitake, king oyster and enoki mushrooms, is the spiciest sauce, with a spice level of 3/5.
ALSO CHECK OUT