With Christmas and New Year just around the corner, it's time to start planning for small groups of feasting with your nearest and dearest.
Take advantage of the value-for-money deals offered by these 5 restaurants to help you stretch your dollar while you revel in the festivities and share precious memories with your family and friends.
If you're looking to treat your taste buds while tucking into guilt-free festive fare, Arbora's light and healthy 4-Course Festive Menu ($68++ per person) is just what you need. For an additional $15++ per person, you can enjoy your meal with a French wine like the mellow, sweet Marrenon Merlot Les Grains 2018 or the citrusy, acidic Marrenon Chardonnay Les Grains 2018.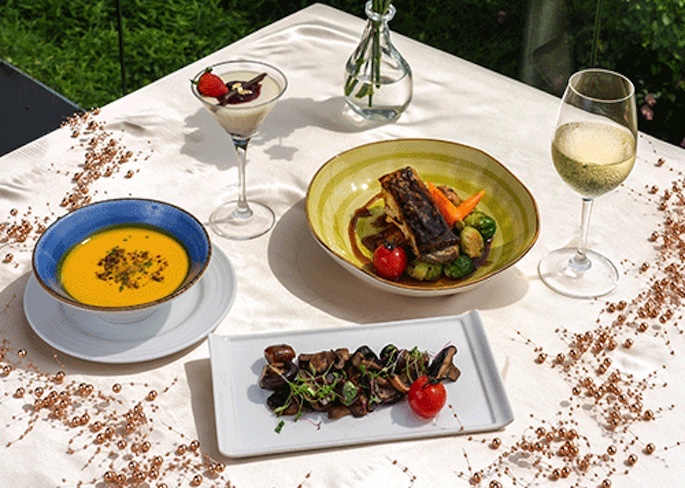 The meal starts with the Festive Mushroom & Chestnut Salad where warm forest mushrooms and crusted chestnuts are tossed with mesclun leaves in a light Grand Marnier dressing. Then slurp up the comforting Veloute of Carrot, topped with smoked duck and pistachio bits.
For mains, choose either the Oven Baked Half Pullet, served with black pepper sauce and mashed potato and Arbora Salad, or Pan-Fried Barramundi Fillet, served with a sweet and salty Kabayaki glaze, roasted potatoes and brussels sprouts.
End on a sweet note with the light and creamy Panna Cotta & Cranberry Compote.
Soak up captivating sunset views along with scenic views of the Singapore Cable Car line, Sentosa HarbourFront skyline and lush rainforest while tucking into 4-Course Festive Dinner Menu ($98++ per person) at Dusk.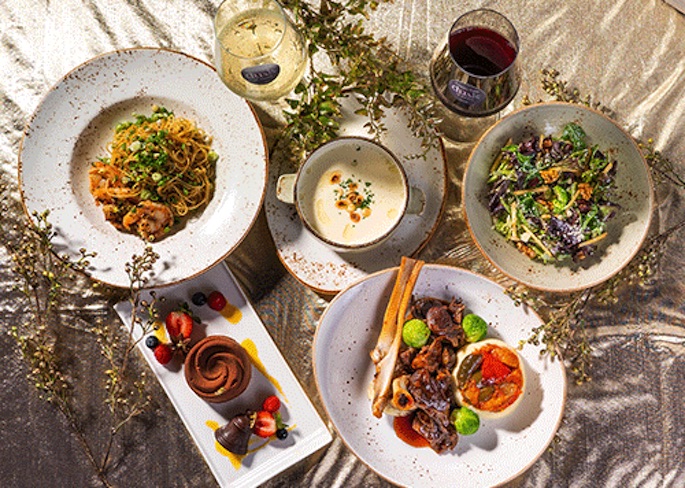 First up is the Shaved Brussels Sprouts Salad, a refreshing re-imagination of a traditional Christmas side dish, made up of brussels sprouts, mesclun leaves, Fuji apple, walnut and cranberry, topped with shaved parmigiano and tossed in a honey Greek yogurt dressing. Enjoy a sprinkling of luxe in the form of wintery white truffle in the Christmas Celeriac & Hazelnut Soup, topped with hazelnut for some crunch.
Lamb fans will want to sink their teeth into the fork-tender Festive Baby Lamb Shank, braised low and slow in port wine for over five hours and served with dark prunes, bell peppers and seasonal greens, while seafood lovers must try the Prawn Capellini, a house speciality of angel hair pasta tossed in aromatic lobster-infused oil, and served with large, juicy tiger prawns.
A sweet finish is guaranteed by the Hazelnut Praline Creamers with Equatoriale Mousse & Passionfruit Coulis, accompanied by tea or coffee.
Nothing says Christmas and New Year's Eve better than sharing a platter of festive meats ($89++ for 3 to 4 persons, available from 24 to 31 December) plus all the trimmings with your family and BFFs. Think Beef Wellington, Turkey Roulade, Grilled Lobster Tail and Kurobuta Pork Tomahawk, served with duck fat potato wedges, brussels sprouts, chestnuts, homemade cranberry sauce and red wine sauce.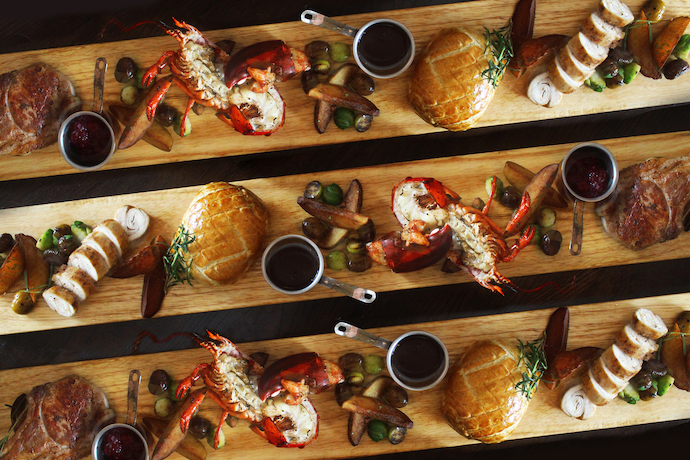 Satisfy your sweet tooth with Ginett's Bombe Alaska ($26++ for 2 persons), flambéed with Grand Marnier, and served with salted caramel and dark chocolate ice cream.
Seafood fans rejoice! There's no better time to indulge in a sumptuous seafood feast than this festive season especially when live Boston lobsters and live Alaskan crabs are going for 50 percent off at JUMBO Seafood, Chui Huay Lim Teochew Cuisine, Zui Yu Xuan Teochew Chinese and Singapore Seafood Republic.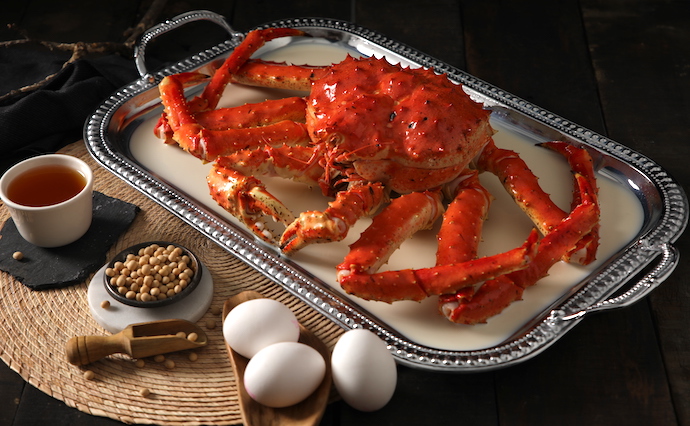 Promotion prices for live Boston lobsters start from $5.90 per 100g (usual price: $11.80 per 100g) at JUMBO Seafood to $6.40 per 100g (usual price: $12.80 per 100g) at Chui Huay Lim Teochew Cuisine and Zui Yu Xuan Teochew Cuisine. Promotional prices for live Alaskan crabs are at $12.40 per 100g (usual price: $24.80 per 100g) at JUMBO Seafood, Chui Huay Lim Teochew Cuisine, Zui Yu Xuan Teochew Cuisine and Singapore Seafood Republic.
The live Boston lobsters can be enjoyed steamed with Chinese wine and egg white, steamed with minced garlic, braised with superior broth or chilled with fresh fruits in sesame dressing, while live Alaskan crabs dishes include Award-Winning Chilli Crab, Signature Black Pepper Crab, Steamed Crab with Chinese Wine and Egg White, and Stir Fried with Golden Salted Egg Crab. Note that cooking styles vary across the restaurants.
To mark its recent reopening after a seven-month renovation to rejuvenate its interiors, Taste Paradise is offering an Eight-Course Set Menu (for four to five persons) for only $258++ (usual price: $326.40).
The Set Menu features fine Cantonese favourites such as Signature Charred Honey BBQ Kurobuta Pork and Crackling Pork Belly, Double-Boiled Sea Whelk with Kampong Chicken Soup, Steamed Live Dragon Tiger Grouper with Garlic and Beancurd Skin, Baked Live Prawn with Vermicelli in Black and White Pepper, Stir-Fried Japanese A4 Wagyu Beef Cube with Spring Onion in Black Pepper Sauce, and Poached Rice with Assorted Seafood in Lobster Broth.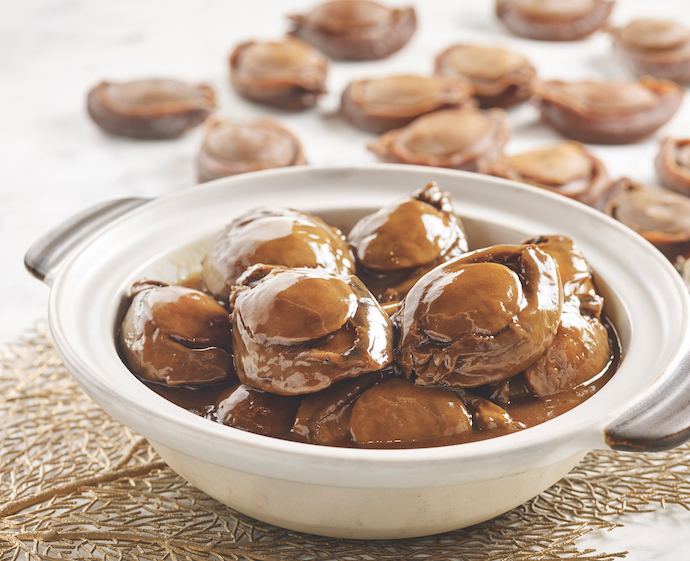 A must-have for the festive season is the restaurant's Signature Braised Australian 10-Head Dried Abalone in Abalone Sauce, which takes a week to prepare as the cooking process involves rehydrating, simmering and braising the abalone. The exquisite Chinese delicacy can be enjoyed for $178++ a piece (usual price: $228++). Both promotions are available daily till 17 January 2021.