One of the healthiest cuisines in the world, Vietnamese dishes feature plenty of fresh herbs and vegetables. Rice and noodles are also a big part of Vietnamese cuisine. Don't leave the country without getting a taste of these Vietnamese dishes.
Banh cuon
These steamed rice rolls are filled with minced pork, wood ear mushrooms and onions, topped with fried shallots and coriander, and served with nuoc cham (dipping sauce comprising fish sauce, lime juice, garlic, chilli, water and sugar), bean sprouts, basil and cha lua (Vietnamese pork sausage).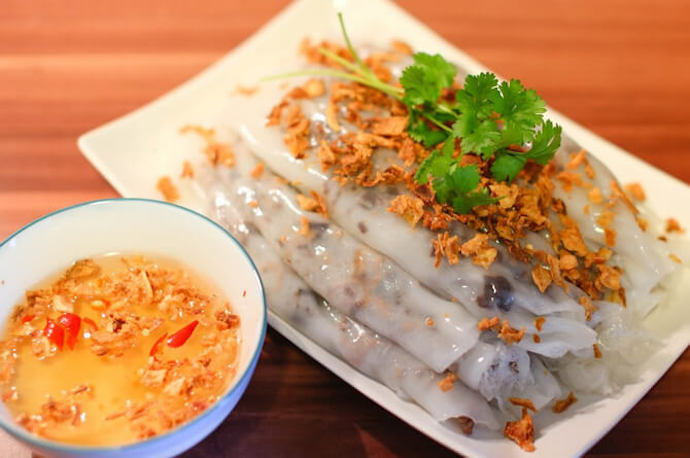 Banh khot
These mini savoury pancakes are made with coconut milk, rice flour and turmeric powder, topped with shrimp, mung beans, spring onions, fried garlic or dried shrimp flakes, served with herbs and vegetables, and a spicy sweet dipping sauce.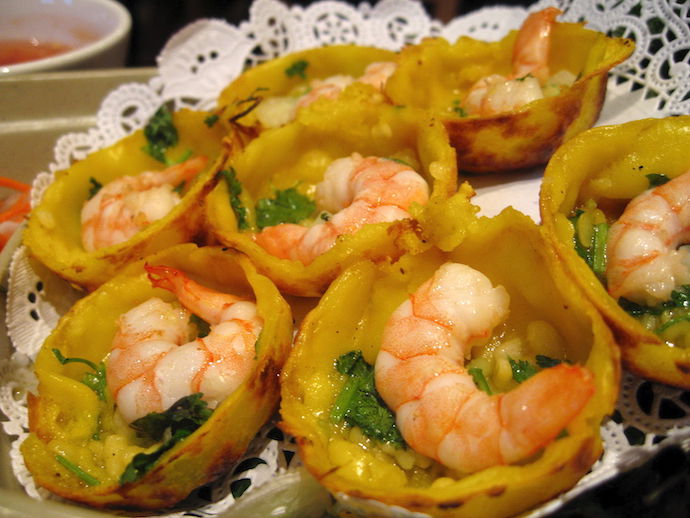 Bahn mi
One of Vietnam's most popular street foods, this sandwich is made from crusty baguette (introduced to Vietnam by French colonists in the late 19th century) that is stuffed with meats such as pork, pate, ham and sausage, eggs and vegetables such as cilantro, cucumber, pickled carrot and daikon, drizzled with chilli sauce or mayonnaise.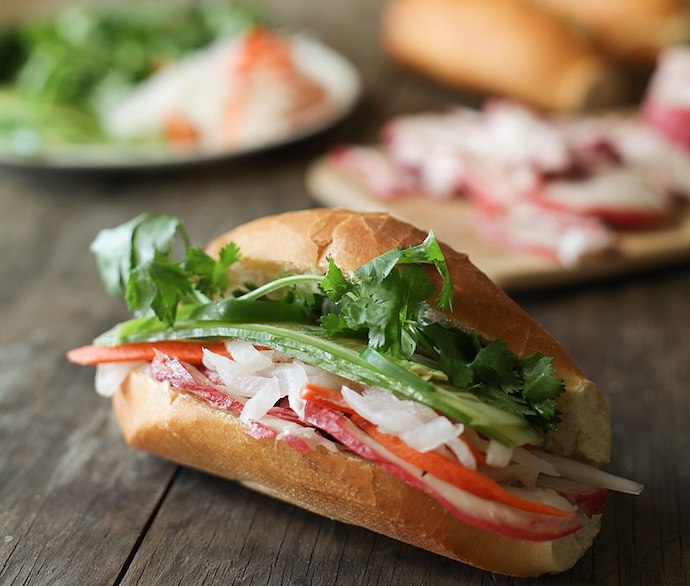 Banh xeo
These crispy savoury crepes, which translate as "sizzling cakes", are made with rice flour, coconut milk and turmeric powder, and filled with pork, shrimp, bean sprouts and spring onions. They are usually served with rice paper, herbs and vegetables such as lettuce, basil and mint, and nuoc cham (dipping sauce comprising fish sauce, lime juice, garlic, chilli, water and sugar). Place small portions of banh xeo together with some greens in the moistened rice paper and roll it up before dipping it into the nuoc cham.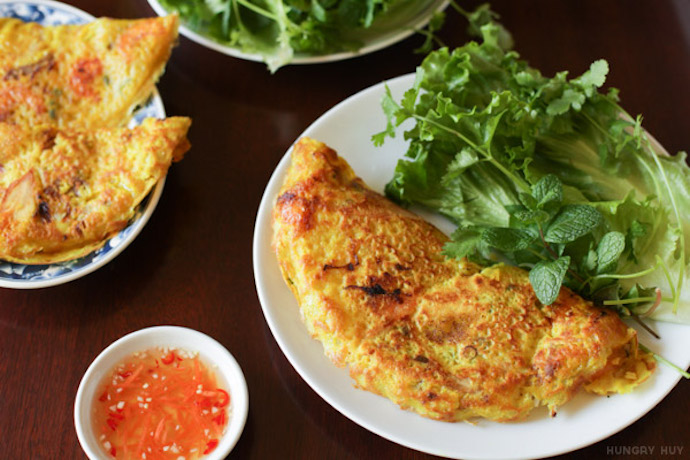 Bo la lot
This popular southern Vietnamese dish is made of minced beef mixed with garlic, shallots and spices, wrapped in wild betel leaf (or piper lolot leaves), then grilled over a charcoal flame. It is topped with crushed roasted peanuts, and served with rice paper, vermicelli rice noodles, raw herbs and vegetables, and nuoc cham (dipping sauce comprising fish sauce, lime juice, garlic, chilli, water and sugar).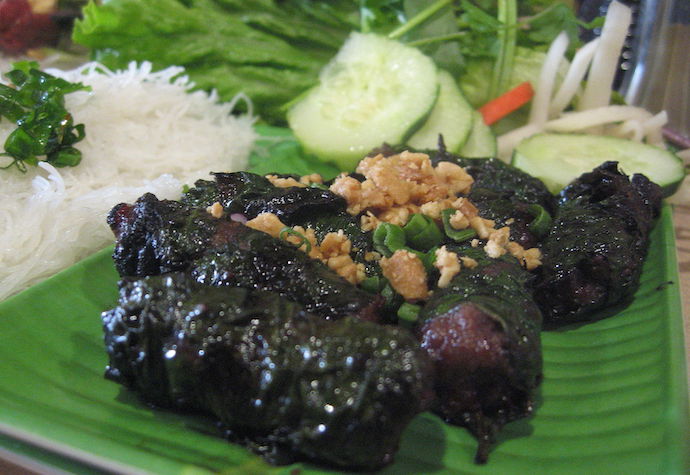 Bo luc lac
This dish, which translates as "beef shaking", takes its name from the motion of the wok or pan when the beef cubes are being stir-fried over high heat. The beef is marinated in garlic, fish sauce, oyster sauce, soy sauce, sugar and sesame oil, then stir-fried with onions, and served on a bed of vegetables such as watercress, cucumbers and tomatoes.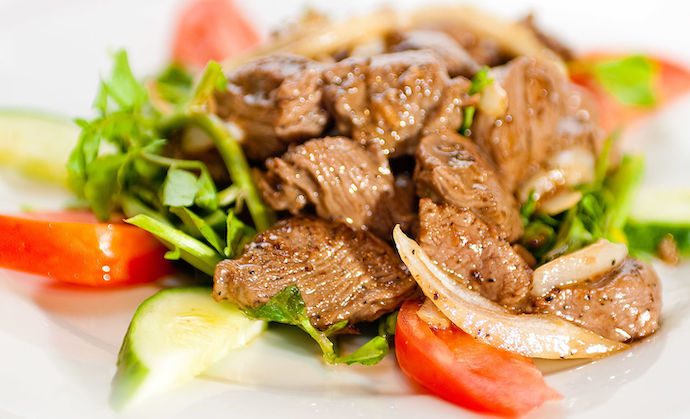 Bot chien
This popular street food is the Vietnamese version of Singapore's and Malaysia's fried carrot cake. Instead of daikon or white radish, the rectangular flour cakes are made with rice flour and tapioca starch, fried with soy sauce, fish sauce, chilli sauce and eggs, and topped with green onions and shredded green papaya.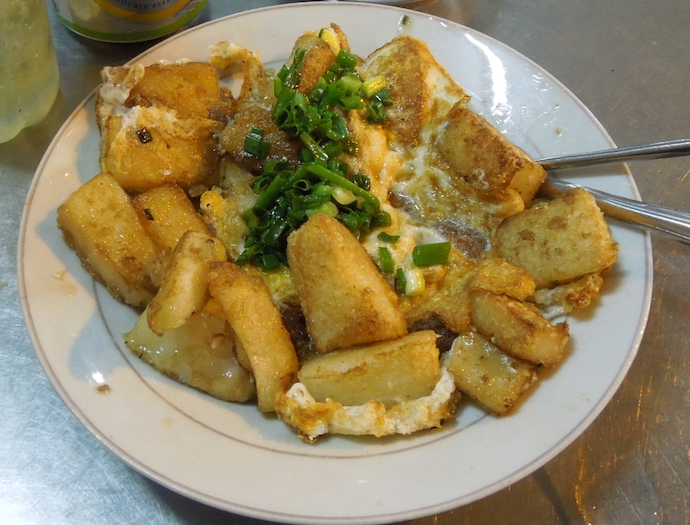 Bun bo Hue
A Hue speciality, this spicy beef noodle soup features a rich and flavourful broth which is made by slowly simmering beef and pork parts such as ox tail, beef shank, pork neck bones, pork feet and pork knuckles or ham hocks, together with lemon grass, shrimp paste, garlic, shallots, red pepper flakes, paprika and ground annatto seeds to give it a bright red colour. The soup is eaten with round rice noodles and topped with beef slices, ham slices, cubes of congealed pig's blood, green onions, white onions and coriander leaves. It is usually served with a plate of lime wedges, banana blossoms, bean sprouts, mint leaves and other herbs.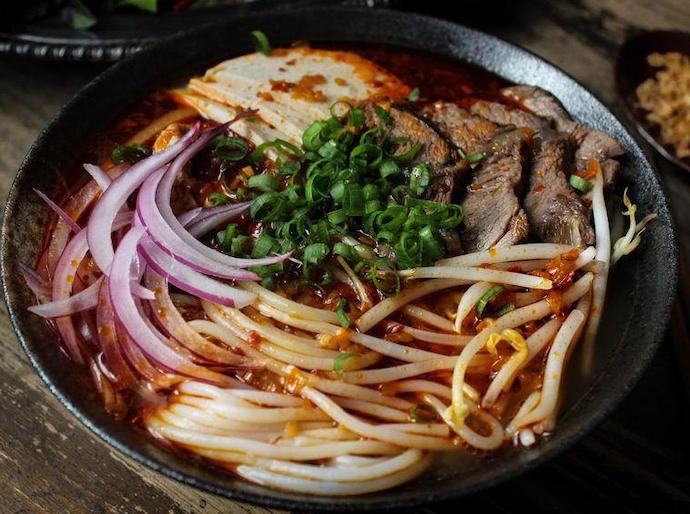 Bun cha
One of Hanoi's most famous foods, this dish of rice vermicelli with grilled pork is served with dipping sauce, pickled carrots and papaya, and fresh herbs and vegetables.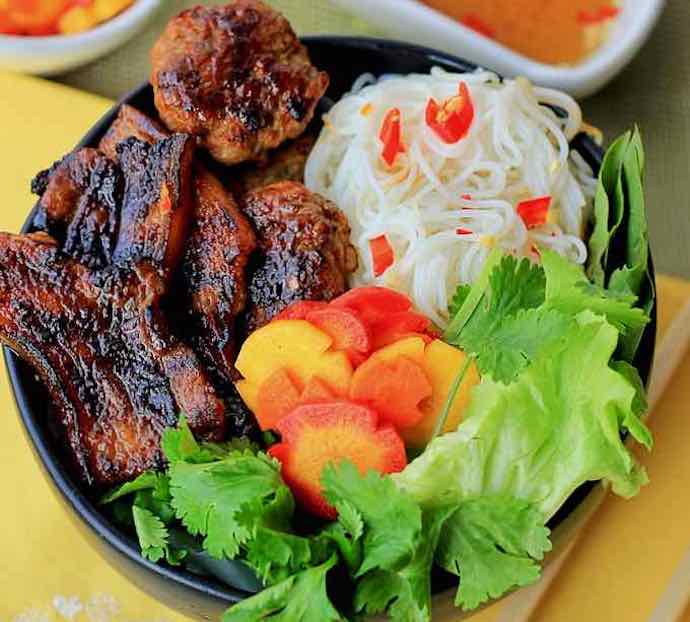 Bun dau mam tom
As its name indicates, there are three main ingredients in this dish – bun is Vietnamese for vermicelli noodle, dau is tofu (usually fried) and mam tom is fermented shrimp paste sauce. Some places also serve this dish with boiled pork, young rice cake, fried spring rolls, cucumber and fresh herbs.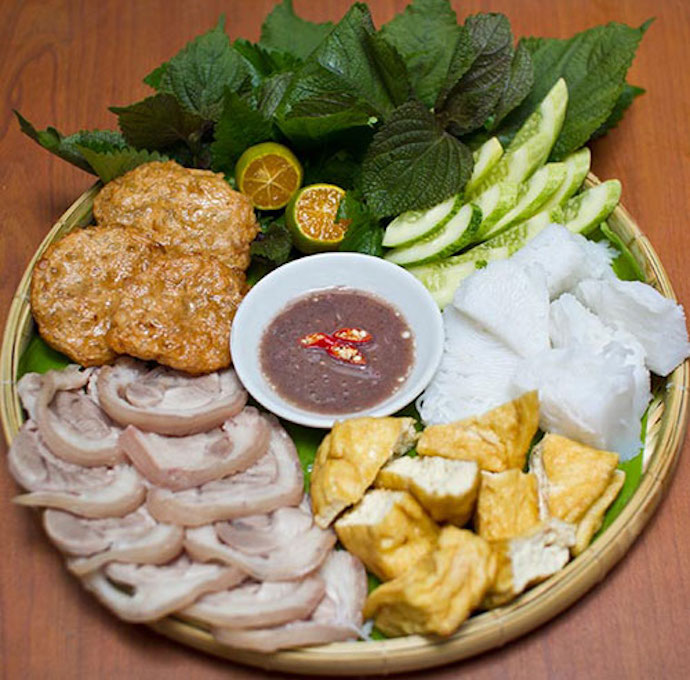 Bun thang
A Hanoi speciality, this chicken-based soup is served with vermicelli noodle and topped with shredded chicken, Vietnamese ham slices, finely sliced omelette, green onions and fresh herbs.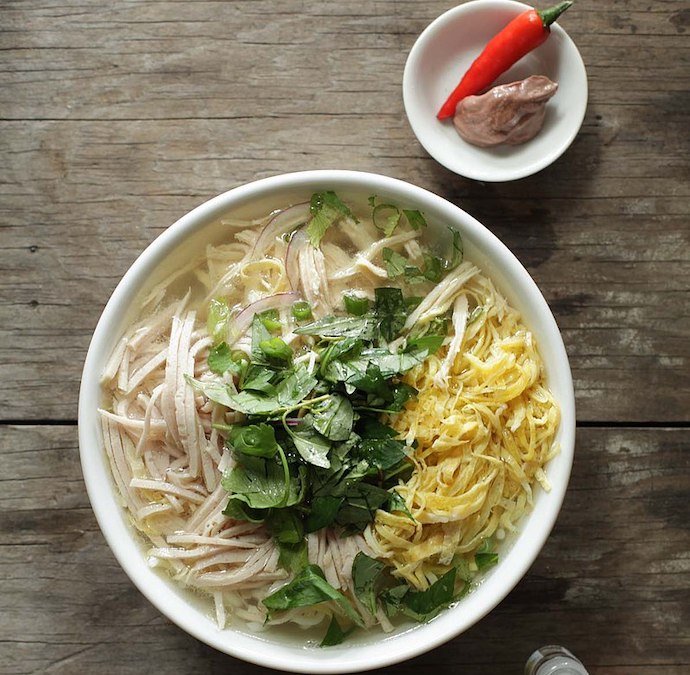 Bun thit nuong
This popular dish comprises grilled pork, thin vermicelli rice noodles, chopped lettuce, sliced cucumbers, bean sprouts, pickled daikon and carrots, basil, mint and chopped peanuts, served with fried spring roll and eaten with nuoc cham (dipping sauce comprising fish sauce, lime juice, garlic, chilli, water and sugar).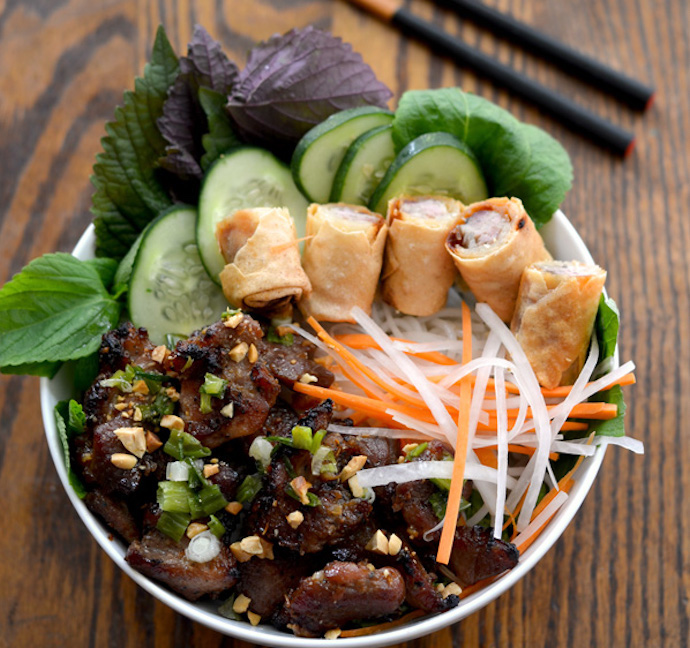 Cao lau
Hoi An speciality – rice noodles with barbecued pork slices, crunchy pork crackling, bean sprouts and local greens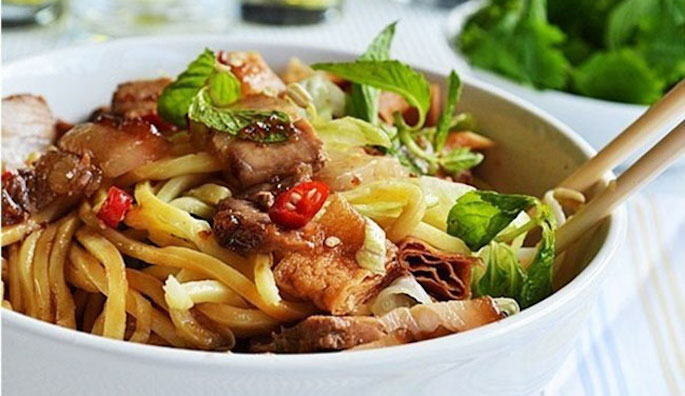 Ca phe trung
This Vietnamese egg coffee is made by beating egg yolks with sweet condensed milk until it becomes airy and creamy. The meringue-like mixture is then slowly poured on top of hot or iced coffee.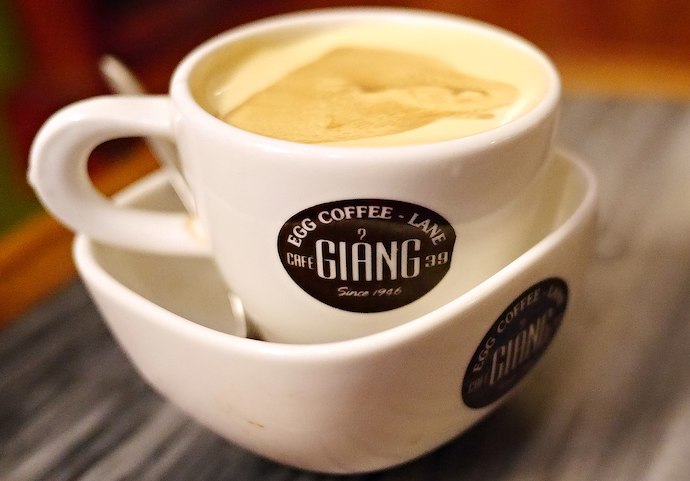 Cha ca la vong
This iconic Hanoi dish features fish that has been marinated with turmeric, shrimp paste and fish sauce before being grilled, tossed with dill and spring onions, and served with vermicelli noodles, roasted peanuts and dipping sauce.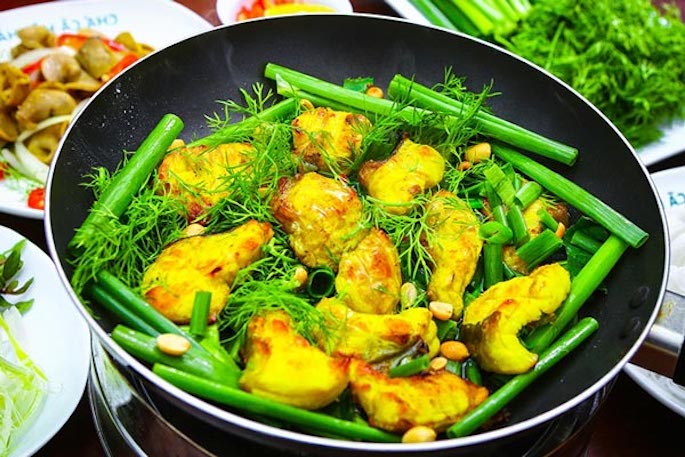 Com ga Hoi An
A Hoi An speciality, this chicken rice features rice cooked in chicken broth and turmeric, served with shredded chicken, shredded papaya and herbs.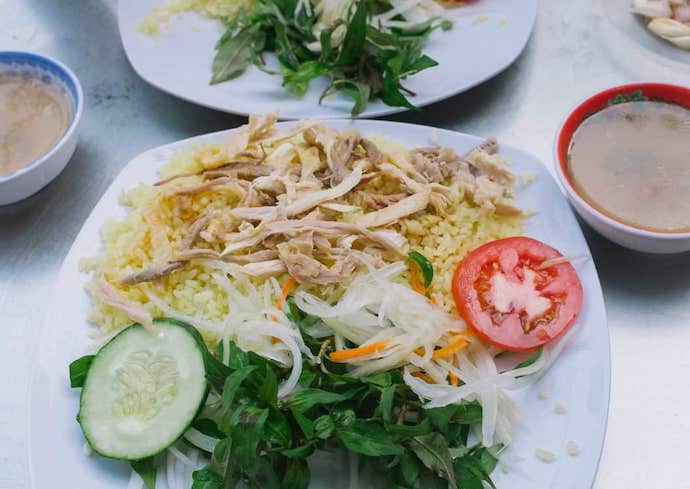 Com tam
This dish of broken rice is served with grilled pork chops, shredded pig skin, egg meat loaf, cucumber, tomato, pickled vegetables, fried egg and dipping sauce.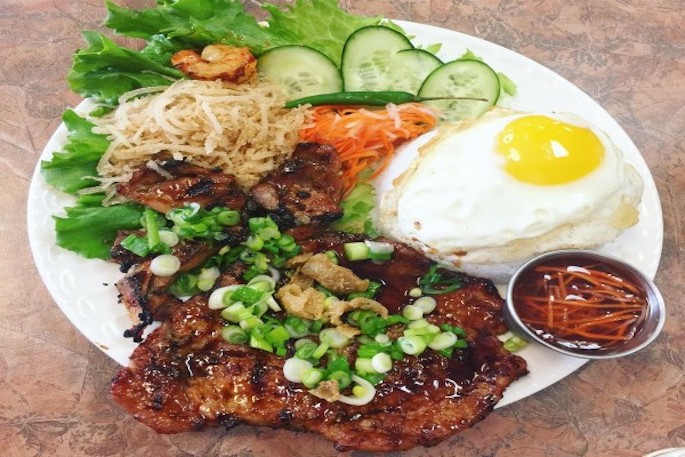 Ga tan
A Hanoi speciality and a health tonic, this stewed sweet herbal chicken soup is cooked with chicken and a mix of Chinese herbs such as red dates, honey dates, wolfberries, dried longan, pei ji and yuk chuk (Solomon's Seal).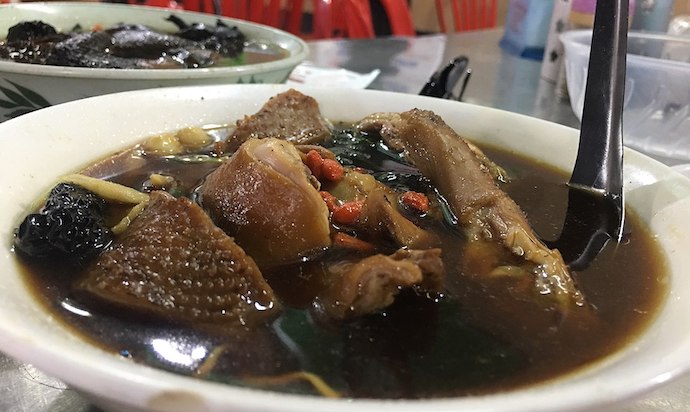 Goi cuon
One of Vietnam's most iconic dishes, these fresh spring rolls can be eaten as a snack, appetiser or main meal. The rolls are made with rehydrated rice paper that is filled with shrimp or pork, raw vegetables like basil, coriander and mint, and vermicelli noodles, and served with nuoc cham (dipping sauce comprising fish sauce, lime juice, garlic, chilli, water and sugar) or peanut sauce.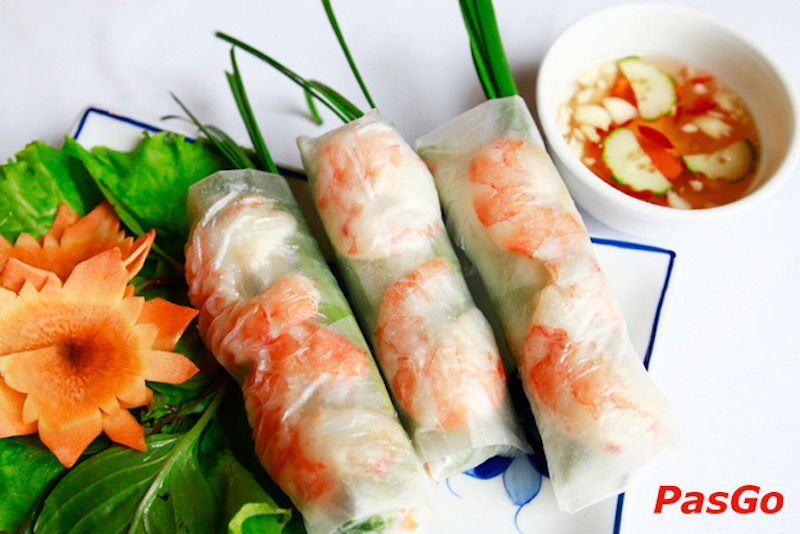 Hu tieu
This popular dish of rice noodle soup is topped with pork, prawns and fish balls.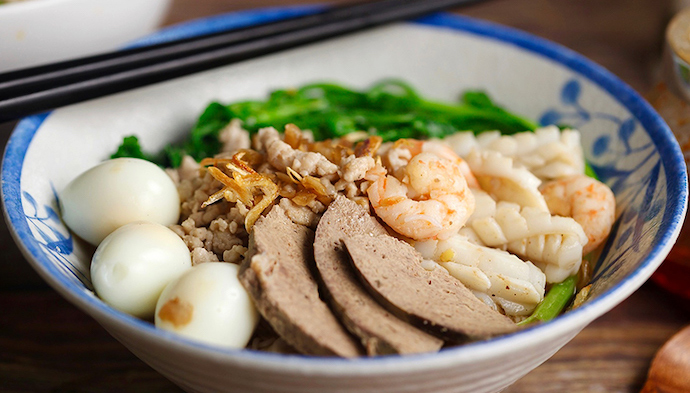 Mi quang
This Hoi An speciality features turmeric noodles topped with roasted pork, shrimp, fresh lettuce, mint, basil, garlic, spring onions, quail eggs and crushed peanuts.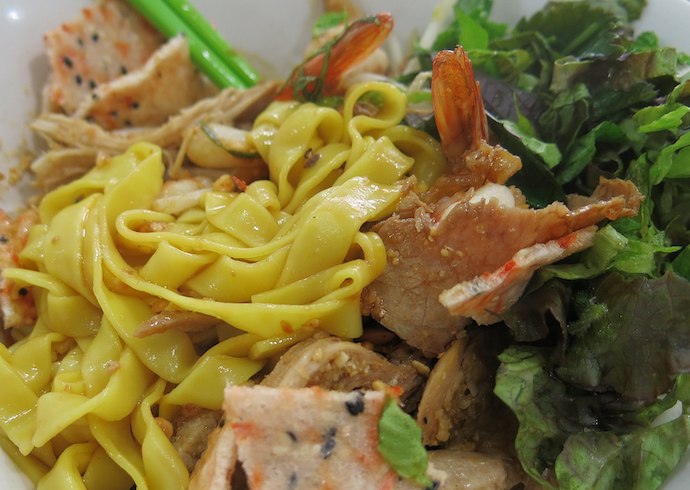 Pho
Regarded as the national dish of Vietnam, this flat rice noodle soup features two basic types – beef (pho bo) or chicken (pho ga) – and is usually served with a plate of fresh herbs and vegetables such as basil, cilantro and bean sprouts, along with lime wedges, chilli sauce and hoisin sauce (a sweet and spicy sauce made from soy beans, sugar, garlic and vinegar).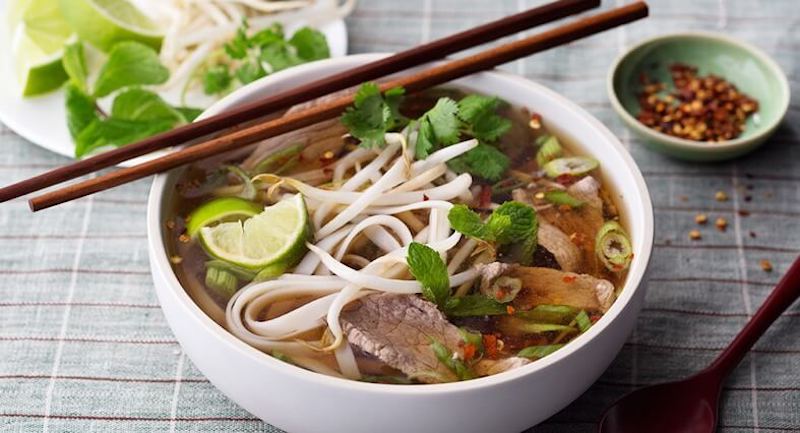 Xoi
One of the country's most popular foods, xoi is Vietnamese for sticky rice or glutinous rice. There are many sweet and savoury variations available, with the steamed sticky rice mixed with peanuts, beans, fruit, coconut, pandan juice and sesame seeds, and others eaten with meat and eggs.