Jewel Changi Airport's Canopy Park might just be the closest place you can get to bouncing among soft clouds. Located on the highest level of Jewel, the picturesque 14,000sqm space is home to Changi's largest collection of attractions and gardens.
Get ready to bounce among the clouds; weave across a garden in a journey through nature with over a hundred varieties of trees and plants by your side; say hello to magical creatures along the path; and feel the rush of joy as you whizz down magnificent sculptures.
From 28 January to 15 February, enjoy a PAWSPEROUS Year of the Tiger with these Canopy Park Family Bundle Packages:
• 2 Adult 1 Child Bundle Package 1 @ $80
• 1 Adult 1 Child Bundle Package 3 @ $80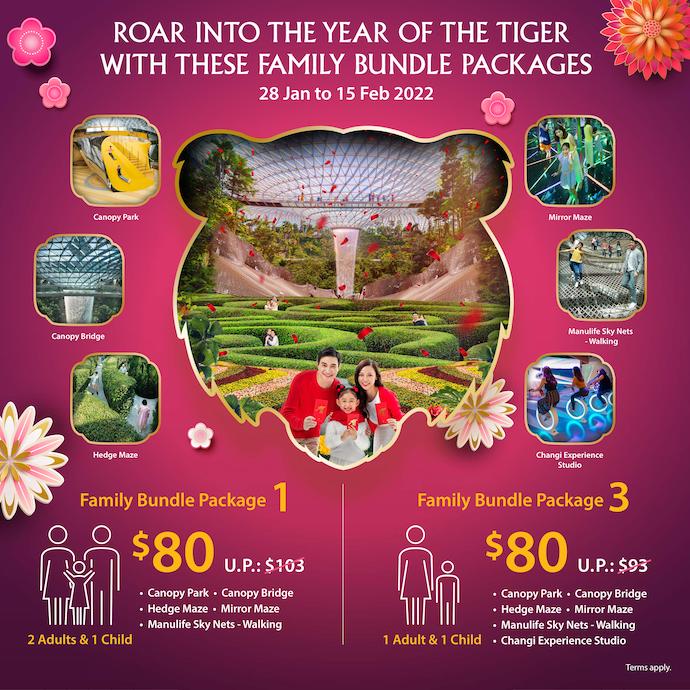 We spotlight six amazing ways to have fun in the recreational wonderland.
Bounce till your heart's content on the Manulife Sky Nets
Feel gravity leave you as you bounce almost weightlessly skywards through the Manulife Sky Nets, a 250m-long and giant bouncy net. Reach for the clouds at the highest peak as you leap towards the towering 8m-tall lookout at the summit.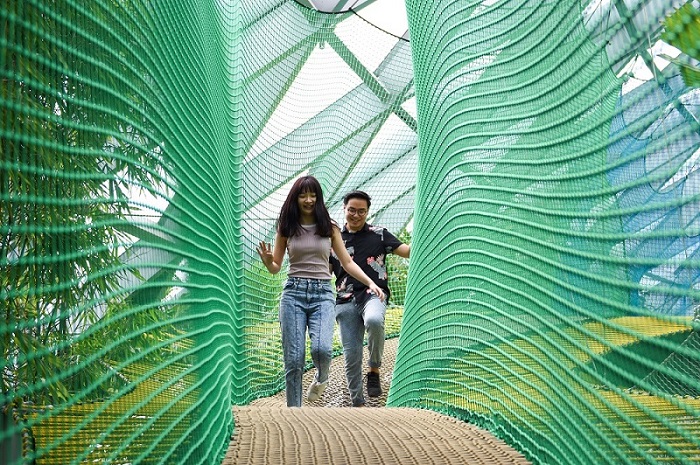 If you want a piece of the action but prefer not to take the leap of faith up to the clouds, try the suspended walking nets instead. Designed to give you as much thrill, the nets straddle across a five-storey high void where your every step will be an experience like no other. Keep your eyes open to catch a glimpse of the tiny people who are 25m down below.
PRO TIP: Wear a pair of comfy shoes for a bouncy good time!
Get lost in a fun adventure at Hedge Maze
At Singapore's largest indoor Hedge Maze, your discovery adventure starts the moment you take on the challenge with your first step in. Peep around the corners of the perfectly manicured landscaped environment as you look for your way through the Hedge Maze.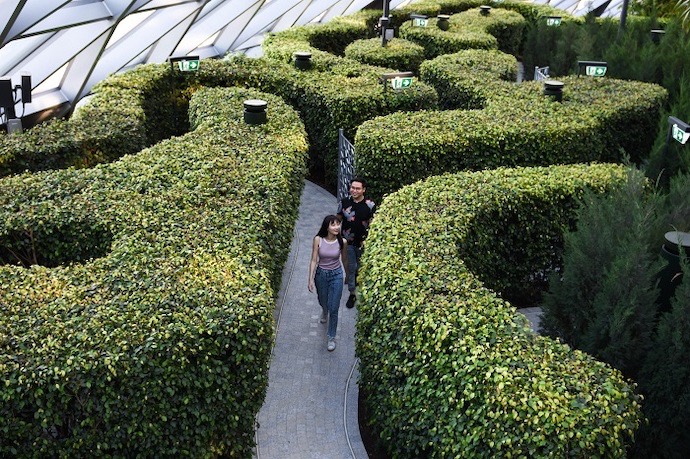 Stay alert for decorative gates and finger mazes along the way. Oh, but wait – what happens if you have a flight to catch and can't seem to find your way out? No need to panic. Just look up and help will be available in the form of a tall look-out platform high above where you can get your friends and family to offer some much-needed direction through the Hedge Maze.
PRO TIP: Try navigating through the Hedge Maze with your eyes closed and with only your friend's instruction from the look-out platform as your guide.
Lose yourself in a world of illusions at Mirror Maze
If you enjoy finding your way out of a maze, the Mirror Maze will be an a-maze-ing experience for you! Not only does it have the challenge of a seemingly unlimited number of mirror images, there's an added element to dial up the difficulty level – hanging overhead are plant foliage that reach down to provide that additional sensory element and garden setting.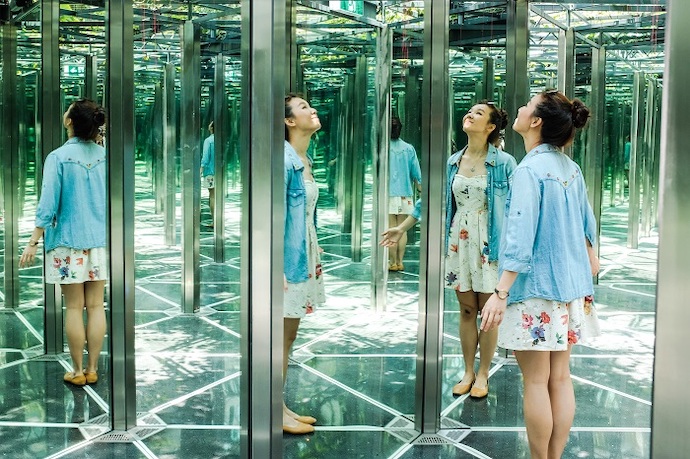 Get ready for a special surprise when you reach the final chamber. Don't worry, no spoilers here, but rest assured it's a rewarding finale to your Mirror Maze adventure.
PRO TIP: Hold the foam noodle out front as you walk so you don't bump into your own mirror image.
Make new floral animal friends at Topiary Walk
No visit to the Canopy Park is complete without a trek through the photo-friendly Topiary Walk and meeting some of the friendly "locals" living there.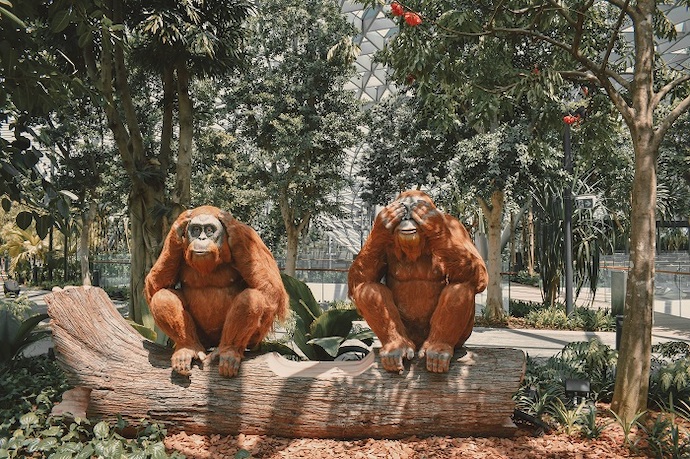 Take memorable selfies with topiary animal friends like the resident giant chameleon, peacock, orang utans, elephant and crocodile.
Whizz down four slides at Discovery Slides
One-part art sculpture mixed carefully with many-parts fun, this sculptural play attraction lets you whizz down not one, but four magnificently crafted slides to get that special rush of joy the moment you start your descent.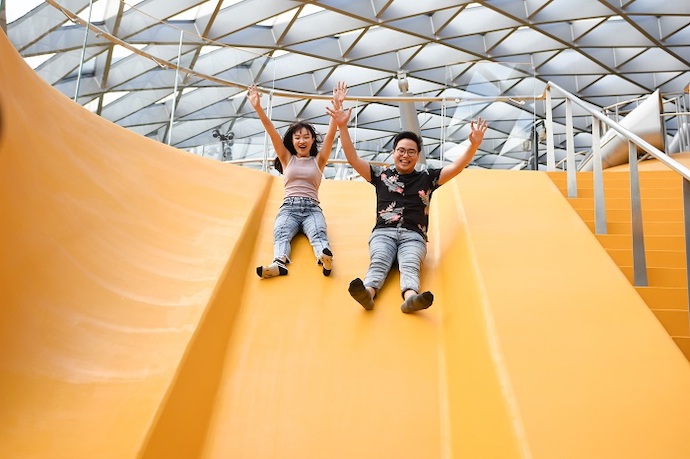 While you wait your turn to slide down from the 6.5m-high platform, take in the spectacular view of the Shiseido Forest Valley nestled among Jewel's magical lush greenery.
PRO TIP: Ask the guide what's the fastest timing for the most thrilling slide and try to beat that record.
Take a walk through air on the Canopy Bridge
Suspended 23m above ground, the 50m-long Canopy Bridge offers the best vantage point to take in awesome views of the HSBC Rain Vortex.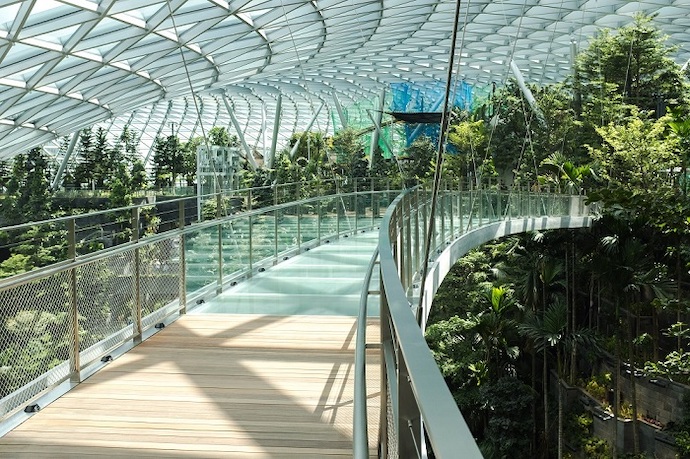 A photo spot like no other, it adds that tinge of thrill with its glass floor panels that allows you to look right down through to the depths of Jewel. Soft fog emitting along the walkway on each side of the bridge gives just enough of that heavenly-feel of walking among the clouds.
This article is adapted from Now Boarding by Changi Airport's "Things to do (and play) at Jewel Changi Airport's Canopy Park".