In a sea of grey, black and white skyscrapers in the bustling Tanjong Pagar district, the eye-catching red and green façade of the award-winning Oasia Hotel Downtown, Singapore is a welcome respite not just for humans, but also for many winged animals.
Renowned homegrown architecture firm WOHA designed the hotel's "green skin", made up of 21 types of creeper plants and flowering vines, to be a mini ecosystem for birds and insects to thrive in. The greenery also filters the air, and cools down the surface of the hotel building as well as the ambient temperature in the vicinity.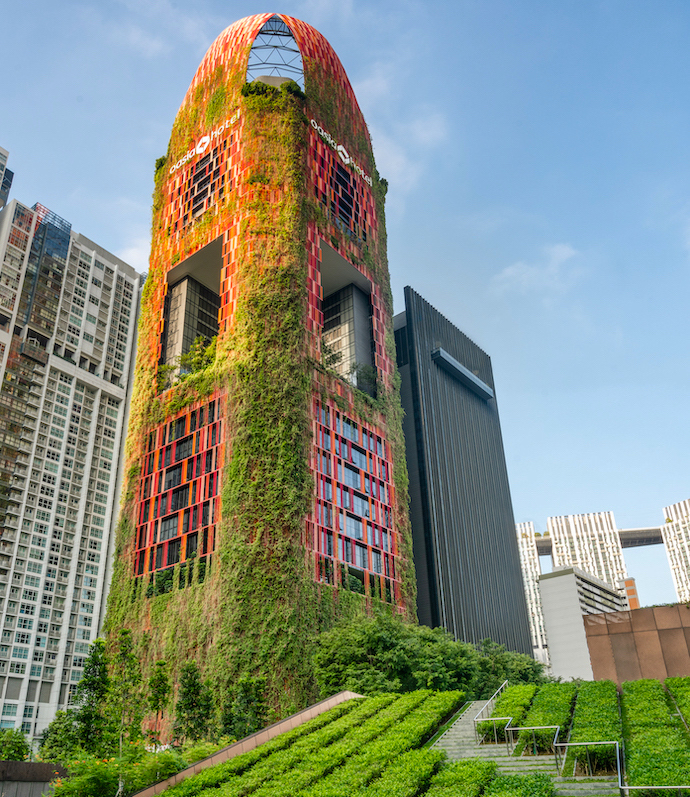 Acting as a giant trellis for the creepers is an aluminium mesh cladding in five warm tones of red, orange and pink which creates a striking contrast to the green foliage and also brings a vibrant mosaic of colour and life to the 27-storey hotel.
Rather than a conventional flat roof, WOHA crowned the hotel with a tropical bower, redefining the skyscraper typology for the tropics. On levels six, 12, 21 and 27 are four Sky Terraces that are landscaped with gardens and pools, offering spectacular views of the CBD, Chinatown, Singapore's port and even as far as Batam Island, while facilitating cross-ventilation and keeping the spaces naturally cooled.
With its greenery-filled, breezy open spaces bearing the creative fingerprints of acclaimed Spanish interior designer Patricia Urquiola, the hotel is uniquely designed to offer guests nothing less than a restorative respite in the city. The hotel inspires and empowers guests to "Experience Wellness" through its three wellness pillars of Refresh, Refuel and Recharge on its premises.
We spotlight three cool ways that you can refresh, recharge and refuel your body, mind and soul during your staycay at Oasia Hotel Downtown.
Refresh in breezy open spaces & rooms that calm the senses
Step into one of the hotel's many open-air communal spaces and nooks, and be instantly refreshed by natural breezes. Take a breather and relax on one of the furniture pieces handpicked by Urquiola or sit on one of her specially designed Maia Rope chairs or Rift Armchairs.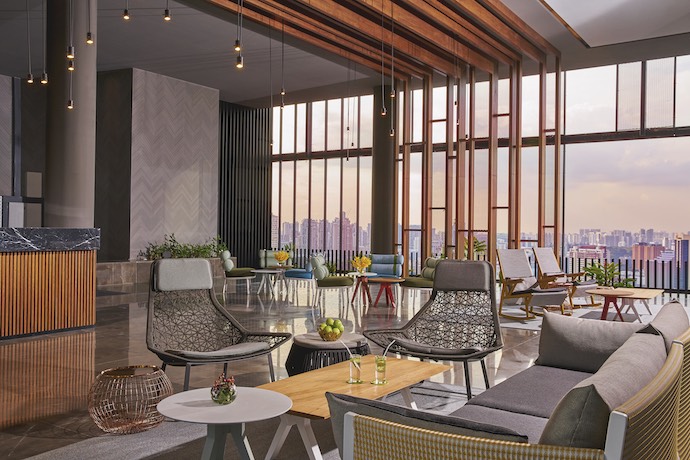 Throughout the hotel, Urquiola's unique style is recognisable through the use of soothing earthy tones, warm wood surfaces, and sleek copper touches on doors and in the lobby entrance.
Over by the poolside on Level 21, she designed cosy cabanas for Club guests to chill out and be cocooned within the Sky Terrace's lush green environment.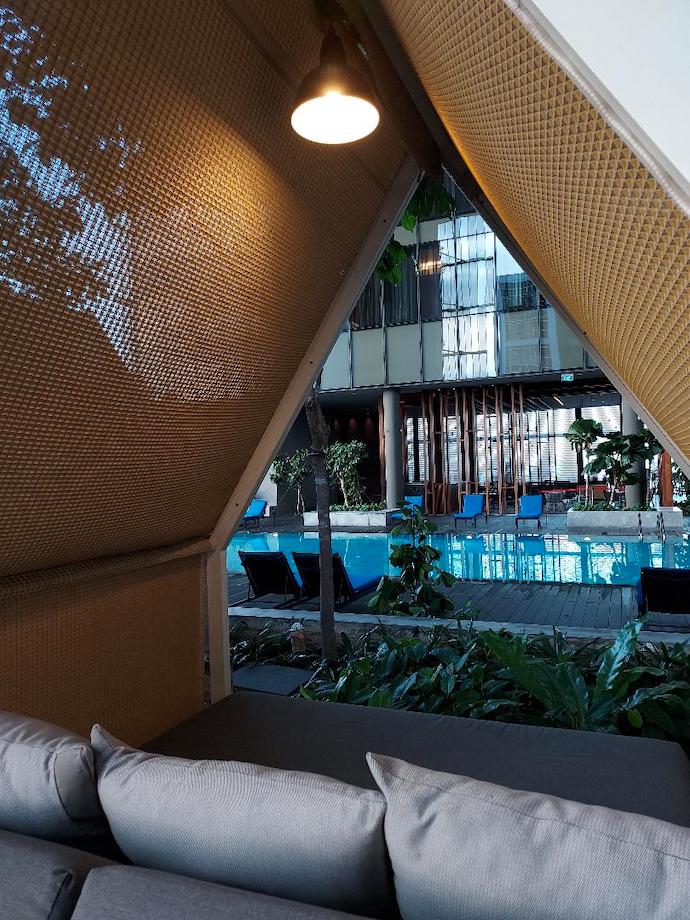 In the 314 rooms, wood and burnt orange tones dominate against a soothing palette of white and grey. A distinguishing décor piece in the rooms is an elegant wooden panel featuring carved chevron-like patterns. In Club Rooms, the wooden panel takes the shape of an overhead board arching over the king-size bed.
Other special Urquiola-touches in the rooms come in the form of stylish custom-designed rugs, copper lamps and bathroom tiles.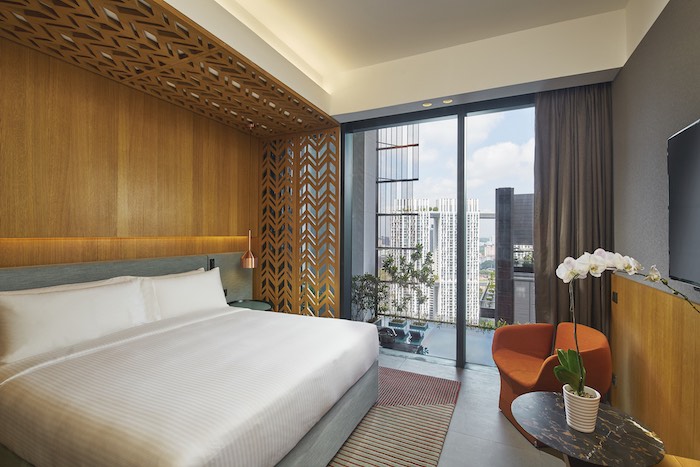 Club and Suite Rooms are equipped with Nespresso machines, a selection of TWG teas and yoga mats, while bathrooms come with a bathtub and are stocked with bath products formulated by Australian brand Biology Smart Skincare without using any harmful chemicals and cheap fillers.
Refuel with wholesome eats
One of the best things about a staycay is tucking into a hearty breakfast spread to start the day right. In-house bistro Marmalade Pantry on Level 1 serves up a selection of wholesome options that are far from bland and boring.
Club guests may enjoy breakfast in the Club Lounge on Level 21 or in the breezy open spaces overlooking the Infinity Pool on the same level.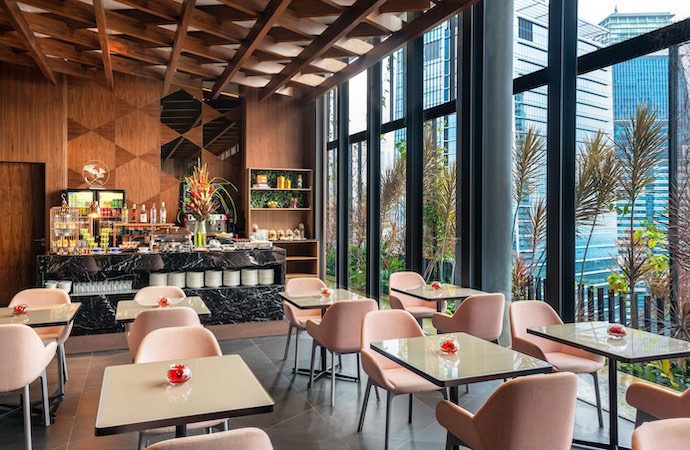 Get your vitamin boost from the fresh pineapple, melon and watermelon in the fruit bowl, and your choice of orange, apple, cranberry or lime juice.
Craving for something local? Go for the comforting Hong Kong Boat Porridge that is chock-full of cuttlefish, tiger prawns and dried scallops, and is topped with lashings of roasted peanuts, dough fritters and spring onions.
A hot favourite Western option is the hearty TMP Breakfast Platter, with eggs done your way, grilled chicken cheese sausage, hickory smoked bacon, roasted baby tomatoes, baked beans and hash brown, served with croissant.
There's also a Salmon and Cheese Plate made up of Norwegian smoked salmon, beef salami, caper berries, pickled pearl onions, cherry tomatoes, side salad and dill cream cheese on sour dough toast.
A healthy, meat-free option is the Healthy Toast, a plate of fresh homemade guacamole on sour dough toast, topped with poached eggs, cherry tomatoes and alfalfa sprouts, served with coconut oatmeal.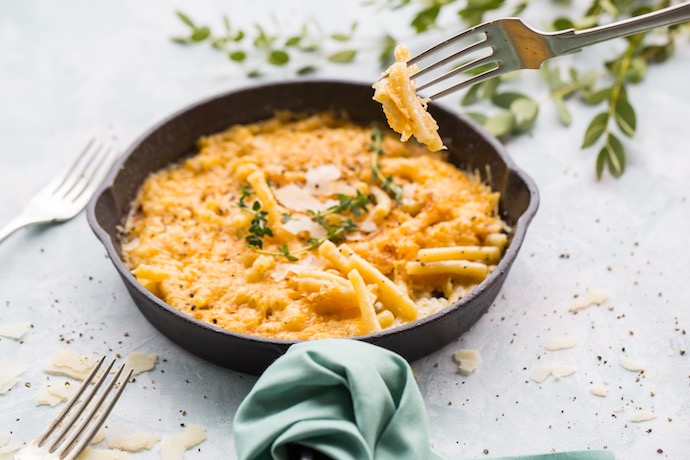 For lunch and dinner, the homegrown bistro offers signature comfort fare such as The Marmalade Mac & Cheese, Spicy Crabmeat Pasta, Grilled Salmon and Roasted Potatoes, Spicy Sriracha Chicken Burger, Kimchi Fried Rice and Sticky Date & Toffee Pudding.
Don't leave without sinking your teeth into one of the bistro's famous cupcakes which come in scrumptious flavours such as Boston Cream, Pistachio Raspberry Rose, Cranberry Lychee, Jaffa Chocolate, Japanese Sencha, Limonata, Cocomel and Hazel.
Recharge your body, mind & soul with workouts & mindful activities
A staycay is also a great time to incorporate workouts and mindful activities to recharge your body, mind & soul.
You can work up a good sweat in the 24-hour gym on Level 12 or by swimming a couple of laps in one of the two pools on the rooftop on Level 27. But if you're game for a full body workout with a difference, sign up for the fun and energising 45-minute Aquaspin class, led by an instructor from The Ripple Club at the rooftop pool.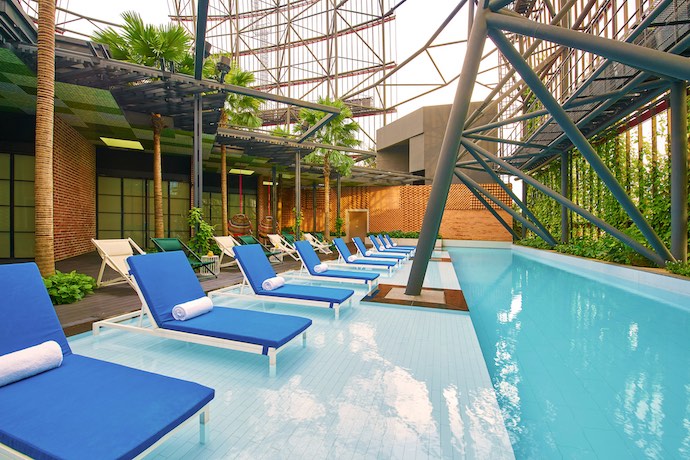 You'll be pedalling and working out on a specialised stationary bike submerged in water with energising high tempo music as motivation.
Our instructor (and avid cheerleader!) Edmund Miranda demonstrated a variety of low-impact, heart-pumping exercises on the bike including flutter kicks, push-ups and squats which target specific parts of the legs, arms and abs. Exercises are done in three intensity levels to promote strength and cardiovascular endurance.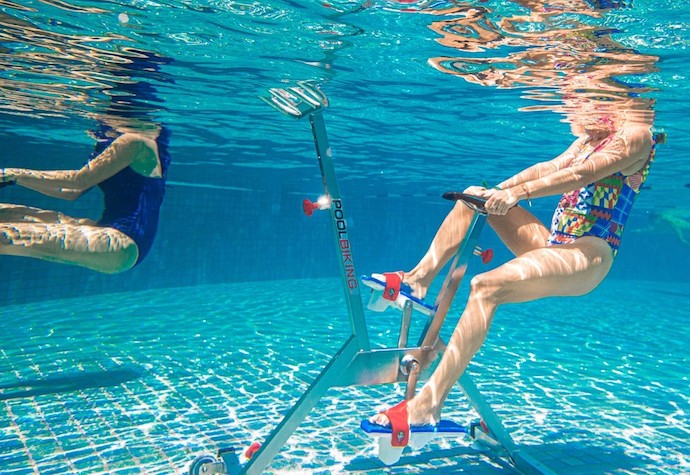 Yoga fans can recharge with a one-hour session led by Freedom Yoga every Sunday from 8.30am to 9.30am at the Sky Terrace on Level 12, while those who want to get close to nature can sign up for the daily Southern Ridges Hike by Atlas Travelz or a holistic Eco Programme by The Untamed Paths which brings you to fringe forests or intertidal zones in search of creatures or hidden gems of the night.
Cooking enthusiasts can learn how to make gluten-free, plant-based and other healthy dishes at the Healthy Cooking Classes conducted by Commune Kitchen every Tuesday, Thursday and Saturday at 10am and 11am, while those who have always wanted to work with clay can join the daily Air-Clay Fusion Arts by Clay-Street.
At the Watercolour Painting Workshop by Little Art Connoisseur, you get to learn different watercolour painting techniques and bring home your personal autumn or forest landscape painting. There's also a Clean Beauty & Bath Time Workshop conducted by Fawn Labs where you will learn how to concoct skincare products that are tailored to your skin type.