No Chinese New Year celebration would be complete without pineapple tarts. These buttery, crumbly sweet treats are must-haves during the festive season not just because they taste absolutely scrumptious but also because the Chinese consider pineapple to be a symbol of good fortune, wealth and prosperity.
This is because the Hokkien word for pineapple – "ong lai" – sounds similar to "fortune comes" or "prosperity has arrived". So pineapple tarts will always be eaten and served during Chinese New Year to usher in a fortune-filled year.
Ring in prosperity in the Year of the Ox while supporting a home-based business by ordering pineapple tarts handmade with loving care by these 5 home bakers (listed in alphabetical order).
DM on Instagram or fill out the order form online
Passionate baker Ong Yi Shuang Shayn makes golden pineapple balls that are filled with sweet and tangy spiced pineapple jam made from scratch, and covered in buttery, melt-in-the-mouth pastry.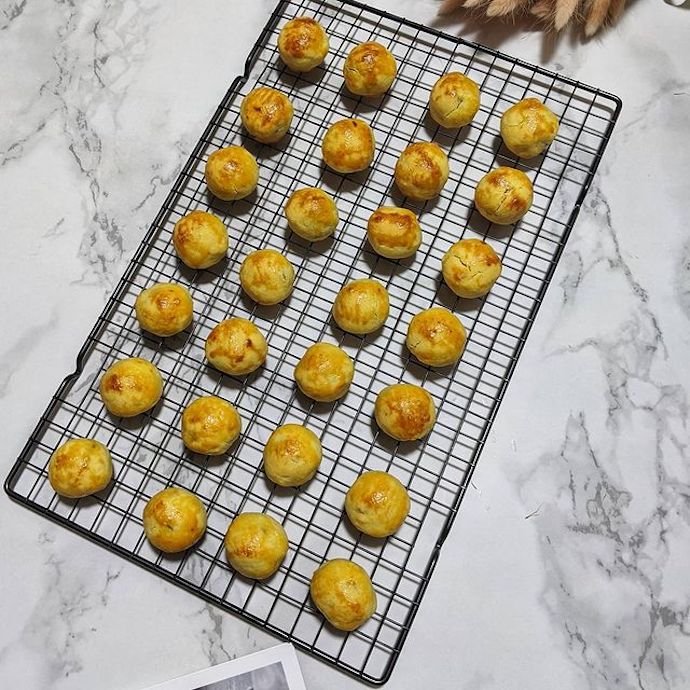 If you like to try before you buy, DM to request for samples. Those who are gifting the tarts can get Ong to shape them into hearts.
WhatsApp 9476 6488 or DM on Instagram
Experienced home baker Tracie Khoo's 22-year-old daughter came up with the name of her home bakery (a play on the Hokkien word "paiseh", which means to feel embarrassed or shy) to tell customers not to be shy to order her mum's buttery open-faced pineapple tarts.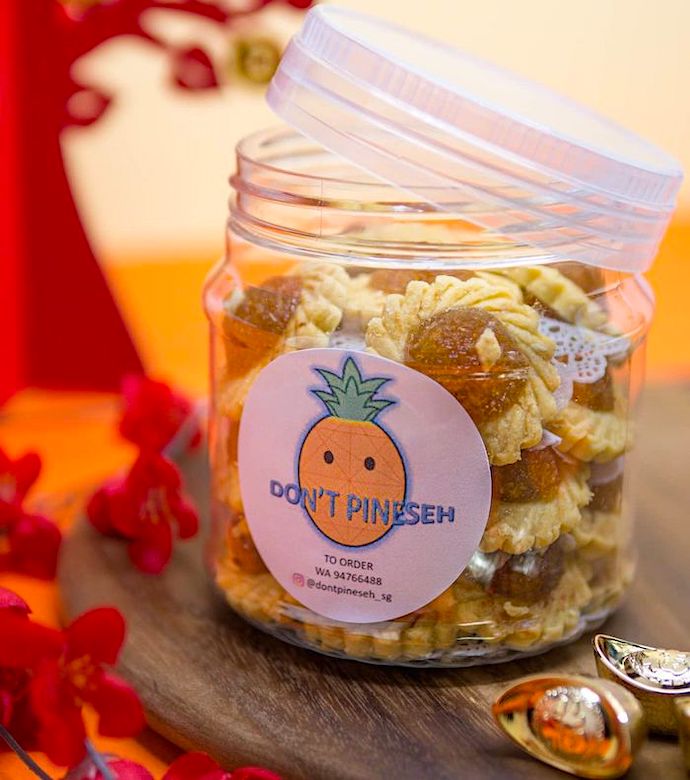 While Tracie does not make the pineapple jam from scratch, she elevates the flavour of store-bought jam by cooking it in spices and a small amount of rock sugar. The jam is molded and pressed onto soft, crumbly pastry discs that are made with SCS butter.

DM on Instagram and Facebook or WhatsApp 9004 4180

Passionate baker Grace has been baking pineapple tarts every Chinese New Year for the past five years. When work was affected during the circuit breaker period, she decided to start Dream Hearts to sell pineapple tarts with unique designs to stand out from the rest.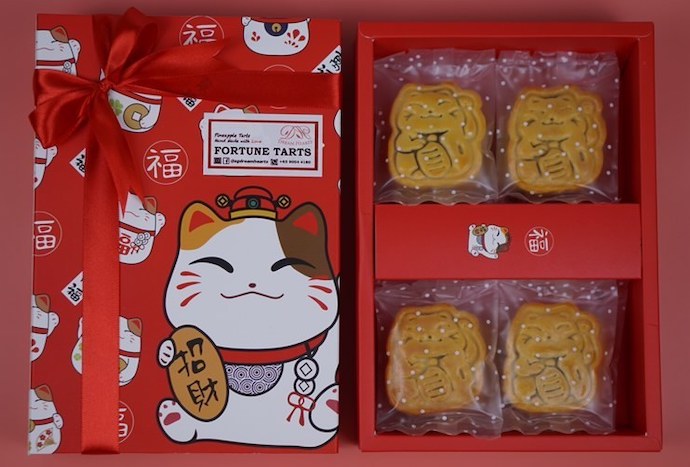 Her Fortune Tarts feature an adorable fortune cat while Smiley Tarts display the popular smiling face emoji. Both tarts are filled with made-from-scratch pineapple jam encased in buttery, melt-in-your-mouth pastry. Her best-selling Premium Fortune Tarts feature 12 tarts that are individually packed.
DM on Facebook or WhatsApp 8011 9954

Fans of open-faced pineapple tarts will want to sink their teeth into Madam Lim's addictive creations which have been perfected over 20 years of baking for family members. The avid baker only started selling her tarts in August last year.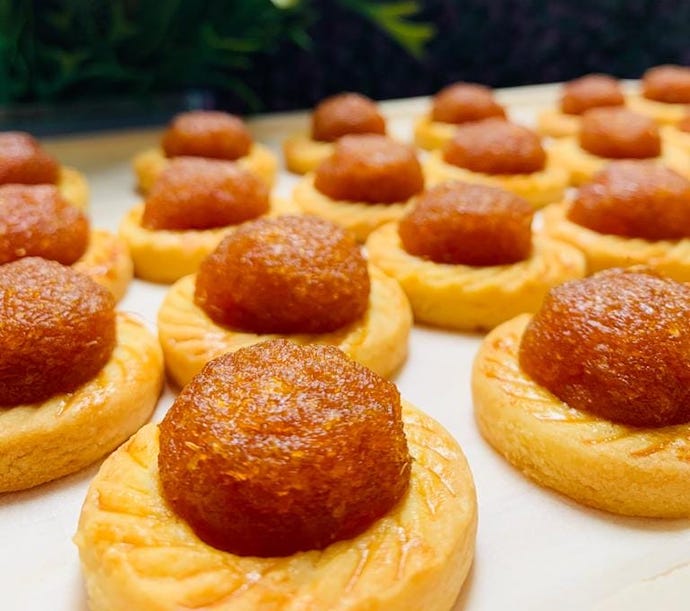 Not overly sweet and slightly tart, her signature pineapple jam is made with honey pineapples and takes up to five hours of cooking and stirring to yield a luscious golden brown paste. The jam balls are placed neatly on top of pastry made with SCS butter, no less. 
DM on Facebook or WhatsApp 8288 0942
If you like your pineapple jam to have an extra smooth texture or want it to only have a hint of sweetness, Lai Bakery can cater to your preferences as it makes its jam from scratch in small batches.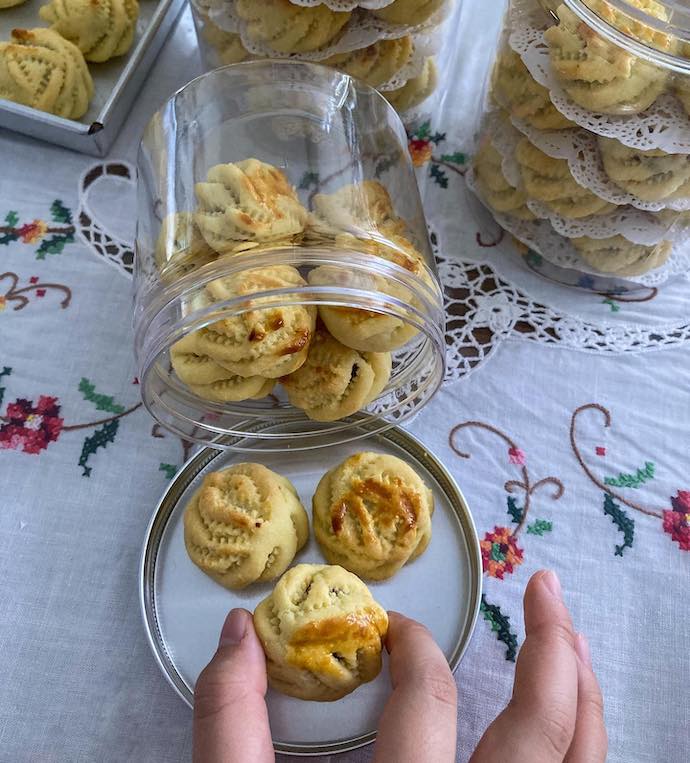 The home bakery was started by Lin Lam and her mother Madam Ong in October last year when the latter who worked in tourism lost her job as a result of the pandemic. Madam Ong has been baking pineapple tarts for over 20 years and her pretty rose-shaped pineapple tarts have won the hearts of fans for their buttery, crumbly and fragrant pastry which encases pineapple jam that has delightfully crunchy pineapple bits.
ALSO CHECK OUT