When it comes to sweet treats, there's no lack of Western desserts available in Singapore to satisfy every palate and taste bud. But still, we love our traditional kueh, in all their multi-cultural and colourful glory.
Perhaps, the soft, chewy and sticky little cakes remind us of our childhood or special occasions, or perhaps, their eye-catching colours and alluring aromas just make them so irresistible.
Whatever the reason we indulge in them, the fact is that they are an essential part of Singapore's food culture and heritage, and each kueh has its own unique history.
We rejoice that more people are making and – more importantly – selling kueh, especially online. We found 3 online artisanal purveyors who offer a delightful range of kueh that more than satisfied our sweet cravings.
Order online
Nyonya kueh flecked with edible gold anyone?
When co-founder Mak Sin Wee was living in Tokyo, he discovered high-quality edible gold in Kanazawa and saw how the gold flakes could add a lavish touch to simple foods like soft-serve ice cream or a bowl of ramen. He decided to follow suit with the nyonya kueh that he and his friend and co-founder Nick Lin are selling on their e-commerce website.
With a mission to support small businesses and give them an online presence, Wee and Nick decided to get kueh made by hand in small batches by traditional kueh hawkers from Tiong Bahru, Everton Park, Jalan Bukit Merah, Bedok and Katong, and luxe them up for their nyonya kueh platters.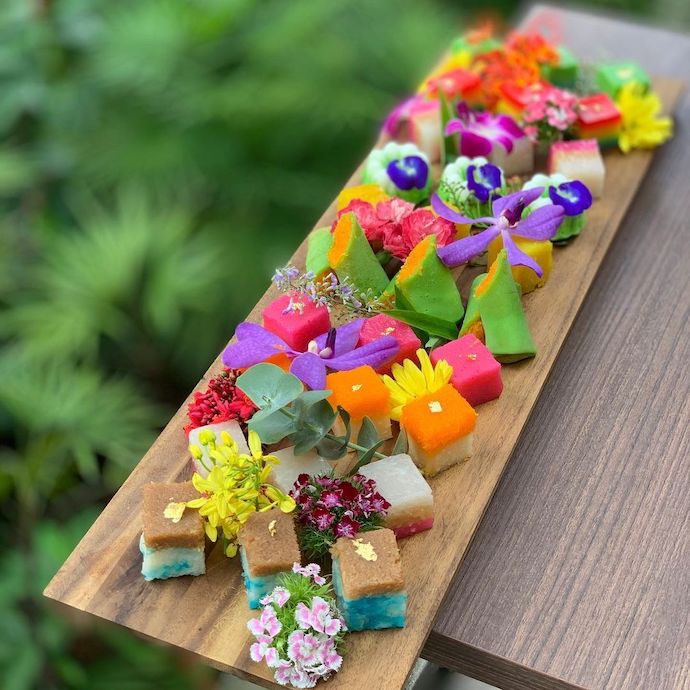 Besides being embellished with 24-karat gold leaves from Kanazawa, all of Atlas Handcrafted's nyonya kueh are also adorned with locally grown tropical flowers and sit prettily on slate plates, boards, trays or boxes, making them perfect as celebratory platters or gifts.
Best-selling kueh sets include Kueh Kaiseki (1 to 4 pax), which comes in a bento box; Single Slate (2 pax), presented on a small slate platter; and Grand Slate (8 pax), placed on a natural stone slate platter.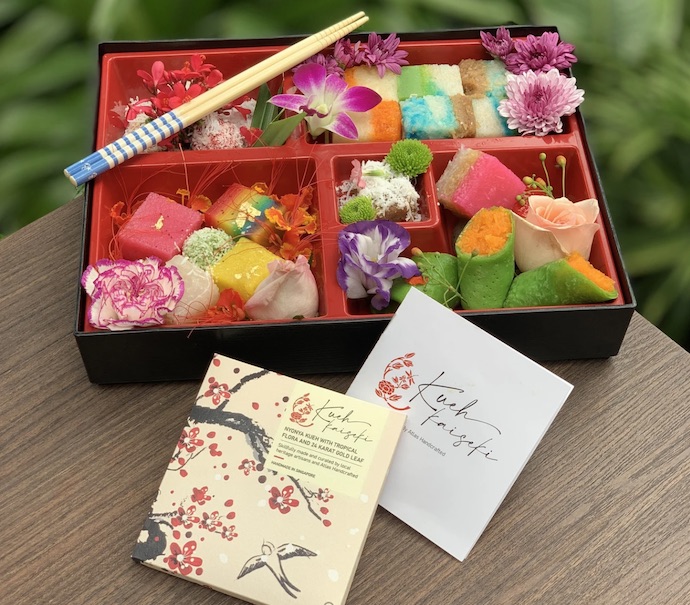 There are sets for up to 40 persons and every set will have Ondeh Ondeh, Kueh Salat and 9-Layered Kueh Lapis. Other sets will have kueh like Ang Ku Kueh, Kueh Dadar, Kueh Bingka Ubi, Getuk Ubi, Pandan Kueh Talam, Red Bean Kueh, Sago Kueh, Pulut Inti and Kueh Putri Ayu.
Order online
Chef Jeremy Nguee started Mrs Kueh with his mother Maureen Nguee to launch her Pandan Kueh Salat, arguably one of the best versions in town. Her kueh salat has won rave reviews for its light and silky smooth layer of pandan kaya custard and soft coconut cream-infused glutinous rice speckled with blue butterfly pea extract. The kueh comes in three sizes: 7-inch round, 5-inch x 8-inch loaf and 4-inch x 5-inch mini loaf.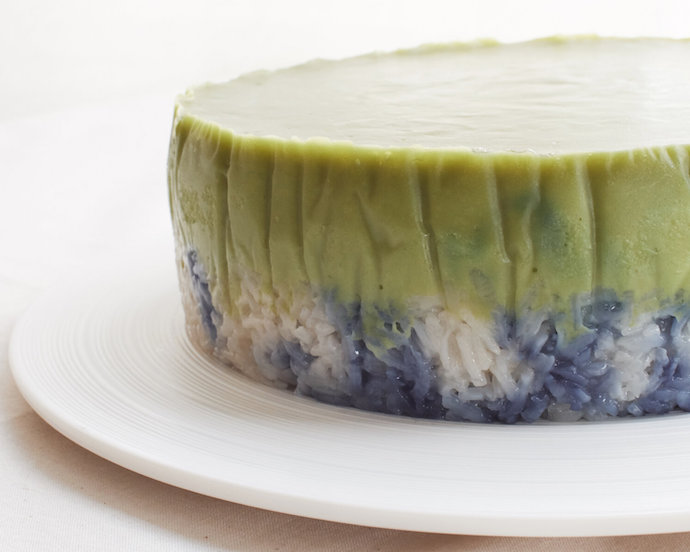 Durian fans will definitely want to sink their teeth into Madam Nguee's sweet and salty Gula Melaka Kueh Salat with Mao Shan Wang Durian, which comes with pure Mao Shan Wang puree to savour with each slice of kueh. To add some nutty texture to all that heady gooeyness, black glutinous rice (pulut hitam) is mixed with white glutinous rice.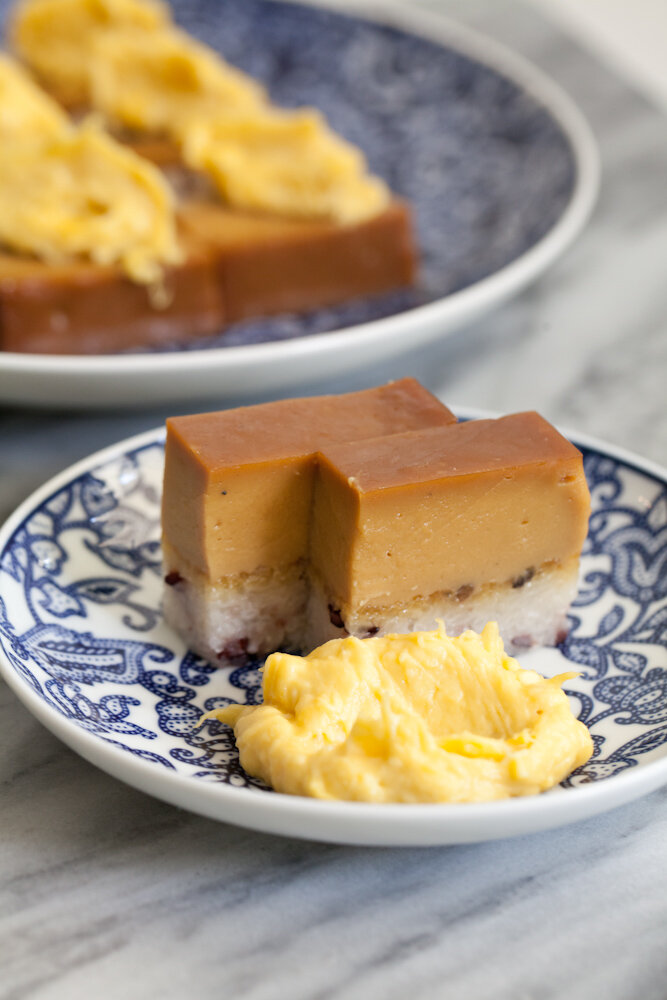 There's also traditional brown Kueh Kosui, available in 250g and 800g, flavoured with gula Melaka. The wobbly, pudding-like little cakes are tossed in generous lashings of freshly grated coconut.
DM on Instagram and Facebook or WhatsApp 9455 8418
When Calista Lim's mother realised how much her daughter loves nyonya kueh, she decided to learn how to make kueh to satisfy Lim's sweet tooth. But after getting married to her husband who's also a big fan of kueh, Lim decided to learn to make kueh from scratch, trying her best to capture the traditional flavours and texture of her favourite kueh.
An avid baker who finds baking therapeutic, she started One Sweet Bite to share her love of baking and bring joy and happiness to others.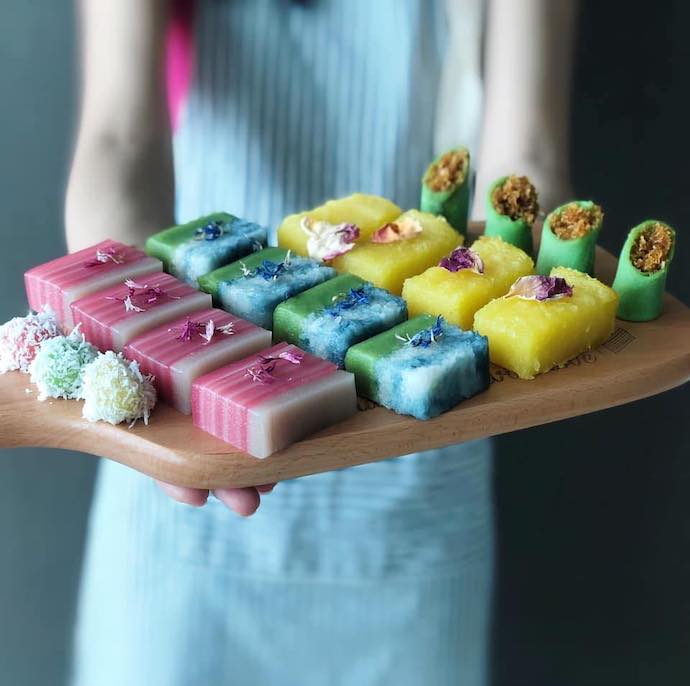 Infused with natural colouring from pandan juice, butterfly pea flower extract, beetroot juice and purple sweet potato, her kueh are not overly sweet and do not contain any preservatives, gelatin or lard.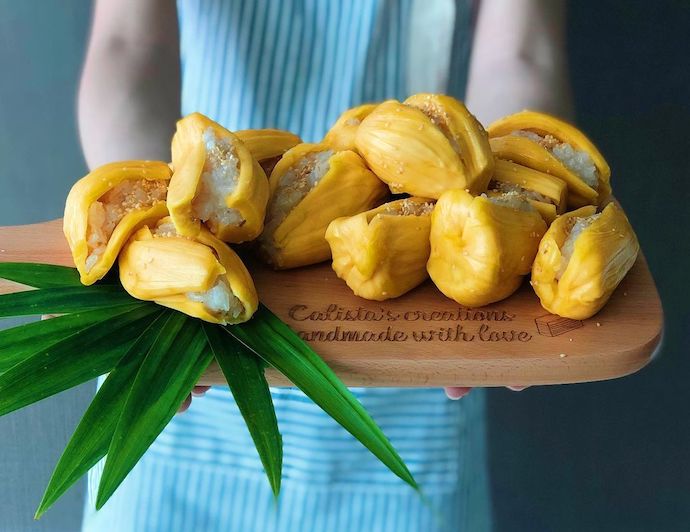 Lim makes traditional sweet kueh like Kueh Salat, Kueh Bingka Ubi, Kueh Dar Dar, Kueh Kosui, Kueh Talam, Lapis Sagu, Ondeh Ondeh, Pulut Inti and Kueh Ubi Kayu (Pandan, Lychee and Rose), as well as the savoury Tom Yum Ayam Lemper, her personal favourite kueh, made with chicken floss cooked in her version of tom yum paste.
Fans of jackfruit must try the Jackfruit Sticky Bites, Lim's unique creation and a crowd favourite, featuring fresh jackfruit stuffed with glutinous rice tinged with beetroot juice or purple sweet potato, topped with sesame seeds and coconut cream. There's also Longan Sticky Bites where a longan fruit crowns a dainty morsel of beetroot-stained glutinous rice.
Her bestseller is the 28-piece Assortment Box which offers a choice of five different kueh, and an option to add on a box of Ondeh Ondeh.
ALSO CHECK OUT