Thai food is world-famous for its intense, tantalising and spice-rich flavours. Put your diet plans on hold and get ready to savour these popular dishes.
Beef Noodle Soup
Tuck into rice or egg noodles served with a choice of beef balls, stewed beef or sliced beef (some places serve beef tripe and tendon), bean sprouts and greens in a rich, thick beef broth.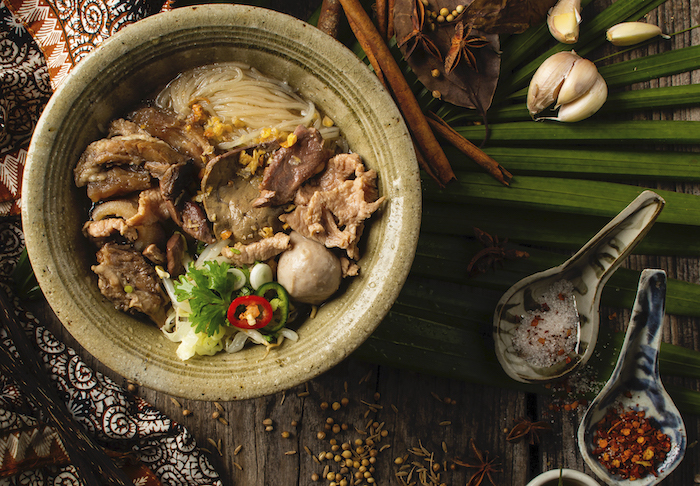 Boat Noodles (Kuay tiao rua)
Savour beef broth rice or egg noodle soup with bean sprouts and water spinach, commonly served with pork/beef slices, pork/beef balls, pig's liver and pig's blood.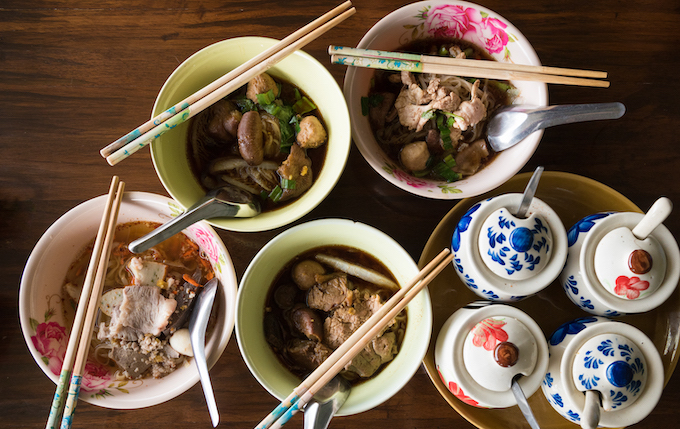 Cha Yen
Thai iced tea made with Thai black tea, sweet condensed milk and evaporated milk, finished with a drizzle of evaporated milk.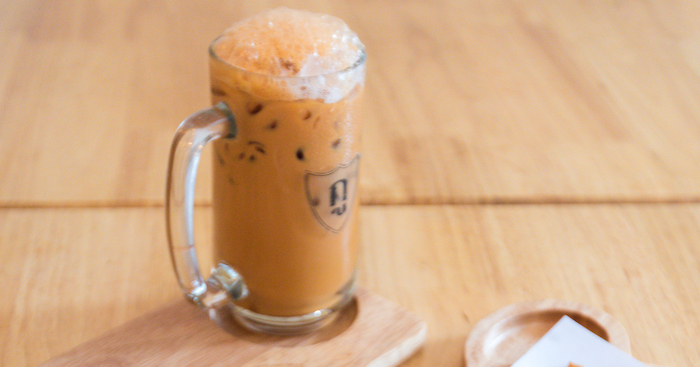 Deep-fried edible insects/worms/bugs
Bamboo worms, crickets, giant water bugs, grasshoppers, silk worms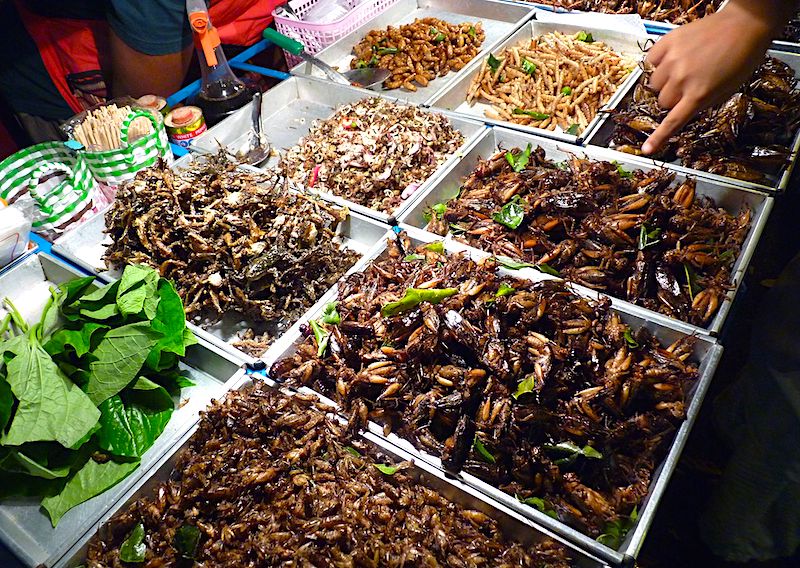 Gai Yang
This popular Thai-style chicken dish features chicken marinated with fish sauce, soy sauce, dark soy sauce, palm sugar, pepper, garlic, lime juice, lemongrass and coriander roots, grilled over wood or charcoal fire, and commonly eaten with sticky rice.)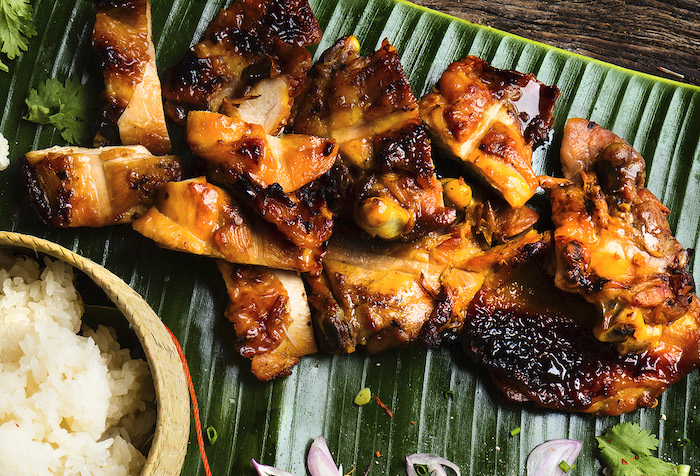 Green Curry Chicken
This coconut milk-based curry is one of Thailand's most famous curries. It is made with green curry paste, bamboo shoots, chicken, Thai basil, Thai eggplant, lemongrass, galangal and lime leaves.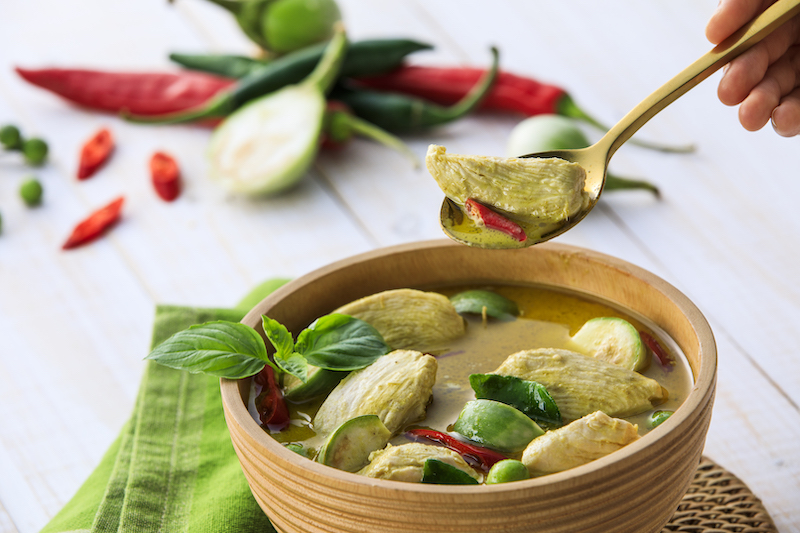 Green Mango Salad
This refreshing salad is made up of shredded green mangoes mixed with tomatoes, onions, cilantro, peanuts, dried shrimp and chilli, and tossed with fish sauce, palm sugar, tamarind pulp and lime juice.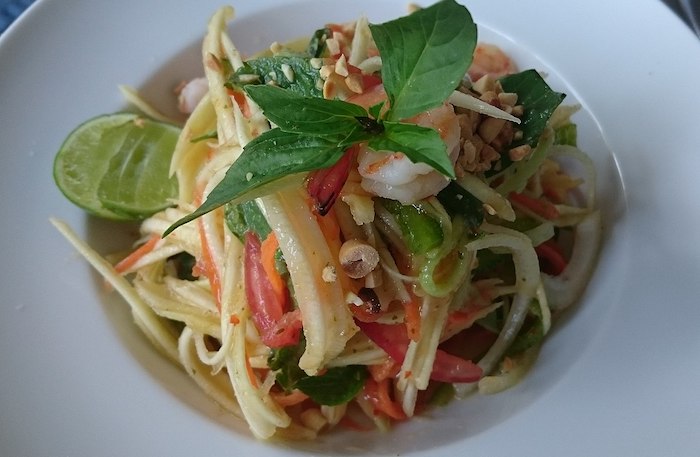 Jim Jum
Hot pot – pork broth in small clay pot served with morning glory, Thai basil, cabbage, pork, liver, eggs, glass noodles
Jok
Similar to Cantonese-style porridge, this Thai-style porridge is usually made with minced pork, and topped with soft-boiled egg, shredded ginger, green onions and crispy rice noodles.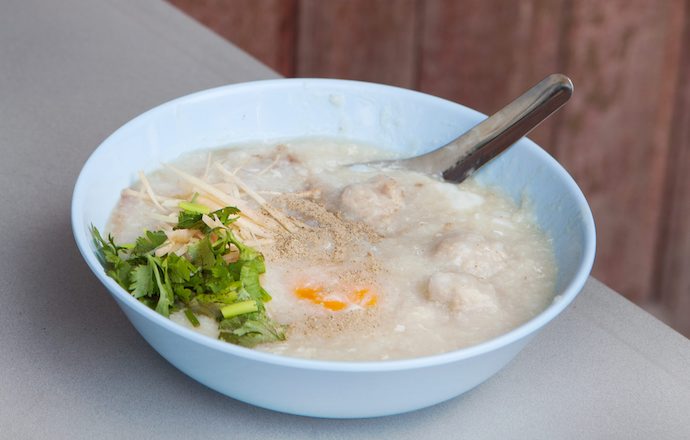 Kai Jiao Moo Sap
This Thai-style omelette has crispy edges and soft inner layers made up of minced pork, tomatoes, garlic, chilli, pepper and fish sauce.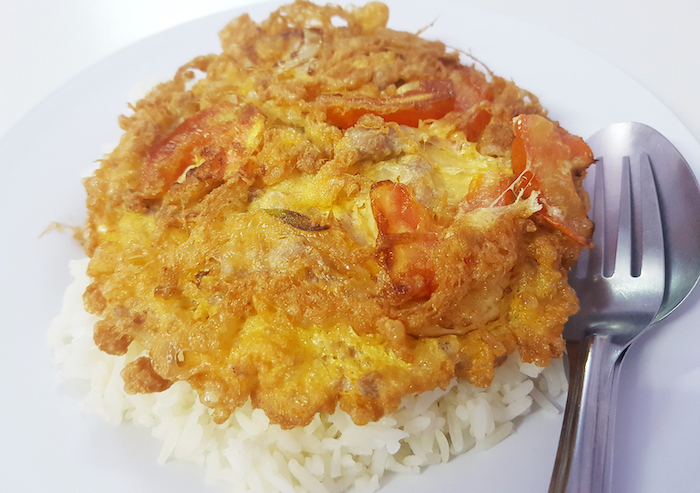 Kai Yat Sai
Minced pork cooked with vegetables, ketchup, fish sauce, oyster sauce and soy sauce, stuffed in omelette
Khanom Beuang
These sweet or savoury crispy crepes are filled with coconut cream, grated coconut and sweet toppings like raisins, persimmons or other dried fruit, or savoury toppings like dried shrimp, pork, egg, coriander leaves and onions.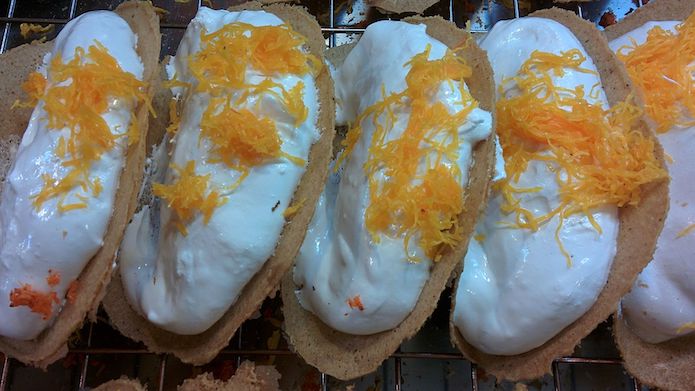 Khanom Duang
These sticky morsels are made with tapioca and rice flour cooked with coconut milk and sugar, dipped in food colouring and rolled in shredded coconut.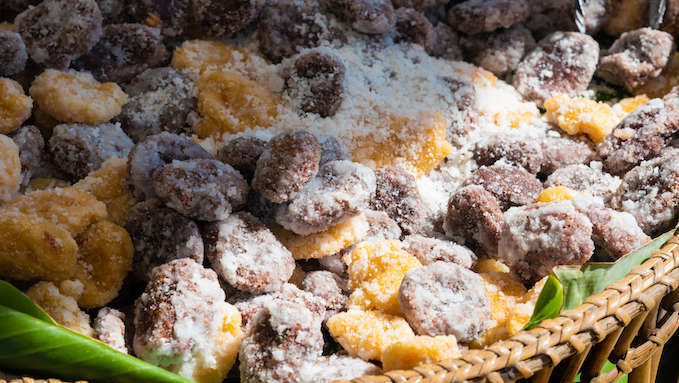 Khanom Jeen
This dish of thin rice noodles is eaten with a variety of curries, fresh, blanched, and pickled vegetables like long beans, pickled mustard greens, shredded cabbage, sprouts and Thai basil leaves.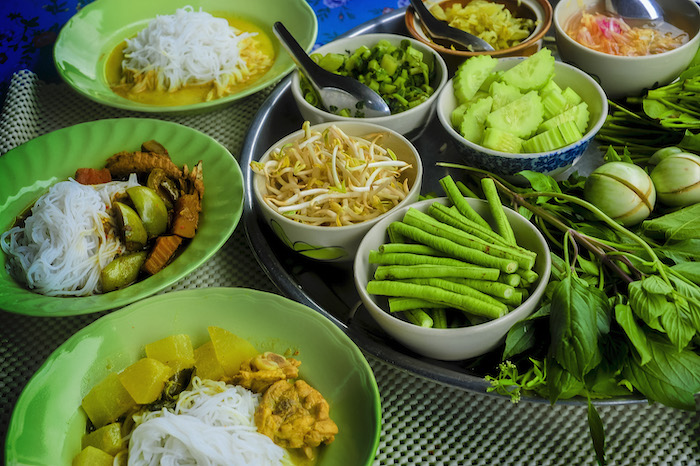 Khanom Krok
These small coconut cream and rice flour pancakes are filled with scallions, corn, taro or pumpkin.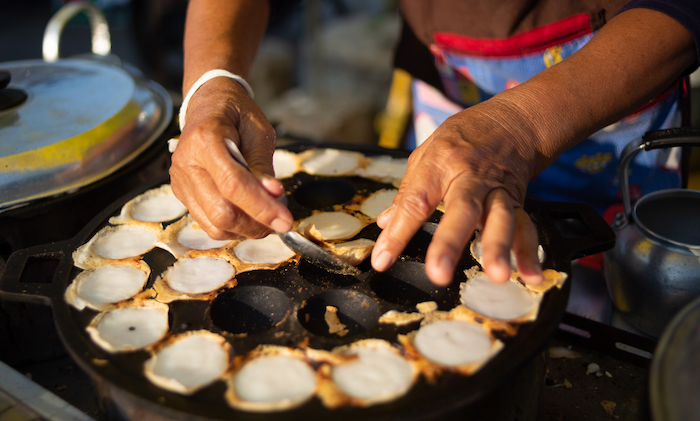 Khanom Mo Kaeng
This coconut egg custard is made with mung beans, taro, sweet potato or pumpkin.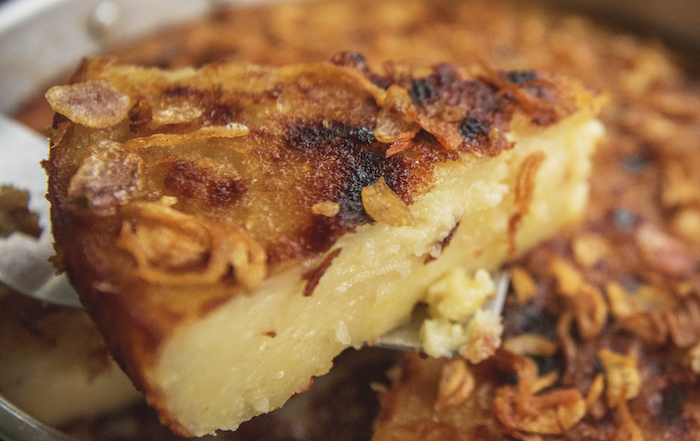 Khanom Tako
Tapioca or rice flour jelly with water chestnuts, topped with coconut cream, served in pandan leaf cup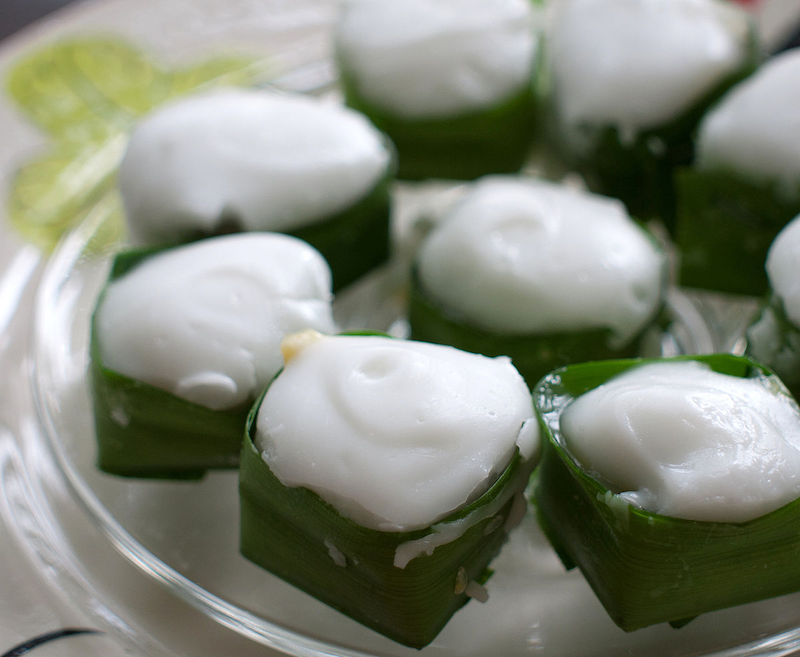 Khao Kha Moo
A perennial favourite, this dish of braised pork leg is served with rice, pickled mustard greens, Chinese kale and hard-boiled egg.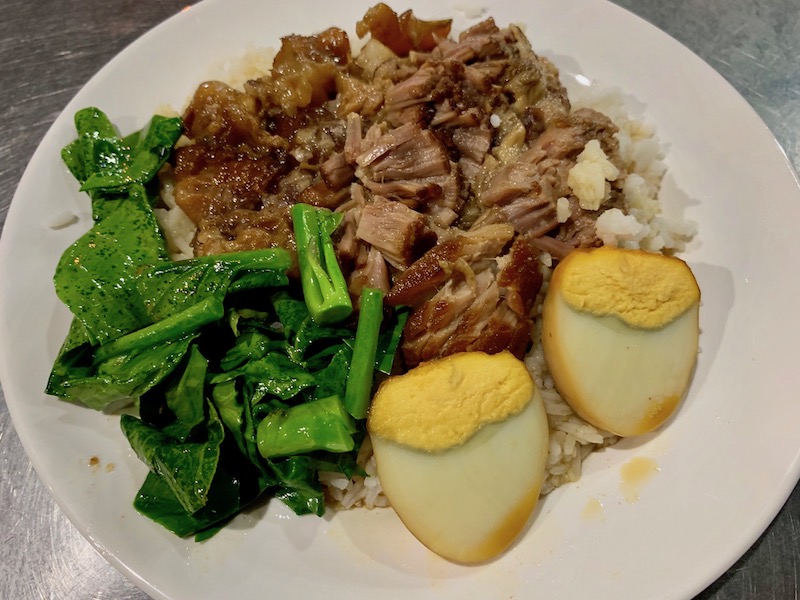 Khao Soi
This Northern Thai speciality is a coconut-based curry egg noodle with chicken or beef, topped with deep-fried crispy noodles and served with pickled mustard greens, onions and lime.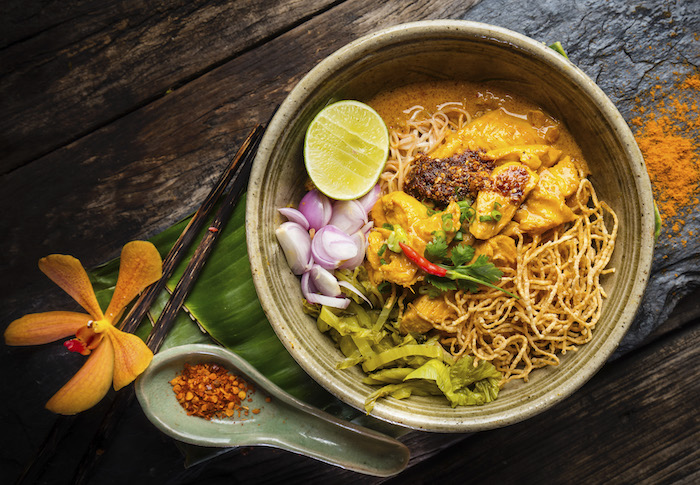 Larb Khua
An Isan speciality, this dish of minced beef, pork, chicken, duck or liver is mixed with spices and crushed dry fried rice grains.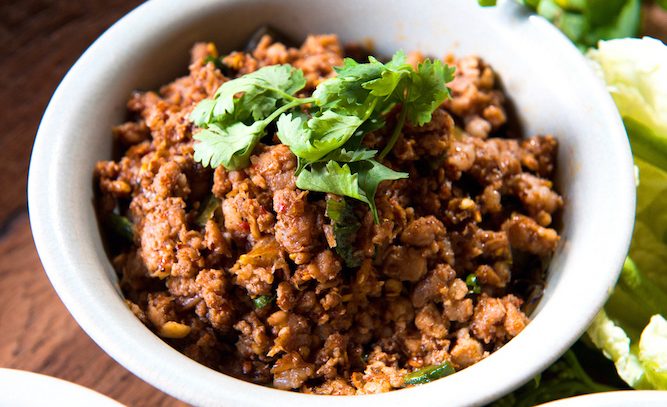 Luk Chub
These mini sweet mung bean marzipans are shaped into fruits and vegetables like mangosteen, mango and chilli, dipped in food colouring and glazed in gelatin.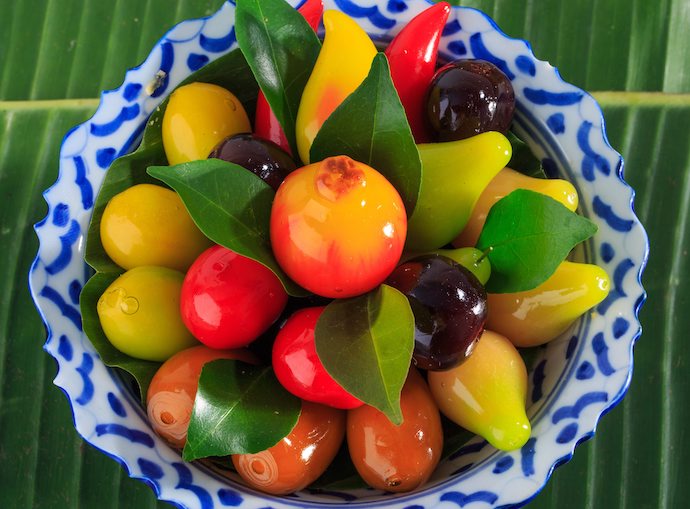 Mango Sticky Rice
One of Thailand's most popular desserts, mango sticky rice is made with glutinous rice mixed with coconut cream and sugar, and served with fresh mangoes.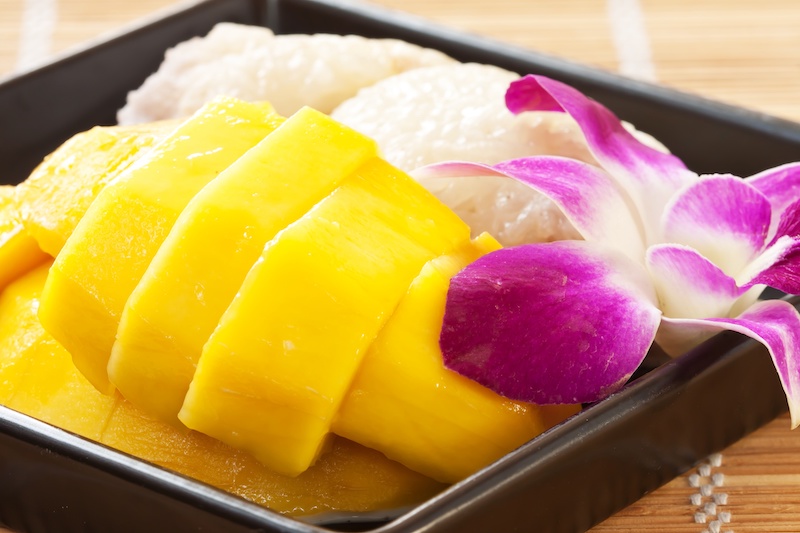 Massaman Curry
Indian-Muslim coconut-based curry cooked with chicken/beef/lamb, potatoes, peanuts, cinnamon, nutmeg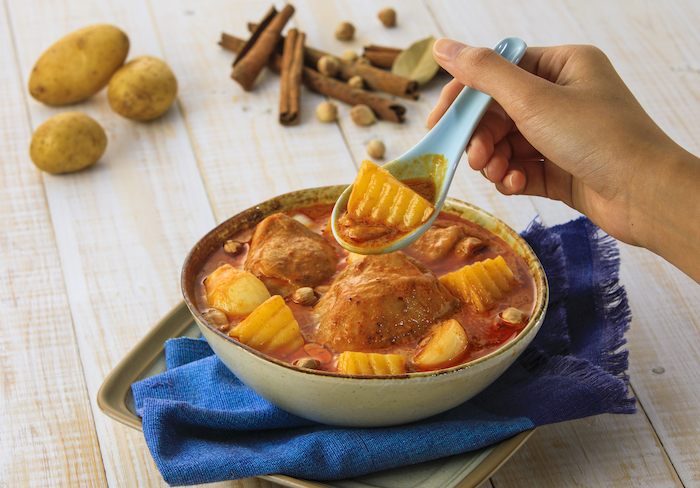 Mookata
Mookata (Thai for "pork skillet) refers to the dome-shaped metal grill with a soup trough which allows you to enjoy a barbecue and a hotpot or steamboat at the same time.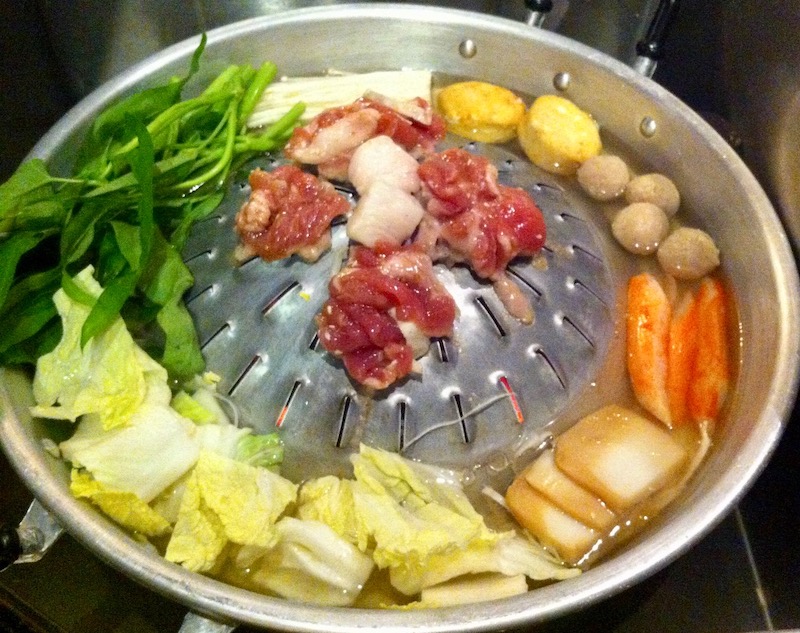 Nam Tok Moo
Grilled pork mixed with lemon juice, green onions, chilli, mint leaves, fish sauce and toasted rice.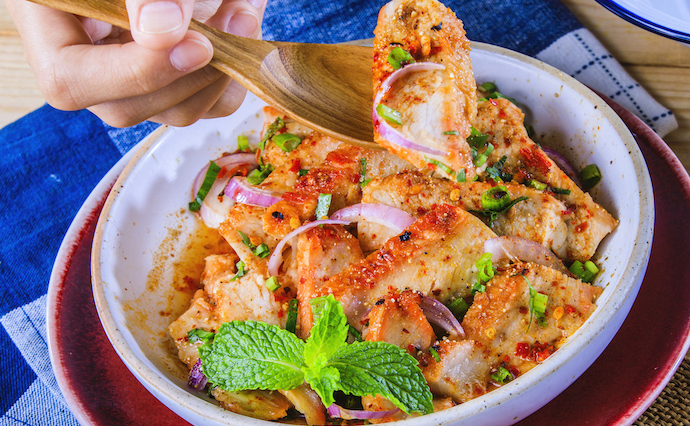 Pad See Ew
Stir-fried wide rice noodles, typically with pork, chicken or shrimp, dark soy sauce, egg, Chinese broccoli and garlic
Panang Curry
Savour this spicy red curry with chicken and coconut cream, sprinkled with sliced kaffir lime leaves and chillies, with steamed rice.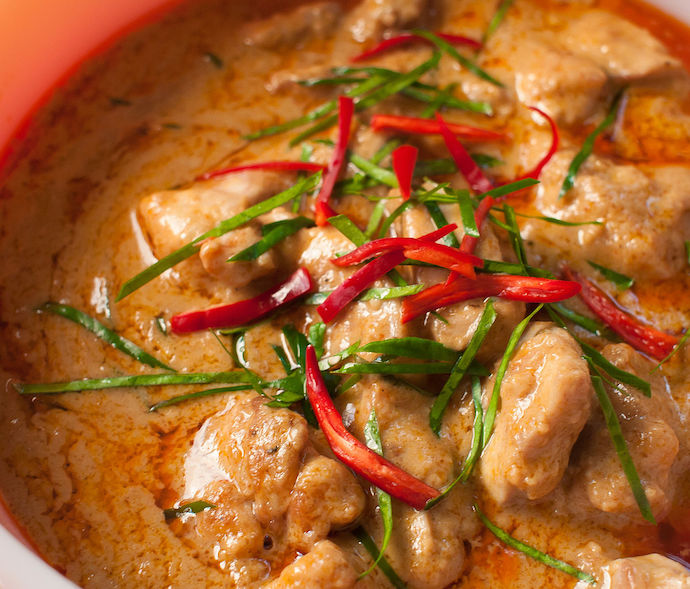 Phad Kra Pao
This is a classic rice and meat dish where Thai basil is stir-fried with meat or seafood, garlic, chilli and green beans, served with rice and topped with fried egg.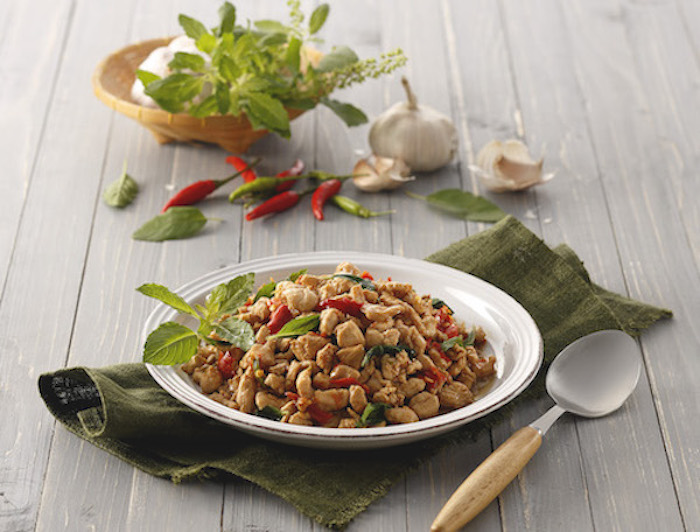 Phad Thai
Thailand's most famous noodle dish, Phad Thai features rice noodles stir-fried with dried or fresh shrimp, bean sprouts, tofu and egg, topped with Chinese chives and crushed peanuts.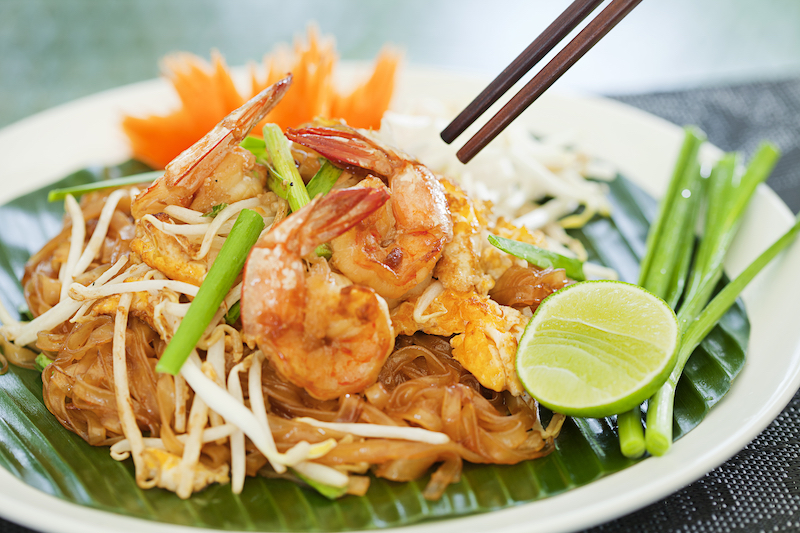 Sai Ua
This Thai-style spicy pork sausage is infused with herbs and spices such as lemongrass, kaffir lime leaves, galangal and chillies.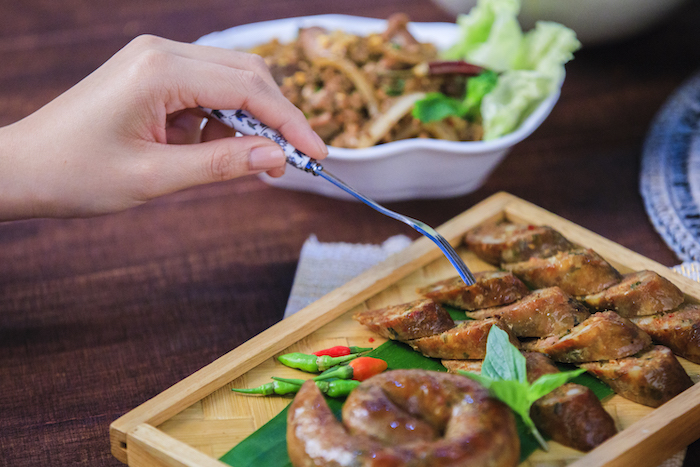 Sang Kaya Fug Tong
A whole pumpkin is deseeded and filled with creamy coconut egg custard and steamed.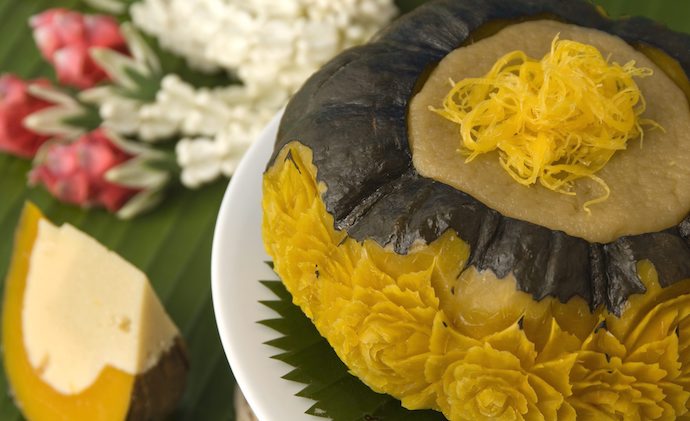 Som Tam
The well-loved green papaya salad comprises tomatoes, long beans, peanuts, dried shrimp (sometimes with small black crabs) and chilli, tossed with fish sauce, palm sugar, tamarind pulp, lime juice and garlic.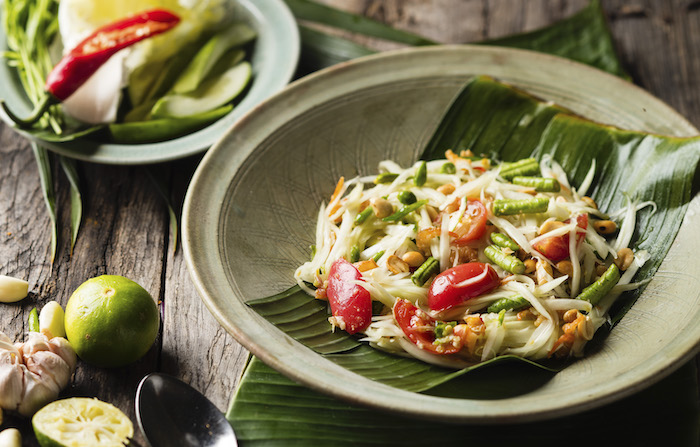 Steamed snapper/seabass with lime and garlic (Plah kah pung neung manow)
Thai-style steamed fish topped with lots of garlic, chillies and cilantro in a sauce made with fish sauce and lime juice
Sticky rice in bamboo
These white or dark purple glutinous rice are mixed with coconut cream and sugar, and often combined with red beans or black beans, and cooked in bamboo cylinders.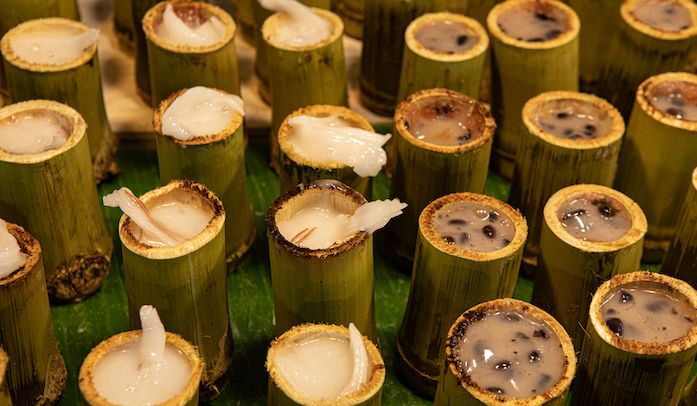 Thai coconut ice cream
Ice cream made with coconut milk, coconut water and sugar, often topped with peanuts, jelly, corn and sometimes mung beans and bits of fruit such as mango.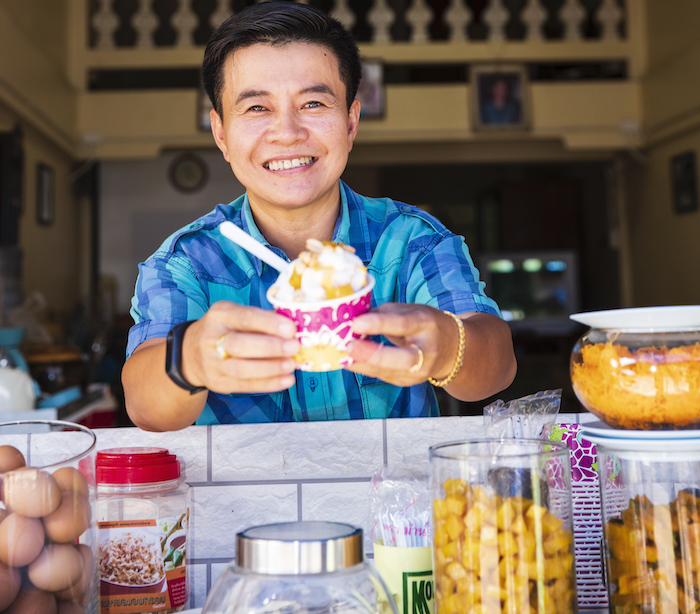 Tod Mun Pla
These fried Thai fish cakes are made from fish paste mixed with long beans, red curry paste, fish sauce, egg and kaffir lime leaves.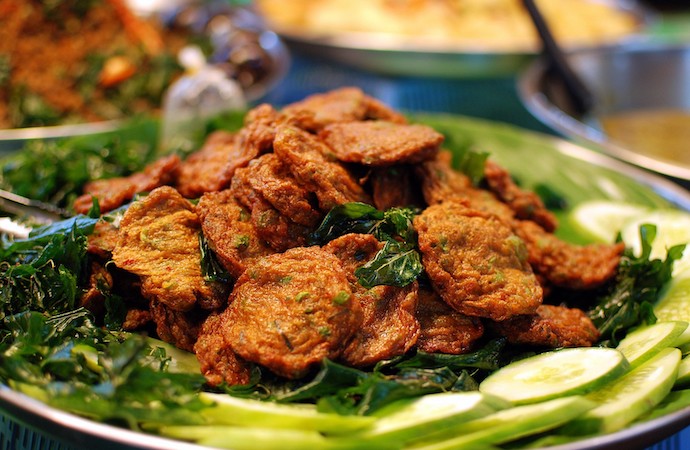 Tom Kha Gai
This popular Thai chicken soup boasts an aromatic broth made with coconut milk, lemongrass, galangal, fish sauce, kaffir lime leaves, lime juice, onions, chillies, mushrooms and cilantro.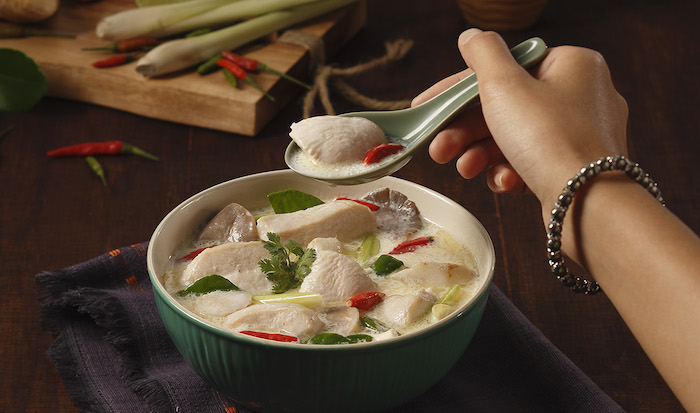 Tom Yum Goong
Thailand's classic sour and spicy soup with prawns features a flavourful stock made with lemongrass, galangal root, kaffir lime leaves, bird's eye chillies, fish sauce, tamarind paste and lime juice.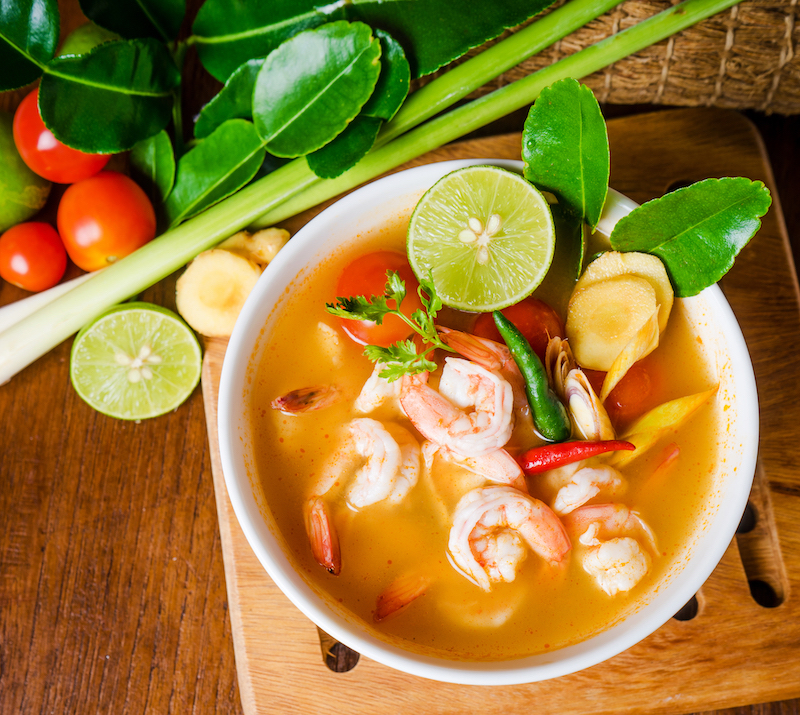 Tub Tim Krob
These Thai red rubies are made from water chestnuts dipped in red food colouring, tossed in tapioca flour and boiled, and served in sweetened coconut milk and shaved ice.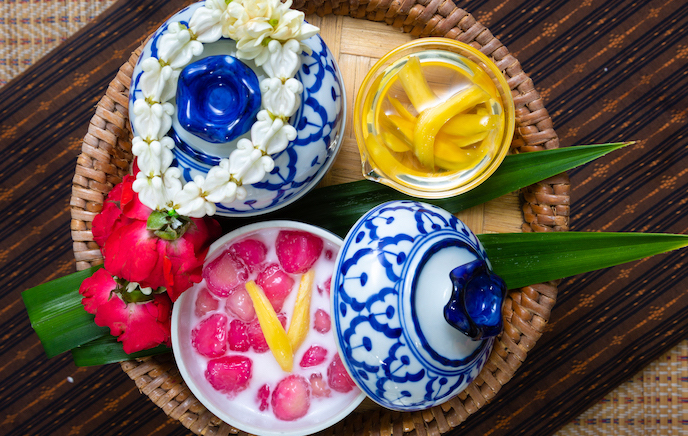 Yam Plah Duk Foo
This dish of deep-fried fluffy catfish is served with a sauce made with mango, lime juice, red onion, cilantro, dried shrimp, peanuts and fish sauce.