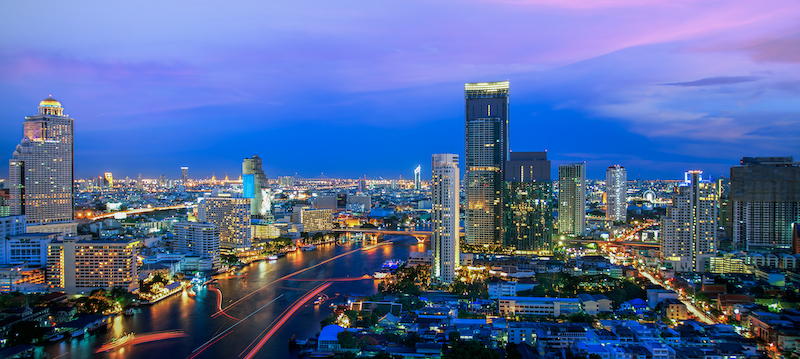 Here are some practical and useful travel information and tips to help make your trip to the Land of Smiles a memorable one.
TIME ZONE
GMT+7
POWER PLUG
• Voltage: 220 volts
• Frequency: 50 hertz
• Power socket: Plug types A, B, C
CURRENCY
Thai baht (THB)
Denominations
• Notes: 20, 50, 100, 500, 1,000 baht
• Coins: 1, 2, 5 and 10 baht, 25 and 50 satang
Foreign currency is rarely accepted for small transactions so be sure to have Thai baht on hand.
ATMs are easy to find in Thailand (except in remote areas) and most accept major credit cards so you can easily withdraw Thai baht. Note that most Thai banks charge a fee for each withdrawal that uses a foreign credit card.
Most hotels, restaurants, businesses, shopping centres and tourist shops accept major credit cards.
VISA
Visa Exemption
• All citizens of countries in Southeast Asia can enter Thailand without a visa.
• Citizens/passport holders of over 50 countries including Australia, Austria, Belgium, Brazil, Canada, Denmark, Finland, France, Germany, Greece, Hungary, Italy, Japan, Korea, New Zealand, Poland, Russia, South Africa, Turkey, UK, US can also enter Thailand without a visa. Click here to see the full list of countries.
Visa On Arrival
Apply for a Thailand Visa on Arrival online here.
CULTURAL DO'S & DON'TS
Do's
• Greet others with a smile and by saying "sawasdee" followed by "khaa" if you are a lady ("sawasdee khaa") or "khrap" if you are a guy ("sawasdee khrap").
• The traditional way of greeting in Thailand is known as the wai, where your palms are pressed together in a prayer-like manner in front of your chest with fingertips pointing up and giving a slight bow with your head. When greeting monks, your fingertips should touch your forehead to give a higher wai.
• Address locals with the honorific title "khun" for both men and women, followed by their first name, or both first and last name. Note that nicknames are common in Thailand.
• Remove your shoes before entering a temple, a building which has a Buddha image within or a home.
• Always use the right hand to receive or give something, as the left hand is considered unclean.
• Stand in respect when the Thai national anthem is played.
Don'ts
• Never show anger, speak loudly or criticise anyone in public as Thais consider these actions inappropriate for an adult.
• As the head is considered the most sacred part of the body, do not touch a person's (even a child's) head. As the feet are considered unclean, never use your foot to point at a person or any object, or put your feet up on a desk or chair.
• Do not cross your legs in the presence of the elderly or monks.
• Women should not touch or hand anything directly to a Buddhist monk.
• Avoid wearing sleeveless shirts, short skirts or shorts when visiting temples.
• Do not touch a Buddha statue or climb upon any Buddha image to take a photo. Always ask permission before taking photos in temples.
• Buddha images, Bodhisattva images or fragments, part of ancient monuments and prehistoric objects, are not allowed to be taken out of Thailand. Newly cast Buddha images in complete condition can be exported for worship, cultural exchange or educational purposes with licenses issued by the Fine Arts Department. Not more than than pieces per person shall be allowed. Reproductions of antiquities can also be exported with licenses.
• The monarchy is highly respected in Thailand and its strict lese-majeste laws make it a crime to criticise, defame or insult members of the royal family.
• Avoid buying any products or souvenirs made from wild animals including snakes, monitor lizards, turtle shell and ivory.
• Avoid patronising local restaurants that serve wild animal delicacies as it's against the law to slaughter wildlife for food in Thailand.