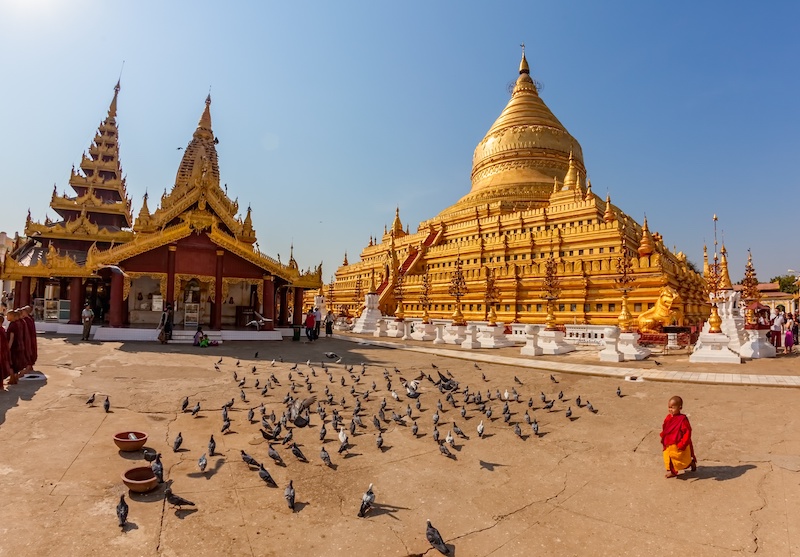 Here are some practical and useful travel information and tips to help make your trip to Myanmar a memorable one.
TIME ZONE
GMT+6.30
POWER PLUG
• Voltage: 230 volts
• Frequency: 50 hertz
• Power socket: Plug types C, D, F, G
CURRENCY
Burmese kyat (MMK)
Denominations
• Notes: K1, K5, K10, K20, K50, K100, K200, K500, K1,000, K5,000, K10,000
• Coins: 1, 5, 10, 50, 100 pyas
US dollars and euros are accepted at most hotels, restaurants, domestic airline offices and road transport services while kyat is preferred at local markets and shops.
US dollar or euro banknotes should be in pristine condition. Banknotes that are slightly creased, have small tears or have writing or ink stamps on them will most likely not be accepted. When accepting US dollars or euros, inspect the bills carefully.
US $100 bills with series beginning with CB may not be accepted because they are associated with a counterfeit "superbill" which was in circulation some time ago. Money exchangers may also not accept US bills issued before 2006.
VISA
Visa Exemption
Citizens of Brunei, Cambodia, Indonesia, Laos, Philippines, Thailand, Singapore and Vietnam can enter Myanmar without a visa.
eVisa Online
Apply and pay online for a Myanmar visa here.
CULTURAL DO'S & DON'TS
Do's
• Greet others with a smile and by saying "Mingalarbar" (roughly translated as "auspiciousness to you").
• Address locals with the honorific title "U" for older men or "Maung" or "Ko" for younger men, and "Ma" for older women or "Daw" for younger women before their first or last names.
• Show respect to the elders by lowering your head when you are passing through in front of them and allowing the oldest to be served first.
• Remove your shoes before entering pagodas, monasteries or private homes.
• Always ask permission before taking photographs.
• Always use both hands to pass items to others.
• Always treat Buddha images in the temples as well as Buddha-themed souvenirs with respect. If you have religious tattoo images on your body, be sure to cover them up.
Don'ts
• As the head is considered the most sacred part of the body and the soles of feet the least, do not touch a person's (even a child's) head or use your foot to point at a person or any object.
• A man should not shake hands with a woman unless the woman extends her hand first.
• Women should not touch Buddhist monks or hand anything directly to them.
• Do not sit with your back towards Buddha images. Your feet should also not be pointed towards Buddha images.
• Avoid wearing sleeveless shirts, short skirts or shorts when visiting temples.
• Do not show physical affection in public places.
• Do not discuss religion with any local.