You're probably familiar with the sights and sounds of Bangkok, Thailand, but do you know how much has changed since your last visit before Miss Rona brought travel to a screeching halt?
Whether it's serene relaxation, wallet-friendly shopping, fabulous views or delectable culinary gems you're after, Bangkok has got them all! The vibrant city brims with a plethora of exciting activities for all age groups.
We spotlight six new and improved things for you to do in Bangkok, on top of your usual must-do shopping at Chatuchak Weekend Market and feasting in eateries along Yaowarat Road (Bangkok's Chinatown).
Visit ICONSIAM, the state-of-the-art mall by the river
299 Charoen Nakhon Road, Khlong Ton Sai, Khlong San
Getting there: Board the free ICONSIAM shuttle boat at either Sathorn Pier (short walk from Saphan Taksin BTS Station) or Si Phraya Pier, operating from 9am to 11pm daily
Opening hours: 10am to 10pm daily
Making a 10-minute ride across the Chao Phraya River, what soon comes into view is ICONSIAM, Bangkok's shiniest mall which boasts an indoor "floating" market, a plethora of delicious dining options and luxury shopping all under one gorgeous roof.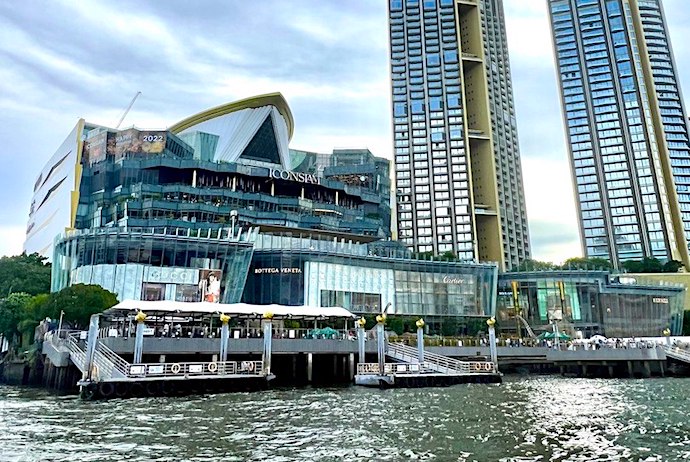 After a day's worth of filling your bags with just about everything anyone could possibly want, make your way up to one of the mall's rooftop restaurants to sip on wine as you soak up picturesque sunset views over the Chao Phraya River. Enjoy the great views with Thai classics plus fine cocktails at Baan Khanitha.
When dinner's done, check out SookSiam, the mall's indoor "floating" market located on the ground floor. Flowing through the heart of the market is a mini river-like water feature, adding a picturesque touch to an already exciting landscape. Besides a wide selection of food and drinks, there are also stalls selling clothing, handicrafts and cultural souvenirs from 77 provinces across Thailand.
And if all that wasn't reason enough to make a trip down, surely the unique experience of getting ferried to the mall via a complimentary boat ride might tip the scales for you.
Café-hop at the quaint Ari region
25 Ari 4 Fang Nua Alley, Samsen Nai, Phaya Thai
Getting there: A 9-minute walk from Ari BTS station
Opening hours: Monday to Friday – 10am to 8pm, Saturday & Sunday – 10am to 8.30pm
Fans of Insta-worthy cafés will want to make a beeline for Ari, dubbed Bangkok's trendiest neighbourhood and home to quaint and cool cafés. With a pastel pool-like photo spot and rows of cafes in the vicinity, you might just mistake Gump's Ari for South Korea's famed Stylenanda café. And in a similar fashion, there are also rows of photo booths so that you can snag a piece of the unique neighbourhood home.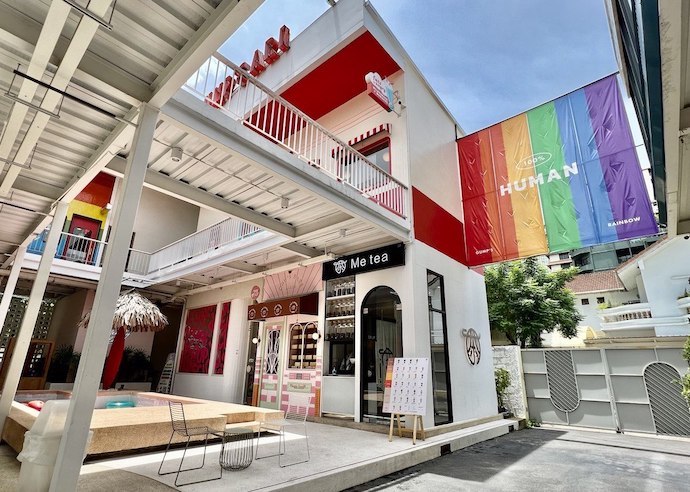 For tea lovers, the bittersweet, creamy Matcha Latte from Grafika Coffee Stand is a must-try. Of course, there's coffee and also dirty lattes for those who're looking to switch things up a tad.
There's also no shortage of dining options in the Gump's Ari space. Satisfy your craving for cheeseburgers, hotdogs, fries and milkshakes at American diner Fats & Angry (yes, you read that right) and be transported to the funky world of the 80s.
Cuddle furry friends at Little Zoo Café
486 On Nut Road, Khwaeng Suan Luang, Suan Luang
Getting there: A 9-minute walk from Ari BTS station
Opening hours: 11am to 8pm daily
In its new location in On Nut, Little Zoo Café's renewed space has vast areas for visitors and furry ones alike to interact with one another. Here, you can get up close and personal with the likes of raccoons, corgis, fennec foxes, meerkats, owls, hedgehogs, guinea pigs, cats and more. If you have a soft spot for all things small, the animal cafe will be your slice of fuzzy heaven for a couple of hours.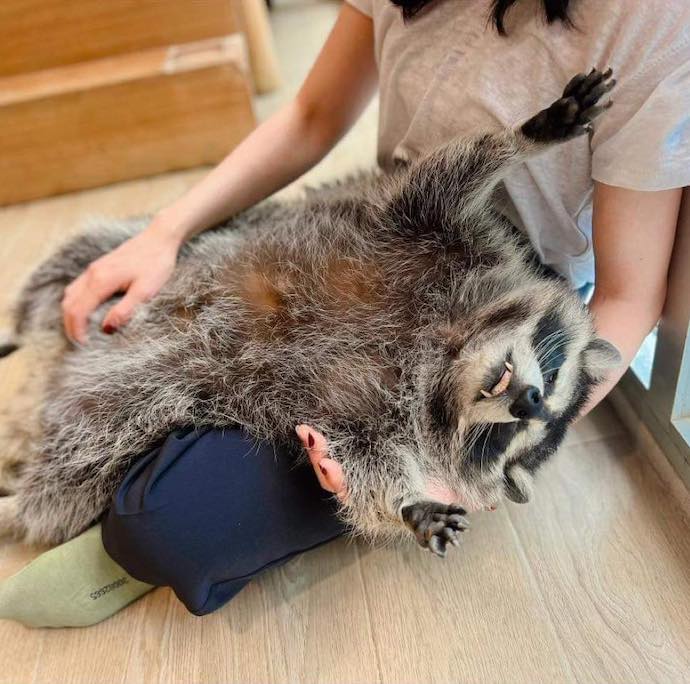 It also has a café space that's dedicated for humans to refuel with coffee, desserts and other treats before resuming cuddle time with the tiny, furry ones. Be sure to have your phone on standby to capture the antics of the animals.
Eat your heart out at the new and improved Jodd Fairs
Rama IX Road, Huai Khwang
Getting there: A 5-minute walk from Phra Ram 9 MRT station
Opening hours: 4pm to midnight daily
The re-opening of Jodd Fairs brought hope to the previously despairing fans of Rot Fai night market and along with it, a bigger, bolder and more organised attraction. Now located in the Rama region, Jodd Fairs, and all its glistening fairy lights, is easy to spot even from a distance away.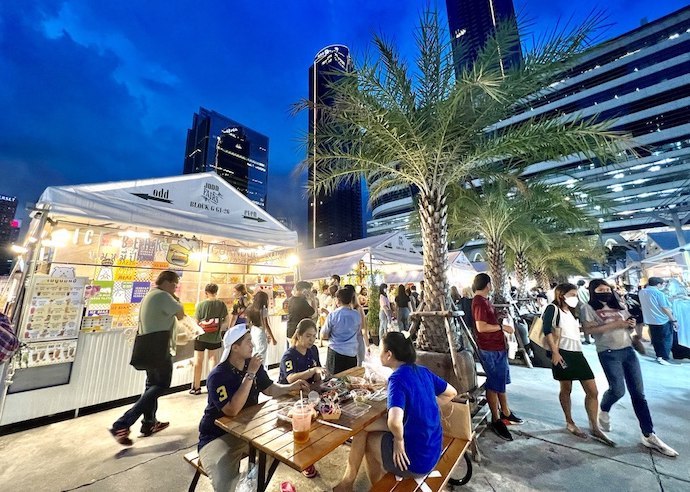 Those familiar with the night market can expect the same classics such as leng saap (Thai dish of boiled pork bones served with a spicy sauce), fried chicken, fried squid, fried quail's eggs and other Thai street food, as well as retail favourites like dresses, tees and bags. Essentially, it's everything you came here for with an improved market layout that'll make your shopping experience breezier, neater, cleaner and more socially distanced.
Dine at 747 Café, a repurposed Boeing 747 aircraft in the Lad Krabang district
627 1 Luang Phaeng Rd, Khwaeng Thap Yao, Khet Lat Krabang
Getting there: A 10-minute drive from Suvarnabhumi Airport
Opening hours: 10am to 7pm daily
Enjoy a drink or meal inside Thailand's largest airplane café, housed in a 71m-long retired Jumbo jet that has been outfitted with a bar, plush interiors, comfy seats and LED lighting.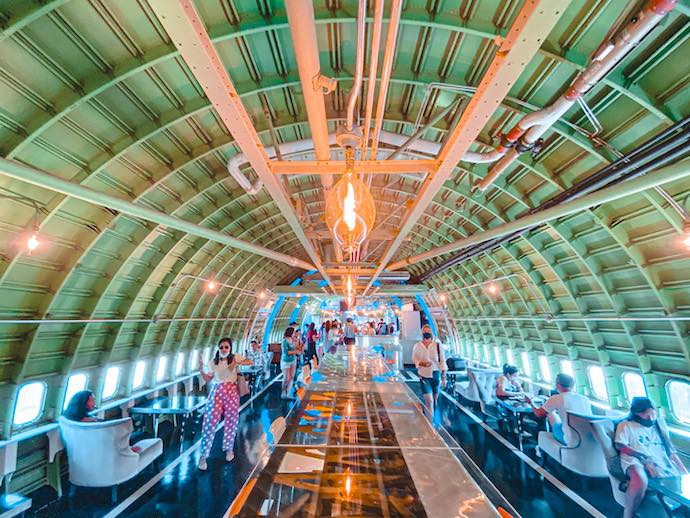 With an entrance ticket of 120 baht (approximately S$4.50), which can be used to offset your meal, you can pick up lunch and some drinks from the lounge area. By day, the aircraft houses cafegoers hoping to snag a cup of coffee. At night, the area around the gargantuan airliner transforms into Club 747 for live music, the occasional themed nights and drinking sessions.
If you're lucky, you may get a chance to sit in the captain's seat in the 747 cockpit!
Benjakitti Forest Park
Ratchadaphisek Road, Khlong Toei
Getting there: A 15-minute walk from Queen Sirikit National Convention Centre MRT Station, Sukhumvit MRT station and Asok BTS Station
Opening hours: 5am to 9pm daily
First opened in 1994, Benjakitti Park has completed its expansion into a massive green space, taking over the area where a factory run by the Tobacco Authority of Thailand once stood.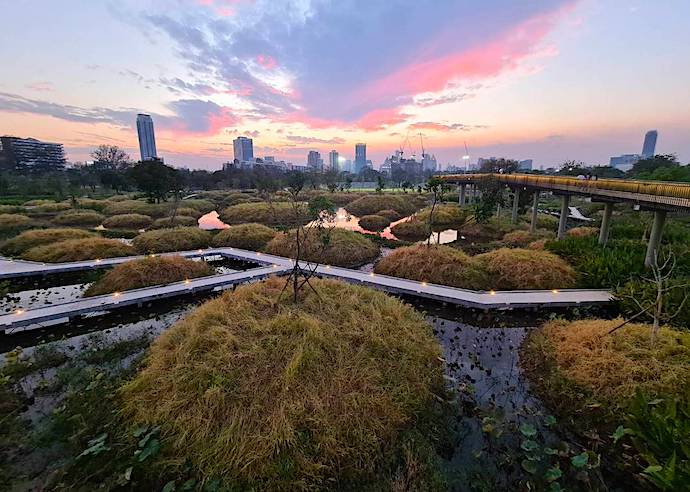 Comprising a 5.8km nature trail, 2.8km running path, 3.4km dedicated cycling path, a large amphitheatre and sprawling lawn, the multi-purpose park boasts plenty of flora, fauna, waterways, and most importantly, stunning views at dusk. It also has an elevated 1.3km pedestrian walkway and cycling path (aka The Green Mile) which connects it to Lumpini Park.
The extensive walking trails are perfect for a post-dinner walk or a romantic stroll with your significant other. Its convenient location in Bangkok's business district makes it a great stop for when you want to enjoy the outdoors and green views.
This article is adapted from Now Boarding by Changi Airport's "6 new things to do in Bangkok for your next weekend getaway"