There's something oddly magical about the combination of beaming lights, music and vibrant colours. It's easy to be drawn to such wonderful displays, even when they're captured on drones and shown live on screen.
We're lucky enough to have a couple of popular light shows to choose from here in Singapore. The shows are not only readily available for viewing; they also come in a variety of projections and even storytelling.
Spark some brightness into your night with these five light shows.
Free show
7.45pm and 8.45pm daily
Gardens by the Bay has long been a must-visit for both locals and tourists, and for good reason. The popular attraction has even made appearances in Hollywood films like Crazy Rich Asians. But did you know that there's more to love about the giant, futuristic trees situated at the Supertree Grove? They're gorgeous in the day, sure, but even more so when night falls. That's when you get to witness the brilliant Supertrees in "action".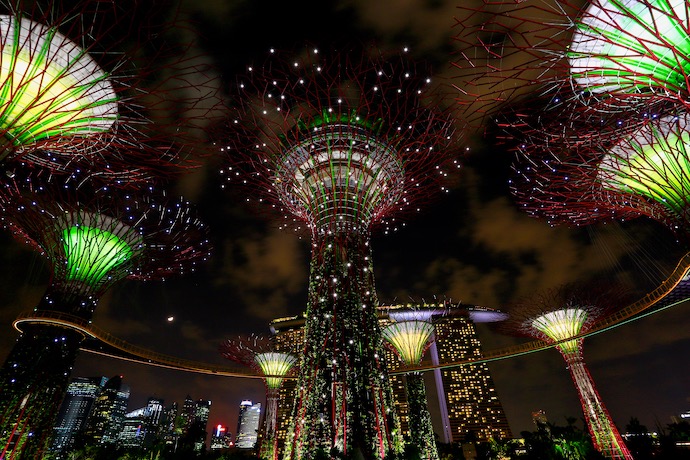 Its ever-spectacular light show, aptly named Garden Rhapsody, brings life to the towering gardens through bright lights, all of which radiate to the beat of an immersive soundtrack. The soundtrack and light choreography changes regularly depending on the season or theme of the show. Best of all, the light show is free!
Free show
Monday to Thursday: 8pm & 9pm
Friday to Sunday, public holidays & eve of public holidays: 8pm, 9pm & 10pm
The mighty cascade of the HSBC Rain Vortex, the world's tallest indoor waterfall, is a strong enough attraction to draw people to Jewel Changi Airport. But did you know that this feature looks even more spectacular at night?
When the sky darkens, the HSBC Rain Vortex takes on a mystic splendour. That's when the water transforms into a projected light-and-sound show. Fun fact: the HSBC Rain Vortex was engineered by Los Angeles-based design firm WET, the company responsible for the legendary Fountains of Bellagio in Las Vegas.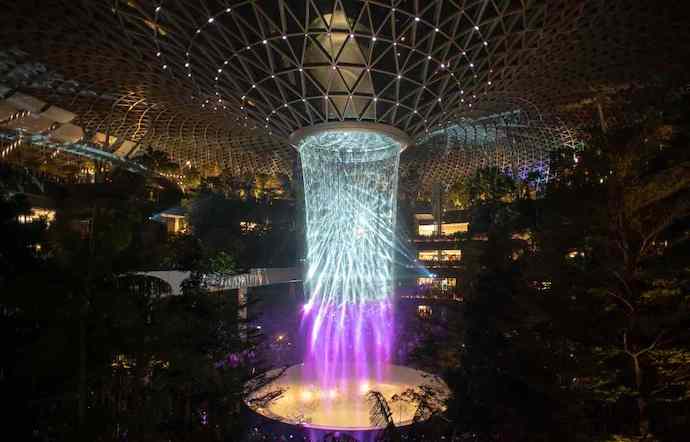 The Light & Sound Show can be viewed from several vantage points – from several floors above or close-up from ground level. You might even get good views while dining at the various eateries.
If you're lucky, you may even catch a festive-themed show or enjoy your favourite song paired with the ephemeral colours in the same vein as those featured in the special edition of the show with BTS' Dynamite that ran from May to July 2022.
Free show
Sunday to Thursday: 8pm & 9pm
Friday & Saturday: 8pm, 9pm & 10pm
For an outdoor extravaganza displayed over the water, make your way to the Event Plaza of The Shoppes at Marina Bay Sands to discover the magic of Spectra – A Light & Water Show.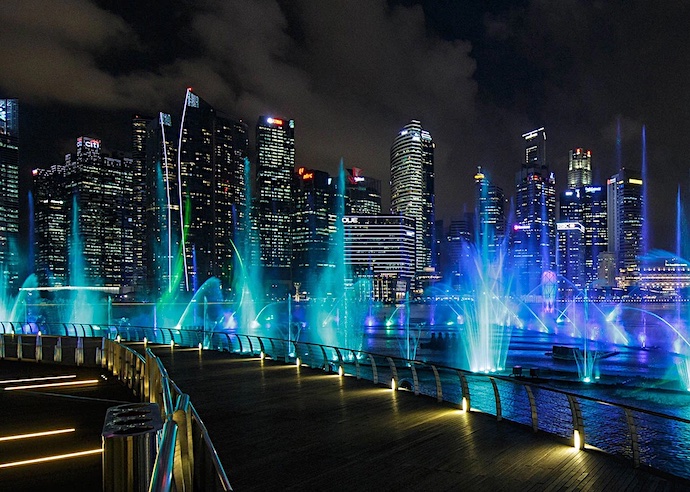 More than just an impressive display of colours, the 15-minute show has a four-part story. Through stunning laser effects, fountain jets and the perfect combination of light, water and sound, you'll get a fascinating visual depiction of Singapore's growth – from the country's humble kampung beginnings to the modern metropolis that it is today.
What makes the show even more special is that it's set against the backdrop of the Singapore skyline. Be sure to arrive early to secure a good spot, especially during the weekends.
$5 per person
Shows run from 11am to 9pm daily (last show at 8.50pm)

Discover a futuristic blend of art, nature and technology at Digital Light Canvas (#B2-50, next to Rasapura Masters food court), presented in collaboration with teamLab, the Japanese collective behind ArtScience Museum's Future World: Where Art Meets Science.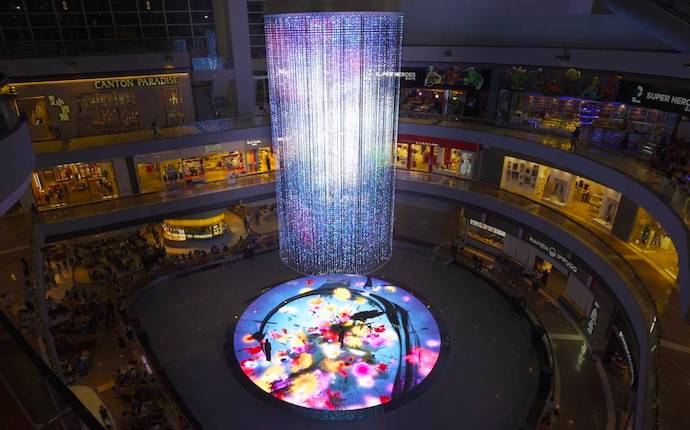 You'll get to watch shoals of fish gather in the ocean beneath you as crystals light up overhead and paint calligraphic art with your feet while flowers blossom with each step. Amidst all that running, remember to pay attention to flocks of colourful "birds" that casually swoop through the gorgeous 14m light sculpture overhead.
Plan to spend at least 30 minutes here.
$16.20 per person
Monday to Friday: 7.40pm
Saturday, Sunday & public holidays: 7.40pm & 8.40pm
Set against the backdrop of an open sea under a dark sky, this award-winning multi-sensory light water show boasts upgraded pyrotechnic effects created by state-of-the-art Sparkular machines along with dazzling water, light and fire effects, plus a majestic soundtrack.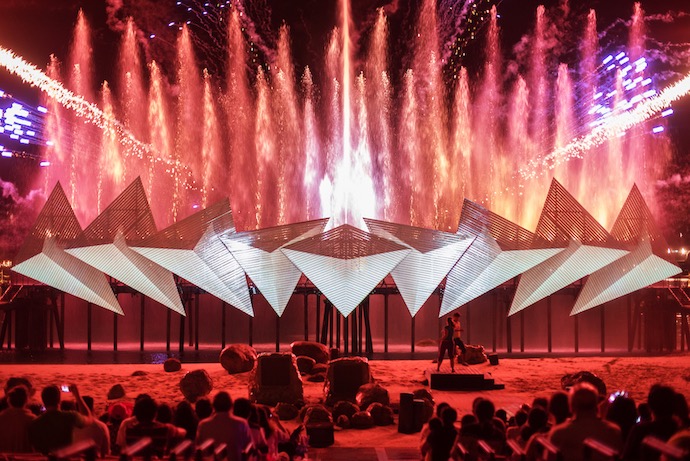 The 20-minute show about friendship and courage tells the story of Shahbaz, a prehistoric bird, and his friends who travel across beautiful landscapes and journey through the mysteries of time.
The show ends with a jaw-dropping fireworks display – possibly the only place in Singapore where you can see fireworks nightly.
This article has been adapted from Now Boarding by Changi Airport's "Get lit: 5 best light shows to catch in Singapore".