Discover Kampong Glam's rich history and heritage, bustling streets, shops, eateries and key landmarks on this walking trail.
Kampong Glam got its name from the Malay word gelam (cajeput tree) which grew locally and has many uses. Its bark can be used for weaving and to caulk boats, its fruit was ground and used as pepper, and its leaves boiled to make cajeput oil to treat ailments like rheumatism and cramps.
Malay Heritage Centre (former Istana Kampong Gelam)
85 Sultan Gate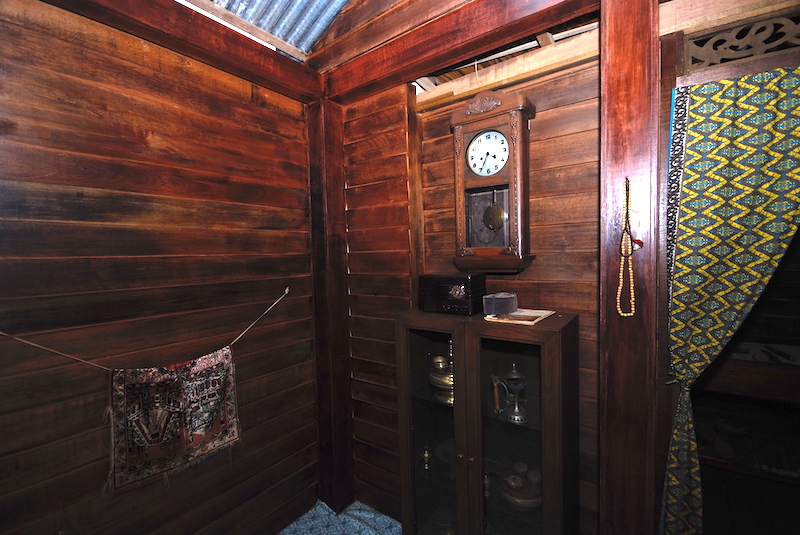 Learn about the culture, heritage and history of the Malay community in Singapore at this heritage centre. Once the home of Malay royalty, the building was conserved and developed into the Malay Heritage Centre in 2005.
Gedung Kuning
73 Sultan Gate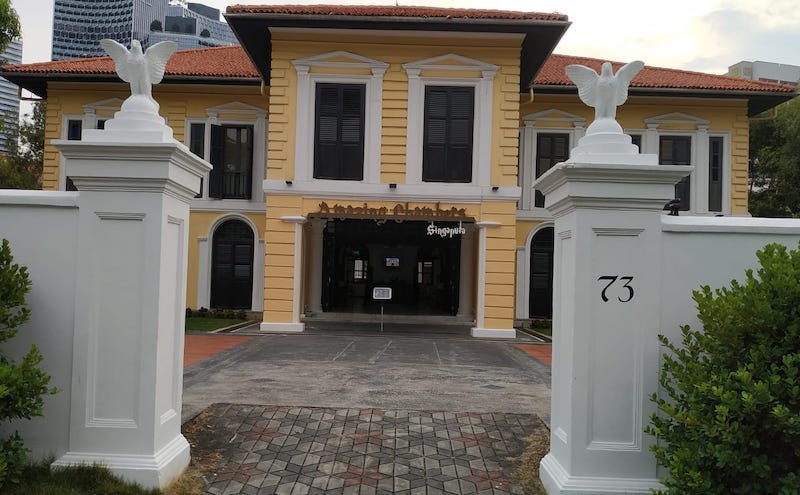 Also known as "Rumah Bendahara" (Prime Minister's residence), Gedung Kuning ("Yellow Mansion" in Malay) was believed to be built around the same time or slightly earlier than the former Istana Kampong Gelam. Constructed mainly of wood and brick, the façade of the building suggests European influence but its form and internal layout reflects the architectural style of a traditional Malay house.
Former Chong Cheng School and Chong Pun Girls' School
30-32 Aliwal Street
The Art Deco building used to house the two former Chinese schools which were established by the Hokkien community. Both schools were housed in separate wings and shared common facilities such as the school hall.
Madrasah Alsagoff Al-Arabiah (Alsagoff Arab School)
111 Jalan Sultan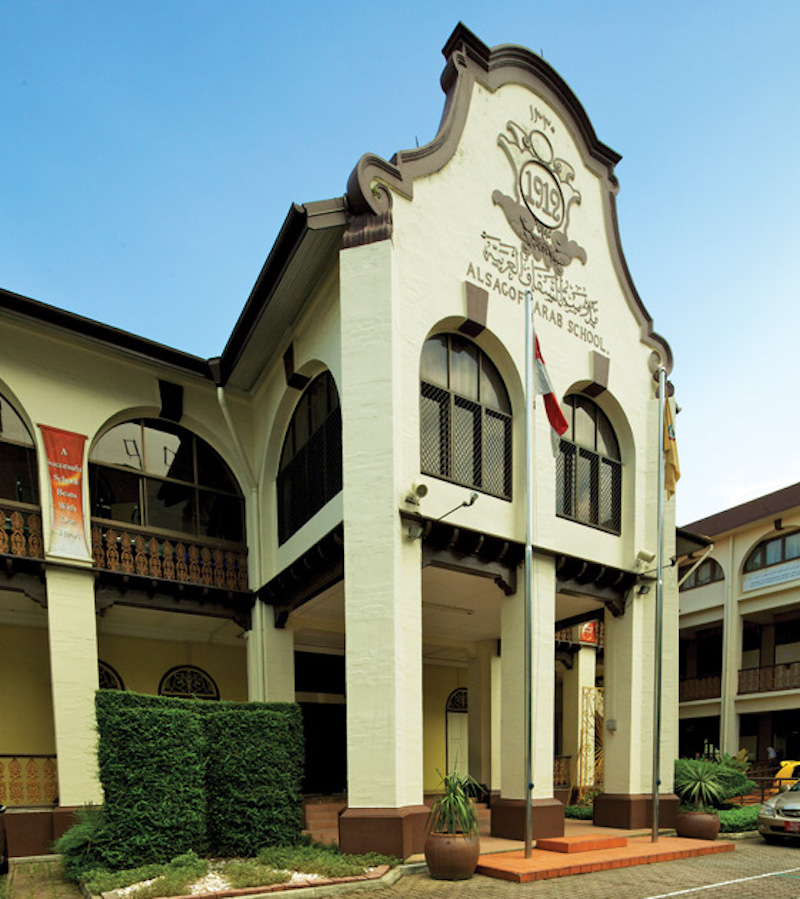 Singapore's oldest madrasah (Muslim school), Madrasah Alsagoff Al-Arabiah was established in 1912. Its beginnings can be traced to the late 19th century when Syed Mohamed bin Ahmed Alsagoff started a small school in the family house at what was then Java Road (present-day Beach Road Garden estate). To ensure its continuity, he left a sum of money and an endowment for the school in his will. As the number of pupils outgrew the premises at Java Road, his nephews contributed more funds to the endowment and established the madrasah at Jalan Sultan. The school taught Muslim boys the tenets of Islam and started accepting girls in the 1940s.

North Bridge Road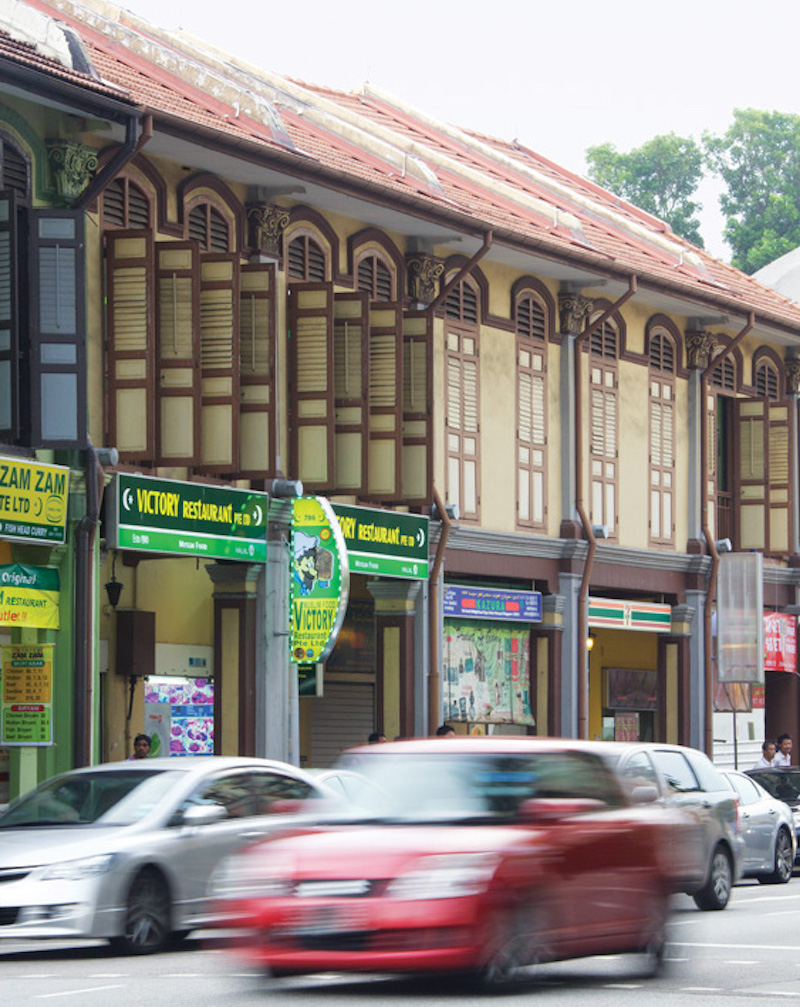 One of the earliest roads to be built in Singapore, the road got its name because it ran north of Presentment Bridge (present-day Elgin Bridge). It was home to diverse businesses and trades including tailors, printers and gemstone craftsmen. Today, North Bridge Road is still the place to go for pilgrimage goods at V.S.S. Varusai Mohamed & Sons, attar (non-alcohol perfumes crafted from essential oils) at Jamal Kazura Aromatics, handcrafted jewellery at Mesra Enterprises, and to enjoy Malay specialities like martabak (pan-fried pancake stuffed with meat) and briyani (rice cooked in spices) at Singapore Zam Zam, and nasi padang (rice eaten with an assortment of meat and vegetable dishes) at Warong Nasi Pariaman, Rumah Makan Minang and Sabar Menanti.

Sultan Mosque
3 Muscat Street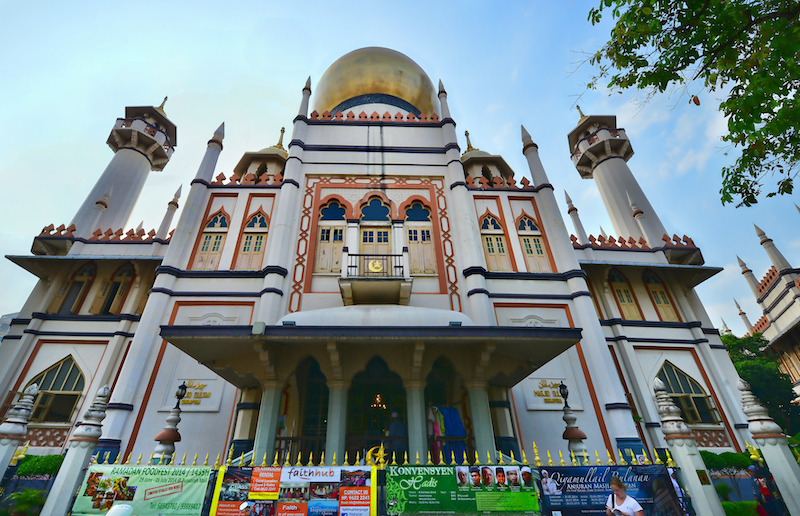 Built in the early 1920s, the mosque ("masjid" in Malay) is an important focal point for Muslims in Singapore. The history of the mosque traces back to 1823, when the sultan wanted a mosque built near his residence. During the fasting month of Ramadan, Muslims will gather at the mosque to await the prayer call to break their fast. Designed in the Indo-Saracenic style, with domes, minarets and balustrades, the mosque's most striking features are its two large golden-yellow domes.
Arab Street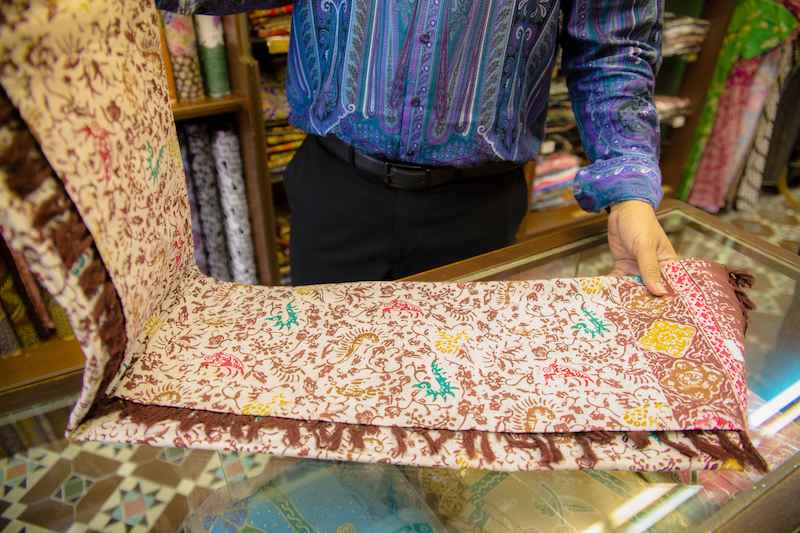 One of the few streets to retain its original name from the early 1800s, Arab Street was designated for the Arab community in Singapore's 1822 town plan.Since its early days, the street has been attracting traders and entrepreneurs from present-day Indonesia, India, China and the Middle East who started businesses such as eateries, rattan shops, goldsmiths, textile shops, money changers, bookstores and printing presses. Check out bookstore H. Hashim bin H. Abdullah (opened in the early 1900s), which is still run by the descendants of pioneers who arrived here decades ago.
Bali Lane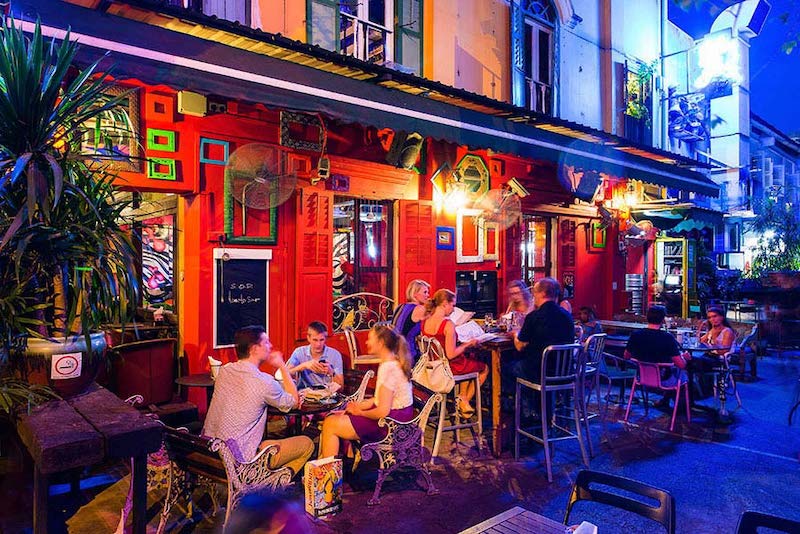 The current Bali Lane and the neighbouring Shaikh Madersah Lane (defunct) which ran parallel to it made up the former Kampong Bali. The kampong's development from the 1850s was partly due to the pilgrimage trade. The population then was mostly Javanese from Bali, Lombok and Sumbawa. Kampong Bali was where one of the first bangsawan (Malay opera) troupes was formed in Singapore. For a period, the back of Bali Lane had stalls for horses, which were later converted to motorcar stalls in the early 20th century. By the first half of the 20th century, more Chinese had moved into Kampong Bali, many of them setting up lodgings for indentured labourers or coolies. Stop over at Blu Jaz Café for some drinks, local bites, wraps, burgers, hotdogs, pastas, pastries or desserts.

Haji Lane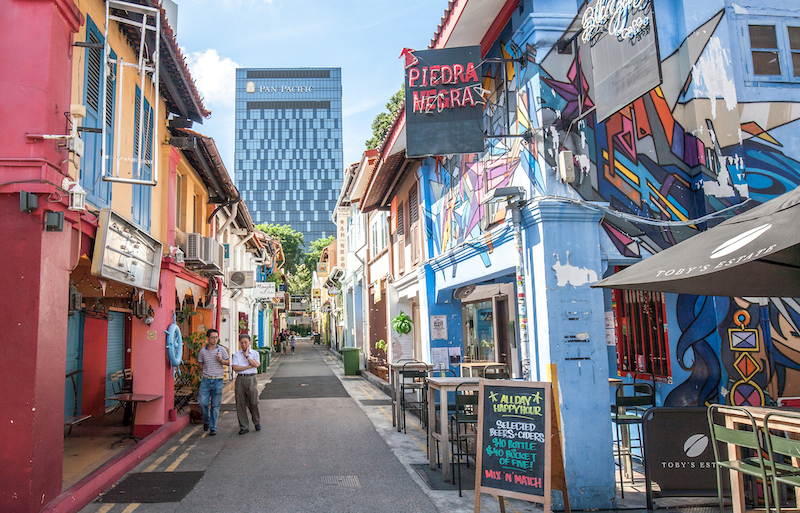 The small lane takes its name from hajj, the annual pilgrimage to Mecca undertaken by Muslims ("haji" is the Malay word for a Muslim man who has completed his hajj). During the 1960s and 1970s, Haji Lane's shophouses provided shelter for poor Malay families and housed pilgrims transiting through Singapore on their annual pilgrimage to Mecca. Today, Haji Lane is home to hole-in-the-wall, independent fashion boutiques, cool lifestyle stores, barber shops, tattoo parlours, hipster cafes and chill bars. Look out for colourful murals and capture those Insta-worthy shots.
Bussorah Street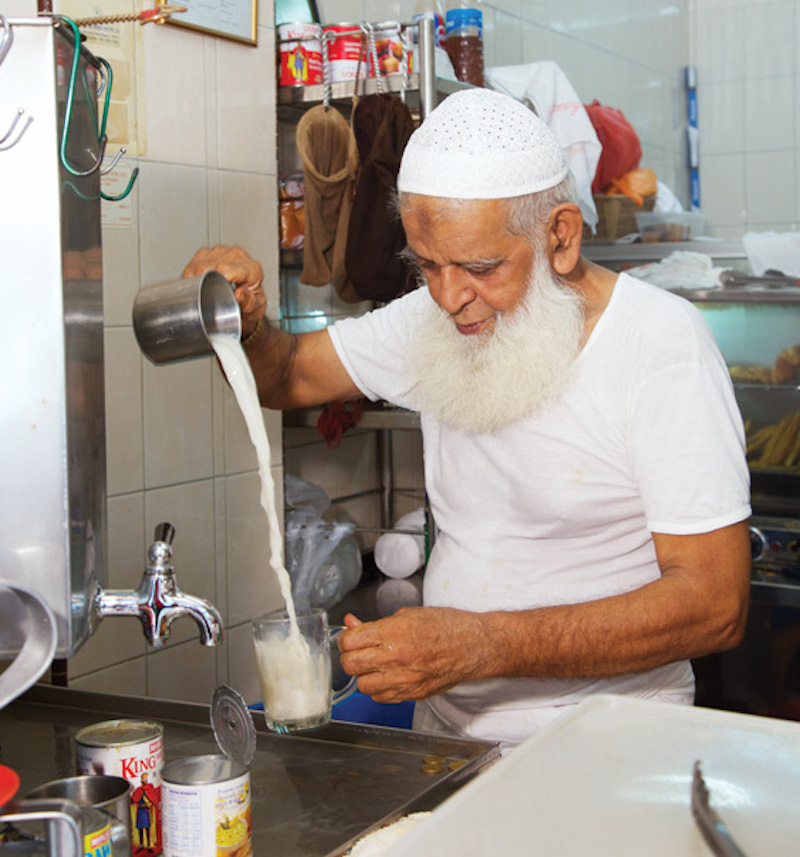 Regarded as the heart of Kampong Glam, Bussorah Street was originally called "Sultan Road" as it was located in front of Sultan Mosque. The street was famous for its food, culture, community spirit and districts such as Kampong Tembaga, Kampong Intan and Kampong Kaji. Today, it is lined with halal restaurants, cafes, an ice-cream and waffles shop, a bakery, a Malay bookshop, beauty and hair salons, and an art gallery. Be sure to check out No Name Teh Sarabat Stall, Kampong Glam's last surviving sarabat (Indian tea) stall which has been in business since the 1950s at the adjoining Baghdad Street, and order a cup of teh tarik (literally "pulled tea" in Malay) to see how your tea is "pulled".
SOUTHEAST-ASIA.COM RECOMMENDS 
Embark on a self-guided Kampong Glam Walking Tour with Locomole, and get insider information on key attractions in one of Singapore's most culturally vibrant enclaves.
What's more, enjoy complimentary $200 worth of discount coupons with the purchase of this trail and use them all during your stay in Singapore! (Vouchers can be found in the Locomole app upon your purchase of this trail)