Walk around bustling Chinatown and check out Singapore's oldest Hokkien temple, a captivating 40m-long mural which tells the story of the country's early Hokkien migrants, as well as Singapore's oldest Hindu temple.
We recommend starting your walk at Chinatown Heritage Temple and ending at the beautifully painted Thian Hock Keng Mural Wall Hokkien Huay Kuan.
Chinatown Heritage Centre
48 Pagoda Street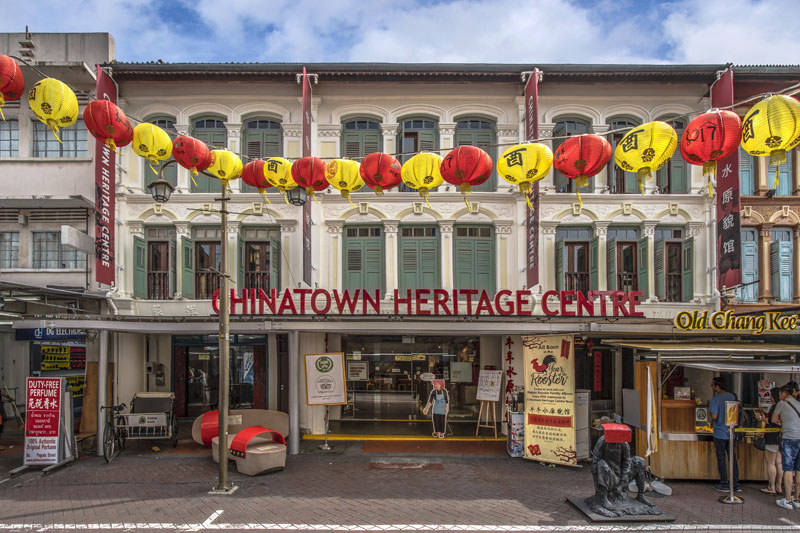 Learn about the experiences of Chinatown's early residents like the trishaw rider, carpenter, hawker, samsui woman and clog maker who came to seek a livelihood, pursue their dreams and toil against adversity to achieve their aspirations in their new homeland. The Centre has six galleries with interactive features that shine the spotlight on, among others, a tailor shop, clan associations, street markets and secret societies.
Chinatown Street Market
Pagoda Street, Trengganu Street, Sago Street and Smith Street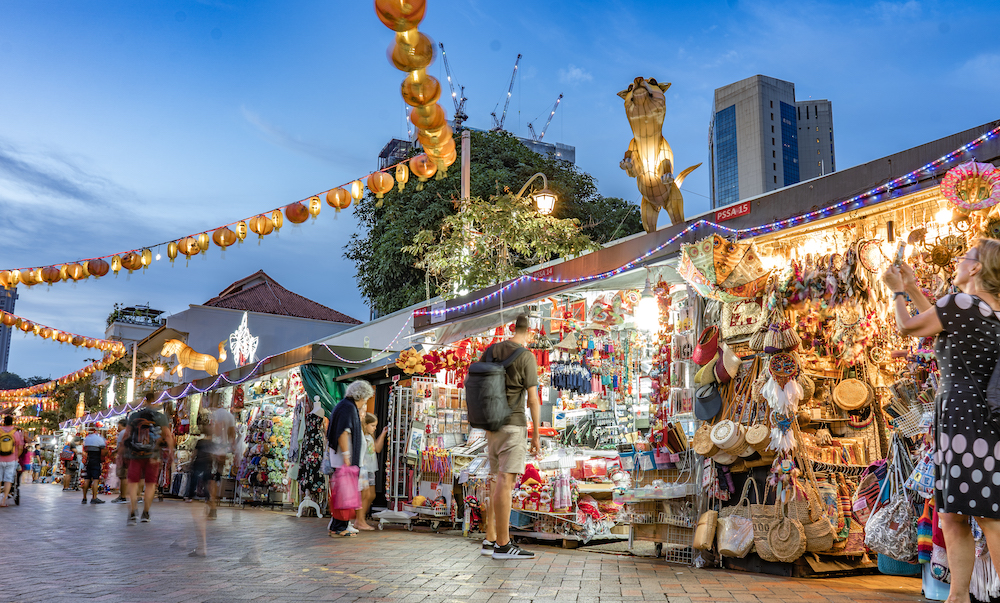 Explore the bustling street market which spans across four streets and shop for a wide range of items including clothing, textile, handicrafts, household items, tech products, trinkets, snacks, drinks and more. For the best price, bargain with a smile!
Chinatown Food Street
Smith Street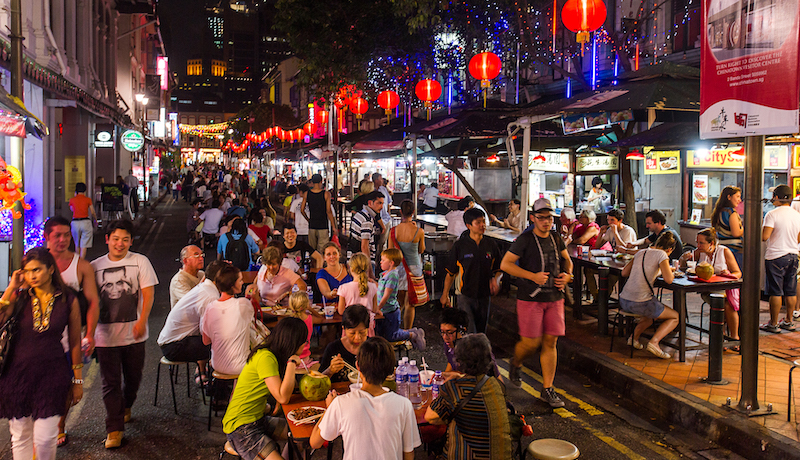 Take a break from all that walking and tuck into some of Singapore's most popular hawker fare at this open-air food street which has a high-ceiling glass canopy shelter. Enjoy iconic dishes such as char kway teow (stir-fried rice noodles in dark soy sauce), satay (char-grilled marinated meat on skewers eaten with spicy peanut sauce), Hainanese chicken rice and roti prata (Indian flatbread eaten with fish, meat or vegetable curries).

Buddha Tooth Relic Temple and Museum
288 South Bridge Road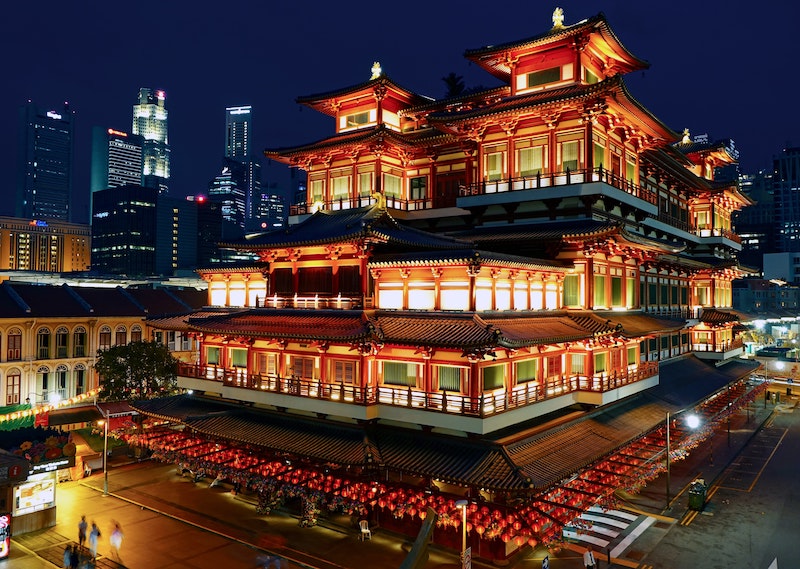 Opened in 2007, this five-storey Tang Dynasty-style temple was built to house a relic said to be a tooth of Buddha. The tooth relic can be viewed in the Sacred Light Hall on the fourth floor. The relic is housed within a 3,500kg giant stupa which was made from 320kg of gold, of which 234kg were donated by devotees. On the first floor are the Hundred Dragons Hall, which houses a hundred Buddha statues and the Universal Wisdom Hall, where handcrafted Bodhisattva artworks are on display. The Buddhist Culture Museum on the third floor displays revered artefacts of the Buddha such as bone and tongue relics, while the Eminent Sangha Museum on the mezzanine floor holds cultural performances, talks and film screenings. Head for the roof to see pagodas, pavilions, an orchid garden and a Buddha prayer wheel.
Maxwell Food Centre
1 Kadayanallur Street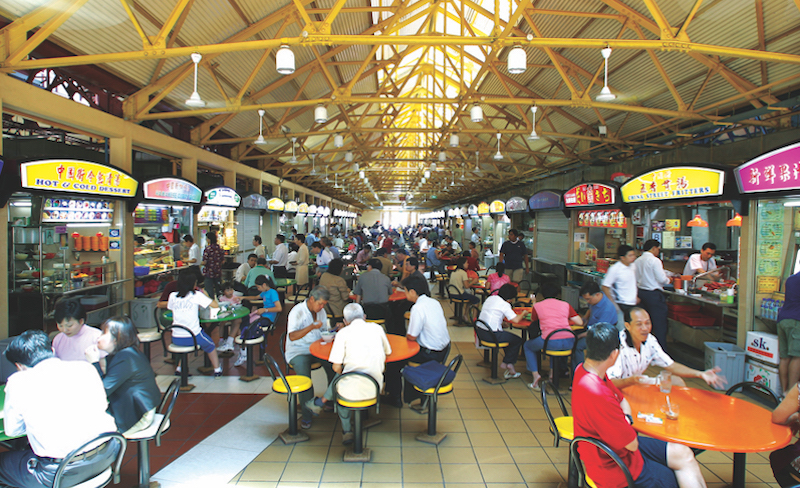 Originally a wet market till its conversion into a food centre in 1987, Maxwell Food Centre is a popular place for traditional Chinese foods. Must-eats include the famous Hainanese chicken rice from Michelin Bib Gourmand winner Tian Tian Hainanese Chicken Rice, fish or chicken porridge from Zhen Zhen Porridge, crispy oyster cake from Maxwell Fuzhou Oyster Cake, and tapioca cake and ondeh ondeh (glutinuous rice balls filled with palm sugar and coated in grated coconut) from Xing Xing Tapioca Cake / Ondeh-Ondeh.
Sri Mariamman Temple
244 South Bridge Road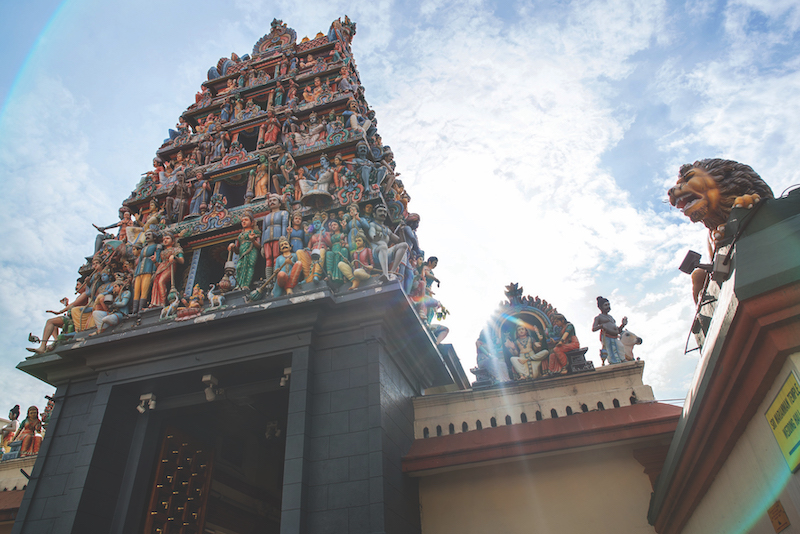 Singapore's oldest Hindu temple is located, not in Little India, but in Chinatown. Built in 1827, the Temple is dedicated to the goddess Mariamman, known for her power in curing illnesses and diseases. The Temple's ornate gopuram (monumental entrance tower) is a landmark for generations of Hindu worshippers. The gopuram's five tiers are covered with sculptures of Hindu deities and figures dressed in traditional Indian costumes. The Temple has been restored a number of times, most recently in 2010 by a team of about 20 artists from India who also repainted all the stone sculptures. The main festival celebrated at the Temple is the annual fire-walking festival known as Theemithi, which falls in October or November.

Singapore Musical Box Museum
168 Telok Ayer Street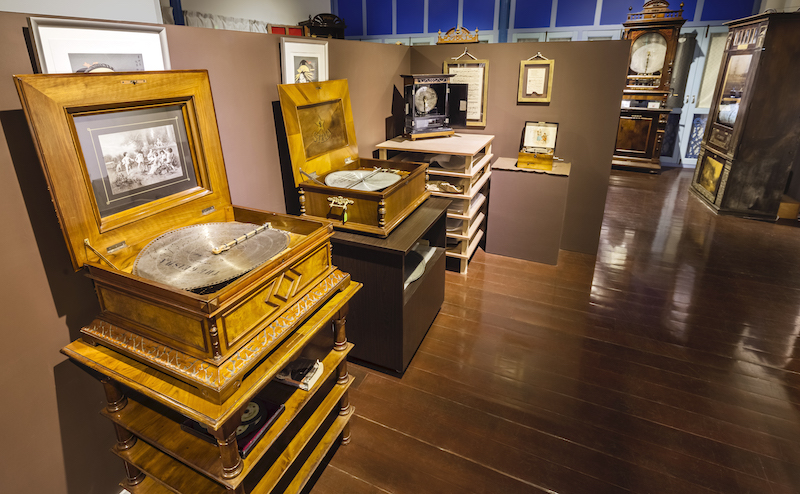 Located in the courtyard of Thian Hock Keng Temple, this museum showcases over 40 antique musical boxes including table-top boxes and juke-box-sized ones. Find out about the history and evolution of the musical boxes and how it made its way to Singapore in the 19th century.

Peranakan Tiles Gallery
168 Telok Ayer Street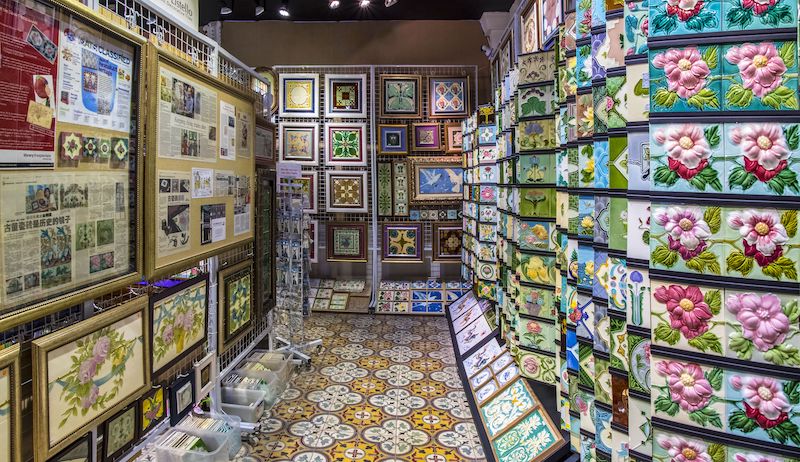 Also located in the courtyard of Thian Hock Keng Temple, this tile gallery, owned by local tile collector Victor Lim, houses a collection of colourful antique and replica Peranakan tiles. The antique Peranakan tiles include those that were painstakingly salvaged from old Singapore shophouses that were demolished in the 1970s and 1980s as well as refurbished ones from Europe and Japan.
Thian Hock Keng Temple
158 Telok Ayer Street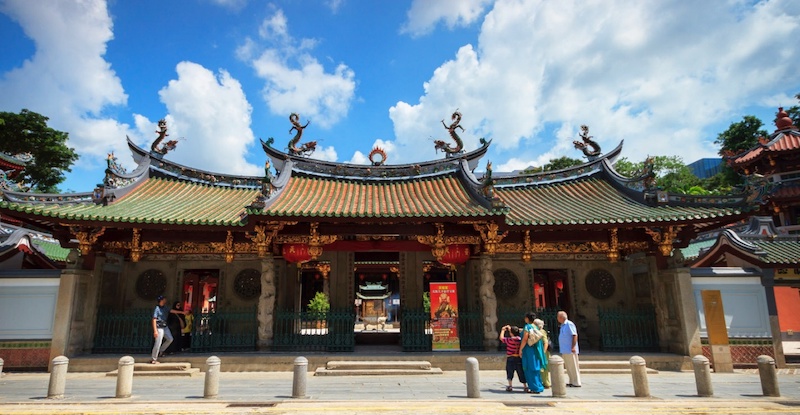 Singapore's oldest Hokkien temple, Thian Hock Keng ("Temple of Heavenly Happiness") is dedicated to Mazu, the goddess of the sea. Early Chinese immigrants would make thanksgiving offerings of money and joss sticks at the Temple for their safe sea voyage across the turbulent South China Sea. As the Temple was designed and built according to Chinese temple architectural traditions by skilled craftsmen from China, it is one of the most traditional Chinese temples you'll find in Singapore. Amazingly, the Temple was built without the use of a single nail! Spot the Temple's detailed carvings and sculptures of dragons, phoenixes and deities, as well as the colourful broken porcelain on the roof ridges, a Fujian decorating technique.

Nagore Dargah Indian Muslim Heritage Centre
140 Telok Ayer Street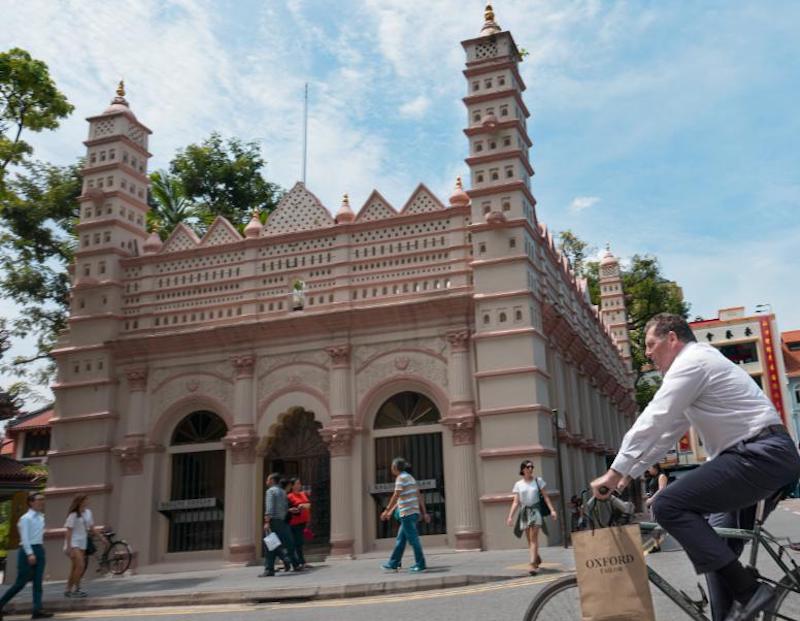 Built between 1828 and 1830 by early immigrants from South India, the two-storey heritage centre showcases Indian Muslim culture, diaspora and heritage. The building is a replica of a shrine in Tamil Nadu, India, that houses the remains of saint Shahul Hameed, a South Indian holy man who helped to spread Islam to India. Learn about various aspects of the community's history like how Indian-Muslim merchants sailed from port to port to trade items such as betel and gold from the multimedia exhibits.
Thian Hock Keng Wall Mural Hokkien Huay Kuan
Amoy Street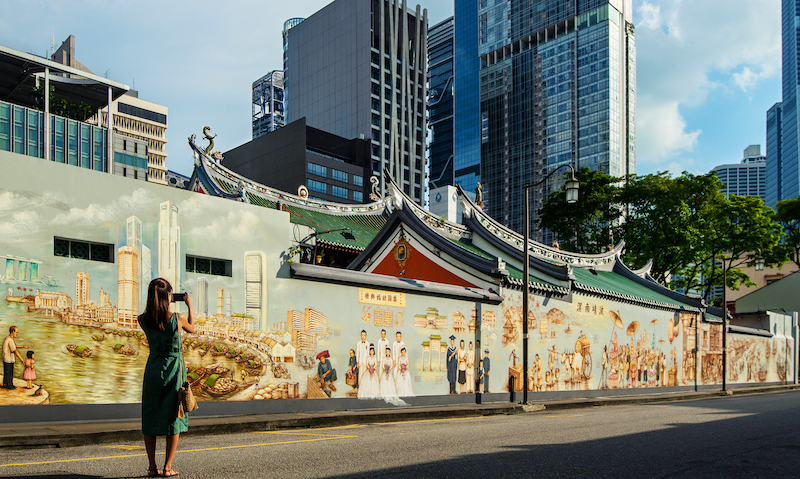 Located behind Thian Hock Keng Temple, this 40m-long mural was painted by local artist Yip Yew Chong who specialises in nostalgic heritage scenes. The seven panels illustrates the migration of Singapore's early Hokkien immigrants from Fujian, their life and culture in Singapore, and their contributions towards Singapore's development.
SOUTHEAST-ASIA.COM RECOMMENDS
Ready to explore Singapore's Chinatown? Kick-start your Chinatown walking adventure with Locomole!
What's more, enjoy complimentary $200 worth of discount coupons with the purchase of this trail and use them all during your stay in Singapore! (Vouchers can be found in the Locomole app upon your purchase of this trail)