The international school holidays are here and the Singapore school holidays are round the corner, so if you're looking for family-friendly activities to keep your kids busy, the National Gallery Singapore has got you covered.
Its annual Gallery Children's Biennale, which runs till 31 December 2022, offers plenty of multi-sensory experiences to keep the young ones entertained. Kids can look forward to exploring immersive installations, playing arcade machines, as well as attending storytelling sessions and workshops at the festival's third edition.
Through nine immersive installations by renowned artists and art groups from around the region, kids can learn about four important topics – Home, Diversity, Environment and Time – as well as explore a world of wonder where art meets play and discover "Why Art Matters".
The installations complement the artworks and activities featured on the Biennale's microsite, launched in May, so for a greater appreciation of the on-site exhibits, let your kids explore (or re-explore) the microsite before heading to the Gallery.
There are also complementary children's programmes by artists and partners such as sessions by master storyteller Kamini Ramachandran, sonic exploration workshops by LittleCr3atures and somatic movement workshops by movement artist and somatic therapist Vincent Yong. Art packs are also available for purchase at $5 each and are designed to enhance the appreciation and understanding of the art on display in a fun manner.
Admission to the festival is free.
HOME INSTALLATIONS
Head/Home
by Alfredo and Isabel Aquilizan + The Fruitjuice Factori Studio
This floating city, created with ready-made collection of houses and cardboard sculptures, invites kids to be imaginative and express what their idea of a home is. They can create their very own cardboard homes using cardboard boxes and everyday materials, and add them to the floating city.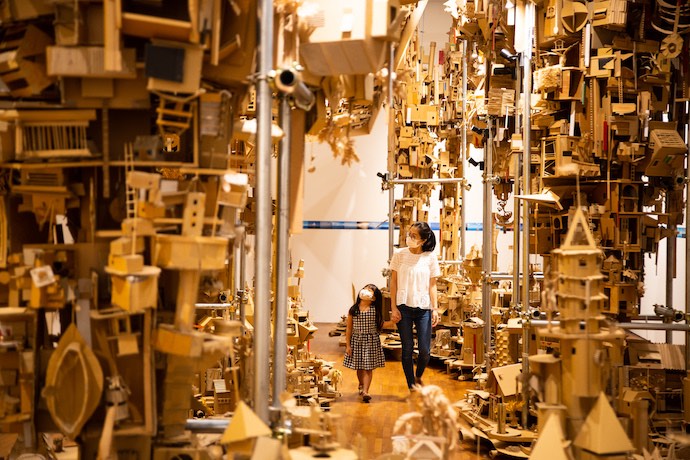 In the Gallery of Self-Portraits, kids can take a selfie with their creations and share their stories while discovering those of others.
BEHOME
by Speak Cryptic x ADDADDADD

Made up of three hexagonal structures, this sculpture is inspired by the hardworking bee and its iconic hive structure. Kids can learn about how bee colonies produce honey not only for fellow bees, but for humans too. Just as bees work and care for other bees in their hive, kids are encouraged to look out for others in their community.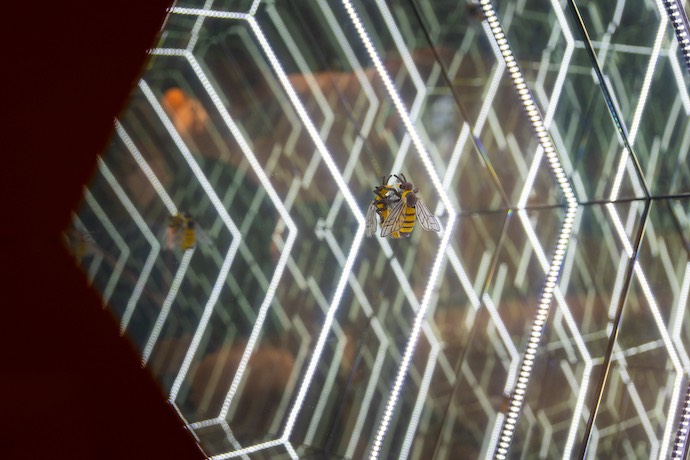 There are also two arcade machines where kids can play two interactive games from the artists' digital work.
TIME INSTALLATIONS
A Day's Book
by Joyce Ho
This library of stories introduces kids to the concept of time in a fun and engaging way. With stories submitted by kids from all over the world via the Gallery Children's Biennale microsite, the online repository of daily 24-hour diaries transforms into a physical library with a selection of secret doors, some opened and some locked.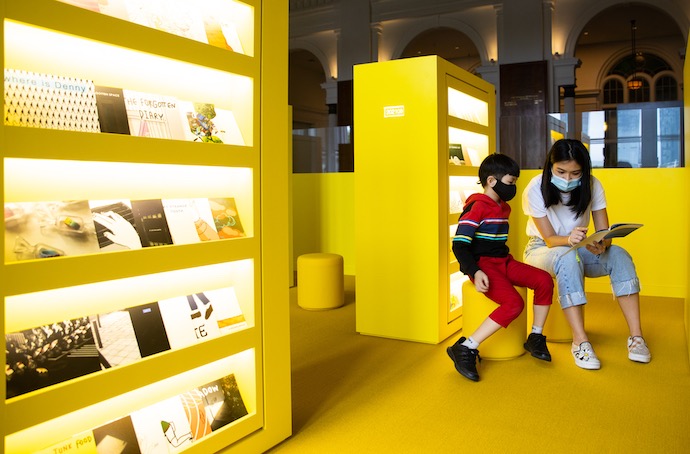 The opened doors reveal shelves of books containing stories of each completed 24-hour diary, symbolising a look into the past, while the locked doors hold empty shelves awaiting future contributions from the microsite. Kids can contribute their stories to the online repository via iPads at workstations. As the online archives grow, the locked doors are opened monthly, filling the physical library with more stories of the past and allowing more stories to be shared.
Superstar
by Jeremy Sharma
This interactive and animated video essay for kids is imagined as a speculative world that comes alive with stickers and cut-outs. It tells the story of a cosmonaut who comes from a faraway star. She visits a post-apocalyptic earth and is able to visit different versions of earth because she invents a time machine that breaks through the light barrier.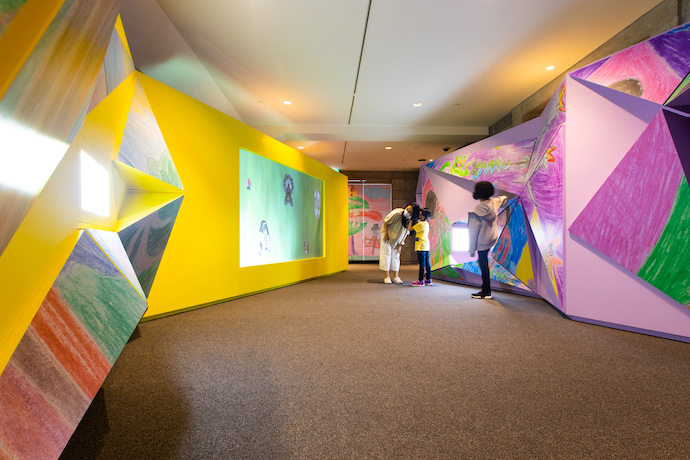 The immersive experience of the speculative world encourages kids to think about how they treat the environment, animals, hybrid creatures and machines, and come to the realisation that what they do today will impact the world in the future.
ENVIRONMENT INSTALLATIONS
Calling for Rain
by Khvay Samnang
This short film inspired by Reamker, the Cambodian version of the epic poem Ramayana, takes kids on a journey through Cambodia's landscapes following Kiri the Monkey on his quest to save the dying forest and its surrounding environment.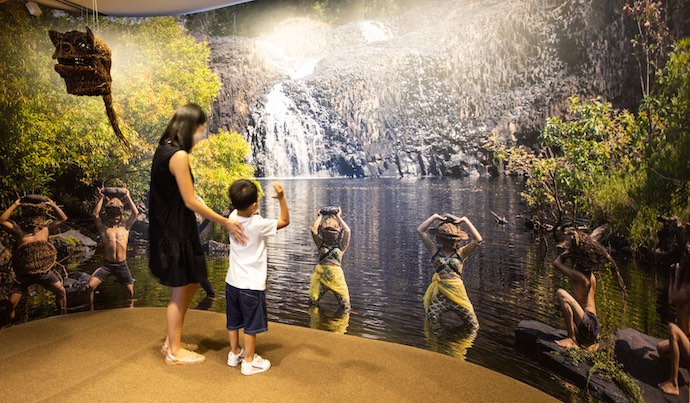 Housed in a space that resembles a Cambodian performance room, the installation features actual masks and headdresses used to create the film. The picturesque shots of Cambodia's landscape and compelling story of a forest in need of saving are meant to move kids to care for and protect the environment from environmental damage such as deforestation, pollution and climate change.
Because It Makes Me Feel…
by Nandita Mukand
For many children, the relationship between families and friends have changed since 2020. The social experience of holding hands, playing together and visiting one another's homes to spend time together is crucial to the physical, cognitive and social-emotional development of children.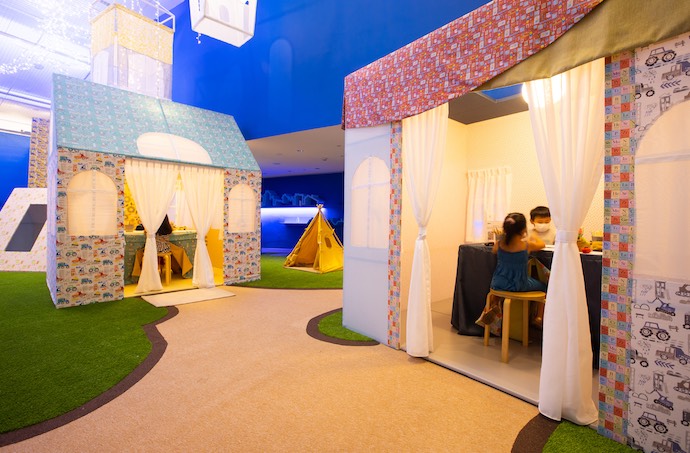 This whimsical installation of homes and houses allows families and children to imagine visiting different houses, to engage in social activities like masak-masak and think about what home feels like.
Conversations With An Octopus
by Sandra Lee
Step into the wondrous world of The Girl with the Red Shorts and her wise old friend and mentor The Octopus, and join them on their many adventures. From the artworks that depict different stories and scenarios of the dialogue between the two best friends, kids can learn about climate change, stars, clouds and why birds sing.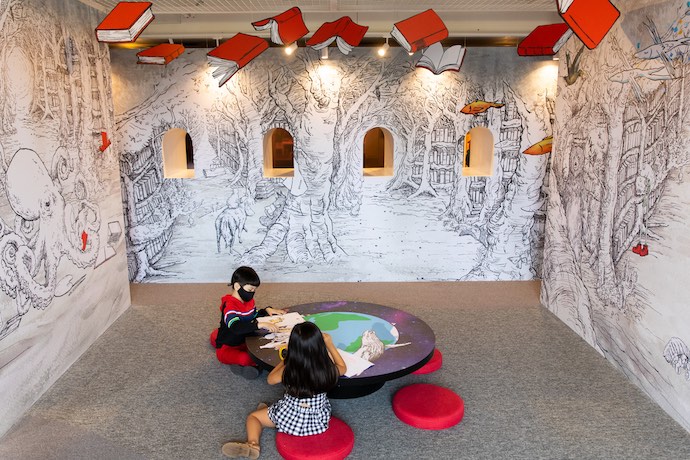 They can also hang out in The Enchanted Forest with animal friends, explore The Undersea Library and pick out a good book or two.
DIVERSITY INSTALLATIONS
Voices From The Centres
by Dinh Q Lê
Inspired by the hit video app Tik Tok, this installation invites kids to select an artwork and respond to it in a 60-second video using the artist's signature art-making approach of applying a digital filter to weave images. They can sing, dance or simply talk about what they think and feel when they look at the artworks. In creating their own video, kids are empowered to build their own stories and explore image-making practices.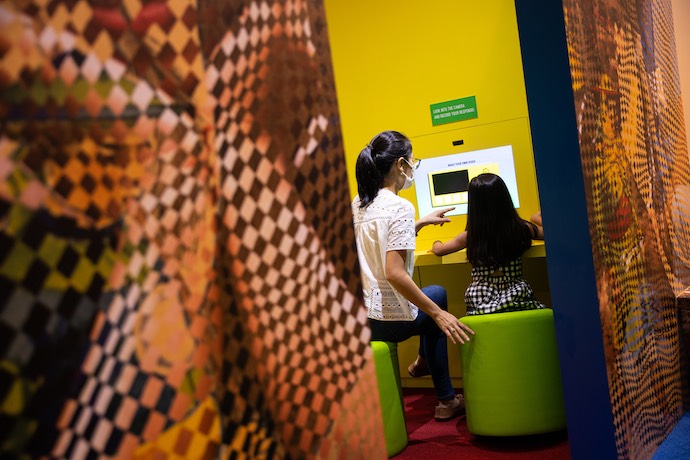 The video collages will be displayed online and a selection played on a continuous loop throughout the festival.
Illuminated  
by Nona Garcia
Kids will be transported to an other-worldly space through four life-sized landscape backgrounds. With an array of intriguing X-rayed bones, shells and fossils as magnets, kids are empowered to creatively express themselves and place these magnets anywhere on the backgrounds, creating their own sceneries of imagination and reflecting their unique perspectives.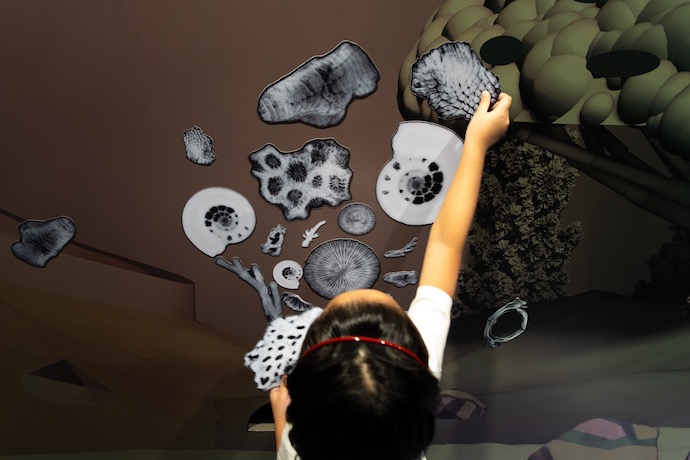 They may also view and add on to the creations by other kids, co-creating artworks with them in real time and contributing to a diverse collection of stories as told by the artworks on the walls.