You don't have to donate money to make a difference. The next time you plan on dining out or getting a takeaway, consider patronising eateries and food businesses that support vulnerable communities or create employment for disadvantaged groups. That way, you get to enjoy a meal and support a worthy cause at the same time.
From providing meals to the needy to hiring those with special needs, these five F&B businesses make Singapore and the region a better place to live in. Show them some love especially in these challenging economic times.
projectdignity.sg/dignity-kitchen
69 Boon Keng Road
What do you do when you want to help those in need in a more sustainable way other than donating time and money? For Koh Seng Choon, it was starting an air-conditioned food court run by people with disabilities and who are disadvantaged. A full-fledged foodie by his own admission, Koh decided to merge his love for food with a poverty-fighting business model by setting up Dignity Kitchen in 2010, the first initiative of his social enterprise Project Dignity.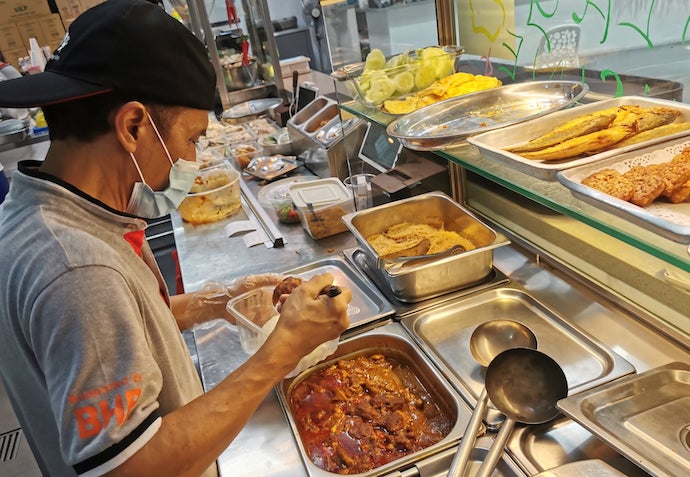 The seven stalls in the halal-certified food court offer local favourites such as nasi lemak, laksa, kolo mee, mee siam, mee rebus, lontong, beef and chicken rendang, Hainanese chicken rice, claypot chicken rice and rojak, as well as Western staples such as Fish & Chips, Chicken Chop, Teriyaki Chicken and Tomato Mushroom Pasta. There's also a bakery which churns out fresh muffins, cakes and cookies. The food court, which also has a food delivery service, provides lunch treats for elderly residents of nursing homes across Singapore every day.
Project Dignity also operates Dignity Learn, an inclusive training centre which runs a 22-day Train-and-Place programme for adults with special needs who are seeking employment. Trainees are paid a daily allowance throughout the programme, and upon graduation, they are prepared for interviews with Project Dignity's employment and industry partners. Some of the trainees may end up working for Dignity Kitchen.
www.singaporefashionrunway.com/collections/food-for-a-social-cause
Marina One The Heart #B2-04
Founder Eileen Yap started social enterprise Singapore Fashion Runway: Fashion for a Social Cause in 2015 with one goal in mind – to enable those with special needs or from disadvantaged communities to fulfil their dreams of designing fashion pieces and showcasing them through public fashion shows, and for the public to witness how the lives of these individuals have been impacted.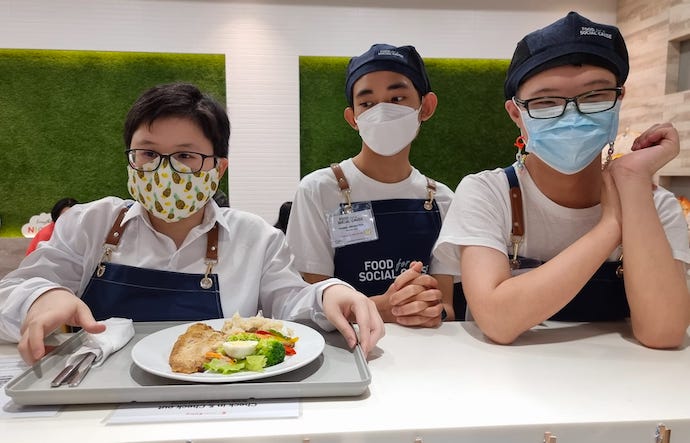 In May this year, she launched Food for a Social Cause with the same goal, albeit repurposed for the food and beverage industry. She took youths and adults with special needs who wanted to work for a food business under her wings and taught them how to prepare meals, serve customers and upskill themselves. Equipped with the necessary skills and know-how, they help her run her eatery at Marina One.
Daily set menu items were curated by the youths and inspired by their favourite countries. These include Fish & Chips, Roasted Chicken Rice, Nasi Briyani, Seafood Pasta, Ayam Penyet, Teriyaki Chicken Rice, Taiwanese Crispy Chicken, Mala Chicken, Beef Bulgogi, Beef & Cheese Burger and Thai Pineapple Rice. There are also keto dishes, which have fast become the eatery's hot favourites, such as Keto Oven Baked Boneless Chicken Leg, Keto Pan-Fried Dory Fillet and Keto Brownie.
www.thesocialspace.co
• 333 Kreta Ayer Road #01-14 • Marina One Residences #01-03 (Garden Tower)
Set up by husband-and-wife team Daniel Yeow and Cheryl Ou, this socially conscious multi-concept store houses a tea bar and café, a nail salon and a fair trade retail area manned mostly by individuals from challenging backgrounds including youths-at-risk, ex-offenders, single mothers, and those with special needs or disabilities.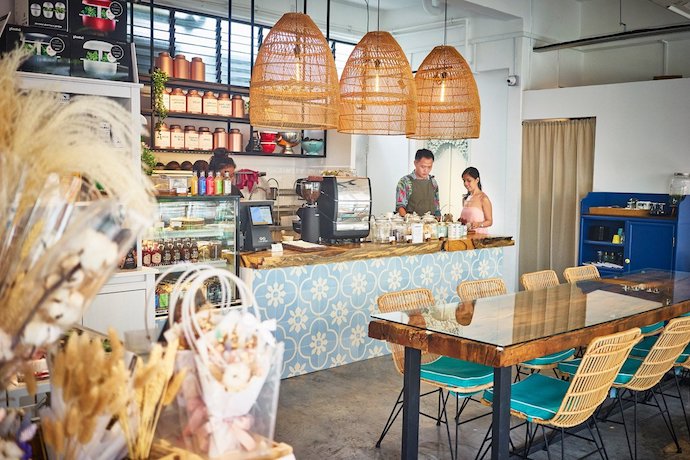 The café serves Open-Face Toast topped with items like avocado and egg, roasted mushroom, cheese and crème fraiche, and smoked salmon and cream cheese; Smoothie Bowls made with a variety of fruits, soy milk, coconut milk and honey; and baked goods such as Almond Cookies, Lemon Pistachio Cake, Banana Bread and Tahini Billionaire Bar. As for drinks, there are speciality coffees and lattes, cold brew coffee, loose-leaf teas, cold-pressed juices and kombucha.
The retail space is stocked with items sourced from some 60 social enterprises and non-profit organisations from around the world. These include Indie Mamashop crochet clutches made by stay-home mothers; Indosole footwear made from recycled tyres by skilled Indonesian artisans; Artisan & Fox jewellery made by artisans who are cut off from international markets for various reasons; and handcrafted ear cups by Ketemu Project which supports psycho-social rehab programmes for those living with mental disabilities and schizophrenia in rural Bali. There's also a refillery where shoppers can refill household items such as laundry detergent, multi-purpose cleaners, soaps and shampoo with their own reusable bottles.
www.thetreecafesg.com
• The Cathay #02-12/14 • Funan #02-33 • E!Hub @ Downtown East #03-109
The café was born in 2016 out of Christina Teo's and her daughter Charmaine's desire to help the less-abled and youths in Singapore. They also wanted to provide wallet-friendly meals for students or those with a limited budget, as well as a homey and accessible space for student meet-ups or even mentoring sessions for youths.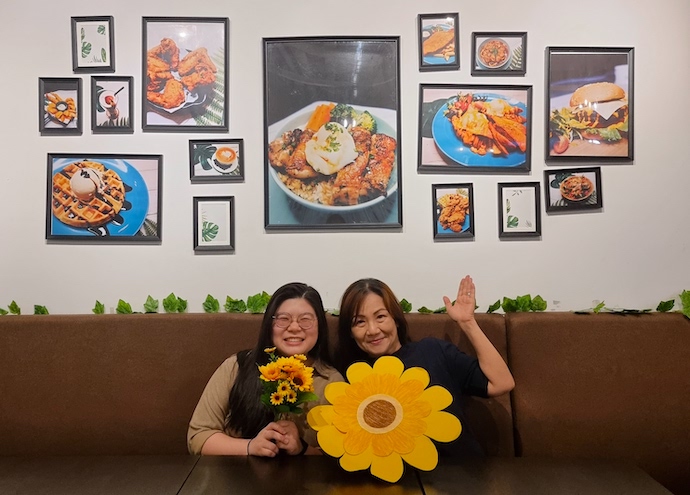 To make operations simple for the café staff who are made up of individuals with special needs and youths-at-risk, the mother-and-daughter team decided to go with the self-service concept. Drinks and desserts are served to the table while mains can be picked up from the counter.
The halal-certified café dishes up Western favourites such as Smoked Duck Pasta, a house speciality, Mushroom Bisque, Chic & Waffles, Teriyaki Beef Bowl, Beef & Cheese Burger and Beef Steak. Students get to enjoy $2 off mains every day (except on the eve of public holidays and on public holidays) at The Cathay and Funan outlets.
www.uglycakeshop.sg
535 Kallang Bahru, GB Point #01-06
The bakery's offbeat name is a nod to founder Lisa Tan's mission of not using artificial flavours or food dyes, preservatives, fondant and gum paste – ingredients often used to beautify cakes – in her baked goods.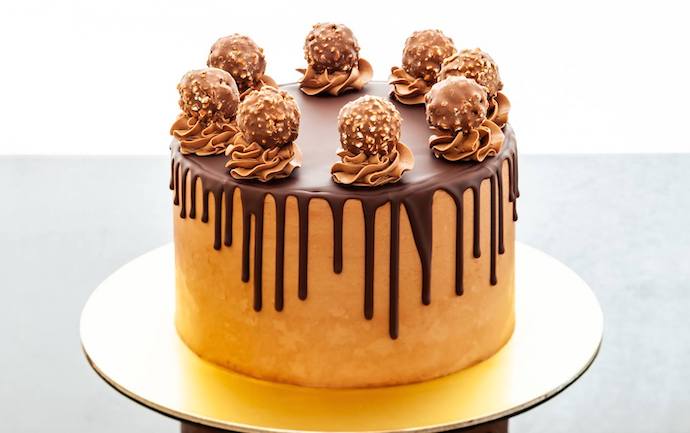 What started as a bake sale to raise funds to feed malnourished kids in Timor-Leste morphed into an actual cake shop for Tan and her husband Nicholas. Since the bakery opened seven years ago, Tan has been faithfully donating 20 percent of the shop's proceeds to buy meat, eggs and other forms of protein for undernourished kids who attend Shallom School in Timor-Leste, a school set up by Brazilian missionaries and supported by Agape Baptist Church.
Best-selling cakes – named after ex-employees or friends and family of the couple – include the Big Daddy (super chocolatey with nutella), Sally (peanut butter and dark chocolate), Juliana (salted caramel), Nicholas (bittersweet chocolate) and Melissa (strawberry and Valrhona chocolate). The bakery also offers cookies, muffins, brownies and vegan cakes.