Looking for ways to cool down and have some fun? You can either try your hand at some thrilling sports such as wakeboarding and jetpacking, or take it easy with a leisure waterbike ride and floating yoga.
The beauty about living on an island city-state is that whichever direction you roam, the open sea awaits. From stand-up paddle boarding to kayaking and surfing, there's an abundance of water sports in Singapore to choose from.
Regardless of whether you're a kiddy pool casual or a hardcore wave junkie, you'll definitely be able to find the perfect water sport from our list.
Let's take a look at the best places to make a splash and get your adrenaline pumping. It's time to have some fun in the sun at these water sport centres!
PARKROYAL on Beach Road, Level 4 swimming pool
First timer's trial – $35
www.skylineaqua.com.sg
Let's start off with something simpler, something a little less extreme. In this case, it's yoga!
For half-an-hour, you get to slowly stretch out all those kinks in your neck and loosen up all those stiff muscles, all whilst balancing on what is essentially a giant floating board. The soothing water rocking sensation, combined with a gorgeous uninterrupted view of Marina Bay Sands, is sure to help you destress.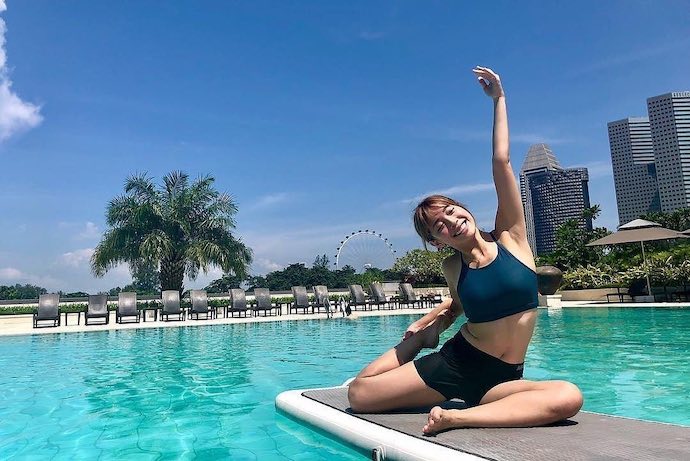 Yes, you will probably fall into the water and yes, you'll most definitely get wet. But isn't that part of the fun? Not only will you feel fresher by the end of the session, you'd also have burnt off enough calories to enjoy your post-workout meal without worry. Do note that floating yoga requires a minimum of four people for a session to be conducted.
46 Siloso Beach Walk
$198 for 45 minutes
Noon to 3pm
www.olabeachclub.com
You don't actually have to go all the way to Bali just to experience what it's like to race through the air. Over at Ola Beach Club, you get to choose how you want to lift off.
Just strap on a water-propelled jetpack and get the same results: a heart-pumping, exhilarating, water-propelled hydroflight experience that thrusts you over 9m in the air.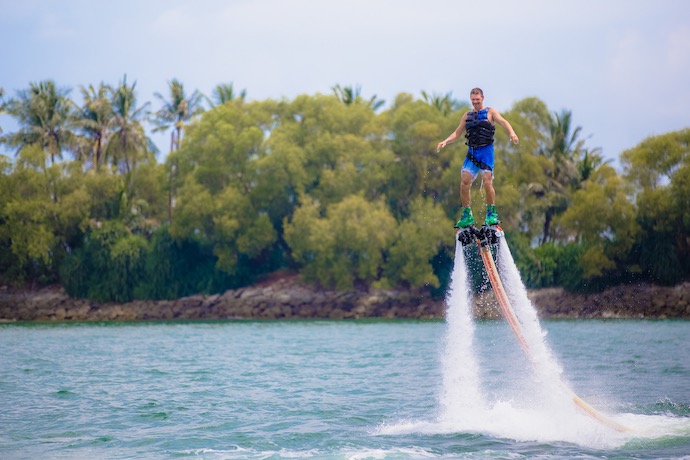 Will you be able to achieve mid-air suspension ala Iron Man? There's only one way to find out. Rest assured, certified instructors will be on hand to guide and supervise the jetpacking session, so even first-timers can join in on the fun. You do, however, have to be above 45kg and below 100kg in order to participate.
8 Stadium Walk
Starts from $12 for adults, $8 for children, for two hours
7am to 8pm
www.sportshub.com.sg/kayak-canoe-rental
You can't talk about water sports in Singapore without mentioning the Outward Bound School standard: Kayaking.
Over at Singapore Sports Hub's Water Sports Centre, you get to kayak against the backdrop of the Singapore Flyer and Marina Bay Sands. If you're there in the evening, be sure to check out and pose for a shot against the stunning sunset views.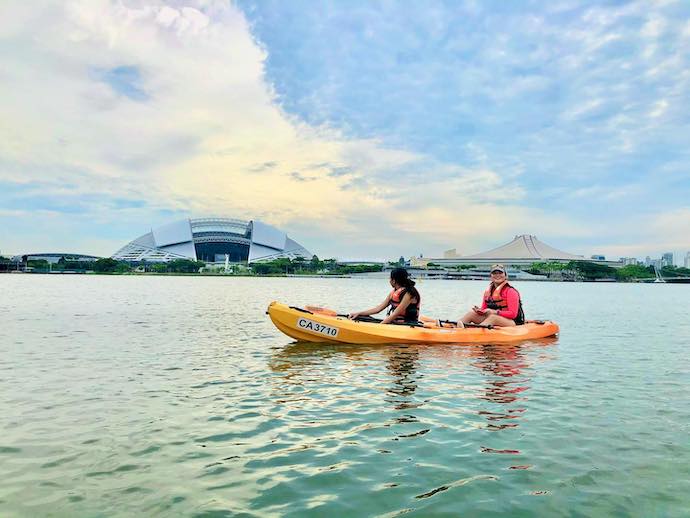 Kayaking makes for a great form of upper-body workout, but if that's too much for you, you could opt for a two-seater double kayak where you share the fun and share the load.
Many of the kayaks don't require any form of certification to use, but those who'd like to get more familiar with the water and craft before paddling out on your own can always join the Kayak Orientation Programme.
If you're lucky, you might even get the chance to kayak alongside the family of otters residing in the Kallang Basin.
1206A East Coast Parkway
Beginner (75m) and Intermediate (165m) Straight Line System – $50
Full-Sized Cable (535m) – $50 for 1 hour; $80 for 2 hours
Weekdays: 10am to 9pm
Weekends & public holidays: 9am to 8pm
https://singaporewakepark.com/
Picture this: A TikTok clip of you looking absolutely stunning while you brush your hair back while holding onto a handlebar in front of you as high-speed cables pull you along the water's surface. If that doesn't get you clout, we're not sure what will.
Internet points aside, wakeboarding is a really cool and fun way to make a splash. The cable ski park at the Singapore Wake Park offers three different courses – beginner, intermediate, and full-sized.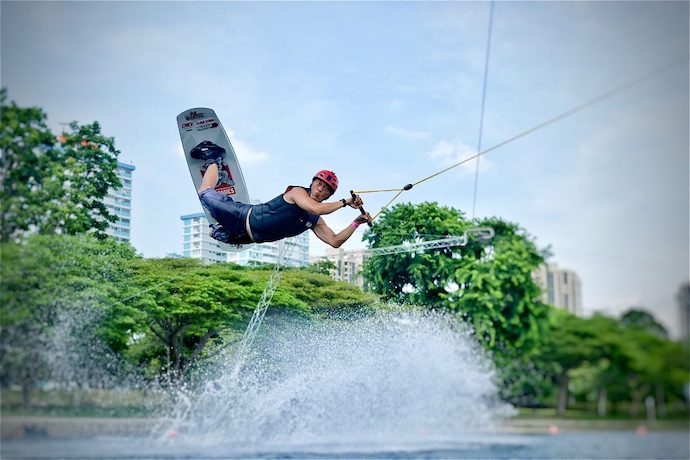 The beginner straight-line system is dedicated to absolute greenhorns, where only one person is allowed on at a time. Once confident, the intermediate straight-line system allows riders to learn how to manoeuvre from left to right and jump over basic obstacles. The full-sized cable system, on the other hand, is a much longer and advanced course that loops around the entire wakeboard park, pulling six riders at a time over numerous obstacles.
Don't underestimate the sport though. While it looks easy on your friend's Instastories, it's actually a lot of hard work to balance and hold on for dear life. If you're good enough, work your way up and see if you're able to jump over obstacles!
Orpheus Dive departs from the Republic of Singapore Yacht Club at 52 West Coast Ferry Road
Pulau Hantu: $165, Pulau Jong: $185
www.orpheusdive.com/singapore-diving-pulau-hantu-day-trip
If above-water sports aren't enough for you, it's time to go underwater then!
Orpheus Dive offers boat rides out to islands like Pulau Hantu and Pulau Jong, where you can make use of your scuba diving skills.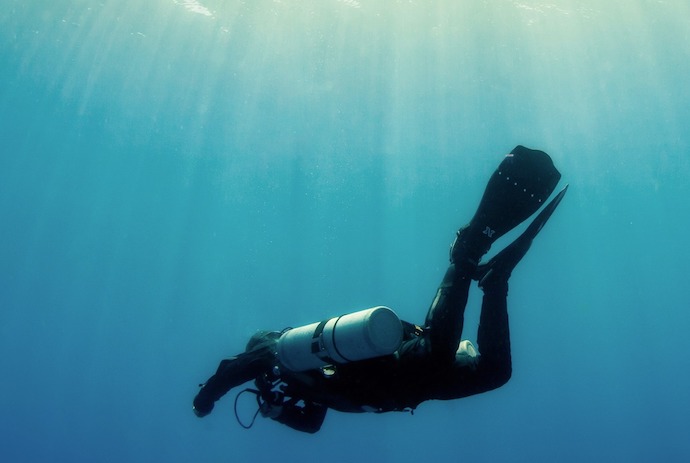 In case you're uncertain about being able to find anything during your dive, Singapore's coast is actually teeming with life. Seahorses, clownfishes and other interesting-looking mollusks – you name it, you can find it.
While the dives are usually unguided, you can always hire an independent dive guide. Apart from orienting you around the dive sites, the guide can also teach you how to look out for the tiny marine life you might otherwise have missed.
Palawan Beach
Kids aged 5 to 6: $13, Kids aged 7 and above: $18
Weekdays: Noon to 6pm
Weekends & public holidays: 10am to 7pm
www.hydrodash.com.sg
Hydrodash is a seemingly friendly inflatable obstacle course waiting to take on the next brave challenger. Think of this as Wipe Out meets Ninja Warriors meets Hole in the Wall.
Singapore's first floating aqua park is divided into two zones – one for younger kids and another for those over 9 years old. Either way, both sides allow participants to jump from platform to platform, race along the floating pool noodles, scale the great leaning towers and bounce on a giant trampoline. There's even a 3m-tall springboard where you get to launch yourself into the water.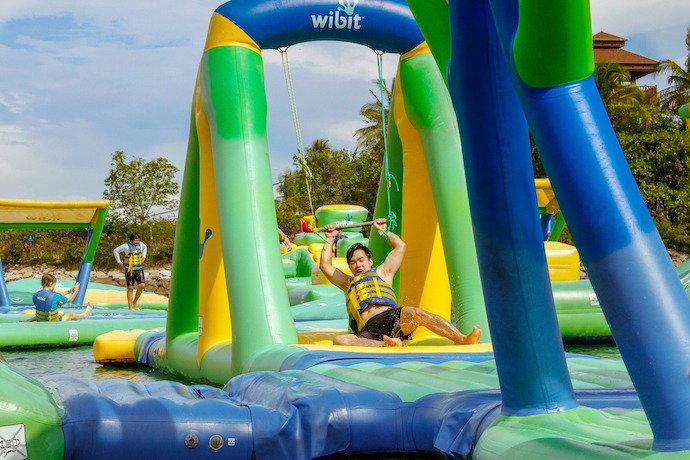 A session comes with a compulsory safety briefing and buoyancy aid, just in case anyone's worried. And the great thing about Hydrodash being at Sentosa is that you can just toss yourself back into the water for a leisurely swim after the session is over.
Campsite 1 at Pasir Ris Park
$30 for an hour, $50 for two hours, $70 for three hours
www.waterbike.sg
If any of the above activities are too challenging, perhaps you could try waterbiking instead. As the name suggests, it literally involves pedalling a floating bicycle along the water's surface.
Unlike a regular bicycle, you don't have to try to balance the bike as the two giant floats will keep you upright no matter how big the waves get. It's incredibly easy to manoeuvre, the chances of capsizing are practically zero (you don't even need to know how to swim). So grab your cameras and get ready for some unforgettable adventures!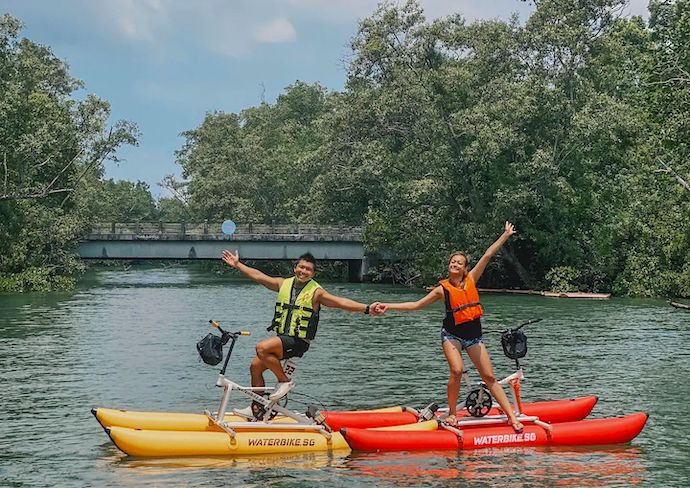 Anyone aged 8 and above can try it out, so you know just how beginner-friendly waterbiking is. Kids have to be at least 140cm in height to reach the pedals.
Despite its appearance, the waterbike can actually reach speeds of up to 15km/h! Race your friends to the next island if you can, or just enjoy the ocean breeze and view.
This article is adapted from Now Boarding by Changi Airport's "7 places to kayak, wakeboard & play water sports in Singapore"