Want to get up close and personal with wild sea creatures like horseshoe crabs and mud lobsters? Find some much-needed break from the hustle and bustle in Pulau Ubin, located at the northeastern coast of Singapore.
Part of the Changi Precinct, the island is a paradise for nature lovers and a popular haunt among day-trippers. Besides offering a window into Singapore's yesteryears, it's also home to a diverse ecosystem teeming with greenery and wildlife. With few buildings in sight, it's an offshore enclave steeped in old-school kampung vibes.
We've rounded up some of the best things to do on Pulau Ubin.
FUN-FILLED OUTDOOR ACTIVITIES FOR NATURE LOVERS
Chek Jawa Wetlands
To learn more about the island's rich ecosystems, head to Chek Jawa Wetlands at the eastern end of Pulau Ubin. As the wetland is located about 3km away from the main jetty, consider switching up your mode of transport by hiring a van service instead of cycling or walking there.
Easily spotted near the main jetty where visitors disembark, these vans help transport you to the wetlands in a jiffy – in no more than 15 minutes. Van rides are priced at $12 for a one-way trip for the first six passengers and $24 for a return trip.
As you walk on the 1.1 km long boardwalk that runs along the coast and mangrove area, gaze at both plant and marine life. It comprises six natural habitats – namely the sandy beach, rocky beach, seagrass lagoon, coral rubble, mangroves and coastal forest. This is also a popular spot for guided tidal walks and picnics, so it's likely that you'll come across people soaking in the tranquil atmosphere over some packed lunch.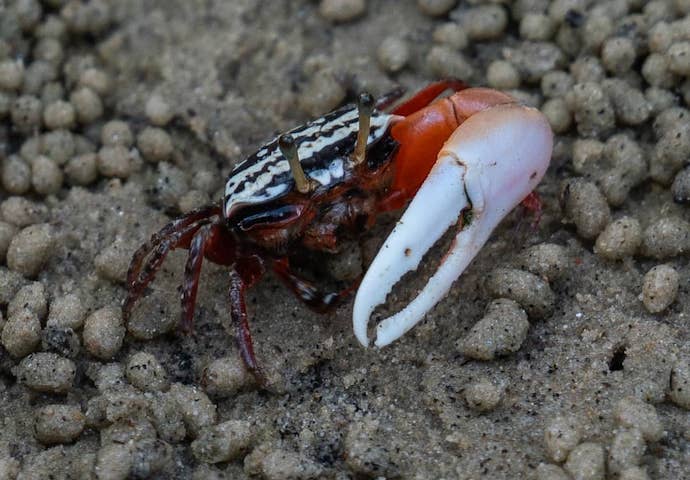 To catch a view of your surroundings from up high, climb the nearby 20m-tall Jejawi Tower for a chance to spot rare birds like the colourful Collared Kingfisher and Straw-headed Bulbul that typically lurk on high trees. Be sure to have a pair of binoculars in hand.
A trip to Chek Jawa is a great way to teach children about the importance of nature. For those on the hunt for unique family activities, do search up any coastal cleanups that could be occurring at your time of visit. When it comes to keeping coasts litter-free, every bit of effort counts!
Puaka Hill
What's a trip to Pulau Ubin without some Insta-worthy photos? To get to the best (and most popular) photo spot on the island, you'd first have to power through some rocky terrains and thick growths of wild ferns by hiking up Puaka Hill, and of course, with a trusty monopod. Be sure to be well-prepared with the required sporting accessories and equipment like water bottles and water-resistant cases.
Start your journey by walking west along Jalan Jelutong, and stay on the left even after it branches off into two roads. You'll come across Jelutong Bridge, a temple and a small lookout but don't be fooled by the false summit just yet. Continue trekking on the trail till you reach a wider view.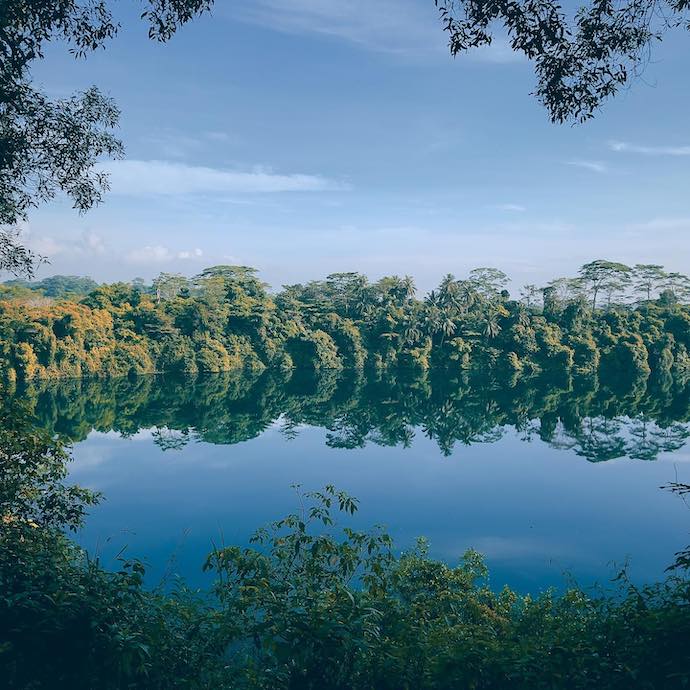 At 74m tall, the hike might leave you panting for a bit. But you'd be richly rewarded with a vast view of an old granite quarry and waters of the deepest blues, making it one of the best trekking places in Singapore. On a clear day, you'd even catch sight of Changi Airport and the towering buildings of Singapore's business district from the vantage point. It's known to be the highest point of Pulau Ubin, after all.
True explorers will know this to be true too – it's not always about the destination, but the journey. Keep your eyes peeled on unique sightings while making your way to the top.
Some must-see sights during the ascent include a majestic Banyan tree and a Butterfly Hill within Jelutong Campsite.
HEART-PUMPING ADVENTURES FOR THRILL-SEEKERS
Kayak through the mangroves
For those in search of more exhilarating activities, consider hopping on a mangrove kayaking adventure! It might seem unnerving (especially for beginners), but rest assured that you'll be in good hands even when embarking as a family with young adventure seekers.
An experienced guide will help you navigate through the deep waterways whilst sharing precious information about the island's rich history. The calm waters of the mangroves will greet you with immediate serenity, and you'd even get to observe rustic houses, come across local villagers and discover diverse wildlife as you paddle down the stream.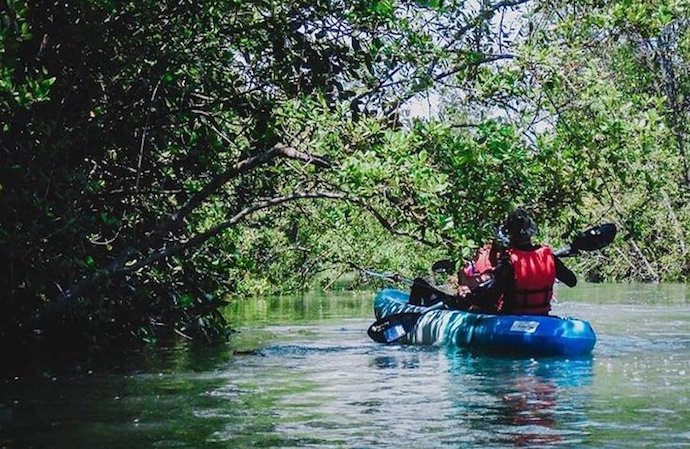 Pay close attention to the calls of cicadas and spot mudskippers (even wild boars and otters if you're lucky). Truth be told, you're likely to get splashed at some point while kayaking, so it's best to be decked in covered shoes and pack an extra set of clothes. Swap out the usual shopping trip this weekend for nature-inspired family activities.
These expeditions are suitable for novices and are priced from $98 per person.
Ketam Mountain Bike Park
Not much of a water sports person? Landlubbers and cyclists will be pleased to know that Pulau Ubin's Ketam Mountain Bike Park is the first bike park to be built according to International Mountain Bicycling Association (IMBA) standards! Cycling in Singapore can be tough, but this bike park is nothing like the city's flat concrete pavements.
Located west of the island around the fringe of Ketam Quarry, bike trails found in this bike park boasts race-grade features – anything from technical climbs to rock descents that are sure to thrill even the most seasoned two-wheeled riders.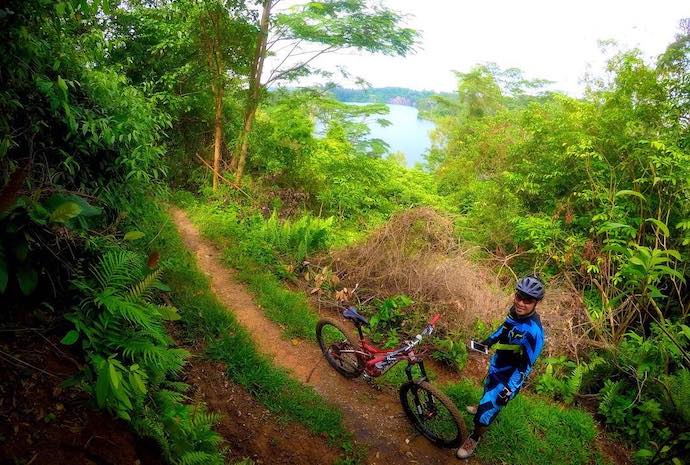 City-dwellers, here's your chance to ride off the beaten path. Comprising three grades (the Blue Square, Black Diamond and Double Black Diamond), these trails offer different intensities. The start may seem fairly easy with flat, single tracks that cut through lalang fields (best for beginners), but it gets steeper along the way. You'd soon find dirt roads and rock-littered trails with steep uphills that require more balance and composure. Having all your valuables in a backpack will make the journey a whole lot easier.
Don't worry, there'll be plenty of opportunities for cyclists to stop and catch their breath whilst soaking in majestic views overlooking the quarry.
DELICIOUS DELICACIES FOR THE FOODIES
Season Live Seafood
Opening Hours: Monday, Wednesday to Friday – 10am to 6pm, Saturday & Sunday – 10am to 6.30pm (closed on Tuesday)
After all the exploration and calorie-burning activities, hydrate yourself with some fresh coconut juice at this waterfront restaurant.
At this laid-back restaurant, you can savour classic dishes like chilli crab, sambal squid rings and cereal butter prawns with the waters off Ubin serving as a backdrop.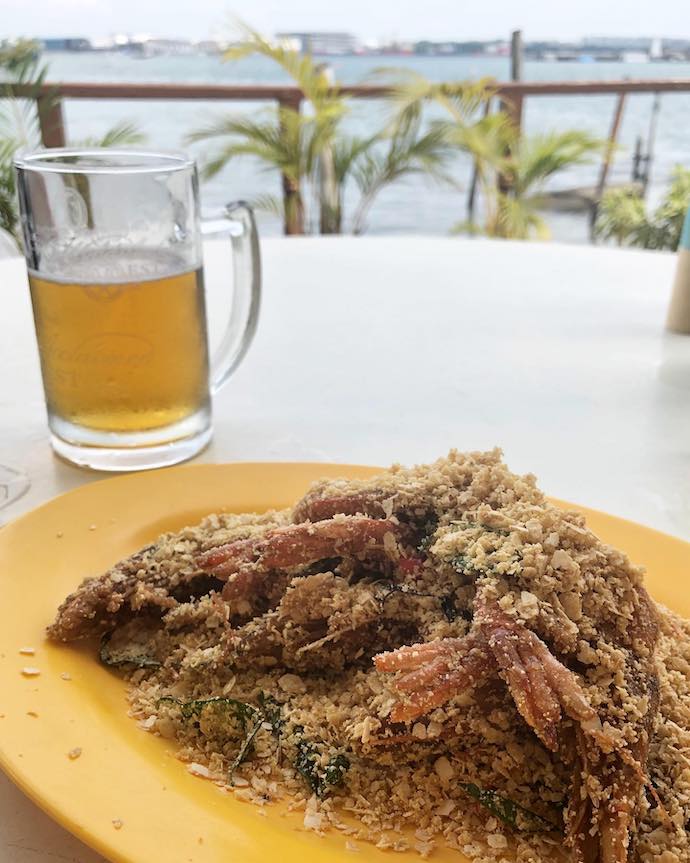 For the optimum dining experience, try getting a table near the water's edge to enjoy a refreshing sea breeze. Like most zi char places and eateries on Pulau Ubin, Season Live Seafood is no-frills – simple decor, plastic chairs and no air-conditioning. Still, its biggest plus is its seaside location and nostalgic vibes.
Getting To Pulau Ubin
Hop on a bumboat from Changi Point Ferry Terminal (adjacent to Changi Village). The ride costs $4 per person ($2 extra if you're bringing your bicycle) and takes approximately 10 minutes. Bumboats operate from 6am to 7pm daily.
Hotlines & Helplines
• In case of any emergency or accident, contact 995/999
• Police Hotline: 6375 0000
• National Parks Board Helpline: 1800 471 7300
This article is adapted from Now Boarding by Changi Airport's "Things to see and do at Pulau Ubin: 6 ideas for your next island getaway"