It's a well-known fact that Singaporeans love their food. So it comes as no surprise that this food-loving nation is a land teeming with local snacks and goodies that would make great edible gifts for family and friends, or purely for your own enjoyment back home.
When it's safe to go shopping in a mall again, make a beeline for the world-class, 10-storey Jewel Changi Airport to shop for a wide range of uniquely Singaporean goodies from homegrown food and beverage brands under one roof.
Don't leave Singapore without getting these scrumptious treats which are hand-crafted bites of Singapore culture and heritage:
Heritage Flavour Cookies
The Cookie Museum
#01-234
9am – 11pm daily
www.thecookiemuseum.com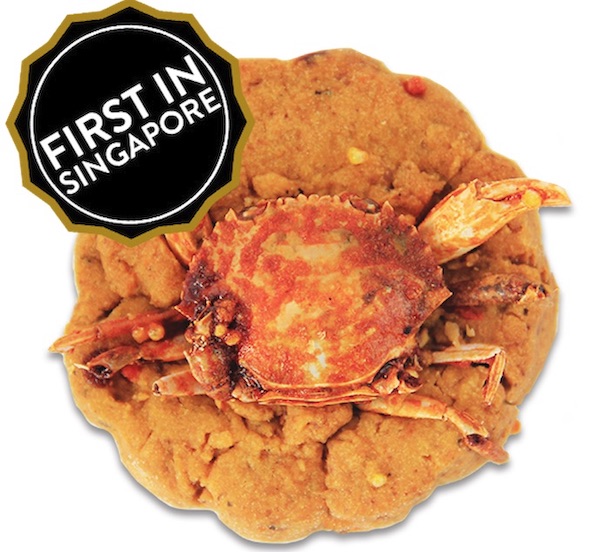 Enjoy some of Singapore's most popular dishes in a cookie from confectionery magician The Cookie Museum, which has been creating sweet and savoury cookies infused with unique flavours since 2004. Iconic local heritage flavours to stock up on include Chilli Crab, Singapore Chicken Rice, Satay, Nasi Lemak, Shrimp Laksa, Cereal Prawn, Durian and Pandan Chiffon. Cookies are packed in attractive tins.
Cookies, Pineapple Tarts & Kaya
Violet Oon Singapore
#01-205/206
10am – 10pm daily (retail section)
www.violetoon.com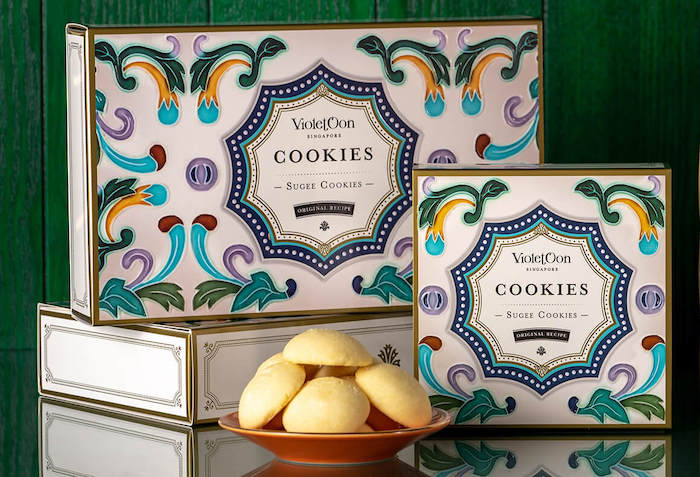 Savour a range of traditional delicacies made from original Peranakan recipes by cookbook author and doyenne of Peranakan cuisine Violet Oon at the retail section of her restaurant. Crowd favourites are the buttery Pineapple Tarts with Portuguese-inspired pastry and Peranakan-style pineapple jam; the melt-in-your-mouth semolina and ground almond Sugee Cookies; the crunchy Gula Melaka Coconut Crunch, made with gula Melaka, coconut palm sugar and toasted coconut shavings; and the creamy coconut jam Kaya, made with fresh pandan (screwpine) leaves, coconut milk, eggs and sugar. Items are packed in boxes with lovely Peranakan tile designs.
Swiss Rolls
Rich & Good Cake Shop Since 1997
#01-232
Monday to Thursday: Noon – 9pm
Friday to Sunday: 11.30am – 10pm
www.facebook.com/richandgoodcakeshop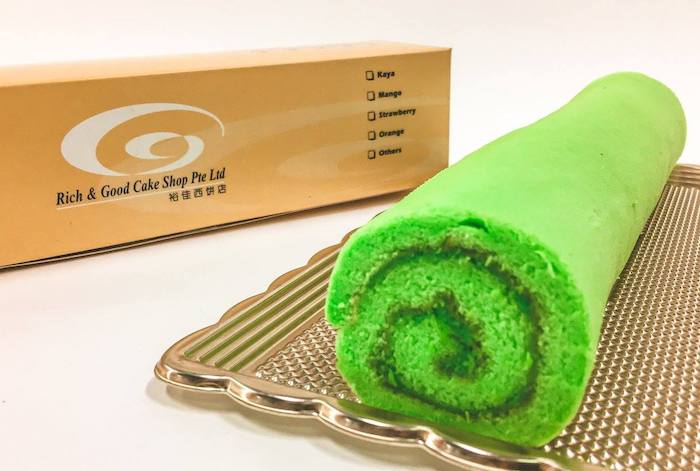 Sink your teeth into soft and fluffy Swiss rolls which are shaped like a rolled-up towel and filled with an assortment of mouth-watering flavours. While the Kaya Swiss Roll, filled with the well-loved coconut jam called kaya, is the most popular choice, the cake shop, opened by a former school teacher and now run by her daughter, also has Swiss rolls with fillings such as blueberry, strawberry, orange, mango, coffee, chocolate, cream cheese, green tea and durian.

Bak Kwa
Lim Chee Guan
#B2-222
10am – 10pm daily
www.limcheeguan.com.sg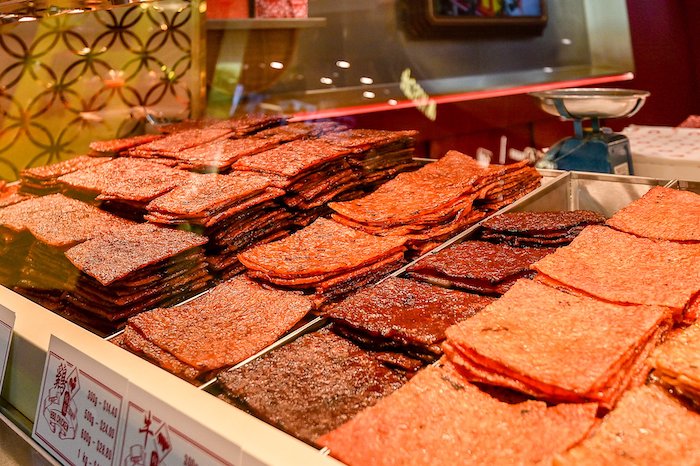 Similar to jerky, bak kwa are Chinese-style sweet and salty barbecued dried meat slices. Bak kwa specialist Lim Chee Guan has been making bak kwa, barbecuing the meat slices over a glowing charcoal grill with utmost care and expertise, for over 80 years. Bestsellers include Signature Siced Pork, BBQ Bacon and Gold Coin Pork bak kwa. There are also BBQ Prawn and BBQ Fish bak kwa for seafood fans. The bak kwa are packed in travel-friendly, resealable plastic bags.
Otah
O'TAH
#B2-241
8am – 11pm
facebook.com/otahsingapore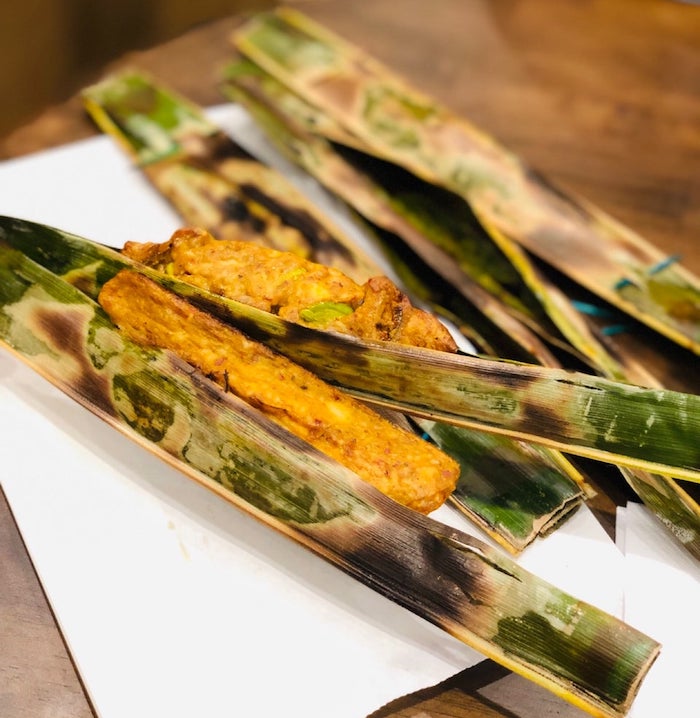 A popular snack of Malay and Peranakan origins, otah is fish paste seasoned with fresh herbs and spices such as lemongrass, coriander and chilli, wrapped in coconut or banana leaves and grilled over charcoal fire. Opened by homegrown otah chain Lee Wee & Brothers, O'TAH offers classic otahs made with mackerel fish, prawn and squid, as well as trendy creations such as Pink Salmon, Scallop, Cream Cheese & Corn and Petai & Anchovy otahs. There's also O'TAH Fries, hand-cut wedges of mackerel fish otah served with shoestring fries, and an addictive lime and herb mayonnaise dip.
Singapore-Inspired Snacks & Beverages
Taste Singapore
#01-231
11.30am – 10pm daily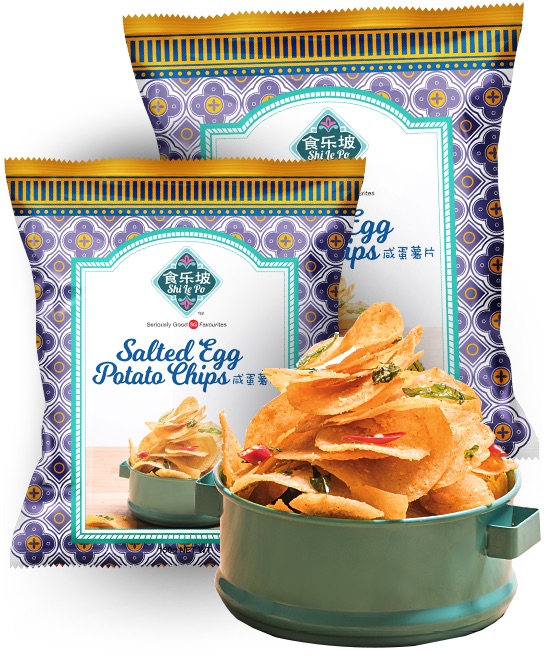 If you only have time to shop at one store, make your way to Taste Singapore. The store offers a gamut of Singapore-inspired snacks and delicacies such as salted egg potato chips, salted egg fish skins, pandan coconut cookies, Merlion-shaped chocolates, durian chocolates, pineapple tarts, prawn rolls, kaya and laksa premix. Those who like Singapore's local sock-brewed coffee (kopi) or tea (teh) can get a few boxes of Nespresso-compatible Pod Labs' Kopi-O and Teh-O pods.
Sauces, Spice Packs & Premixes
JUMBO Seafood
#03-202/203/204
Monday to Thursday: Noon – 9pm
Friday to Sunday: 11.30am – 10pm
www.jumboseafood.com.sg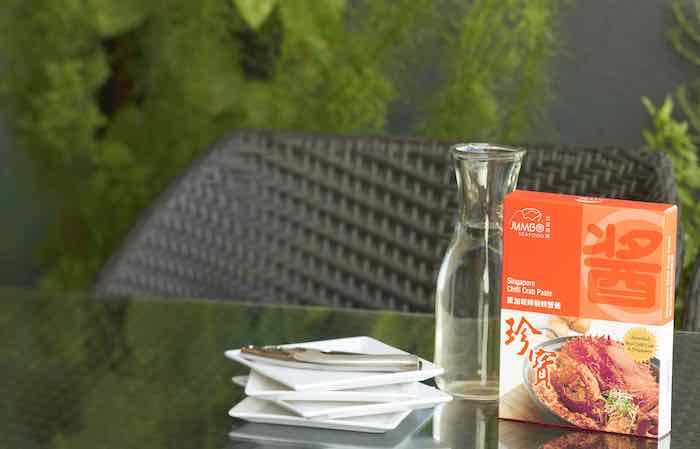 Best known for its award-winning Chilli Crab and Black Pepper Crab dishes, JUMBO Seafood has been serving Singapore-style seafood dishes since 1987. Fans of the iconic crab dishes can re-create the dishes with the restaurant's Singapore Chilli Crab Paste or Singapore Black Pepper Crab Spice which are sold at its retail section. Other items include Singapore Cereal Prawn Premix, XO Sauce and Sambal Sauce.