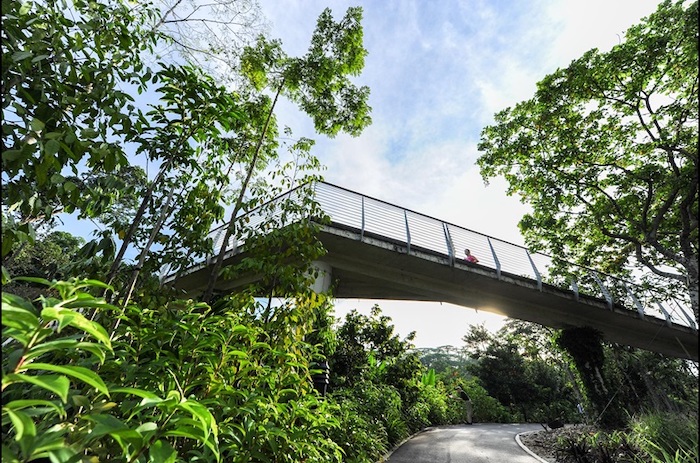 Explore freshwater forest wetland and lowland rainforest habitats, see giant and wild fruit trees, and spot birds and butterfiles at The Learning Forest, an extension of the Singapore Botanic Gardens (SBG).
Opened on 31 March 2017, the 10ha forested area (about the size of 15 football fields) lies at the southwestern edge of SBG and can be accessed from Tyersall Avenue, near the SBG's Swan Lake.
The forested area, which has a long history that can be traced back to the early 19th century, is an extensive restoration project of the wetlands and forests that formerly surrounded the SBG. It is home to over 100 species of birds, 20 species of amphibians and reptiles, 19 species of butterflies, seven species of mammals and more than 500 species of plants.
The area can be explored through a network of boardwalks and elevated walkways.
Discover more about the century-old forest through these five areas:
• The SPH Walk Of Giants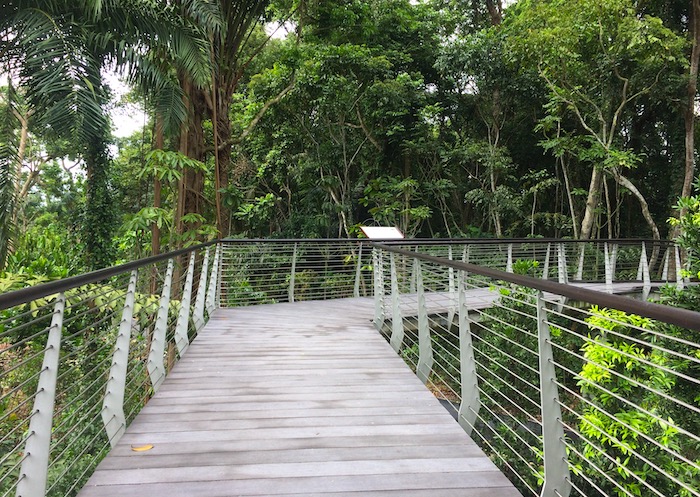 Get up close to some of the tallest tree species in Southeast Asia, some of which can grow up to at least 60m tall (about 20 storeys high) in this 260m elevated boardwalk section of the Learning Forest.
Look out for forest palms and climbers, fissured trunks and fragrant flowers of the giant Tembusu, and crown shyness of the Kapur. Crown shyness is a natural phenomenon where individual tree crowns are separated by gaps, forming a "puzzle-like" pattern against the sky.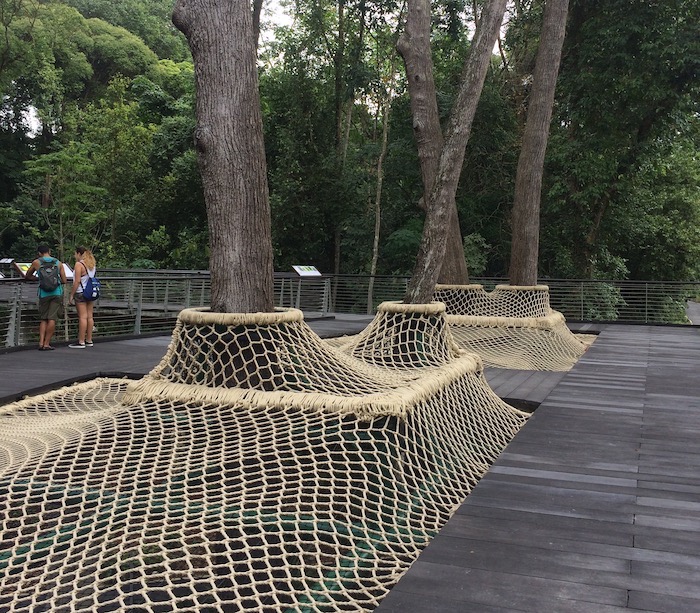 Experience what it's like being up in a tree at the Canopy Web. Peer up into the crowns of the surrounding trees and also get to see them flowering up-close. Be sure that your coins or small items do not fall through the gaps.
• The Keppel Discovery Wetlands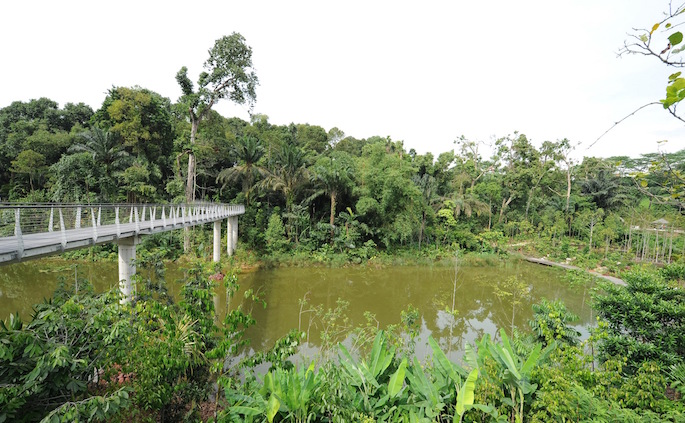 Learn all about a freshwater swamp habitat in this 1.8ha area which is connected by trails and boardwalks. Over 200 species of plants can be found here including plants named after some the SBG's botanists such as Nathaniel Cantley, Henry Ridley and EJH Corner at the Botanists' Boardwalk.
Check out the pretty orchid species such as the Deer Antlered Phalaenopsis, Orchid Nun, Finlayson's Cymbidium and Tiger Orchids (the world's largest orchid) at the Orchid Islands section.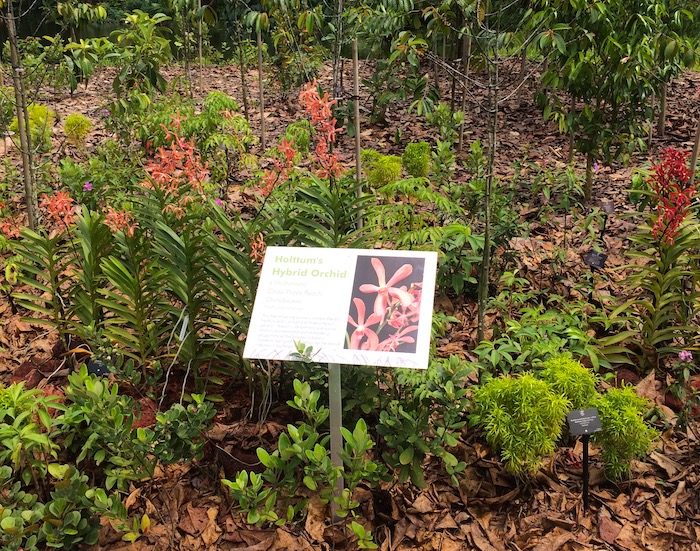 There's also Pulai Marsh, a freshwater swamp habitat that supports a rich variety of plants and wildlife, and eventually feeds into the SBG's Swan Lake.
• Lowland Rainforest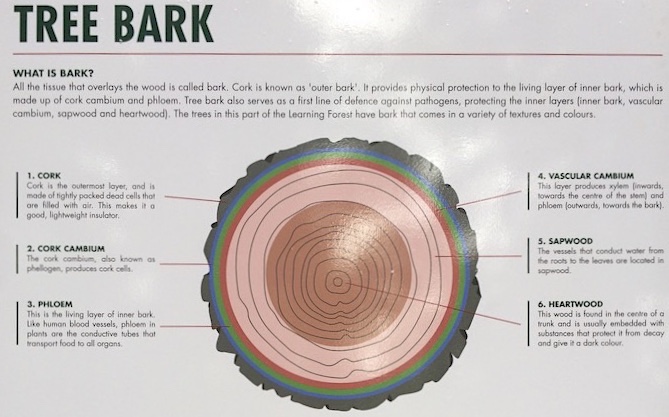 See a collection of trees with interesting barks at the Bark of Trees section, and forest plants that are cultivated for human uses such as timber, building materials and food at the Products of the Forest collection. Durian Theory features tree species with specialised growth forms that inspired E. J. H. Corner (1929-1945), one of the pioneering botanists of the Singapore Botanic Gardens, to formulate his "Durian Theory" on the evolution of trees. Corner postulated that many of today's plants are descended from tree species with large fruit similar to durians.
• Wild Fruit Trees Arboretum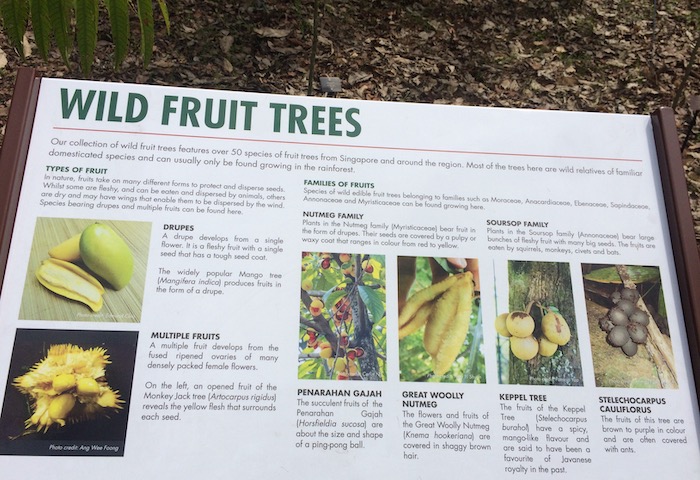 Fruit lovers can learn about their favourite fruits at this arboretum which showcases over 50 species of wild fruit trees including species from the soursop (Annonaceae), jackfruit (Moraceae), lychee (Sapindaceae), mango (Anacardiaceae) and mangosteen (Garcinia mangostana) families.
• Bambusetum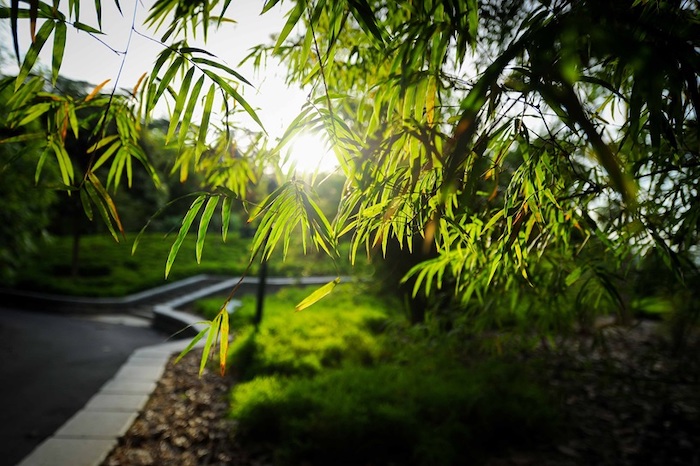 Marvel at over 30 species of tropical bamboos, tall relatives of grasses, in this section. Check out the Giant Bamboo which can grow up to 30m tall and has stems that are wide enough to be cut up and used as buckets. Look out also for the Timorese black bamboo which has dark green stems that turn purplish-black with age.
FREE ADMISSION
OPENING HOURS
• 5am to 12midnight daily
(The SPH Walk of Giants and Keppel Discovery Wetlands are closed from 7pm to 7am to maintain a conducive habitat for wildlife)
FREE GUIDED TOUR  
• Every second Saturday of the month at 9am
• Register at Visitor Services desk (Tyersall Gate), 15 minutes before the tour
SOUTHEAST-ASIA.COM RECOMMENDS
Want to explore the other areas of the Singapore Botanic Gardens? Join The Green Oasis Trail and let Locomole bring you not only to the Gardens' main attractions but also its hidden gems as well as show you what to eat and drink while you're there.
What's more, grab your complimentary $200 discount vouchers and use them all during your stay in Singapore! (Vouchers can be found in the Locomole app upon your purchase of this trail)