Around the world, people are stepping up to fight climate change. Singapore is actively playing a part too. In the Singapore Green Plan 2030 released in 2021, the country set targets for sustainability by cutting down on landfills, reducing net carbon emission and encouraging the use of electric vehicles.
Among Singaporeans, there seems to be an increased awareness about eco-friendliness and conscious consumption. This has sparked a greater interest and participation in green workshops in recent years.
These initiatives incorporate sustainability messages or environment related lessons. They equip participants with the right know-how and mindset that green habits can be cultivated.
Ready to adopt a more climate-conscious lifestyle? Join these six green workshops which make sustainability fun and engaging.
The Green Capsule: Terrarium Making Workshops
www.thegreencapsule.com.sg
#04-11 Funan; opens daily from 11am to 8pm
#02-143 Great World; opens daily from 11am to 9pm
The Green Capsule was founded in 2014 by two nature lovers – landscape architect Ricky Lim and his horticulturist wife.
For the uninitiated, a terrarium is likened to a miniature greenhouse. Soil, plants and other ornaments like coloured stones and figurines are kept within a semi or fully enclosed jug or bottle. Many terrariums are self-sustainable, as the heat that's entering the glass panel creates a small water cycle to upkeep the ecosystem living within. Others come with a lid that can be opened for maintenance.
Having indoor plants like terrariums is not only a source of pleasure, it also reduces stress and has a positive impact on one's well-being. That's why it has become a go-to gifting option or a popular workshop choice in recent years.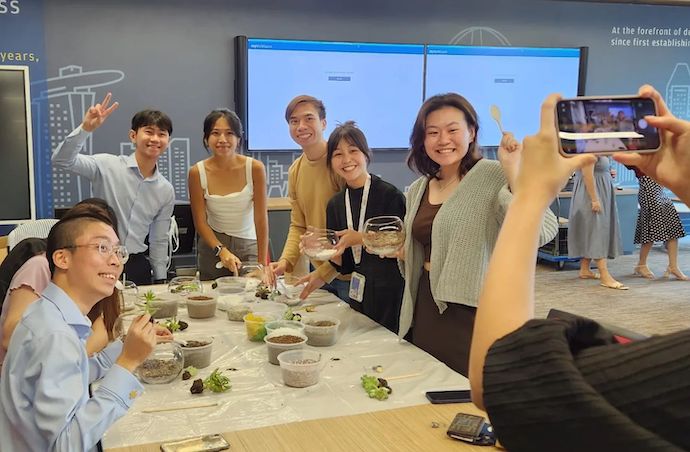 One of the first one-stop shops for terrariums in Singapore, The Green Capsule offers a range of customisable terrariums, DIY kits, and other related services, support and tools for creating and caring for terrariums.
It also conducts regular terrarium workshops for those interested in making house plants that they can call their own. The workshop, often a one-hour, one-to-one session, lets you learn more about the science behind the mini enclosures. You'll be provided with all the materials needed to build a terrarium and guided step-by-step by an instructor. At the end of the session, you'll not only get to bring home your DIY terrarium, but also receive tips on maintaining the house plants. More importantly, you'll cultivate a deeper appreciation on how to instil a tinge of green in one's fast-paced city life.
On top of individual sessions, The Green Capsule also offers terrarium building workshops for couples, families, children and corporations for bonding and educational purposes.
The price for a basic hour-long terrarium building workshop ranges from $40 per person and $80 per couple to $99 for a family of four. There are also kids' workshops (suitable for kids aged 4 and above) priced at $35 plus other themed (Chinese New Year, Christmas, Valentine's Day) terrarium building workshops at $45.
The Plant Story: Miniature Gardens Building Workshops
www.theplantstory.com
The Oval at Seletar Aerospace Park
Opens daily from 9am to 8pm
If creating your own terrarium does not tame your inner green finger, check out The Plant Story's range of miniature garden building workshops. These workshops are perfect for urban dwellers who want to beautify their spaces with plants but are concerned by the lack of space.
Over here, individuals are given the option to build their own miniature desert, rainforest, air and water gardens, housed in glass containers of various shapes and sizes.
The Plant Story trainers will recommend the best option for participants based on their individual needs and planting experiences, as well as how each of the miniature gardens work. Individuals who are attending the workshops in pairs or larger groups may also opt to build larger indoor gardens.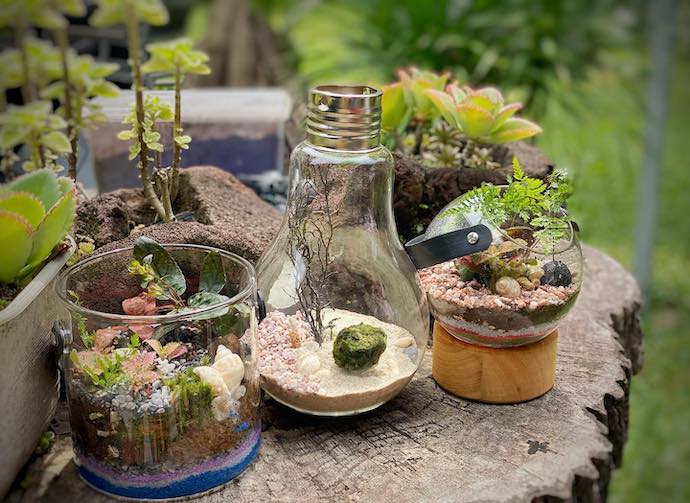 The Plant Story was founded by Cath Lim, who candidly called herself a "serial plant killer". Although she has a love for nature and the environment, she found herself lacking the skills and knowledge to care for plants. So, she decided to leave her advertising job of 16 years to become a landscape designer and horticulturist.
From then on, Cath was determined to help other urbanists like her. She believes in playing an active role to reconnect harmoniously with nature. But to do that, one needs to be equipped with the right knowledge and skills. This led to the birth of The Plant Story in 2009, offering urban gardening, nature immersion and art therapy workshops.
For those who wish to take their nature experiences a step further, they may also choose to enrol into the home apothecary workshops to learn more about herbs that are easily available in Singapore. The workshop will teach participants on the origins and uses of common herbs. They will also be able to concoct and bring home their own remedies such as insect repellent and body scrubs.
Cath believes in treating every workshop participant like VIPs. Each workshop lasts about 2.5 hours and participants will be served homemade cakes and tea. A one-to-one session costs $195, while a two-person workshop costs $298. A group workshop with three to nine participants costs $125 per person.
Studio An: Art Materials Recycling Workshop
www.studio-an.space
#02-19 Entrepreneur Business Centre, 18 Kaki Bukit Road 3
Open from Wednesday to Sunday, 10.30am to 11pm
Unlike other sustainable initiatives, Studio An was born out of its founder Gloricia Shen's love for art and craft, rather than nature.
In 2021, Gloricia left her corporate job to start a small studio that now offers tufting, acrylic painting and other art classes. She also rents out her studio space, equipment and art materials for others to experiment and work on their arts projects.
Gradually, Gloricia noticed the studio has accumulated a substantial amount of waste – mainly canvas, yarn and cardboard. That was what prompted her to start recycling some of these materials into the making of papers. She wanted to give the creative wastes a new life and at the same time, play a part in making the art industry more sustainable.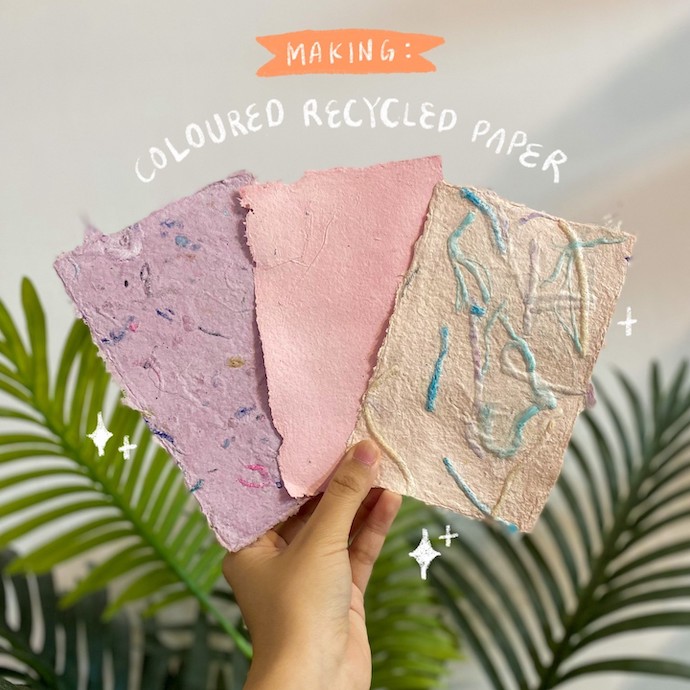 In the two-hour guided paper-making workshop at Studio An, participants will be taught how to break down used materials and waste cardboards, and integrate them into recycled papers. They will also learn the types of creative wastes commonly found in arts and crafts studios and what can be done to minimise usage or recycle the items meaningfully.
Participants are encouraged to bring along their own natural, compostable materials like leaves and flowers to spice up their recycled papers. As most of the creative wastes are unique, participants will bring back recycled papers that come with one-of-a-kind colours and patterns. A two-hour Sustainable Paper Making session costs $35, with all materials provided.
Wah So Simple: Food Packaging Upcycling Workshop
All along, avid crafter Koh Lee Sin has been on a mission to convince the public that crafting is not an expensive hobby. So far, she's done so through her plethora of artwork, made from leftover materials, common household items and even trash.
Lee Sin came up with the "Less is More" upcycling workshop series in 2015, when she learnt that Singaporeans discard more than 700 million kg of plastic every year, with up to 90 percent of them not recycled. She hopes the hands-on sessions will help to spread the message of reducing plastic consumption and waste, and ultimately, turn art and craft into an instrumental force for environmental care and awareness.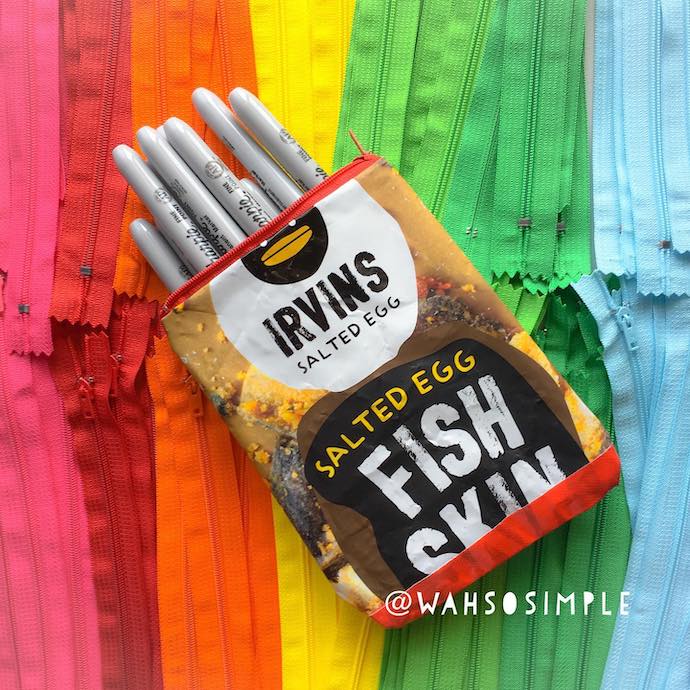 In the plastic upcycling workshop, which is typically two hours long, participants will get to learn how to turn plastic food packaging into a unique and practical zipper pouch. You can also learn how to make face mask holders or triangular headphone pouches from old plastic folders and even unused banners.
Besides plastic, Lee Sin also offers upcycling workshops using pre-loved clothes, fabric scraps and unwanted papers or cardboards. Participants can choose to turn the waste materials into reusable shopping bags, cup coasters, food wrap, notebooks and more.
Wah So Simple's upcycling workshops are on demand, creative and simple. There is no age or experience limit to any of Lee Sin's workshops. She draws inspiration from everyday life, and believes that anyone can make simple adjustments in their lifestyle to become a more environmentally conscious individual.
All upcycling workshops at Wah So Simple are tailored and it does not have a physical studio space at the moment. For more information on the price, dates and content, please enquire directly on its official website.
Gardens with Purpose: Urban Farming Workshops
www.gardens-with-purpose.com
479 Sims Avenue
In recent years, there's a growing interest in urban farming in Singapore. From the rooftop of multi-storey car parks to schools and HDB flats, it's easy to spot fresh produce being planted in vertical shelves.
With the right knowledge, training and tools, it's possible to grow your own food, especially organic vegetables, herbs and fruits at home. This is what Gardens with Purpose has set out to do.
Gardens with Purpose is an urban farming school founded by Joanne Ng, who teaches the fundamentals of growing and maintaining an edible garden. Her one-day, hands-on workshop on growing organic vegetables using soil or soilless methods, offers participants a step-by-step guide into the kinds of equipment and know-how needed to start their gardening journey.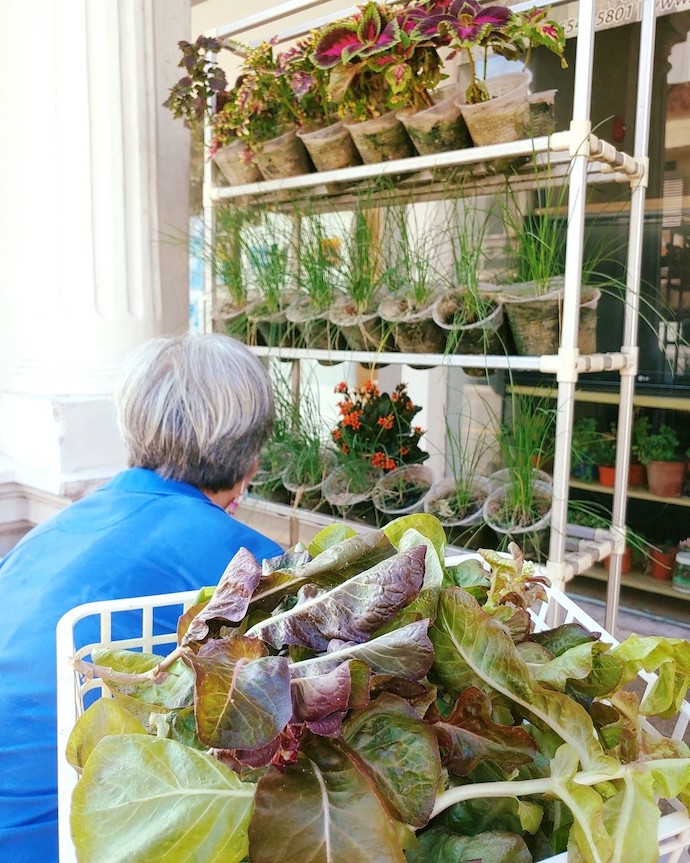 At the same time, Joanne also addresses some common planting mistakes. She will provide tips on choosing the right kind of vegetables to grow in the tropical climate and natural solutions to combat plant diseases. Additionally, she will share the differences between soil and soilless planting so participants can have an insight into the types of vegetables and planting methods most suitable for their homes or offices.
For the more experienced gardeners, there is the one-day advanced workshop which allows participants to learn more about the various propagation techniques – how to manage pests and fungal diseases, along with generating fertilisers from food waste. On top of growing vegetables and fruits, there are also other one-day workshops on growing herbs and spices.
Joanne hopes that gardening will not only be a trend that comes and goes as time passes. She wishes to equip interested participants with new skills, one that can open new career opportunities to those in need and even transform the local farming scene.
A workshop on growing organic vegetables using soil or soilless method costs $230 per person and is held from 9.30am to 5pm.
Green Nudge: Plastic, Food & Fabric Waste Workshops

www.greennudge.sg
#01-01, 21 Bedok North Street 1
Green Nudge is a green social enterprise founded in 2018 which believes that mass events should be more environmentally driven and sustainable. It aims to "nudge" rather than "instruct" individuals to go green by giving them opportunities to learn and reflect on problems that are affecting our environment.
Green Nudge offers different kinds of outreach programmes such as trails to the e-waste factories, workshops on understanding marine biodiversity and beach cleanups. It also organises one- to three-hour long workshops on various plastic, food and fabric waste themes.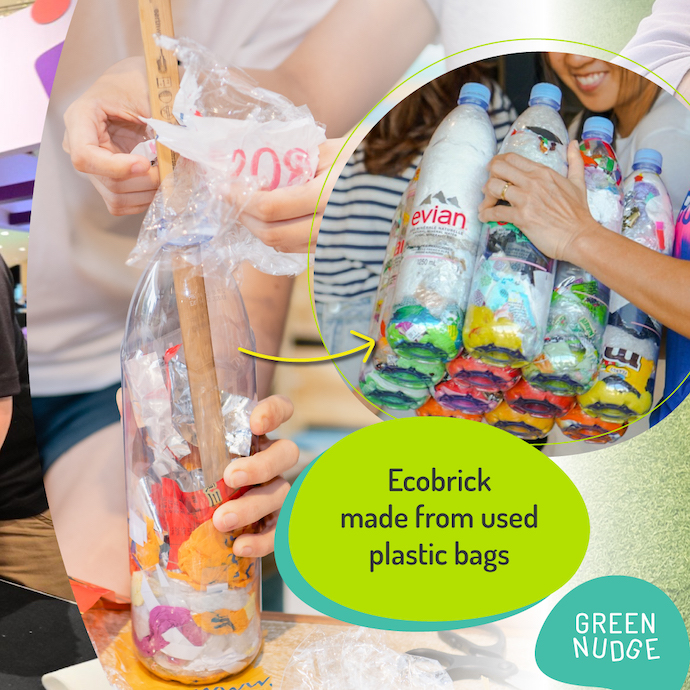 In the newPlastics workshop, participants will take a closer look into single-use plastics and disposables in Singapore, and the challenges involved in recycling them. They will also learn how to combine these plastic waste and turn them into practical items like carabiner hooks or pins.
In the Composting workshop, participants will learn how to decompose food and organic waste into useful fertiliser for gardening. The hands-on session gives participants an insight into what goes into our landfills and how they can be minimised.
Workshops offered by Green Nudge are customisable. For more information on the price, dates, and content, please enquire directly on its official website.
This article has been edited and adapted from Now Boarding by Changi Airport's "6 green workshops everyone should try in Singapore"