With banh mi and pho making it into the Oxford English Dictionary, Vietnam's cuisine is well-known across the globe. While Ho Chi Minh City's Ben Tanh Market and Cu Chi Tunnels, as well as beach resort destinations like Hoi An and Da Lat in the South are popular tourist spots, the Northern Vietnam region also has a lot to offer, from natural beauty to historical sights and cooler weather.
Step into the bustling streets of Hanoi with its colonial architecture and never-ending motorbike traffic. Retreat to nature and experience the serene sights of Halong Bay, a UNESCO heritage site and home to Hollywood movie sets. End the trip with a trek along the terraced rice fields of Sapa, the only place in Vietnam that experiences snowfall in winter.
We spotlight 3 best things to do in Hanoi, Halong Bay and Sapa in a week.
Indulge in Hanoi's food and catch a glimpse of its culture
Hanoi's Old Quarter (aka Hoan Kiem District) is a must visit and the best way to explore it is on foot. With a 1,000-year-old history, a mishmash of temples, pagodas, cathedrals, art galleries and colonial architecture, every street and turn offer something different.
Step back in time to one of the oldest houses in Hanoi built in the 1890s – the Ancient House on 87 Ma May Street. Recognised as a national monument, Ancient House is the place to get an understanding of the ancient way of life through its traditional Vietnamese architecture, ceramic kitchenware and artefacts.
Shop for T-shirts, bags and souvenirs at Dong Xuan Market, or order a local Vietnamese coffee from a roadside stall and watch the world go by. In the evening, take a stroll around Hoan Kiem Lake and mingle with the locals as they practice tai chi – a form of martial arts.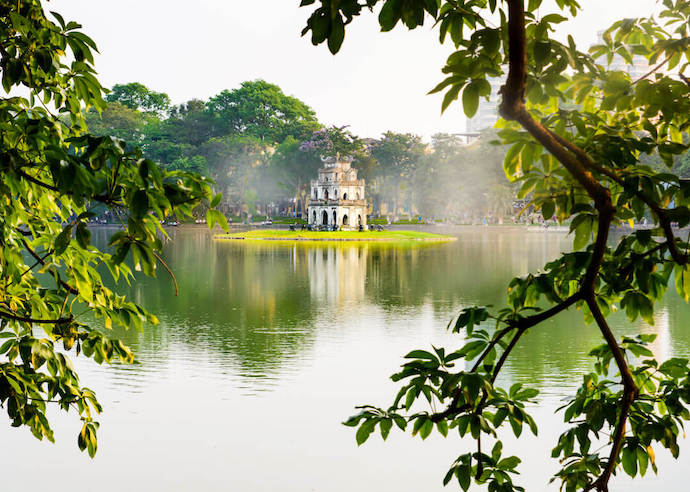 Cross the wooden bridge to visit the Ngoc Son Temple which sits in the middle of the lake on a small island. Just beside the lake, be entertained by local youths dancing on the street to the latest K-pop beats.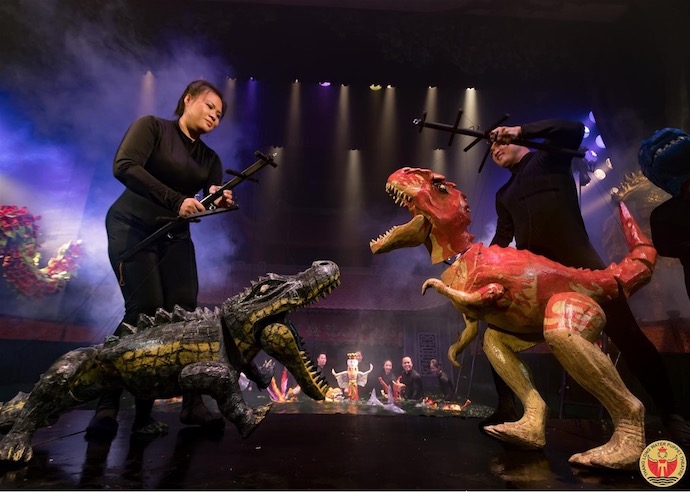 In the vicinity of the Hoan Kiem Lake, peek into the lives of the Vietnamese through a water puppet theatre show, which features scenes of daily living, entertainment or Vietnamese legends. Tickets can be purchased on site, preferably a day in advance to secure seats. For more information, check out the Thang Long Water Puppet website.
Hanoi has a host of dining options to offer, and here's a list to tickle your taste buds:
• Vietnamese restaurants – Nhà Hàng Ngon for Vietnamese pancakes, Nhà hàng Tầm Vị, Chả Cá Thăng Long for fish noodles
• Banh Mi – Banh Mi Lan Ong, Bánh Mì 25
• Phở – Quán Bún Thang Bà Đức, Bún riêu cua Hàng Bạc, Nhà Hàng Miến Lươn ĐÔNG THỊNH, Phở Thìn
• Cafes – Aroi Dessert Café, Coffee Cây, Maison Marou Hanoi, Đinh Café, Cafe Giảng
• French cuisine – La Terrasse du Metropole (at Sofitel Legend Metropole Hotel), Green Tangerine, Duong Restaurant Ma May (for French-Vietnamese fusion cuisine and cooking classes)
Pro Tip: When crossing busy roads with motorcycle traffic, keep walking at a steady pace and do not stop. Motorcyclists know how to skilfully navigate around pedestrians, and stopping abruptly will send a confusing signal. Cross the streets with locals if you need the added courage.
Enjoy the tranquility of Halong Bay
Escape from the hustle and bustle of Hanoi to the serene waters of Halong Bay. With its towering limestone structures and unique seascape, this natural wonder is sure to charm. Many famous movies have been filmed here. They include Tomorrow Never Dies (1997), Pan (2015), and Kong: Skull Island (2017).
From Hanoi, it is a two- to three-hour journey by bus or private car to the UNESCO World Heritage Site. An overnight stay on a traditional junk boat in Halong Bay is a great way to unwind and get your digital detox amid the peace and calm of the bay. If you don't have time for an overnight stay, a day cruise along the bay is a convenient option to take in the sights.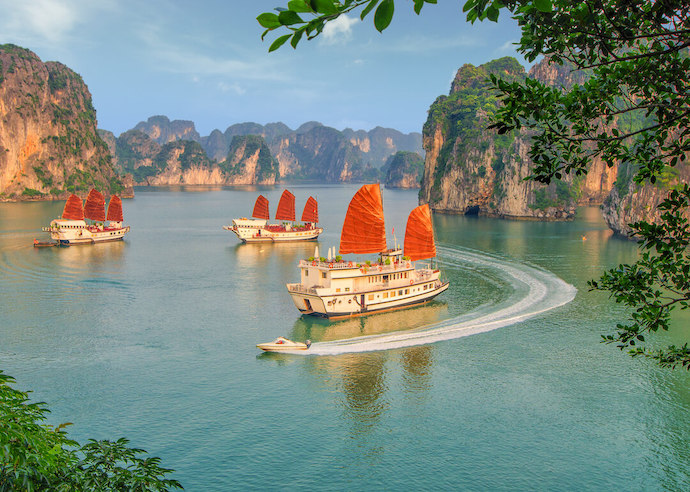 Activities are aplenty in Halong Bay. Go island-hopping (recommended spots are Cat Ba Island and National Park, Titop Island and Tuan Chau Island), explore caves, visit pearl farms and check out floating villages. Those up for some water activities can kayak, snorkel or dive. The best way to experience these activities would be to sign up with a tour operator who will take care of everything from transportation and accommodation to food.
Pro Tip: Climb to the top of Ti Top Island to get a panoramic view of the bay, and catch the sunset from there. If you're an early bird, rise early to catch the glorious sunrise hitting the waters of Halong Bay.
Scale the mountains of Sapa
From Halong Bay, head back to Hanoi and continue the journey onward to Sapa – either by a train, bus or private car. Located 300km away, a one-night stay is recommended to make the journey worthwhile. Located at 1,500m above sea level, Sapa's air is fresh and crisp compared to Hanoi's.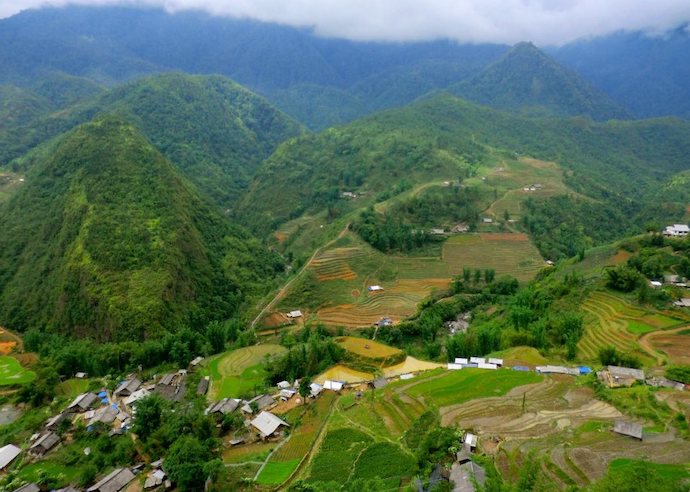 Trek through the rice field terrains with a good pair of hiking shoes, take in the amazing mountain views and visit ethnic minority group villages such as the Hmong and the Red Dzao people along the way.
If you're in luck, you may even enjoy traditional musical performances at the villages. Walk all the way through to Cat Cat Village and be treated to a majestic and glorious waterfall at the end. Don't be startled to see pigs, buffalos and goats roaming around as villagers keep them as pets. Keep your eyes peeled for villagers planting rice and you'll be amazed at the amount of hard work required! To experience the village life through and through, opt for a traditional home stay (find them through Airbnb or standalone offerings online) instead of a hotel stay.
If you have fallen in love with Vietnamese cuisine at this point and would like to hone your cooking skills, take a cooking class in Sapa, which includes going to the local wet market and shopping for ingredients early in the morning – you won't get produce any fresher than this!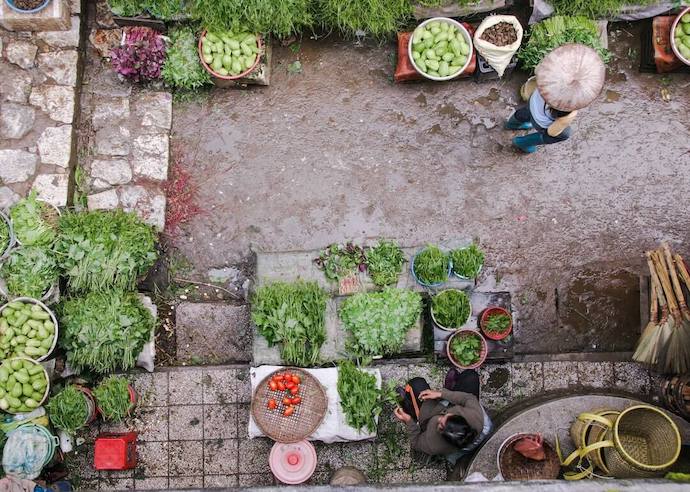 But if you just want to feast, try the unique cuisines of the ethnic minority groups in Sapa. Don't be offended if you're offered snake wine. Some restaurants visibly display the clear jar of rice wine, with the entire snake still immersed in it!
Pro Tip: While the actual journey to Sapa by bus or private car may be shorter (six to seven hours), compared to the train (eight to nine hours), discover the romance of train travel, and at the same time, maximise your time spent and save on one night's accommodation on the overnight sleeper train. From Lao Cai train station, it takes another hour by bus or car to reach Sapa. A sleeper bus is also an interesting option if you get a good spot on the second level of the bus by the window, to watch Vietnam's endless motorcycle traffic flow while taking in the views in the comfort of your "lie-flat bed".
Photos courtesy of Changi Airport Group
This article has been edited and adapted from Now Boarding by Changi Airport's "Exploring North Vietnam (Hanoi, Halong Bay and Sapa) in a week"