In a fast-moving city like Singapore, biodiversity naturally requires much effort to maintain. With recent growing conservation efforts, it's safe to say that Singapore is still blessed to be surrounded by nature. These green spaces, like natural reserves, are a breath of fresh air and a way for us to witness some spectacular wildlife for years to come.
We fill you in on the best places for spotting wild animals in Singapore.
Bukit Timah Nature Reserve
177 Hindhede Drive
Open daily from 7am to 7pm
Officially recognised as an ASEAN Heritage Park in 2011, Bukit Timah Nature Reserve is a must-visit for locals and tourists alike. By virtue of Singapore's location on the equatorial belt, the 163 hectare nature reserve has one of the richest and most diverse ecological systems. In other words, you'll find an impressive selection of plant and animal species at the nature reserve.
If you're lucky, you might spot a handsome brown bird with a dusty orange head that makes a sweet singing call. That would be the Straw-headed Bulbul, one of Singapore's famed feathered friends. Besides feathered friends, look out also for creatures like the Malayan Pangolin (Manis javanica), Malayan Colugo (Galeopterus variegatus), Plantain Squirrel (Callosciurus notatus) and Long-tailed Macaque.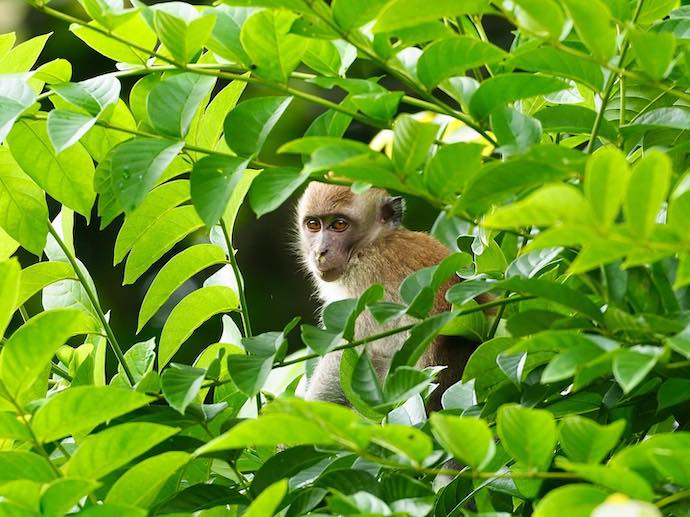 Of course, a visit to the nature reserve means a hike up Bukit Timah Hill, Singapore's highest hill, which stands at 163 metres. If you walk at a leisurely pace, it will take you about 45 minutes to an hour to reach the top.
Getting There
MRT: The closest MRT station is Beauty World (DT5) on the Downtown Line. Upon arrival, head towards Exit A which brings you to Upper Bukit Timah Road. The walk to the nature reserve takes roughly 12 minutes.
Bus: Take bus 67, 75, 170, 171, 184, 852, 961. Alight at Jalan Anak Bukit Road, opposite Beauty World Centre or alight at Upper Bukit Timah Road, opposite Bukit Timah Shopping Centre.
Pulau Ubin
Off the northeastern corner of Singapore
Located in the northeastern part of Singapore, Pulau Ubin has long been a hotspot for nature lovers. Not only does the island provide a window to Singapore's yesteryears, it is also said to house over 780 native plants, over 200 birds and butterflies, as well as close to 90 mammals, reptiles and amphibians.
It's a great spot for nature lovers, especially due to its rustic kampung (Malay for "village") charm. Resident creatures to look out for are the Greater Mouse Deer and bats like the Ashy Barred Eagle Owl, which are not found on mainland Singapore.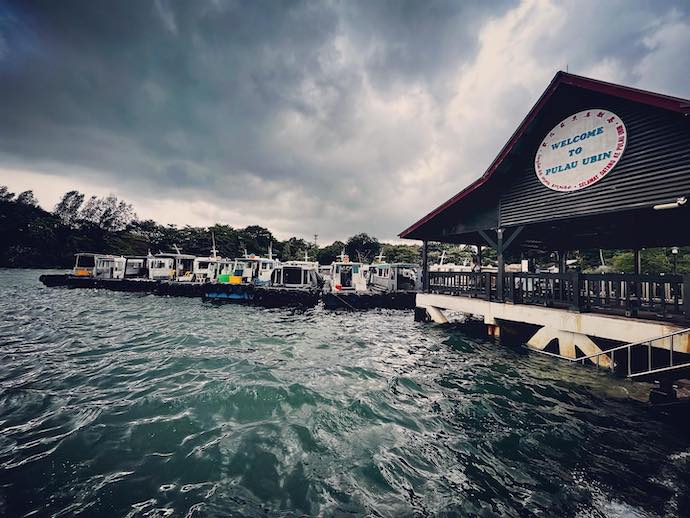 Don't leave the island without visiting the Chek Jawa Wetlands at the eastern end of Pulau Ubin. The 100-hectare natural area is where six major ecosystems – sandy beach, rocky beach, seagrass lagoon, coral rubble, mangroves and coastal forest – meet! It's also home to Singapore's only two mangrove heritage trees – Perepat and Mangrove Apple – which are possibly two of the biggest in the country.
Getting There
Take bus 59 at Exit B bus stop of Tampines East MRT Station to Changi Village Bus Interchange. Take a bumboat from Changi Point Ferry Terminal, which will take you directly to Pulau Ubin Jetty. The ride costs $4 per person and takes approximately 10 minutes. Bumboats operate from 6am to 7pm.
Changi Beach
7A Gosport Road
Unbeknownst to many, intertidal marine creatures actually live on the shores of Changi Beach, particularly along Changi Point Boardwalk. It's best to embark on an intertidal walk during the lowest of tides, ideally when it's at 0.2 metres or below. Needless to say, these creatures would be submerged during high tide. Before you make your way down, check out the official tide timings and predictions here.
On days with low tide, you'll get to witness some colourful displays of sea cucumbers – some vibrant pink; others yellow and even stripey. There are also sea anemones and starfishes like the Biscuit Sea Star that looks pretty much like Patrick from SpongeBob, except that it's not pale pink.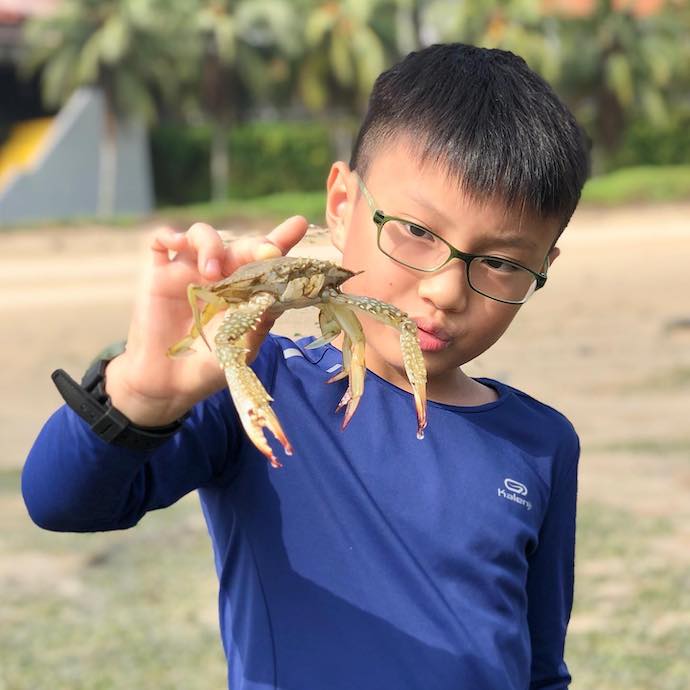 To enjoy the full experience, consider joining a guided intertidal tour where you'll learn interesting nuggets of information with the help of a professional. There's no question that you'll get your feet wet during the tour. So bring a pair of wet shoes (or boots) to protect yourself from sharp rocks and shells.
Getting There
Take the MRT to Tanah Merah Station (EW4). At Exit B, hop on bus 2 and alight at Blk 5. Walk for about 4 minutes to arrive at your destination.
Sungei Buloh Wetland Reserve
60 Kranji Way, #01-00
Open daily from 7am to 7pm
Singapore's first ASEAN Heritage Park, Sungei Buloh Wetland Reserve is home to some of the world's rarest mangroves. Interestingly, the wetlands is also a stopover point for many migratory birds like the Pacific Golden Plover and Asian Dowitcher. Annually, these beautiful creatures fly in from the northern hemisphere particularly to take shelter from the cold, winter months. So it's no surprise that the wetlands is a hotspot for bird and wildlife photographers.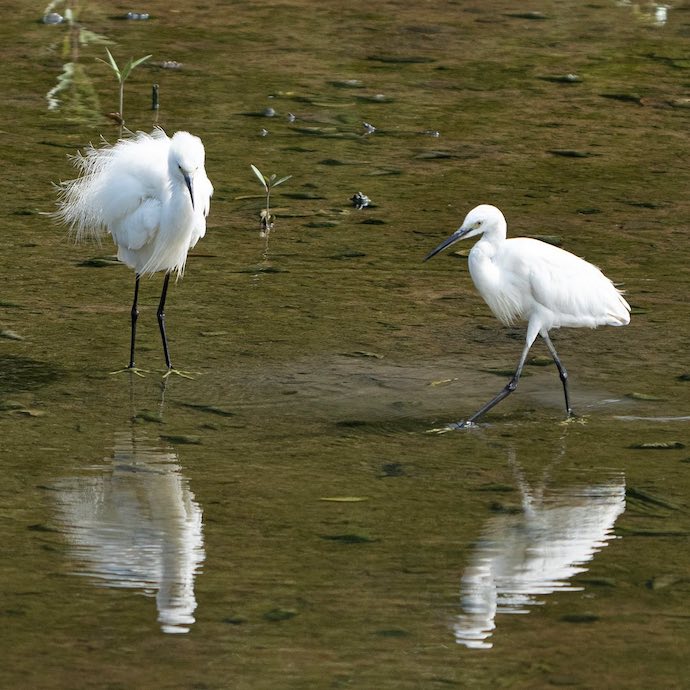 Birds aside, it's also a permanent home to many of Singapore's native mudland creatures including the Malayan Water Monitor Lizards and Banded Archerfish.
For families looking to spend some time outdoors, the boardwalks make a convenient spot for both kids and adults to check out the resident animal life.
Getting There
Take bus 925 from Kranji MRT Station. Alight at Kranji Reservoir Park B after 11 stops. The journey takes about 11 minutes.
Coney Island Park
Punggol Promenade Nature Walk
Open daily from 7am to 7pm
Besides being rich in history, Coney Island Park houses a wide variety of habitats like coastal forests, grasslands, mangroves and casuarina woodlands. These areas are home to a wide variety of fauna and flora, some of which are critically endangered.
There are a few rare plants at the park that are presumed nationally extinct in the wild. This provides an opportunity to learn more about Singapore's ecological environment and appreciate the limited green spaces in the country.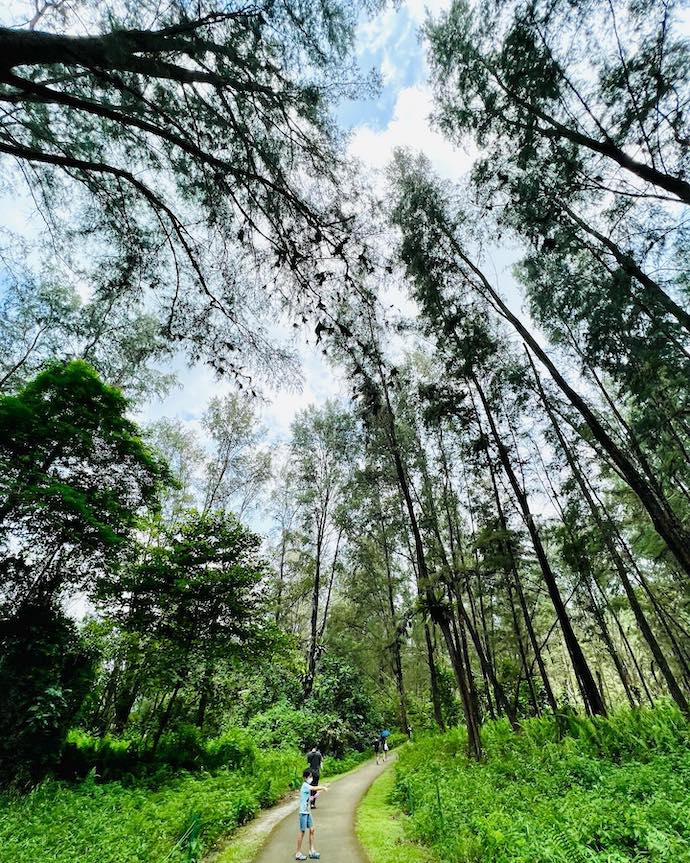 As of now, the island is mostly left untouched, so expect to see native macaques and other wildlife such as snakes and birds including the resident baya weavers residing in their natural habitat. You might even catch a glimpse of otters hanging around too!
Getting There
From Punggol Bus Interchange, hop on bus 84 to Punggol Point Park/Punggol Settlement. Walk about 500 metres east along the Punggol Promenade Nature Walk to get to Coney Island Park West Entrance.
Central Catchment Nature Reserve
601 Island Club Road (located close to Singapore Island Country Club, via Venus Drive)
Nature reserve is open daily from 7am to 7pm
TreeTop Walk is open from 9am to 5pm on weekdays; 8.30am to 5pm on weekends (closed on Mondays except public holidays)
Situated in the centre of Singapore is the Central Catchment Nature Reserve, the city's largest nature reserve. It spans across 2,880 hectares which is slightly bigger than 7,000 football fields!
A magnificent diversity of plants and more than 200 bird species have been observed in the nature reserve. Although rare and elusive, the Central Catchment is home to Pangolins, Slow Loris, Mouse Deer and even the alluring King Cobra and Pythons! For your own safety, be sure to stay on designated trails.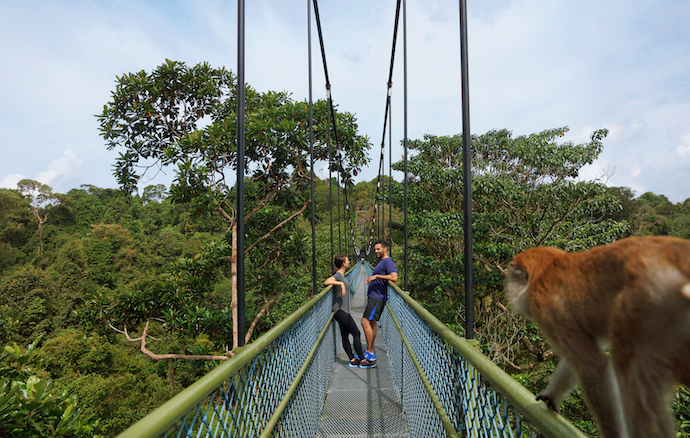 The nature reserve is also home to the TreeTop Walk, one of Singapore's most popular hiking spots. A highlight of the hike is the 250-metre-long suspension bridge connecting the two highest points in MacRitchie – Bukit Peirce and Bukit Kalang – which offers a bird's-eye view of the surrounding forest.
Getting There
Take the MRT to Caldecott Station (CC17/TE9), walk towards Exit A. Walk westward along Toa Payoh Rise, turn right to Thomson Road, then walk northward along Thomson Road towards MacRitchie Reservoir. It is a 900-metre walk.
Take bus 52 from Bishan Bus Interchange; bus 74, 130, 132, 165, 166, 167 from Ang Mo Kio Bus Interchange; bus 93, 165, 855 from Farrer Road MRT Station; bus 157 from Toa Payoh Bus Interchange; bus 162, 852 from Yio Chu Kang MRT Station.
This article is adapted from Now Boarding by Changi Airport's "6 best places to spot magnificent wildlife in Singapore"