There's more to Cebu City, aka "Queen City of the South", than its dazzling beaches. A quick recce around the fast-paced coastal city in Philippines' Central Visayas will reveal a bustling, developed metropolis with historic architecture, splendid temples and an abundance of street art.
Widely regarded as one of the best places to visit in Southeast Asia, Cebu attracts millions of tourists who are allured by its pristine beaches. With its multiple islands, sandy beaches and rich history, it's no wonder why the city has become a popular destination among holidaymakers, backpackers and island hoppers.
Not sure what to do in the city? Our first-time visitor's guide will fill you in on the essential info.
1. Check out the old, the sacred, the natural
The most visited tourist attraction in Cebu City is the 16th century Basilica Minore del Santo Nino, a national landmark that contains a jewel-studded statue of the Santo Nino (Holy Child).
Love immersing yourself in the magic of museums? The nearby pint-sized Fort San Pedro marks the colonial outpost with a museum that includes the treasures from the San Diego galleon. While sightseeing around the area, enjoy the peaceful grounds and sea views.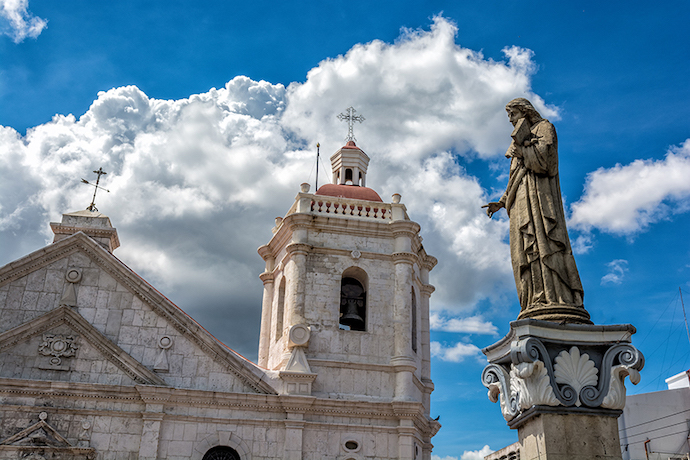 A unique sight is the gleaming 20m-high Lapu-Lapu Shrine of the local chieftain who fatally wounded Portuguese explorer Ferdinand Magellan during the Mactan Landing in 1521. Pay your respects to this early traveller by visiting Magellan's Cross in the mural-covered building near the Basilica.
You'll also find interesting Filipino history at Museo Sugbo, which is about 2km away from Fort San Pedro. It has four permanent galleries and special exhibits in a former jail. Just a 10-minute walk away from this Cebu Provincial Museum, you can also take in the Cebu Heritage Monument, which portrays local history in a series of brass, steel, bronze and concrete artworks.
For more fun activities, enjoy the best views of Cebu City while participating in adrenaline-pumping activities at Mountain View Nature's Park.
2. Enjoy wet and wild fun in the sun
Free sandy beaches near Cebu City include the grey-sand beach at Talisay and the golden beach at Consolacion. For stunning white sand, venture to the nearby island of Mactan. One of the world's most beautiful places, it is only a 30-minute taxi or bus ride away.
You can pay a daily rate to access private resort beaches such as the Shangri-La for parasailing, snorkelling and sunbathing. Shangri-La Mactan, Cebu offers sea sports activities that will take your family holiday to the next level.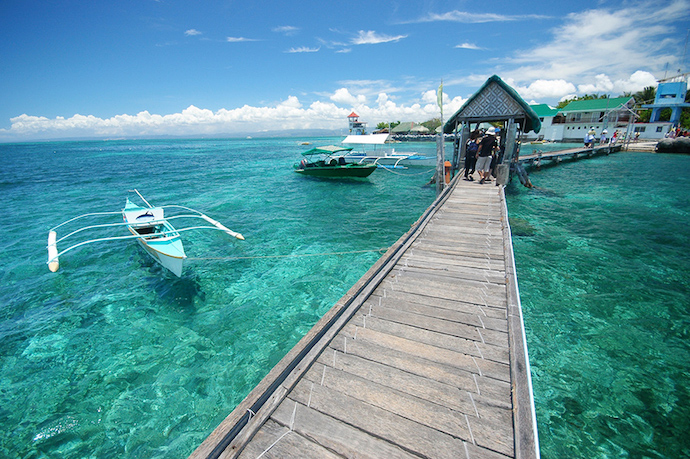 For the perfect getaway, take a day trip to Nalusuan Island Resort and Marine Sanctuary, 15 minutes by boat from Cebu. Enjoy jet skis, banana boats, kayaking, snorkelling and diving on the Olango Reef, or chill with a beach massage. Alternatively, join a Mactan Island Hopping Shared Tour and indulge in some island-hopping adventures with other thrill-seekers.
3. Spend your pesos here
Sprawling Carbon Market is a jam-packed farmers' market selling everything from baskets to beachwear. Over 100 years old, the market took its name from the coal and cinder heaps stored here by the Cebu Railroad.
Always on the hunt for red hot deals? Shop for perfumes, sportswear and books, or treat yourself to a pedicure at SM City Cebu Mall, a Filipino SuperMall (SM) in Cebu Port Centre. As one of the largest shopping malls in the Philippines, it comes as no surprise that it boasts over 700 retail, F&B and service stores. Some of mall's food outlets include Hotdog on Sticks and Ayers Lechon.
If you're homesick for Orchard Road, the upscale Ayala Center Cebu in Downtown Cebu is the perfect antidote. This premier mall averages over 85,000 visitors per day. It's the perfect place to shop and relax, so take your time to explore all its offerings, housed within a masterfully-designed space.
4. Feast on Filipino specialities
No trip to Cebu would be complete without enjoying some lechon (roasted suckling pig), which many consider as the national dish of the Philippines. Dubbed "Lechon capital" of the Philippines, Cebu prides itself in having perfected the art of roasting pigs that boast crispy skins and deep flavours. Sink your teeth into melt-in-your-mouth lechon at hot favourites like Rico's Lechon, House of Lechon, Zubuchon, Ayer's Lechon and Eli's Lechon Cebu.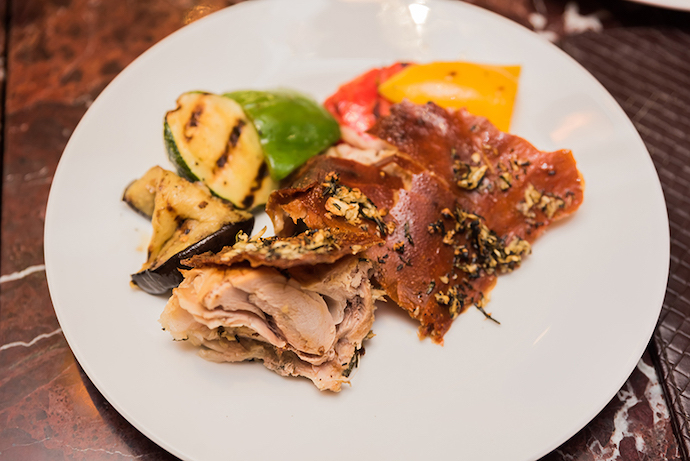 For a sampling of dishes from the different regions of the Philippines, head for Café Laguna. Tuck into bestsellers like Kare-kare with Bagoong, Crispy Pata, Lumpiang Sariwa, Crispy Tadyang and Pandan Chicken.
5. Hunt down the best places for selfies
One of Cebu's most photo-worthy spots is The Ruins in Talisay, the shell of a once-glorious Italianate mansion. Gutted by fire, the skeletal remains and fountains are a magnificent backdrop for a selfie on your smartphone.
Another Insta-worthy place is the romantic Temple of Leah which offers wonderful city views. Pose on the Impressive Angel Staircase before heading out to the terrace to soak up the panoramic city views.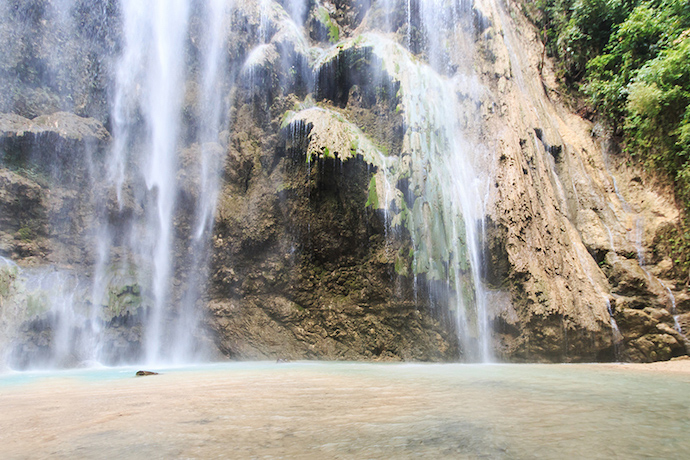 Yet another popular selfie location is Tumalog Falls, well worth the 137km road trip to capture this gushing umbrella-shaped cascade tumbling through the tropical greenery.
Best time to visit
The best time to visit Cebu is during the dry season, which runs from November to May. Summer months can be hot and humid, but that's a good reason to head for the hotel pool, or the waterfalls and the turquoise waters bordering Cebu's white sandy beaches. For a cultural treat, visit in the third week of January to attend the Sinulog celebrations at the Basilica.
Transportation
Getting around Cebu City using colourful local jeepneys (buses) is part of the fun. All the main historic attractions are within easy walking distance of the Basilica del Santo Nino. A horse-drawn carriage ride (tartanilla) is a traditional form of local transport operating in the downtown and market areas. Taxis and buses are cheap and plentiful, and a boat trip is a must-do.
Currency
Philippine peso (PHP). Malls and major hotels will accept credit cards, but you will need cash for smaller shops, admission to local attractions, street vendors and local transport. ATMs are available at the airport and banks. Tipping is not expected, but rounding up a taxi fare or restaurant bill is appreciated.
Photos courtesy of Changi Airport Group

This article is edited and adapted from Now Boarding by Changi Airport's "The first-time visitor's guide to experiencing Cebu"