At some point in our lives, we have been touched by the wonder of Disney – whether it's watching our favourite Disney fairytales during our childhood days or enjoying Disney films as adults.
Now you'll get the chance to relive fond memories of well-loved Disney films at Jewel Changi Airport. Commemorating 100 years of The Walt Disney Company, the Disney100 celebrations at Jewel features different activities for the entire year as part of the Experience Wonder at Jewel festivities.
Disney fan or not, here are five fun Disney-themed activities that you don't want to miss.
Be dazzled by a new Disney100 Light & Sound show with special performances
Shiseido Forest Valley
Till 9 April
Monday to Thursday: 7.30pm
Friday to Sunday, public holidays and eve of public holiday: 7.30pm & 9.30pm
Jewel's Light & Sound Show at the cascading waterfall of HSBC Rain Vortex takes on a Disney100 theme to mark the centennial celebration. Expect to see a couple of surprises during the entire show, including a surprise performance and special appearances!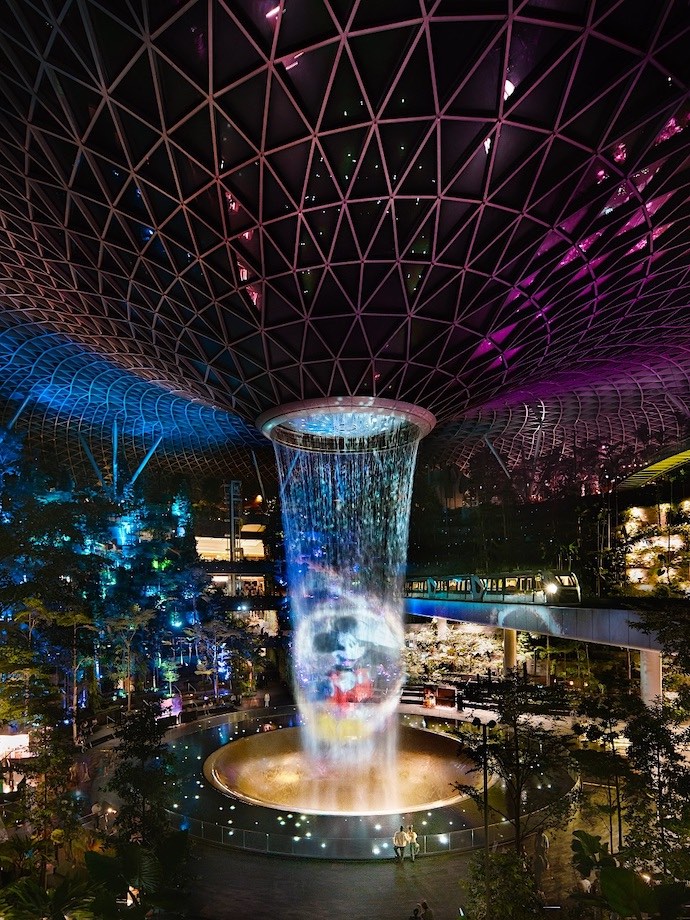 Featuring a plethora of beloved Disney, Pixar and Marvel characters from many iconic films over the century, the Disney100 Light & Sound Show transports you into a magical Disney world through a medley of memorable Disney songs and snippets from Disney films flashed on the cascading waterfall.

Pose with Singapore's largest platinum Mickey statue
Shiseido Forest Valley (Level 1, North Entrance)
Till 9 April
Platinum is the main colour palette of the Disney100 celebrations and you'll see that come to life at the various photo opportunities. First, step through the massive Disney100 platinum archway at the entrance to the Shiseido Forest Valley marking Disney's 100th anniversary. Then, walk past the archway and further into the indoor garden to see the 4-metre platinum statue of Mickey Mouse, the largest platinum Mickey statue in Singapore.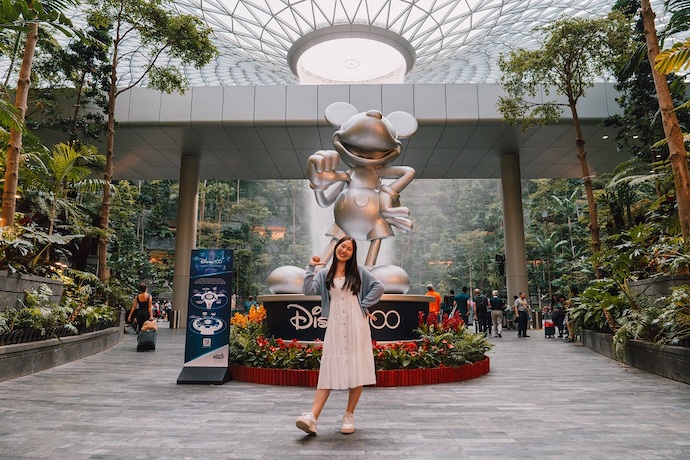 FUN FACT: Mickey Mouse's birthday falls on 18 November 1928, the day that Disney released its first-ever animated film with sound, Steamboat Willie.
Step into the world of iconic Disney films
Shiseido Forest Valley and Canopy Park
Till 9 April
10am to 10pm
Explore 10 Disney-themed photo spots that feature classic and popular films in Disney's history. Step into famous scenes of Disney, Pixar, Marvel and Star Wars movies and snap photos with these 2D interactive photo installations.
Six photo spots inspired by Steamboat Willie, Winnie the Pooh, Snow White and the Seven Dwarfs, Inside Out, Lion King and Toy Story are situated around the Shiseido Forest Valley, while four others inspired by Encanto, Doctor Strange, Star Wars Mandalorian and Up are scattered throughout Canopy Park.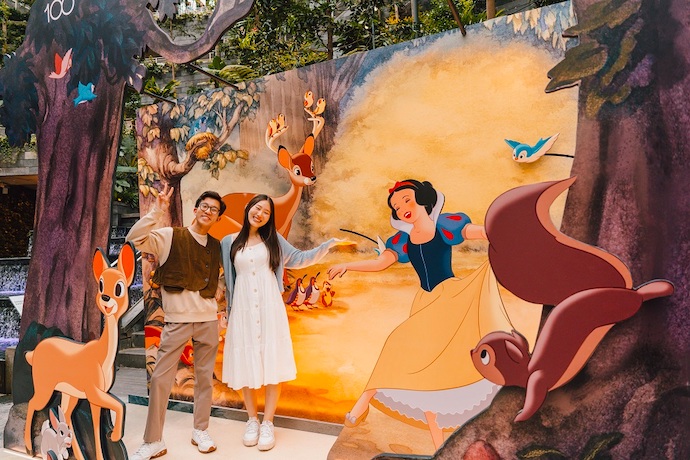 DID YOU KNOW?: Released in 1937, Snow White and the Seven Dwarfs was Disney's first full-length animated film. What is little known is that it actually took more than 750 artists over a period of three years to produce the film.
See if you can spot other fun facts of Disney films you never knew about as you check out the exhibition!
Discover interesting connections between Singapore and Disney films
Shiseido Forest Valley (South Entrance)
Discover interesting elements of Singapore that tie in with various Disney titles at the "Little Wonders of Singapore" pop-up, created in collaboration with the Singapore Tourism Board.
You might not know this but Singapore is not the only nation proudly represented by an orchid. Colombia, the birthplace and inspiration behind Disney's Encanto has the Cattleya orchid as its national symbol.
The adorable Red Pandas, Keta and Karma at the Giant Panda Forest exhibit in River Wonders, are also the main characters in Disney and Pixar's Turning Red. The story follows Mei, a young Chinese-Canadian student who transforms into a giant red panda whenever she feels strong emotions.
Shop for Disney merchandise at special pop-up store
Jewel, Basement 1 (near Hooga)
Till 28 February
10am to 10pm daily
Shop for toys, stationery, apparel, homeware and more at the Disney-themed Year of the Rabbit Tsum Tsum pop-up store (#B1-219/220), the largest Disney-themed pop-up store in Singapore.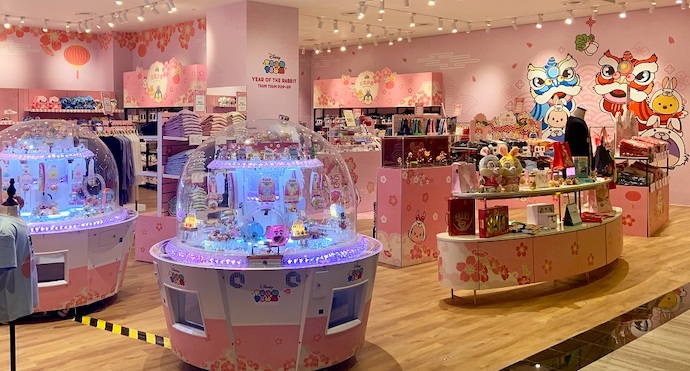 Redeem a complimentary set of Year of the Rabbit Tsum Tsum red packets if you spend a minimum $80 in a single receipt.
From 1 March onwards, this pop-up store will be transformed into the The Wonder Store which will offer Disney100-themed merchandise featuring a wide assortment across Disney, Pixar, Marvel and Star Wars.
This article is adapted from Now Boarding by Changi Airport's "Experience Wonder at Jewel: Disney100 activities to check out at Jewel Changi Airport for the whole year of 2023"