There's never a dull moment at Gardens by the Bay, a scenic paradise for nature and photography lovers as well as a fun playground for the entire family.

Here are five fun things to see and do at the Gardens this month.
Dahlia Dreams
13 January to 26 February
9am to 9pm
Flower Dome
Admission to Flower Dome applies

Usher in the bountiful Year of the Rabbit, known as the luckiest of the Chinese zodiac creatures, with 100 rabbit figurines frolicking among more than 2,000 plants at the Flower Dome. Stroll through a field of 40 varieties of vibrant dahlias, as well as popular Chinese New Year blooms such as celosias, chrysanthemums, cymbidiums and pussy willows.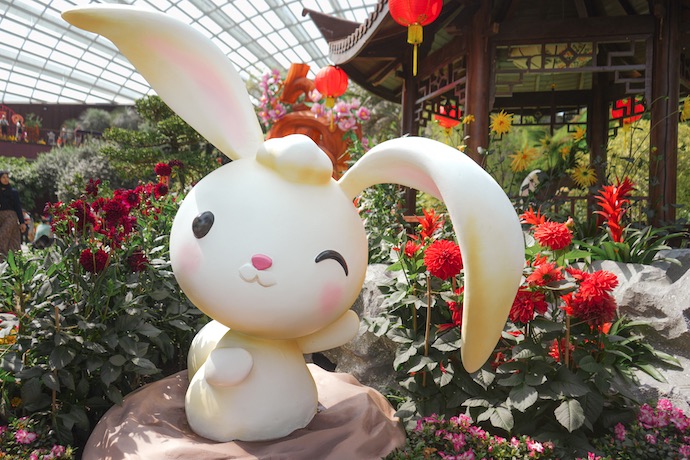 Look out for the centrepiece of the floral display – an iconic River Hongbao lantern set featuring a majestic magnolia tree in the shape of the word "rabbit" in Chinese (兔, tù). Integrated into the floral display is an interpretation of the Aesop's fable, "The Hare and the Tortoise", as well as well-known aspects of Chinese culture such as paper-cutting, lion dance, Chinese New Year goodies and spring couplets.
Avatar: The Experience
Till 31 March
9am to 9pm
Cloud Forest
Admission to Cloud Forest applies
Fans of James Cameron's epic movie Avatar, get ready to experience the magical realm of Pandora at the Cloud Forest.
Inspired by the beauty and unique storytelling of Avatar, the world's highest-grossing movie of all time, the immersive walk-through event has five different zones featuring bioluminescent backdrops, the captivating culture of the Na'vi people, mystical creatures and plenty of plant life.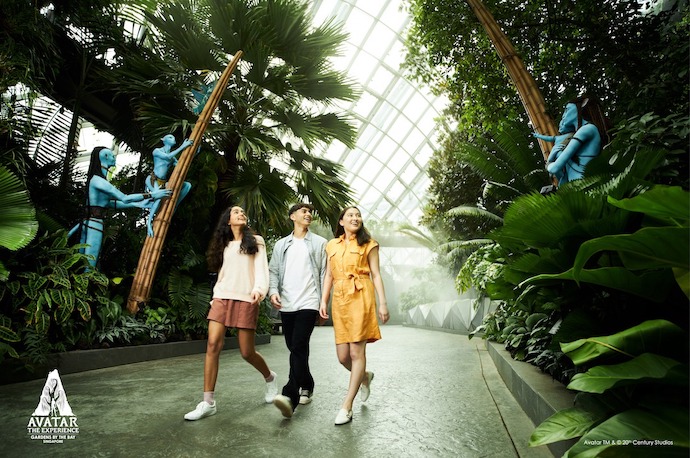 Check out interactive experiences such as a baby Banshee and "handler", a life-size animatronic banshee that roars, as well as an artistic sculpture of new marine creature Ilu who will debut in the upcoming film Avatar: The Way of Water. 
Floral Fantasy
Monday to Friday: 10am – 7pm (last admission at 6.30pm)
Saturday, Sunday & public holidays: 10am – 8pm (last admission at 7.30pm)
Bayfront Plaza (next to exit of Bayfront MRT Station)
Admission charge to Floral Fantasy applies

Experience a magical escape among suspended bouquets and creative floral arrangements as well as explore diverse garden landscapes that segue into each other through a meandering space at at Floral Fantasy.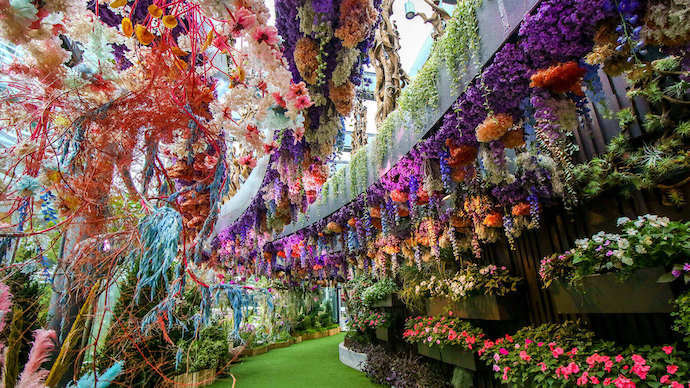 Enjoy the calming sounds of a bubbling brook at Float as you admire hundreds of delicate fuchsias hanging overhead. Over at Waltz is a rain oasis, a cascading rockscape with flowers, a winding driftwood and a poison dart frog vivarium. Encounter over 50 species of intriguing plants that hail from Central and South America, alongside begonias, huperzias and orchids gently illuminated with soft lighting at Drift which has a cave-like space ringed with terraced rock formations.
Nature & Sustainability Tours
Every Saturday & Sunday
Free admission

Join guided walking tours to learn about the importance and interconnectedness of the natural environment, biodiversity and climate change, made possible from Keppel Corporation through its philanthropic arm, Keppel Care Foundation.

• Urban Wetlands Tour
7, 8, 14, 15, 21, 28, 29 January
8.30am to 9.30am
Meeting point: Satay by the Bay bridge
Explore Kingfisher Wetlands, one of the most popular sites for bird-watching within Bay South Gardens, on this outdoor nature walk. Discover the sights and sounds of the urban wetlands and discover the native flora and fauna within, the sustainable concept behind its design and the role of urban wetlands in the face of climate change.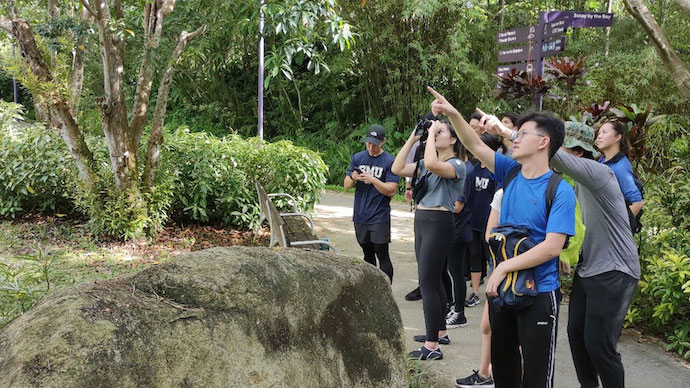 • Carbon and Climate Tour
7, 8, 14, 15, 21, 28, 29 January
10.30am to 11.30am
Meeting point: Main arrival (outside Starbucks)
Learn about the different colours of carbon, carbon sources and sinks as it moves through the environment and what this means for a climate that is changing while discovering the secrets to cutting carbon at the Gardens. This special tour includes free entry to Flower Dome for Singapore residents.
Garden Rhapsody
7.45pm and 8.45pm daily
Supertree Grove
Free admission

This spectacular light and sound show brings life to the towering Supertrees through bright lights, all of which radiate to the beat of an immersive soundtrack. The soundtrack and light choreography changes regularly depending on the season or theme of the show.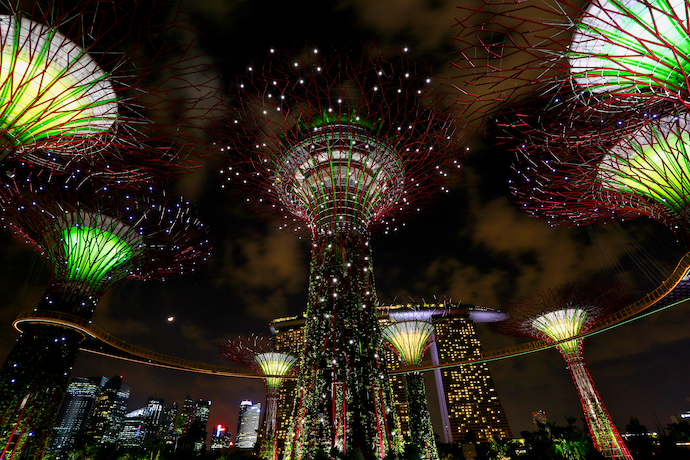 From 2 to 19 January and 30 to 31 January, go on a journey through Asia and immerse yourself in the rich and diverse soundscapes as the Supertrees light up your imagination of this magnificent part of the world. Look out for local artists Alemay Fernandez, Dawn Ho, Leandra Lane and Lou Peixin's rendition of  "Bengawan Solo", "Dayung Sampan", "Sukiyaki", and "Singapura, Oh Singapura".
From 20 to 29 January, catch a festive 5-minute light and sound show entitled "Spring Blossoms", specially curated to celebrate the Chinese New Year.

Photos courtesy of Gardens by the Bay